Sleep Mask Market Size to Expand 1.5x During 2019 -2029
Alarming statistics about sleep related disease and traditional medication dependencies are creating a sizable shift in consumer reservations about sleep masks applications. One in every three American adults is clinically sleep deprived. The introduction of smart sleep masks coupled with scientific evidence about the importance of zero light sleeping habits is expected to propel future growth in this market. The global sleep mask market is expected to grow at a stable CAGR of up to 4% from 2019 to 2029. Market players show signs of making considerable investments in digital marketing and product development to attract, engage, and delight consumers.
Regular Sleep Masks Lead with a Sizeable Revenue Share
Regular sleep masks are garnering maximum attention in the market and are well poised to gain 1.4X growth between 2019 and 2029. Regular sleep masks have been perfecting product factors such as size, fitting, and design to gain consumer traction. Contoured sleep masks offer lucrative opportunities as customers increasingly select sleep mask designs that cover ophthalmic and maxillary areas around the eyes. Contoured masks will grow at a steady CAGR of more than 4% during the forecast period.
North America Plays a Pivotal Role in Sleep Mask Market Growth
North America is the leading force behind growth of sleep mask market with a market share of more than 60%. This is followed by Europe and East Asia. The 1.3X growth in North America can be attributed to increasing cases of sleep apnea and insomnia accompanied by prevalence of alternative treatments against pharmaceutical drugs with side effects. Consumers in this region are extensively selecting meditation, physical fitness, and sleep masks to improve the symptoms of sleep related illnesses. South Asia and Oceania offer lucrative opportunities for market players to leverage demand from the growing millennial population.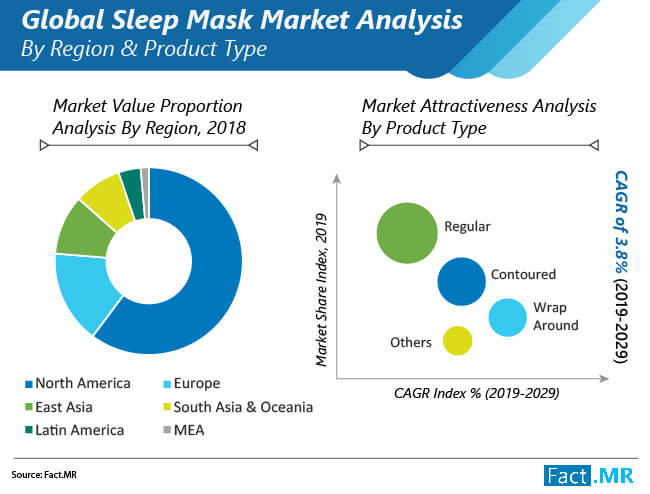 Product Innovation and Strategic Partnerships to Shape Market Landscape
Major sleep mask manufacturers rely on strategic partnerships with complimentary businesses such as travelling and hospitality to maintain sustainable growth. Manufacturers are deploying online distribution channels to leverage e-commerce platforms in emerging economies. Offline distribution channels lead demand generation with a market share of more than 75%. This points to the importance of strategic B2B sales channels in hospitality and travelling industries. New entrants can find lucrative opportunities by leveraging digital marketing and e-commerce platforms in their choice of region. A few important sleep mask manufacturers that influence global market are: Royal Philips, Dream Essentials, LLC, LC Industries, Inc., Happy Luxe, Sleep Master, Alaska Bear, Sonoma Lavender Co., Earth Therapeutics, LumosTech, Inc., EcoTools, and Nidra.
Some instances of innovative sleep mask products in the market:
Philips has released an entire range of sleeping products (Deep Sleep Headband, PAP machines, and snoring relief band) that help consumers analyze sleeping patterns and solve sleeping issues such as snoring, sleep deprivation, and deep-sleep.
Sleep Master produces sleep masks that come with 3mm earplugs for complete noise cancellation.
Happy Luxe employs eco-friendly Micro Modal fiber that aids comfortable zero light sleeping during travelling.
LumosTech introduced smart sleeping masks that can be paired with a mobile companion app. Users can select the kind and time of sleep they wish and the smart sleep mask helps them get exactly the sleep they need.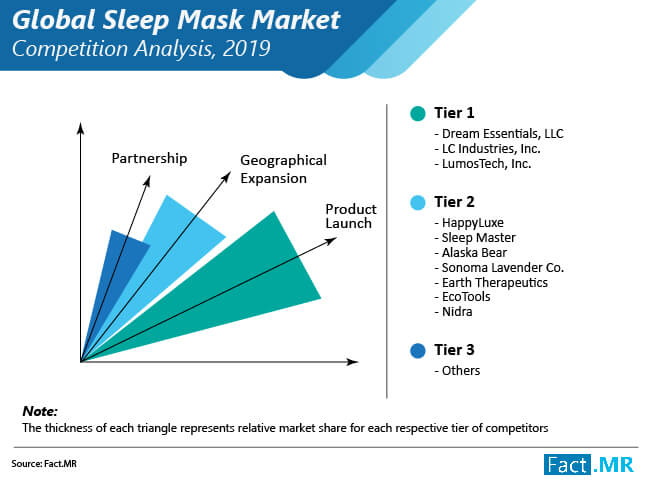 Global Sleep Mask Market – Scope of the Report
The following report provides forecast and analysis of the global sleep mask market along with the historical data of 2014, estimated data 2019 and forecast data up to 2029 in terms of revenue (US$ Mn) and volume ('000 Units), according to a Fact.MR study. The research propounds critical trends that are currently influencing growth within the global sleep mask market along with several macro-economic indicators. This newly published and insightful report on sleep mask sheds light on key dynamics, and their impact on the overall value chain from suppliers to end-users, which are expected to transform the future of the global sleep mask market.
The report also comprises the study of current issues with end users and opportunities for sleep mask. It also contains value chain analysis, including the key market participants. To provide users of this report with a comprehensive view of the market, we have included a detailed competitive analysis about the key players involved in the market and strategic overviews. The dashboard included in the report provides a detailed comparison of sleep mask manufacturers on parameters such as total revenue, product offerings, and key strategies. A list of key companies operating in the sleep mask market provided in the report adds to the credibility of this exhaustive research study.
Global Sleep Mask Market: In-Depth Assessment on Key Segments
The global sleep mask market is segmented on the basis of product type, distribution channel and region.
| | | |
| --- | --- | --- |
| Product Type | Distributional Channel | Region |
| Regular | Offline | North America |
| Contoured | Online | Latin America |
| Wrap Around | | Europe |
| Others | | East Asia |
| | | South Asia & Oceania |
| | | MEA |

This taxonomy and the detailed toc prepared are confidential and intended exclusively for the individual or entity with whom it is being shared. Reading, disseminating, distributing, or copying this to any party other than addressee(s) is unauthorized and prohibited.
Country-specific assessment on demand for sleep mask has been provided for each regional market, along with the market size valuation and forecast price point assessment, price index and impact analysis of key regional and country-wise dynamics, which were obtained through quotes from numerous sleep mask manufacturers, experts, and suppliers. Y-o-Y growth projections have also been offered on all regional markets incorporated in the report. Moreover, future trends, growth prospects, and other possibilities related to the market have been answered in the report.
The report provides company-level market share analysis, which has been derived on the basis of the company's annual sales and segmental revenue in all the target end-use industries. The market has been forecasted based on constant currency rates. The report provides detailed competitive and company profiles of key participants operating in the global market. Some of the major competitors operating in the sleep mask market are and Dream Essentials, LLC, LC Industries, Inc., HappyLuxe, Sleep Master and others.
Global Sleep Mask Market: Research Methodology
A number of primary and secondary sources were consulted during the course of the study. Secondary sources include Factiva, Morningstar and Hoovers, and company annual reports and publications. Comprehensive interviews have been conducted by our analysts, and the intelligence and insights obtained have been used for validating the information gained through secondary research. The report also includes a description of assumptions and acronyms utilized for research purposes. Data gathered has been validated using the triangulation method to offer useful quantitative and qualitative insights into the sleep mask market.
A short market viewpoint offered in the report elucidates the macro-economic aspects that influence the growth of the sleep mask market, which includes global GDP growth rate, urbanization growth rate, wages growth and others. This report serves as an authentic resource of intelligence on the sleep mask market, enabling the readers to take fact-based decisions on the future direction of their businesses.
Fact.MR offers custom research services that help clients to get specific research solutions
We are committed towards customer satisfaction and quality service.
---
Our Clients

Sleep Mask Market Forecast, Trend Analysis & Competition Tracking - Global Market Insights 2019 to 2029