Ammunition Market Exhibits Positive Growth amid Rising Geopolitical Tensions
Growing hostilities and terrorist activities are propelling the demand for ammunition worldwide. The development of light weight bullets using polymer casings is another driving factor for ammunition manufacturers. The light weight nature of these bullets allow for more ammunition to be carried by soldiers, which in turn increases the demand for ammunition. Disruptive trends such as online sales channels are expected to bolster growth for small caliber ammunition during the forecast period. Increasing popularity of sports shooting activities among consumers is central to the mass-adoption of small caliber and light weight ammunition via online sales channels. On the back of these factors the global ammunitions market is expected to grow 1.4x between 2019 and 2029.
Centerfire Ammunition to Remain in Forefront
Centerfire ammunition leads the ammunition market. Centerfire is the gold standard in ammunition globally, owing to its ability to endure high-pressure shooting, recyclable casings, and safety features. The centerfire segment has a market share of more than 69% with a healthy growth rate throughout the forecast period. This type of ammunition offers high energy and velocity to bullets, the thick metal casing in centerfire guns can withstand coarse handling and provide much needed longevity. Defense forces such as military and homeland security agencies around the world rely on centerfire ammunition for mission critical operations.
North America Leads Demand Generation, East Asia Buckling-up
North America accounts for more than a quarter of the total market, however, the developed region exhibits sluggish growth rate. In December 2019, the US senates cleared US$ 738 Bn defense budget which included development of a novel space force. Regions in Asia such as East Asia and South Asia & Oceania offer lucrative growth opportunities with growth rates above 4% and 5% respectively. In December 2019, India and the US conjured Industrial Security Index which is expected to drive significant deals and partnerships between US ammunition manufacturers and the Indian private sector. Developing economies in Asia are investing in aerospace & defense to proactively prepare for surging geopolitical tension between neighboring countries.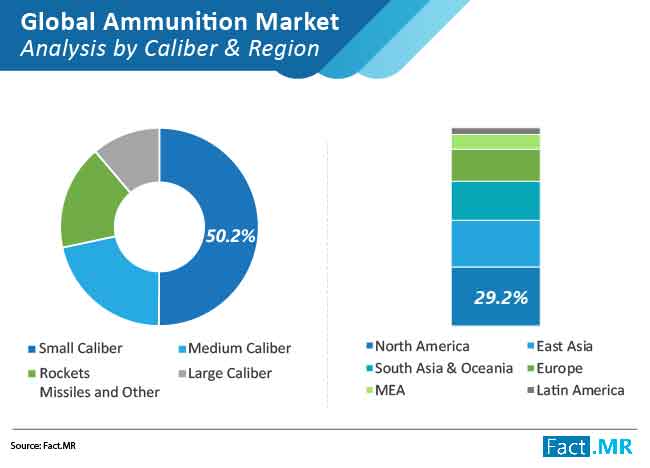 To get extensive and strategic insights on ammunition market, ask an analyst here
Statutory Bodies Continue to Bolster Ammunition Sales
Military sector in tandem with government bodies dictate the competitive landscape. Major players rely on ammunition requirements from statutory bodies. However, remunerative growth opportunities will come from online sales channels amid rising commercial use of ammunition for sports shooting activities. Market players that influence the overall dynamics of ammunition market are Northrop Grumman (Orbital ATK Inc.), Olin Corporation, General Dynamics Corporation, Nammo as, BAE Systems, RUAG (RUAG Ammotec), Denel SOC Ltd., Poongsan Corporation, Vista Outdoor Inc., Rosoboronexport, Rheinmetall AG, Nexter, and CBC Global Ammunition.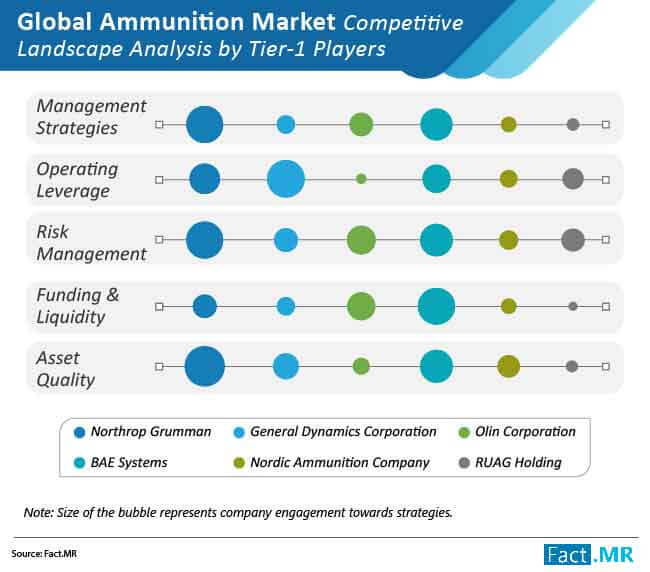 Get crucial insights on what key stakeholders in ammunition market are doing by requesting for a report sample here
Global Ammunition Market - Scope of the Report
The following report provides forecast and analysis of the global ammunition market along with the historical data of 2014, estimated data 2019 and forecast data up to 2029 in terms of revenue (US$ Mn), according to a Fact.MR study. The research propounds critical trends that are currently influencing growth within the global ammunition market along with several macro-economic indicators. This newly published and insightful report on ammunition sheds light on key dynamics, and their impact on the overall value chain from suppliers to end-users, which are expected to transform the future of the global ammunition market.
The report also comprises the study of current issues with end users and opportunities for ammunition. It also contains value chain analysis, including the key market participants. To provide users of this report with a comprehensive view of the market, we have included a detailed competitive analysis about the key players involved in the market and strategic overviews. The dashboard included in the report provides a detailed comparison of ammunition manufacturers on parameters such as total revenue, product offerings, and key strategies. A list of key companies operating in the ammunition market provided in the report adds to the credibility of this exhaustive research study.
Global Ammunition Market: In-Depth Assessment on Key Segments
The global ammunition market is segmented on the basis of caliber, type, application and region.
| | | | |
| --- | --- | --- | --- |
| Caliber | Type | Application | Region |
| Small Caliber | Rimfire | Civil & Commercial | North America |
| 5.56 mm | Centerfire | Sports | Latin America |
| 7.62 mm | | Hunting | Europe |
| 7.62 x 51 mm | | Self Defense | East Asia |
| 7.62 x 39 mm | | Defense | South Asia & Oceania |
| Others | | Military | MEA |
| 9 mm | | Law Enforcement | |
| 9 x 18 mm | | | |
| 9 x 19 mm | | | |
| Others | | | |
| Medium Caliber | | | |
| 23 mm | | | |
| 30 mm | | | |
| Others | | | |
| Large Caliber | | | |
| VSHORAD | | | |
| 122 mm | | | |
| Others | | | |
| Rockets, Missiles and Others | | | |
| Tank Ammunition | | | |
| Artillery Ammunition | | | |
Country-specific assessment on demand for ammunition has been provided for each regional market, along with the market size valuation and forecast price point assessment, price index and impact analysis of key regional and country-wise dynamics, which were obtained through quotes from numerous ammunition manufacturers, experts, and suppliers. Y-o-Y growth projections have also been offered on all regional markets incorporated in the report. Moreover, future trends, growth prospects, and other possibilities related to the market have been answered in the report.
The report provides company-level market share analysis, which has been derived on the basis of the company's annual sales and segmental revenue in all the target end-use industries. The market has been forecasted based on constant currency rates. The report provides detailed competitive and company profiles of key participants operating in the global market. Some of the major competitors operating in the ammunition market are Northrop Grumman, Olin Corporation, General Dynamics Corporation, Nammo AS, BAE Systems and others.
Global Ammunition Market: Research Methodology
A number of primary and secondary sources were consulted during the course of the study. Secondary sources include Factiva, Morningstar and Hoovers, and company annual reports and publications. Comprehensive interviews have been conducted by our analysts, and the intelligence and insights obtained have been used for validating the information gained through secondary research. The report also includes a description of assumptions and acronyms utilized for research purposes. Data gathered has been validated using the triangulation method to offer useful quantitative and qualitative insights into the ammunition market.
A short market viewpoint offered in the report elucidates the macro-economic aspects that influence the growth of the ammunition market, which includes global GDP growth rate, various industries growth rate, such as defense, hunting, sports and others. This report serves as an authentic resource of intelligence on the ammunition market, enabling the readers to take fact-based decisions on the future direction of their businesses.
Fact.MR offers custom research services that help clients to get specific research solutions
We are committed towards customer satisfaction and quality service.
---
Our Clients

Ammunition Market Forecast, Trend Analysis & Competition Tracking - Global Market Insights 2019 to 2029