Contact Lens Market
Contact Lens Market By Material (Gas Permeable, Silicone Hydrogel, Hybrid), By Design (Spherical, Toric, Multifocal), By Application (Corrective, Therapeutic, Cosmetic), By Usage (Disposable, Frequent Replacement), By Distribution Channel, & By Region - Global Insights 2023 - 2033
Analysis of Contact Lens Market covering 30 + countries including analysis of US, Canada, UK, Germany, France, Nordics, GCC countries, Japan, Korea and many more
Contact Lens Market Outlook (2023-2033)
The global contact lens market size is expected to hit around US$ 16.42 billion by 2033 from valued at US$ 9.99 billion in 2023 and is poised to grow at a CAGR of 5.1% from 2023 to 2033.
Contact lenses are one of the most eminent subsets of the eye care industry. The contact lens market is expanding as a result of the increasing frequency of eye conditions such as refractive errors and cataracts, which may be treated using contact lens solutions to correct vision. During the forecast period, market growth is expected to be fueled by the increase in myopia and astigmatism cases worldwide along with rising contact lens adoption in emerging countries. The expansion of the market is also being bolstered by rising public awareness of the advantages of disposable lenses versus reusable lenses.
The contact lens market growth has been augmented by the rising number of product offerings and innovations. Market participants are spending in R&D to create cutting-edge technology and increase their revenue share by gaining marketing access and regulatory clearances.
The contact lens market is anticipated to expand strongly throughout the forecast period since they are both disposable and reusable. Additionally, there are modest differences in the costs associated with buying disposable and reusable lenses, and sales of both lenses are likely to support the market to expand strongly in the upcoming years.
To develop the ultimate pair of contacts that satisfies the demand of each customer while being reasonably priced, contact lens manufacturers are always experimenting with new technologies. They also aim to improve the aesthetics and comfort of their new designs for customers who wear them frequently. This fuels the contact lens market to upsurge. Since they provide benefits beyond eye correction, contact lenses have grown in popularity in recent years.
Customers are influenced to purchase recognized brands on the market by dint of the high risk of infection associated with using contact lenses that are not fitted to the patient appropriately. Most customers purchase their contact lenses directly from optometrists or optical stores. Customers who can easily visit optical stores can buy contact lenses quickly and conveniently without the delay associated with internet purchasing.
When purchasing contact lenses online and offline, customers all across the world look for professional guidance and radical treatment. Consumers prefer to use insurance plans in developed nations, and they are ready to pay more for eye care products. Since the products of their preferred brands are more affordable and comfortable, consumers also exhibit brand loyalty and are less inclined to move to the products of competing brands.
Report Attributes

Details

Contact Lens Market Size (2023)

US$ 9.99 Billion

Projected Market Value (2033)

US$ 16.42 Billion

Global Market Growth Rate (2023-2033)

5.1% CAGR

U.S. Market Value (2023)

US$ 4.10 Billion

China Market Value (2023)

US$ 2.46 Billion

Japan Market Value (2023)

US$ 1.03 Million

Silicon Hydrogel Material Growth Rate (2023-2033)

4.9% CAGR

Key Companies Profiled

Johnson & Johnson
Alcon Vision LLC
Bausch & Lomb
Incorporated
EISS International (Stiftung)
Contamac
CooperVision Inc
Essilor International S.A
Hoya Corporation
Medennium
Seed Co. Ltd
STAAR Surgical Company
SynergEyes Inc
X-Cel Specialty Contacts
Know thy Competitors
Competitive landscape highlights only certain players
Complete list available upon request
What is the Catalyst of the Explosive Growth of the Global Contact Lens Market?
"Millennials have an Extremely High Risk of Myopia"
The demand for contact lenses has been growing rapidly as occurrences of eye conditions including myopia among people of all ages are on the rise. Myopia is the most prevalent eye condition and is anticipated to lead to the largest expansion in this market. There is a growing trend of using technology for professional reasons, including computers and smartphones. The advent of digital technology has increased the number of career opportunities that call for prolonged use of computers and laptops that produce light potentially leading to myopia.
As per the University of Medical Sciences, Iran, by 2050, the percentage of people with myopia and extreme myopia will be 52% (4949 million) and 10.0% (925 million), respectively.
"Growing Senior Population to Boost Sales"
The geriatric population has the highest incidence of vision-related problems. The biggest health issue for this demographic is age-related cataracts, macular degeneration, glaucoma, and diabetic retinopathy retinal degeneration. As the frequency of eye-related ailments grows, so does the need for visual health services and goods among the elderly.
The WHO predicts that one in six persons globally will be 60 or beyond by the year 2030. The number of individuals in the globe who are 60 or older is expected to double by 2050.
"The existence of several small and large businesses in the market is what defines it"
It is anticipated that the introduction of technologically advanced products would increase the market share for contact lenses. Manufacturers currently offer a variety of creative and original features in their products, which is one of the most recent market innovations. To raise their demand in the market, businesses have been producing trendy and inventive eye care solutions, including soft contact lenses, using pioneering technology. At present, people utilize contact lenses for aesthetic objectives as well such as color enhancement, wrinkle and age spot reduction, and other skin care needs. There are several options for those who are astigmatic, nearsighted, or farsighted.
The new contact lenses made by Johnson & Johnson Vision that automatically darkens in response to strong light have garnered FDA approval. These lenses, ACUVUE® OASYS MAX 1-Day and ACUVUE® OASYS MAX 1-Day MULTIFOCAL, feature photochromic components that regulate visible light entering the eye as well as shield the eyes from blue light and UV rays.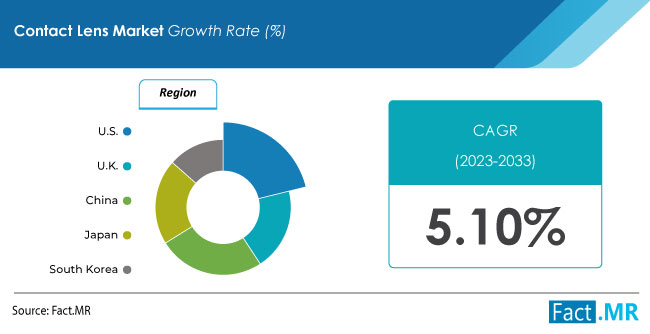 Which Aspect Might Potentially Restrain Contact Lens Sales?
"Contact Lenses are not Widely Recognized among Spectacle Wearers"
Even though contact lenses are necessary for vision correction and offer a better quality of life than glasses, contact lens usage is uncommon in developing nations since a lot of people who wear glasses are unaware of contact lenses with power. Besides, risks attributed to contacts, such as pain, excessive tearing or other secretion, unusual sensitivity to light, stinging, burning, or a gritty sensation, and unusual redness, are envisaged to restrict growth to some extent throughout the forecast period.
More Insights, Lesser Cost (-50% off)
Insights on import/export production,
pricing analysis, and more – Only @ Fact.MR
Country-wise Insights
Will Increased Vision Correction in the US Result in Increase Attention for Contact Lenses?
Contact lens demand is expected to grow strongly in the U.S. throughout the forecast period, with a CAGR of 5.5%. The United States leads the market due to high per capita healthcare spending and early adoption of leading-edge technology.
The surge in contact lens usage among individuals of all ages is liable for the growing demand for contact lenses in the United States.
About 45 million Americans, two-thirds of whom are women, are believed to wear contact lenses, according to the Centers for Disease Control and Prevention. It also stated that 75% of individuals over the age of 25 wear contacts, compared to 17% of those between the ages of 18 and 24 and 8% of people under the age of 18.
Several businesses in the US draw customers to the contact lens industry. On the other hand, the US government supports R&D facilities that lead to advancements in contact lens technology. In the state, there are more than 30,000 optometrists in practice. Additionally, several industries, like the media and entertainment, heavily utilize cosmetic lenses, which has led to greater acceptance of cosmetic lenses in the US and boosted the entire regional market.
According to certain research, pediatric myopia is very common in the United States. Therefore, an increase in eye conditions will result in a rise in contact lens demand, which will further spur product innovation and new product launches by major market participants here.
In October 2021, an expansion of its US product line to include Paragon CRT and Paragon CRT Dual Axis ortho-k lenses was announced by Blanchard Contact Lenses, a CooperVision Specialty EyeCare company. Both are reverse geometry corneal lenses with a high-Dk gas permeable material that are made for managing myopia.
What Factors are Propelling the Usage of Contact Lens in China and Japan?
China and Japan are expected to record a CAGR of 6.6% and 5.3% respectively during the forecast period. A high emphasis on aesthetic value is predicted to lead to a rise in sales for the contact lens market in China and Japan. The market in these two countries is also anticipated to witness tremendous growth as a result of the rising elderly population and the rapid advancement of technology.
Millennials and gen Z are anticipated to have a propensity toward contact lens adaptation, particularly in China. On the other hand, technological developments in the field of optometry have resulted in the licensing and addition of several products in Japan.
In March 2021, ACUVUE Theravision with ketotifen, a product created by Johnson & Johnson Medical Devices, a division of Johnson & Johnson, received approval from the Japanese Ministry of Health, Labour and Welfare (MHLW). These glasses combine vision correction with an antihistamine to lessen the intensity of allergic eye irritation. The inclusion of ketotifen and an H1 histamine receptor blocker in the lens helps to reduce the itchiness brought on by eye allergies.
Category-wise Insights
Why is Silicon Hydrogel Material More Popular than Other Contact Lens Manufacturing Materials?
The silicon hydrogel material segment is estimated to record a CAGR of 4.9% during the forecast period.
A mixture of silicone and water-absorbent polymers used in soft lenses, silicone hydrogel makes up the bulk of extended-use contact lenses. Silicone is added to the hydrogel plastic to create a lens that holds moisture and allows more oxygen to travel through the contact lens and into the eye. Contact lens usage, therefore, does not affect the eyes.
The realistic expansion is controlled by the rising demand for soft and comfortable color contact lenses. With their simple eye adaptation and improved comfort, soft contact lenses are constructed of flexible, soft polymers like silicon hydrogel. Owing to its profitability concerning another comparable material, the silicon hydrogel has proven to be a demanding stimulus over the previous few years. Low risk of eye infection and comfort for customers are some of its advantages.
To provide the eye with more moisture and oxygen, silicon hydrogel is added to extended-wear contact lenses. Anyone who wears contacts constantly, whether day and night or for several days at a time, requires contacts that enable their eyes to breathe. The silicone affixed to the lens provides this characteristic for optimum contact. In comparison to other lenses, it is therefore highly preferred by users.
Competitive Landscape
A limited number of significant manufacturers hold the bulk of the market share in the consolidated global contact lens market. The majority of businesses invest a lot in comprehensive research and development, mostly to create products with more cutting-edge technology. The primary approaches used by the market players include global growth, mergers and acquisitions, diversification of product portfolios, and obtaining regulatory permissions from government agencies.
In July 2022, ReviveTM custom soft contact lenses from Bausch + Lomb have been made available in the United States. These are a new addition to its customizable soft contact lens line and come in spherical, multifocal, toric, and multifocal toric options. They are made to accommodate a wider range of vision requirements of patients, including those with complex or high medicaments.
In January 2022, DAILIES TOTAL1® for Astigmatism, the first Water Gradient contact lens for astigmatic patients, was released by Alcon, a global leader in eye care committed to helping people to see brilliantly.
In April 2021, With Menicon, a preeminent producer of advanced lenses, Johnson & Johnson Vision created a global strategic collaboration. The objective of this partnership was to create therapeutic eyewear to halt the spread and development of infantile myopia.
Key Segments in Contact Lens Market Research
By Material

Gas Permeable
Silicone Hydrogel
Hybrid

By Design

Spherical
Toric
Multifocal
Other

By Application

Corrective
Therapeutic
Cosmetic
Prosthetic
Lifestyle-oriented

By Distribution Channel

By Usage

Daily Disposable
Disposable
Frequent Replacement
Traditional

By Region:

North America
Latin America
Europe
APAC
MEA
- FAQs -
The global contact lens market is valued at US$ 9.99 billion in 2023.
Global demand for contact lenses is estimated to reach US$ 16.42 billion by 2033.
The adoption of contact lenses is expected to increase at a CAGR of 5.1% through 2023-2033.
The United States contact lens market is valued at US$ 4.1 billion in 2023.