Contact Lens Market to Witness 1.7x Growth
Cases of visual defects such as myopia, presbyopia, astigmatism, and an ever increasing geriatric population that needs vision correction will drive the global contact lenses market. According to Fact.MR's new study, the contact lens market is expected to exhibit a CAGR of more than 5% during the forecast period, 2019-2029. Shortage of trained professionals such as ophthalmologists emerges as a key challenge for market growth. However, disruptive automation in the manufacturing processes and innovative colors facilitate growth prospects in developing economies. Mass-adoption of contact lenses over traditional prescription glasses will continue to propel the contact lens market growth.
Offline Distribution Channel Continues to Influence Growth Strategies
Sales of contact lens through offline distribution channels accounts for 3/4th of the total revenue. This can be attributed to established behavior patterns of geriatrics who prefer buying contact lenses from physical stores. However, emerging millennial consumers are directing their sales towards online channels, further amplified by the presence of e-commerce platforms that deploy advanced virtualization techniques to enhance buying experiences. Online distribution of contact lenses is expected to grow at a dexterous CAGR of over 6% throughout the forecast period.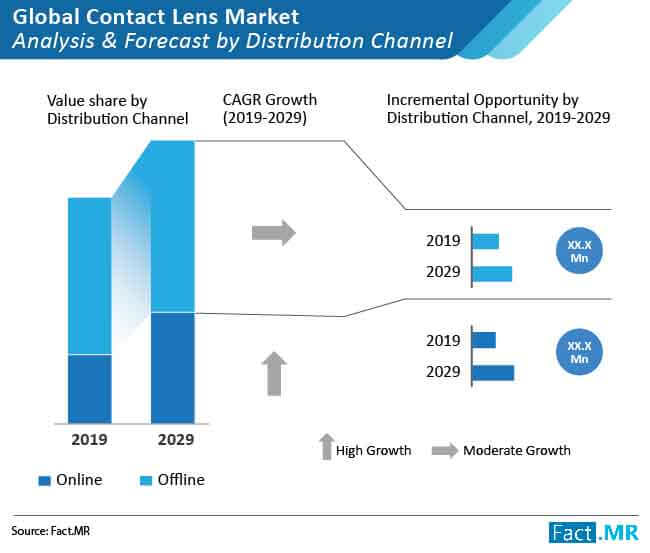 Avail our cutting-edge insights on the contact lens market by requesting for a report sample here
North America at Forefront, Remunerative Growth Opportunities Expected in Southeast Asia
North America exhibits stronghold on global contact lens market with 36% of the total market value. High per capita healthcare expenditure coupled with early adoption of advanced technologies, position North America as the market leader. Europe and East Asia together account for half of the total market. Remunerative growth opportunities are forecast in Southeast Asia & Oceania which is expected to grow at a robust CAGR of 7% through 2029. Prevalence of e-commerce platforms in developing countries is driving future growth prospects of the regional market.
Smart Contact Lenses to Pave Way for New Era of Innovation
Market players are increasingly setting their offerings apart from the competition by bringing innovative products such as toric lenses, daily disposables, and lenses with attractive color tints, in addition to corrective lenses. Today, smart technologies are rapidly transforming consumer products and contact lenses are no exception. For instance, IMEC and SEED Co. Ltd. have produced a smart contact lens that is integrated with radio-frequency antennas, LED light, and an ultra-thin silicon microchip.
Major players in the global contact lens market are Johnson & Johnson., Alcon Vision LLC, Bausch & Lomb, Incorporated , EISS International (Stiftung), Contamac, CooperVision Inc. (Cooper Companies, Inc.), Essilor International S.A., Hoya Corporation, Medennium, Seed Co. Ltd., STAAR Surgical Company, SynergEyes Inc., and X-Cel Specialty Contacts (a subsidiary of Walman Company).
CooperVision recently received FDA approval for its product called CooperVision Biofinity® toric multifocal Contact Lenses. The product extends the applications of Biofinity® toric lenses to presbyopia patients.
In Aug, 2019, Alcon launched PRECISION1, the first mainstream contact lens to employ SMARTSURFACE® technology that delivers precision with long lasting comfort.
Alcon is also the producer of AcrySof IQ PanOptix, the first and only FDA approved advanced trifocal IOL in the US.
Essilor International Inc. recently donated over 1 million glasses and sunglasses to the United Nations Road Safety Fund (UNRSF) in a bid to expand its commercial footprint and increase awareness about the importance of clear vision in road safety.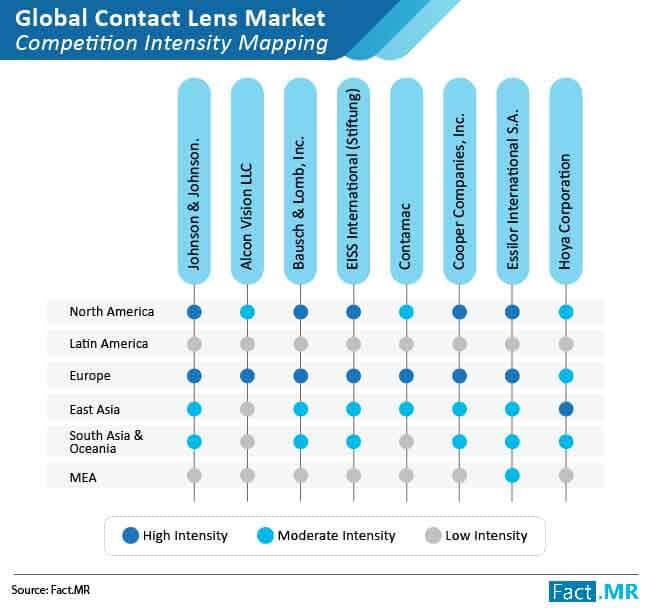 To get granular insights on the competition in contact lens market, ask an analyst here
Global Contact Lens Market – Scope of the Report
The following report provides forecast and analysis of the global contact lens market along with the historical data of 2014, estimated data 2019 and forecast data up to 2029 in terms of revenue (US$ Mn) and, according to a Fact.MR study. The research propounds critical trends that are currently influencing growth within the global contact lens market along with several macro-economic indicators. This newly published and insightful report on contact lens sheds light on key dynamics, and their impact on the overall value chain from suppliers to end-users, which are expected to transform the future of the global contact lens market.
The report also comprises the study of current issues with end users and opportunities for contact lens. It also contains value chain analysis, including the key market participants. To provide users of this report with a comprehensive view of the market, we have included a detailed competitive analysis about the key players involved in the market and strategic overviews. The dashboard included in the report provides a detailed comparison of contact lens manufacturers on parameters such as total revenue, product offerings, and key strategies. A list of key companies operating in the contact lens market provided in the report adds to the credibility of this exhaustive research study.
Global Contact Lens Market: In-Depth Assessment on Key Segments
The global Contact lens market is segmented on the basis of material, design, application, distribution channel, usage and region.
| | | | | | |
| --- | --- | --- | --- | --- | --- |
| Material | Design | Application | Distribution Channel | Usage | Region |
| Gas Permeable | Spherical | Corrective | Online | Daily Disposable | North America |
| Silicone Hydrogel | Toric | Therapeutic | Offline | Disposable | Latin America |
| Hybrid | Multifocal | Cosmetic | | Frequent Replacement | Europe |
| | Others | Prosthetic | | Traditional | East Asia |
| | | Lifestyle-oriented | | | South Asia & Oceania |
| | | Corrective | | | MEA |
Country-specific assessment on demand for contact lens has been provided for each regional market, along with the market size valuation and forecast price point assessment, price index and impact analysis of key regional and country-wise dynamics, which were obtained through quotes from numerous contact lens manufacturers, experts, and suppliers. Y-o-Y growth projections have also been offered on all regional markets incorporated in the report. Moreover, future trends, growth prospects, and other possibilities related to the market have been answered in the report.
The report provides company-level market share analysis, which has been derived on the basis of the company's annual sales and segmental revenue in all the target end-use industries. The market has been forecasted based on constant currency rates. The report provides detailed competitive and company profiles of key participants operating in the global market. Some of the major competitors operating in the contact lens market are Johnson & Johnson, Alcon Vision LLC, Bausch & Lomb, Incorporated, EISS International and others.
Global Contact Lens Market: Research Methodology
A number of primary and secondary sources were consulted during the course of the study. Secondary sources include Factiva, Morningstar and Hoovers, and company annual reports and publications. Comprehensive interviews have been conducted by our analysts, and the intelligence and insights obtained have been used for validating the information gained through secondary research. The report also includes a description of assumptions and acronyms utilized for research purposes. Data gathered has been validated using the triangulation method to offer useful quantitative and qualitative insights into the contact lens market.
A short market viewpoint offered in the report elucidates the macro-economic aspects that influence the growth of the contact lens market, which includes global GDP growth rate, various industries growth rate, such as defense, hunting, sports and others. This report serves as an authentic resource of intelligence on the contact lens market, enabling the readers to take fact-based decisions on the future direction of their businesses.
Fact.MR offers custom research services that help clients to get specific research solutions
We are committed towards customer satisfaction and quality service.
---
Our Clients

Contact Lens Market Forecast, Trend Analysis & Competition Tracking - Global Market Insights 2019 to 2029