Street Sweeper Market to Surpass US$1.3Bn, High Demand for Clean Surroundings Sustaining Growth
High demand for environmental cleanliness in urban areas is receiving significant impetus on back of disease prevention. Infectious diseases such as cholera, dengue fever and malaria etc. can spread rapidly as a result of unclean surroundings. As a result, municipal corporations are investing a significant chunk of their revenue on waste management to mitigate spread of contagious viral diseases. Street sweeper machines use brooms and mechanical or vacuum technology to pick up garbage in urban areas. On this premise, the global street sweeper market is projected to create an absolute $ opportunity of more than US$ 1.3 billion. It is projected to be valued at more than US$ 3 billion by the end of the forecast period (2019 – 2027), predicts the report study recently published by Fact.MR.
Electric Street Sweepers to Show Resilient Growth throughout Forecast Period
The global automobile industry is undergoing huge disruption with increasing adoption and popularity of electric and hybrid vehicles. Street sweeper trucks which are electrically powered are witnessing rampant adoption since their institution owing to the benefits they offer such as zero emissions and energy efficiency. In addition, governments of several countries are promoting the use of electric vehicles which is encouraging end users of street sweeper machine such as municipal corporations, manufacturing industries, airports, etc. to increase share of electric street sweepers within their fleet. As a result manufacturers are also developing high capacity electric street sweepers to cater to the rising demand. Fact.MR opines that street sweepers which are electrically powered are estimated to create an absolute $ opportunity of more than US$ 450 million, and are anticipated to grow at a robust CAGR of 16.4% during the forecast period (2019 – 2027).
Mechanical Broom Sweepers to Remain Highly Preferred
Ability of the mechanical broom sweepers to pick up heavy or packed-down material such as road millings makes it the most preferred street sweeper. In addition, mechanical broom sweepers come with lesser fitments for garbage picking as compared to other street sweepers and therefore require less maintenance. Mechanical broom sweepers are also highly effective in areas which experience heavy snowfall. In these regions mechanical broom sweepers are used to clean sand and other abrasives that are found on the road in the winter season for better traction. Technological advancements in mechanical broom sweepers such as elimination of dust suppression water makes it suitable for municipal road sweeping applications. In Fact.MR's report, it is projected that the mechanical broom sweepers will hold more than 70% of market share in terms of value and are anticipated to grow at a value CAGR of 6.4% by the end of 2027.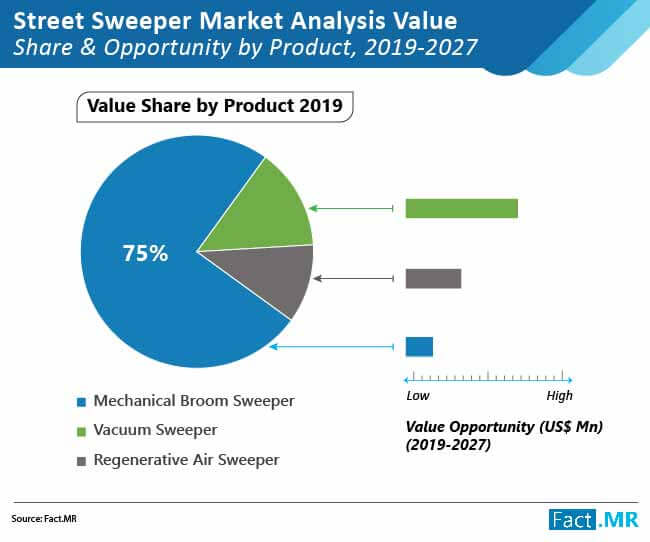 For in-depth product analysis on the street sweeper market, ask an analyst here
Developed Regions to Remain in Forefront
High rate of urbanization and rapid industrialization in the developed regions such as Europe and North America have created significant demand for the street sweepers in the last five years and this is expected to create the maximum opportunity in the global street sweeper market during the forecast period. Municipal corporations in these regions spend significant amounts on cleaning cities & waste management. For instance, in the year 2018, Municipal Corporation of San Francisco announced a budget of US$ 65 million for street cleaning. Further, in developing regions such as Asia, demand for street sweeper is burgeoning, owing to governments' initiatives in waste management. Fact.MR anticipates that Europe and North America are collectively projected to hold more than 45% value share of the global street sweeper market during the forecast period.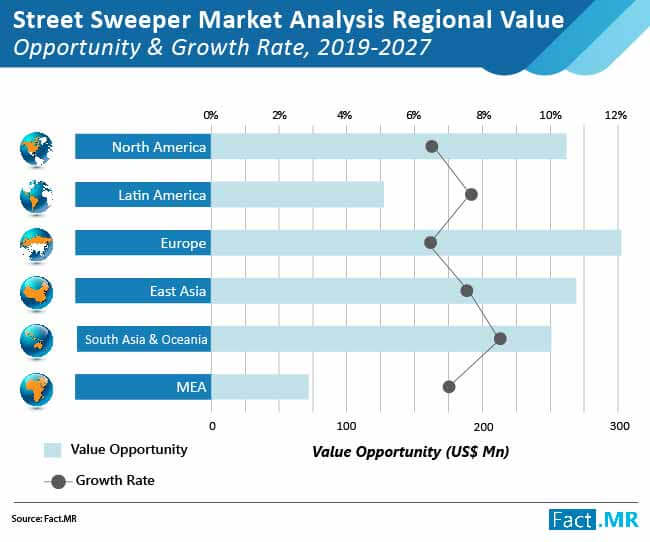 To know more about the regional landscape of the street sweeper market, request for a report sample here
New Product Launches to be the Major Market Stimulator
Market leaders in the global street sweepers market are introducing new products in order to maintain their position in the market. Leading players are introducing electric street sweepers to cater to the rapidly growing demand for it from municipal corporation end use. For instance, in April 2019, one of the market leaders Global Environmental Products, Inc. introduced fully electric, heavy duty street sweepers. In May 2018, Dulevo International S.p.A. introduced its electric street sweeper D.Zero2 in the UAE in order to cater to the high demand from Middle East and Africa.
Street Sweeper Market - Scope of the Report
Fact.MR recently published a market study on the global market for street sweeper. The study provides a detailed assessment on the key market dynamics, including drivers, trends, opportunities, restraints, and detailed information about the street sweeper market structure. The market study presents exclusive information about how the street sweeper market will grow during the forecast period of 2019-2027.
Key indicators of market growth, which include Year-on-Year (Y-o-Y) growth of the market, value chain, supply chain analysis, and Compounded Annual Growth Rate (CAGR) are explained in Fact. MR's study in a comprehensive manner. This information can help readers understand the quantitative growth prospects of the street sweeper market in the forecast period.
The study is relevant for stakeholders in the street sweeper market, including manufacturers, suppliers, distributors, and investors, and can help them in developing appropriate strategies to grow in the market. Stakeholders in the street sweeper market, investors, industry experts, researchers, and journalists, as well as business researchers can leverage the information and data presented in the Fact.MR study.
The study also includes statistics as well as facts related to macro as well as microeconomic factors that are impacting developments in the street sweeper market. It also offers actionable insights based on future trends in the street sweeper market. Furthermore, small businesses and new entrants in the street sweeper market too can make use of the information presented in this study, based on which, they can make appropriate business decisions in order to gain momentum in the market.
Key Segments of the Street sweeper Market
Fact.MR's study on the street sweeper market offers information divided into four key segments— type of product, end use, propulsion and region. This report offers comprehensive data and information about important market dynamics and growth parameters associated with these categories.
Product

End Use

Propulsion

\Region

Mechanical Broom Sweeper
Vacuum Sweeper
Regenerative Air Sweeper

Municipal Corporation
Industrial
Others

Diesel
Electric
CNG/Gasoline

North America
Latin America
Europe
East Asia
South Asia & Oceania
MEA
Key Questions Answered in Fact.MR's Street sweeper Market Report
Which regions will continue to remain the most profitable regional markets for street sweeper market players?
Which factors will induce a change in the demand for street sweeper during the assessment period?
How will changing trends impact the street sweeper market?
How can market players capture the low-hanging opportunities in the street sweeper market in developed regions?
Which companies are leading the street sweeper market?
What are the winning strategies of stakeholders in the street sweeper market to upscale their position in this landscape?
Street Sweeper Market: Research Methodology
In Fact.MR's study, a unique research methodology is utilized to conduct extensive research on the growth of the Street sweeper market, and reach conclusions on future growth parameters of the market. This research methodology is a combination of primary and secondary research, which helps analysts ensure the accuracy and reliability of conclusions.
Secondary resources referred to analysts during the preparation of the street sweeper market study include statistics from government organizations, trade journals, white papers, and internal and external proprietary databases. Analysts have interviewed senior managers, product portfolio managers, CEOs, VPs, marketing/product managers, and market intelligence managers, who have contributed to the development of this report as a primary resource.
Fact.MR offers custom research services that help clients to get specific research solutions
We are committed towards customer satisfaction and quality service.
---
Our Clients

Street Sweeper Market Forecast, Trend Analysis & Competition Tracking - Global Market Insights 2019 to 2027