Sales of Remote Weapon System to See an Upward Trend on Ground Platforms
Over the years, the remote weapon systems are being utilized by different platforms in the military, predominantly by the ground forces. Spending on the modernization of military equipment is on the rise. It is setting the tone for the growth of global remote weapon system market. Key players in remote weapon system market are continually introducing upgraded machine systems to meet the requirements of the various economies. Remote weapon systems allow the warfighter to remotely engage targets with precision fire. Moreover, with the heightened uptick in the demand for remote weapon systems in main battle tanks and armored fighting vehicles, it is estimated that the ground force segment will contribute 40% of the market revenues by the end of the forecast period.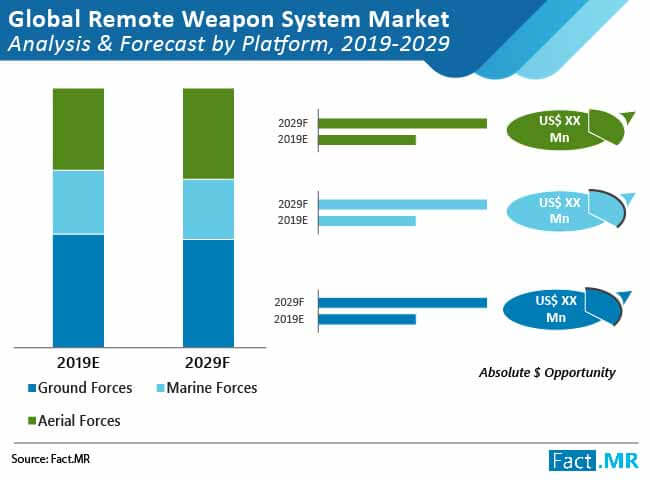 To get a detailed forecast on the remote weapon system market, ask an analyst here
Sensor Technology Segment to Grow Two-Fold through 2029
The use of sensor fusion technology along with sensor suite has become a key trend in different military appliances, which will directly proliferate the demand of remote weapon systems. These technologies are being used to deliver enhanced detection and decision making actions during the war. With the ongoing adoption of different sensor technologies by key players, various economies around the globe are rapidly adopting a more modern remote weapon system. According to Fact.MR's latest research, it is estimated that in the component segment, the weapons segment leads the market in terms of revenues but the sensor segment will grow at the rapid pace and is foreseen to witness a robust CAGR of 15% throughout the forecast period.
To get exhaustive regional insights on the remote weapon system market, request for a report sample here
Developing Economies to be Frontrunners in the Remote Weapon System Market
Remote weapon systems are gaining popularity owing to the benefits offered in various weapons. For instance, it improves combat effectiveness, 360° azimuth rotation, and increased sight to identify targets. In the past, this technology was used by only the US military on its armored vehicle, but today it is showing rampant adoption by the military of developing economies such as India, China, and Iran. Increasing defense budget to develop a robust remote weapon system in developing countries is also one of the main factors behind Asia Pacific's lead in the global remote weapon system market. Moreover, political instabilities, economic inequalities, and geopolitical issues are increasing, with that the demand for more modern tanks, weapons, and armored fighting vehicles are on rise. On this premise, Fact.MR in its latest report estimates that the remote weapon system market in the Asia pacific region will account for 40% of the global revenues by 2029 end.
Electro-Optic Sensors to Become the Prime Focus for Key Market Actors
Market players are focusing on upgrading their product offerings and innovating newer technologies in remote weapon systems. Some of the key players like Rheinmetall AG, Elbit Systems, and Kongsberg Gruppen are rapidly adopting electro-optic sensors and fire control systems in their new offerings to attract broader economies of the world. Also, prominent players are looking at demand from developed and developing economies to proliferate their sales figures, with the launch of competitive products in the market. Some of the latest developments in the market are-
In 2019, General Dynamics Ordnance and Tactical Systems, a renowned player in remote weapon system launched SAMSON MK I which has various specifications like dual-axis, and gyro-stabilization. It also has a 25mm to 30mm main gun and a 7.62mm coaxial machine gun and smoke grenade launcher.
In 2018, Electro Optic Systems Pty Ltd, a well-known manufacturer of remote weapon systems launched ultra-light R150, a lightweight platform for remotely mounting weapon systems on protected vehicles.
Remote Weapon System Market- Scope of the Report
Fact.MR recently published a market study on the global market for remote weapon system. The study provides detailed assessment on the key market dynamics, including drivers, trends, opportunities, restraints, and detailed information about the remote weapon system Market structure. The market study presents exclusive information about how the remote weapon system Market will grow during the forecast period of 2019-2029.
Key indicators of market growth, which include Year-on-Year (Y-o-Y) growth of the market, value chain, supply chain analysis, and Compounded Annual Growth Rate (CAGR) are explained in Fact. MR's study in a comprehensive manner. This information can help readers understand the quantitative growth prospects of the remote weapon system market in the forecast period.
The study is relevant for stakeholders in the remote weapon system market, including manufacturers, suppliers, distributors, and investors, and can help them in developing appropriate strategies to grow in the market. Stakeholders in the remote weapon system market, investors, industry experts, researchers, and journalists, as well as business researchers can leverage the information and data presented in the Fact.MR study.
The study also includes statistics as well as facts related to macro as well as microeconomic factors that are impacting developments in the remote weapon system market. It also offers actionable insights based on future trends in the remote weapon system market. Furthermore, small businesses and new entrants in the remote weapon system market can make use of the information presented in this study, based on which, they can make appropriate business decisions in order to gain momentum in the market.
Key Segments of the Remote Weapon System Market
Fact.MR's study on the remote weapon system market offers information divided into six important segments— component, technology, platform, weapon, mobility and region. This report offers comprehensive data and information about important market dynamics and growth parameters associated with these categories.
| | | | | | |
| --- | --- | --- | --- | --- | --- |
| Component | Technology | Platform | Weapon | Mobility | Region |
| Weapons | Close-in Weapon Systems | Ground Forces | Lethal Weapons | Stationary | North America |
| Human Machine Interference | Remote Controlled Gun Systems | Marine Forces | Non-Lethal Weapons | Moving | Latin America |
| Sensor Module | Others | Aerial Forces | | | Europe |
| | | | | | East Asia |
| | | | | | South Asia |
| | | | | | MEA |
| | | | | | Oceania |
Key Questions Answered in the Fact.MR Remote Weapon System Market Report
Which regions will continue to remain the most profitable regional markets for remote weapon system market players?
Which factors will induce a change in the demand for remote weapon system during the assessment period?
How will changing trends impact the remote weapon system market?
How can market players capture the low-hanging opportunities in the remote weapon system Market in developed regions?
Which companies are leading the remote weapon system market?
What are the winning strategies of stakeholders in the remote weapon system Market to upscale their position in this landscape?
Remote Weapon System Market: Research Methodology
In Fact.Mr's study, a unique research methodology is utilized to conduct extensive research on the growth of the remote weapon system market, and reach conclusions on future growth parameters of the market. This research methodology is a combination of primary and secondary research, which helps analysts ensure the accuracy and reliability of conclusions.
Secondary resources referred to analysts during the production of the remote weapon system market study include statistics from governmental organizations, trade journals, white papers, and internal and external proprietary databases. Analysts have interviewed senior managers, product portfolio managers, CEOs, VPs, marketing/product managers, and market intelligence managers, who have contributed to the development of this report as a primary resource.
Fact.MR offers custom research services that help clients to get specific research solutions
We are committed towards customer satisfaction and quality service.
---
Our Clients

Remote Weapon System Market Forecast, Trend Analysis & Competition Tracking - Global Market Insights 2019 to 2029