Non-lethal Weapons Market
Non-lethal Weapons Market Analysis, By Type (Direct Contact Weapons, Directed Energy Weapons), By Technology (Electromagnetic, Mechanical & Kinetic, Chemicals, Others), By End User (Law Enforcement, Military), and By Region – Global Market Insights 2023 to 2033
Analysis of Non-lethal Weapons Market Covering 30+ Countries Including Analysis of US, Canada, UK, Germany, France, Nordics, GCC countries, Japan, Korea and many more
Non-Lethal Weapons Market Outlook (2023 to 2033)
The global non-lethal weapons market is valued at US$ 4.95 billion in 2023 and is projected to reach US$ 7.6 billion by the end of 2033, expanding at a steady CAGR of 4.3% from 2023 to 2033.
Non-lethal weapons are designed to incapacitate or deter individuals without causing permanent harm, and can include tools such as rubber bullets, tear gas, pepper spray, stun guns (electroshock weapons), and tasers. While there is still a risk of injury with these weapons, they are generally considered less lethal than traditional firearms called lethal weapons.
Conflicts and instances of violence occur across the world, and law enforcement agencies are increasingly turning to non-lethal weapons as a means of managing crowds and controlling situations without causing unnecessary harm or loss of life.
The use of non-lethal weapons by law enforcement agencies is not a new development, but the interest and investment in these tools have been on the rise in recent years, particularly in response to high-profile cases of police violence and public outcry over the use of excessive force.
For example, the San Jose police introduced non-lethal weapons in February 2021, and the Dallas City Council approved expenditure on less-than-lethal supplies in December 2020, which is indicative of this trend.
While the use of modern non-lethal weapons can be an effective way to manage crowds and control situations without causing unnecessary harm, it is important to note that their use should still be governed by strict regulations and guidelines to prevent abuse and ensure accountability.
Several units in the defense force use remote weapon systems. There is an ongoing debate about the effectiveness and safety of certain types of non-lethal weapons, such as rubber bullets, and their potential to cause serious injury or even death.
Report Attributes

Details

Market Size in 2022

US$ 4.74 Billion

Estimated Market Value (2023)

US$ 4.95 Billion

Forecasted Market Value (2033)

US$ 7.6 Billion

Global Market Growth Rate (2023 to 2033)

4.3% CAGR

China Market Growth Rate (2023 to 2033)

5.6% CAGR

Key Companies Profiled

Amtec Less-Lethal Systems, Inc.
Lamperd Less Lethal Inc.
United Tactical Systems, LLC
Nonlethal Technologies, Inc.
Armament Systems & Procedures Inc.
Axon Enterprise, Inc.
Combined Systems, Inc.
Mission Less Lethal Technologies
FN Herstal, S.A.
What are the Growth Drivers for the Non-lethal Weapons Market?
"Rising Manufacturers' Investments in Creation of Advanced Non-lethal Weapons"
The necessity for weapons with a reduced risk of casualties has increased due to the rising instability throughout several locations as a result of various contentious laws and legislations passed by several countries. Governments and human rights lawmakers have enacted laws mandating security and defense agencies to purchase weapons that have a lesser chance of killing a target. The need for less lethal weapons has increased significantly, which has accelerated the creation of cutting-edge non-lethal weapons.
Companies manufacturing non-lethal weapons are investing heavily in the creation of advanced non-lethal weapons for national security organizations and local law enforcement agencies, thereby contributing significantly to the growth of the market.
In February 2019, the Chinese government manufactured non-lethal microwave-radar weapons. The weapons delivered millimeter microwaves to the target, inflicting pain just below the surface. The use of these guns has no physical aftereffects and does not result in permanent harm.
"Increasing Involvement of Military in Maintaining Public Order Fueling Demand for Non-lethal Crowd Control Weapons from Defense Sector"
Even if at the moment law enforcement agencies frequently use non-lethal weapons, the military's role has changed significantly over the past few years. They are now more actively involved in maintaining public order among civilians. Due to the current worldwide conflicts that often bring military units in close proximity to civilian communities, stringent engagement guidelines can pose a risk to soldiers involved in humanitarian duties. This has led to a demand for less lethal ammunition for use in instances involving theft, crowd control weapons, and riot gear control.
In military operations other than war (MOOTW), the usage of lethal strength is prohibited. As less lethal alternatives such as plastic bullets, truncheons, foamy, memory foam rings, and scrubbers have been unable to meet the discomfort compliance standard without the possibility of accidents, there is a growing demand for weapons that can achieve this.
Don't Need a Global Report?
save 40%! on Country & Region specific reports
Which Factors are Restricting Demand Growth for Non-lethal Weapons?
"Stringent Regulations Governing Gun Use and Human Rights"
In several countries, it is illegal to use non-lethal weapons. Gun regulations in each state, some of which designate such weapons as unlawful, restrict the use of non-lethal weapons in the United States. Moreover, the usage of signaling tools such as smoke bombs and flash grenades harms the environment. These factors are anticipated to restrict demand for non-lethal weapons through 2033. Advocates for human rights are also against the terrible harm that controlled operations cause to civilians.
For instance, stun guns, pepper spray, and Tasers are illegal in New Zealand and Hawaii even for self-defense. In Illinois, however, their usage is permitted with some restrictions that are stated in the Illinois Stun Gun Statutes. Several States, such as Massachusetts and Michigan, allow the carrying of tasers, although a firearms license is necessary.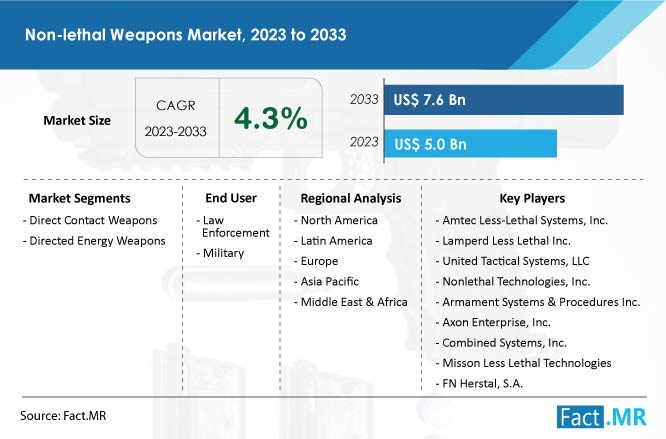 Country-wise Insights
Why Does the United States Account for High Sales of Non-lethal Weapons?
"Increase in Defense Spending in United States Driving Production of Non-lethal Weapons"
North America held a leading share of the global non-lethal weapons market in 2022. Every year, more people join riots, making it harder for law police to control the masses. This has led to the adoption of less lethal weapons to control crowds without having long-term negative physical effects. The region has exhibited a rise in police hiring in countries such as the United States and Canada.
Another major factor that is projected to boost sales of non-lethal weapons in North America during the forecast period is the increase in defense spending in the United States. Sales of non-lethal weapons in North America are estimated to increase at a CAGR of 7.1% through 2033.
How is Demand for Non-lethal Weapons Shaping Up in Europe?
"Growing Demand for Non-lethal Weapons Due To Rising Number of Law Enforcement Agencies in Europe"
Sales of non-lethal weapons in Europe are expected to progress at a CAGR of 7.3% during the forecast period. The region has a high density of non-lethal weapon manufacturers. With an increasing number of police officers, military personnel, and other law enforcement agencies being hired throughout Europe, the demand for non-lethal weaponry is on the rise.
The UK government has announced plans to recruit more police officers in the coming years and also intends to expand their access to non-lethal weapons.
What's Contributing to the Growth of the Market for Non-lethal Weapons in India?
"Increasing Political Instability in Countries in Asia Pacific Driving Sales of Non-lethal Weapons"
Asia Pacific is anticipated to account for a significant share of the global non-lethal weapons market during the forecast period. India has become more interested and aware of non-lethal weapons as a result of the rising border tensions and protests across the country in recent years.
The deployment of non-lethal ammunition by police forces as a result of sporadic disturbances and political disturbances in other countries, such as rallies and protests in Eastern Chinese cities over labor, environmental, and educational matters, may fuel demand for non-lethal weaponry in the region.
More Insights, Lesser Cost (-50% off)
Insights on import/export production,
pricing analysis, and more – Only @ Fact.MR
Category-wise Insights
Why are Directed-energy Weapons So Popular?
"Increasing Investments in Military Platforms Driving Demand for Directed-energy Weapons"
The term 'directed-energy weapons' refers to a system that primarily uses energy as the direct method of impeding, harming, or destroying enemy forces, equipment, and facilities. The non-lethal weapon technologies that are used in directed energy weapons either concentrate electromagnetic energy or produce atomic or subatomic particles.
Directed-energy weapons include powerful radio frequencies (electrical weapons) or high-power microwave weapons using neutral or charged-particle beams, and powerful lasers. The demand for directed-energy weapons is driven by increasing investments in military platforms and rising modernization.
Which End User is Expected to Generate High Demand for Non-lethal Weapons?
"Growing Demand for Non-lethal Weapons from Law Enforcement Agencies Due to Rising Civil Unrest"
Demand for non-lethal weapons from law enforcement agencies is anticipated to advance at a high CAGR of 8.3% through 2033. Law enforcement agencies are the institutions or groups that are permitted to defend a country's legal systems. They include police divisions, investigation agencies, and correctional facilities. Law enforcement agencies commonly use non-lethal weapons to maintain law and order with minimal harm to civilians, often opting for chemical weapons.
Competitive Landscape
To meet consumers' demands and stay competitive, companies are investing heavily in research and development to enhance non-lethal weapon systems. To increase their market share and attract new customers, companies in the non-lethal weapons market have been actively involved in planned partnerships, the launch of new products, and collaborations.
The military is one of the organizations that have begun implementing laser technology to create less lethal weapons. In addition, a US defense program is currently testing various innovative technologies such as the carbon nanotube thermophone, variable kinetic system, and marine vessel stopping occlusion technology, among others, to develop non-lethal weapons that aim to disable adversaries without causing fatalities. These advancements in non-lethal weapon technology are expected to drive market growth during the forecast period.
In September 2022, Helsing, a leading European software and AI provider for defense systems, and Rheinmetall, a trusted global partner for digitized armed forces, announced a strategic agreement aimed at revolutionizing land defense capabilities.
In October 2021, Apasteron, an Indian company, announced that it had developed non-lethal weapons based on Indian mythology, which could be used in combat situations where the use of lethal weapons is prohibited. The Indian border personnel stationed in the border areas would use these weapons.
Know thy Competitors
Competitive landscape highlights only certain players
Complete list available upon request
Non-lethal Weapons Industry Segmentation
By Type :

Direct-contact Weapons
Directed-energy Weapons

By Technology :

Electromagnetic
Mechanical and Kinetic
Chemicals
Others

By End User :

Law Enforcement Agencies
Military

By Region :

North America
Latin America
Europe
Asia Pacific
Middle East & Africa
- FAQs -
The global non-lethal weapons market is valued at US$ 4.95 billion in 2023.
Demand for non-lethal weapons is expected to increase at a CAGR of 4.3% through 2033.
Sales of non-lethal weapons are anticipated to reach US$ 7.6 billion by 2033.
Demand for non-lethal weapons in China is estimated to rise at a CAGR of 5.6%.
Combined Systems, Axon Enterprise, and FN Herstal are some of the leading manufacturers of non-lethal weapons.