Robotic Process Automation Market Value to Surge 17X through 2029
Surging adoption of industry 4.0 technologies such as cyber-physical systems, Internet of Things (IoT), cloud computing, machine learning (ML), and artificial intelligence (AI) favors the growth of robotic process automation (RPA) market. Manufacturing departments across industries such as telecom, travel, insurance, healthcare and banking are realizing cost effectiveness and labor efficiency by automating production process components. In a highly competitive consumer market, it is crucial for organizations to reduce the time-to-market of their products. Robotic process automation technologies significantly reduce production timelines and possibilities of an error in finished products. The global robotic process automation market will grow at an extraordinary 33% CAGR from 2019 to 2029. The astounding growth statistic can be attributed to the above mentioned factors along with prodigious developments in industrial automation technologies.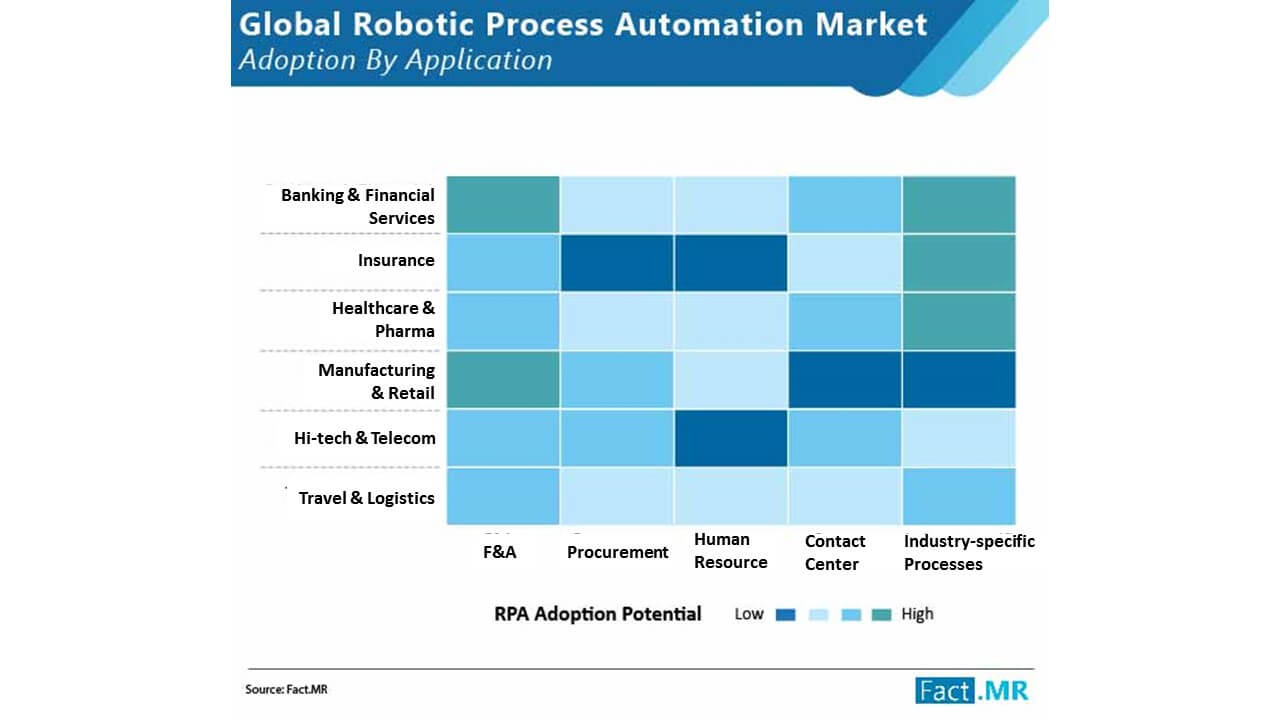 To get the latest market insights on robotic process automation, request for a report sample here
Consulting Services to Remain Highly Preferred
Consulting services account for a majority market value share of over 57% on the back of growing awareness among target customers. Organizations in developing economies have now started to look for cost efficient alternatives in technology. Hence, consulting services that educate organizations about robotic process automation are the most demanded service segment. Training stakeholders in technical skill set required to fully utilize robotic process automation is the second largest service segment. To enhance employee productivity and subsequent revenues, organizations are increasingly investing in training and development of industry 4.0 skillsets. The training segment is expected to maintain its position as the second largest service segment during the forecast period.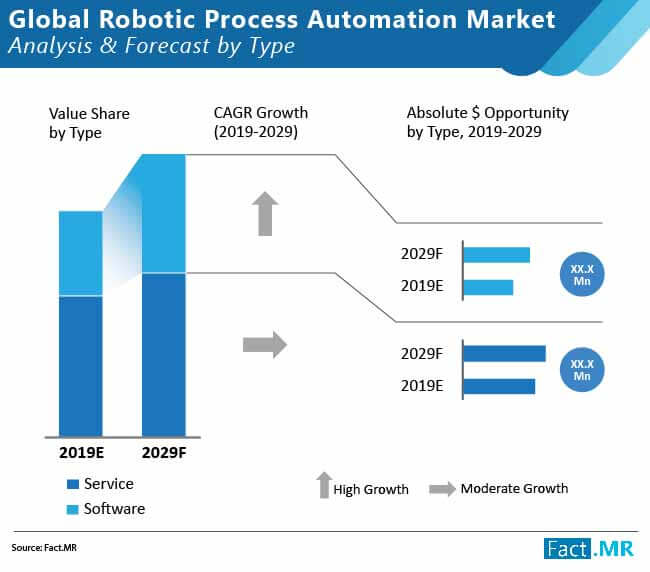 To get an exhaustive overview of the robotic process automation market, ask an analyst here
Opportunities Prevail in North America
North America is set to remain in the vanguard of robotic process automation with a majority market value share of 54%. This can be attributed to early adopters (example: the US) that were the first ones to leverage robotic process automation. Multiplying millennial population along with growing geriatric population demand enhanced consumer products that require precision in manufacturing. Robotic process automation provides this much needed precision along with speed and agility. The robotic process automation market in North America is projected to grow at an astounding 28% CAGR from 2019 to 2029. Europe & MEA, collectively account for over 1/4th of the total market value.
Market Players Focus on Workflow Optimization
Market players can garner sustainable revenue streams by decreasing onboarding time and resolving scaling issues. Organizations need to focus on reducing the friction surrounding robotic process automation by eliminating time consumption, and transforming effort-intensive processes. RPA vendor selection criteria is moving towards products that offer detailed assessment of their ability to integrate, scale, and provide security and enterprise levels governance of manufacturing processes. Measuring the effect of robotic process automation will act as a crucial factor for sustainable revenues during the forecast period. Major players in the market that influence the competitive landscape are, but not limited to, UiPath; Automation Anywhere, Inc.; NICE; Blue Prism; Pegasystems; Kofax; NTT Advanced Technology Corporation; Genpact Ltd; EdgeVerve; and IPsoft, Inc.
Global Robot Process Automation Market – Scope of the Report
The following report provides forecast and analysis of the global robot process automation market along with the historical data of 2014, estimated data 2019 and forecast data up to 2029 in terms of value (US$ Mn) and, according to a Fact.MR study. The research propounds critical trends that are currently influencing growth within the global robot process automation market along with several macro-economic indicators. This newly published and insightful report on robot process automation sheds light on key dynamics, and their impact on the overall value chain from suppliers to end-users, which are expected to transform the future of the global robot process automation market.
The report also comprises the study of current issues with end users and opportunities for robot process automation. It also contains value chain analysis, including the key market participants. To provide users of this report with a comprehensive view of the market, we have included a detailed competitive analysis about the key players involved in the market and strategic overviews. The dashboard included in the report provides a detailed comparison of robot process automation manufacturers on parameters such as total revenue, product offerings, and key strategies. A list of key companies operating in the robot process automation market provided in the report adds to the credibility of this exhaustive research study.
Global Robot Process Automation Market: In-Depth Assessment on Key Segments
The global robot process automation market is segmented on the basis of type, service, organization, deployment, application and region.
| | | | | | |
| --- | --- | --- | --- | --- | --- |
| Type | Service | Organization | Deployment | Application | Region |
| Software | Consulting | SMEs | Cloud | BFSI | North America |
| Service | Implementation | Large Enterprises | On-Premise | Manufacturing | Latin America |
| | Training | | | Pharma & Healthcare | |
| | | | | Retail | East Asia |
| | | | | Telecom & IT | South Asia & Oceania |
| | | | | Others | Middle East & Africa |
| | | | | | |
| | | | | | |
This taxonomy and the detailed TOC prepared are confidential and intended exclusively for the individual or entity with whom it is being shared. Reading, disseminating, distributing, or copying this to any party other than addressee(s) is unauthorized and prohibited.
Country-specific assessment on demand for robot process automation has been provided for each regional market, along with the market size valuation and forecast price point assessment, price index and impact analysis of key regional and country-wise dynamics, which were obtained through quotes from numerous robot process automation manufacturers, experts, and suppliers. Y-o-Y growth projections have also been offered on all regional markets incorporated in the report. Moreover, future trends, growth prospects, and other possibilities related to the market have been answered in the report.
The report provides company-level market share analysis, which has been derived on the basis of the company's annual sales and segmental revenue in all the target end-use industries. The market has been forecasted based on constant currency rates. The report provides detailed competitive and company profiles of key participants operating in the global robot process automation market. Some of the major competitors operating in the robot process automation market are UiPath, Automation Anywhere Inc., NICE, Blue Prism, Pegasystems, Kofax, NTT Advanced Technology Corporation, Genpact Ltd and others.
Global Robot process automation Market: Research Methodology
A number of primary and secondary sources were consulted during the course of the study. Secondary sources include Factiva, Morningstar and Hoovers, and company annual reports and publications. Comprehensive interviews have been conducted by our analysts, and the intelligence and insights obtained have been used for validating the information gained through secondary research. The report also includes a description of assumptions and acronyms utilized for research purposes. Data gathered has been validated using the triangulation method to offer useful quantitative and qualitative insights into the robot process automation market.
A short market viewpoint offered in the report elucidates the macro-economic aspects that influence the growth of the robot process automation market, which includes global GDP growth rate, various sectors growth rate such as BFSI, Retail and Consumer Goods, Government & Defense, IT & Telecom and others. This report serves as an authentic resource of intelligence on the robot process automation market, enabling the readers to take fact-based decisions on the future direction of their businesses.
Fact.MR offers custom research services that help clients to get specific research solutions
We are committed towards customer satisfaction and quality service.
---
Our Clients

Robotic Process Automation Market Forecast, Trend Analysis & Competition Tracking - Global Market Insights 2019 to 2029