Food Robotics Market
Food Robotics Market By Type (Articulated, Cartesian, Scara, Parallel, Cylindrical, Collaborative, Others), By Application (Palletizing, Packaging, Repackaging, Pick & Place, Processing), By Payload (Low, Medium, Heavy), By End Use (Beverages, Meat, Poultry, Seafood, Dairy, Bakery, Fruits, Vegetables, Confectionery, Others) and By Region – Global Market Report 2023 to 2033
Analysis of Food Robotics Market Covering 30+ Countries Including Analysis of US, Canada, UK, Germany, France, Nordics, GCC countries, Japan, Korea and many more
Food Robotics Market Outlook (2023 to 2033)
The global food robotics market is estimated at US$ 2.47 billion in 2023, according to a study conducted by Fact.MR, a market research and competitive intelligence service provider. Worldwide demand for food robotics is projected to rise at a CAGR of 12% and reach a market value of US$ 7.8 billion by the end of the forecast period (2023 to 2033).
The global food industry has been experiencing a profound transformation, with the integration of robotics and automation playing a pivotal role in reshaping the landscape. As consumer preferences evolve, supply chain complexities increase, and the demand for quality and safety rises, the food robotics solution has emerged as a critical driver of efficiency and innovation in the food robotics industry.
Use of robotics in the food industry is not a novel concept. However, advancements in technology and the pressing need for more sustainable, efficient, and safe food production robots have catapulted the market into the spotlight. These advancements encompass various aspects of food processing robots, packaging robots, and even foodservice robots.
Key Market Growth Drivers
Global labor scarcity in the agriculture and food processing sectors is one of the key factors driving the adoption of food robotics. Autonomous robots become necessary to sustain output levels as the workforce ages and new generations are less willing to seek jobs in these industries.
The transformation of the food and beverages sector with the integration of automated technologies and rising demand for high-quality and ready-to-eat meals is driving the growth of the food robotics solution.
Robotics can provide the precision and dependability required to achieve stringent quality control standards, lowering the risk of contamination and recall.
Automation decreases the need for manual labor, lowering operational expenses and reducing the margin for error. This cost-effectiveness is especially enticing to food businesses trying to improve their food manufacturing robots.
Rapid changes occurring in robotic technology and the introduction of innovative and automated technologies are driving demand for robotic systems in the food industry.
Report Attributes
Details
Food Robotics Market Size (2022A)
US$ 2.2 Billion
Estimated Market Value (2023E)
US$ 2.47 Billion
Forecasted Market Value (2033F)
US$ 7.8 Billion
Global Market Growth Rate (2023 to 2033)
12% CAGR
Leading Regional Markets
Asia Pacific and Europe
Key Companies Profiled

ABB Group
KUKA AG
Fanuc Corporation
Kawasaki Heavy Industries Ltd.
Rockwell Automation Inc.
Mitsubishi Electric Corporation
Yasakawa Electric Corporation
Denso Corporation
Nachi- Fujikoshi Corporation
OMRON Corporation
Universal Robots A/S
Staubli International AG
Bastian Solutions LLC
Schunk GmbH
Asic Robotics
Mayekaa Mfg. Co. Ltd.
Apex Automation & Robotics
Aurotek Corporation
Ellison Technologies Inc.
Fuji Robotics
Moley Robotics
SeikoEpson Corporation
Marel
GEA Group
Krones Group
Don't Need a Global Report?
save 40%! on Country & Region specific reports
What is Driving the Digital Revolution in the Food Industry?
"Changing Consumer Lifestyles and Surging Demand for Packaged Food"
Several significant factors have contributed to an increase in demand for packaged goods in the food robotics sector. For starters, changing consumer habits and preferences have resulted in a greater reliance on ready-to-eat and pre-packaged food products. The COVID-19 pandemic has hastened the demand for automation and contactless processes in food production and packaging since cleanliness and safety have become top priorities.
The scalability, uniformity, and efficiency given by food packaging robotics make it an appealing solution for addressing the growing demand for packaged foods while preserving product quality and shelf life, driving the use of food robotics in this area even further.
Changing consumer lifestyles and the rise in awareness about portion-controlled meals, have contributed to the increasing demand for packaged foods. Food robotics offer precise portioning and packaging, catering to this shift in lifestyles.
"Need for Minimizing Human Contact and High Demand for Enhanced Food Safety and Quality"
A combination of factors contributes to improved food safety and quality, which is a driving force for the use of food robotics. Robots that are developed with hygiene and contamination control to provide consistent and accurate handling of food products, reducing the possibility of errors and enforcing rigorous quality standards. Sensors and cameras offer real-time monitoring and quality control, allowing for prompt detection and action in cases of flaws or anomalies during processing.
Automation reduces the need for handling packaging manually, thereby minimizing human contact and reducing the risk of contamination. This not only protects consumer health but also increases the shelf life of packaged items, lowers food waste, and improves product traceability, eventually enhancing the reputation of food firms and revenue in an industry where safety and quality are key.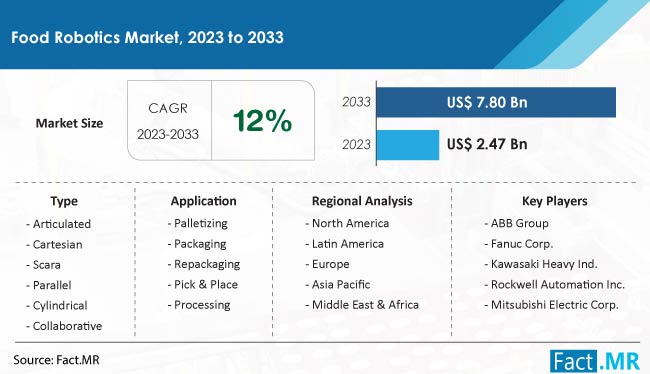 What is Holding Back Food Robotics from Gaining Traction in the Market?
"Lack of Technical Knowledge and Limited Understanding of Safety Regulations"
Lack of a skilled workforce is a significant barrier to the growth of the food robotics market. Food robot systems require specialized technical expertise, such as programming, troubleshooting, and in-depth knowledge of mechatronics and electrical engineering, to operate, maintain, and optimize. Continuous learning and being up to date on emerging robot technologies are required, as is a thorough awareness of safety regulations and risk assessment.
Lack of competent robotic professionals, particularly in areas with limited educational possibilities, as well as the accompanying higher labor costs, can hinder effective robotics adoption in the food business. Investments in education and training programs, collaboration with academic institutions, in-house training initiatives, and knowledge-sharing platforms within the industry are critical to cultivating a skilled workforce capable of driving the successful integration of food robotics.
More Insights, Lesser Cost (-50% off)
Insights on import/export production,
pricing analysis, and more – Only @ Fact.MR
How can Start-ups Establish Their Presence in the Market?
"Focus on Innovation and Understanding Specific Needs of Consumers"
With a shortage of experienced and cost-effective labor, the food sector is resorting to automated food production technologies to attain higher precision and yields. This trend is propelling the food robotics sector forward and opens up a world of opportunities in the food robotics industry for leaders to develop and revolutionize the market.
To enter the food robots business successfully, a mix of creativity, technical knowledge, market understanding, and strategic relationships is required. Start-ups with robotics solutions that may bring value to the food industry by addressing specific demands and issues have the potential to prosper in this expanding sector, such as the introduction of robot chefs in the industry, autonomous food delivery robots, and food automation systems. Start-ups must consider sustainability when designing their product and how their robotics solution can help reduce food waste, conserve resources, and reduce environmental impact.
Stäubli's food robot technology is acclaimed for its precision, dependability, and adaptability. The company's robots are designed to handle a wide range of food products, including meat, poultry, fruits, and vegetables. Their robotic arms can handle precise and delicate duties such as upstream processing, sorting, packaging, and end-of-line palletizing.
Country-wise Insights
Significant growth rates are projected for the market in Asia Pacific, Latin America, the Middle East, and Africa throughout the forecast period (2023 to 2033). North America accounted for a dominant share of the market in 2022.
What Makes China a Growing Hub for Food Robotic Solutions?
"Market Benefitting from Government Support and Regulatory Incentives"
Several significant elements are driving China's rise as a growth hub in food robotics solutions. China's diverse food industry provides fertile ground for automation adoption, particularly as labor prices rise. Government assistance, regulatory incentives, and a commitment to technical innovation all contribute to this expansion.
Growing demand for quick and packaged food in China, combined with demanding quality and food safety standards, fuels the demand for robotic systems. China's rapid e-commerce boom and foreign export goals drive investment in automation across a wide range of food sector segments. As a result, China is at the forefront of food robotics research, both to meet domestic demand and to compete globally while addressing concerns about sustainability and efficiency.
China held a significant proportion of the Asia-Pacific market in 2021, and it is predicted to do so during the forecast period (2023 to 2033).
Is India Set to Emerge as a Lucrative Market for Providers of Food Robotic Solutions?
"Growing Emphasis on Food Safety, Quality, and Sustainability"
The food industry in India is expanding rapidly, propelled by a growing population, urbanization, and shifting customer preferences, offering an excellent setting for automation in food production, processing, and packaging. India is also concerned with less labor availability and rising labor costs, making automation essential for preserving cost efficiency and competitiveness.
India's agricultural industry stands to benefit considerably from automation, such as the utilization of agriculture robots, which can enhance crop yields, reduce post-harvest losses, and maintain uniform product quality.
The country's powerful start-up ecosystem is pushing R&D, resulting in customized, cost-effective robotics solutions that meet India's specific demands. These elements, along with an increased emphasis on food safety, quality, sustainability, and global competitiveness, position India as a prominent player in the global market. Initiatives by the Indian government, such as "Make in India" and "Start-up India," are encouraging innovation and investment in developing technology such as robotics.
Know thy Competitors
Competitive landscape highlights only certain players
Complete list available upon request
Category-wise Insights
Asia Pacific and Europe together accounted for 58% of revenue share low-payload food robotics in 2022.
Orders for robotic systems from food and consumer goods businesses increased by 56% in 2020, according to the Robotic Industries Association for Advancing Automation.
Why is Palletizing a Key Segment in the Food Robotics Market?
"Automated Palletizing Improving Food Packing Efficiency by Streamlining Stacking Process"
The palletizing and processing segments held a dominant share of the market in 2022. Palletizing refers to the automated arrangement and stacking of food products, packaging materials, or containers onto pallets systematically and efficiently. Food robotics systems are outfitted with specialized end-of-arm tools (EOATs) that allow for exact product arrangement and stacking. This procedure improves food packing efficiency, precision, and consistency while lowering labor costs and reducing the chance of errors or damage.
Palletizing is an important application area because it provides efficiency, accuracy, and consistency in handling and arranging food products on pallets for transportation and storage, which is critical in the food industry's supply chain.
Competitive Landscape
Rising implementation of robotics in food processing and production is driving market expansion. The increasing number of important players in the market is affecting competitiveness, as suppliers invest in research and development to create novel solutions to fulfill the needs of the industry.
Food robotics is characterized by a mix of established competitors, creative start-ups, and worldwide companies specializing in automation and robots. The food robotics market is distinguished by continuous technological developments, customization to match the needs of the food sector, and an emphasis on food safety, quality, and efficiency. As the demand for automation in the food sector grows, competition among these businesses is projected to heat up, spurring additional innovation and growth in the industry.
Mitsubishi Electric Corporation launched a teaching-less robot system technology built primarily for food-processing facilities in February 2022. Without supervision, these robots carry out organization, sorting, and other comparable operations at the speed of humans.
Rockwell Automation Inc. announced a relationship with Comau in April 2021. The goal of this collaboration was to simplify processing and lifecycle management in the food and beverages industry.
ABB Group, KUKA AG, Fanuc Corporation, Kawasaki Heavy Industries Ltd., Rockwell Automation Inc., Mitsubishi Electric Corporation, Yasakawa Electric Corporation, Denso Corporation, Nachi-Fujikoshi Corporation, OMRON Corporation, Universal Robots A/S, Staubli International AG, Bastian Solutions LLC, Schunk GmbH, Asic Robotics, Mayekaa Mfg. Co. Ltd, Apex Automation & Robotics, Aurotek Corporation, Ellison Technologies Inc., Fuji Robotics, Moley Robotics, Seiko Epson Corporation, Marel, GEA Group, and Krones Group are some of the top food robotics companies.
Segmentation of Food Robotics Market Research
By Type :

Articulated
Cartesian
SCARA
Parallel
Cylindrical
Collaborative
Others

By Application :

Palletizing
Packaging
Repackaging
Pick & Place
Processing

By Payload :

By End Use :

Beverages
Meat
Poultry
Seafood
Dairy
Bakery
Fruits
Vegetables
Confectionery
Others

By Region :

North America
Europe
Asia Pacific
Latin America
Middle East & Africa
- FAQs -
The global food robotics market was valued at US$ 2.2 billion in 2022.
Demand for food robotic solutions is projected to reach a market value of US$ 7.8 billion by 2033-end.
Food robotics solutions help enhance food safety and prolong the shelf life of packaged foods.
Current trends in the food robotics market include food delivery robots, integration of AI in the food industry, and food handling robots.
Revenue from food robotic solutions is projected to increase at a CAGR of 12% through 2033.