Burgeoning Urological Diseases to Bolster Foley Catheters Market
Urological diseases, such as urinary retention, benign prostate hyperplasia (BPH), bladder obstruction, urinary incontinence and prostate cancer, have become increasingly prevalent among men. Urinary retention is a chronic condition in which the patient is unable to voluntarily urinate, leading to an increased volume of residual urine in the bladder. According to the American Academy of Family Physicians (AAFP), the overall incidence of urinary retention is 4.5 to 6.8 per 1,000 men annually. This growing prevalence of urological disorders is expected to stimulate demand for foley catheters.
In addition, neurological disorders such as multiple sclerosis, cerebral palsy, spinal trauma and strokes also generate urological disorders, which requires the use of foley catheters. Based on the abovementioned trends, the global foley catheter market is anticipated to witness a steady CAGR of 5.9% during the forecast period (2020-2027).
Latex-based Catheters to Dominate Market, Silicone-based Catheters Catching Up
Latex-based 2-way catheters are anticipated to account for a major chunk of the market share of foley catheters. Coated with hydrogel silicone, silicone elastomer and PTFE Teflon material, these catheters reduce urethral irritation, encrustations, lower surface friction and improve patient comfort. Projections indicate a market share of 90.4% by 2027, growing at a CAGR of 5.8% during the forecast period.
However, silicone-based foley catheters are set to gain traction during the forecast period. This is attributed to their longer lifespans, large lumen diameter and reduced risk of urinary tract infections. These catheters also have a smooth surface which reduce the risk of encrustations, as compared to latex catheters. Silicone-based catheters are expected to register an impressive CAGR of 7.2% during the forecast period.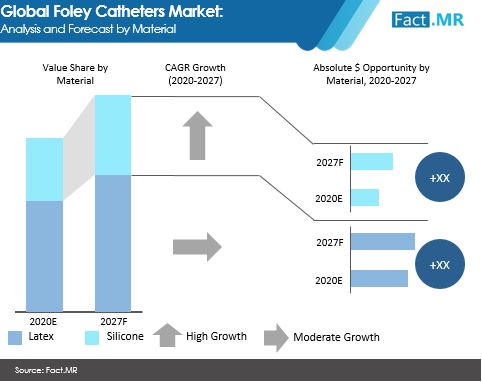 To get the latest material insights on the foley catheters market, ask an analyst here
Asia-Pacific to Witness Staggering Growth, North America to Retain Market Supremacy
North America is anticipated to remain the most lucrative market for foley catheters. It is project to surpass a valuation of US$ 725.6 Mn by 2027, growing at a CAGR of 5.8%. Increased prevalence of urological diseases such as Benign Prostate Hyperplasia (BPH) and the consequent rise in surgical procedures is expected to drive the market expansion of foley catheters within the region. Latex 2-way catheters shall comprise three-quarters of the total foley catheters market in North America.
Asia-Pacific is not far behind North America. The foley catheters market in Asia-Pacific was valued at US$ 171.1 Mn in 2019 and is projected to reach US$ 285.1 Mn by 2027, with a staggering CAGR of 6.7%. Rising geriatric population and entry of leading market players are anticipated to boost market share of foley catheters in Asia-Pacific. For instance, in 2017, Bactiguard forged a partnership with Neon Laboratories Limited to introduce its infection control BIP Foley catheter in India and to consolidate its position in the country. Latex Catheters shall account for nine-tenth of the total market share in Asia-Pacific.
Product Launches to be Major Strategy for Expanding Market Footprint
The global foley catheters market is fragmented, with several companies offering catheter products to various end-users. The prominent market players are C.R. Bard (Becton, Dickinson & Company), Coloplast Corp, Cardinal Health, Inc., Bactiguard and Cook. Cardinal Health is a leading global player operating in the field of integrated healthcare services. It offers urological products via its medical business segment. Their Latex Foley Catheters portfolio include hydrogel coated, silicone and silicone elastomer coated catheters. Examples of such catheters are the DoverTM Hydrogel Coated Latex Foley Catheters (5 mL 2-way, 30 mL 2-way. 5 mL 3-way and 30 mL 3-way).
Likewise, Coloplast Corp offers urological care through its interventional urology business segment. Its catheter products include the Folysil 2-way Coude Indwelling Catheter, the Folysil 2-way Open Tip Indwelling Catheter, Semi-rigid Latex Foley Catheters and Soft Latex Foley Catheters. The company focuses on research and development activities to broaden its portfolio by manufacturing innovative products. Another important market player, Bactiguard, manufactures Foley Catheters which include products such as BIP Latex Foley Catheters, BIP Pediatric Latex Foley Catheter and BIP Silicone Foley Catheter.
To know more about the competition landscape of the foley catheters market, request for a report sample here.
Foley Catheters Market- Scope of the report
The recent study by Fact.MR on foley catheters market offers a 7-year forecast between 2020 and 2027. The study analyzes crucial trends that are currently determining the growth of foley catheters market. This report explicates on vital dynamics such as the drivers, restraints and opportunities for key market players along with key stakeholders as well as emerging players associated with the manufacturing of foley catheters. The study also provides dynamics that are responsible for influencing the future status of the foley catheters market over the forecast period.
A detailed assessment of foley catheters market value chain analysis, business execution, and supply chain analysis across the regional markets has been covered in the report. A list of prominent companies operating in the foley catheters market along with their product portfolio enhances the reliability of this comprehensive research study.
Foley Catheters Market: Report summary
The study offers a comprehensive analysis on diverse features including production capacities, demand, product developments, revenue generation and sales in foley catheters market across the globe.
A comprehensive estimate on foley catheters market has been provided through an optimistic scenario as well as a conservative scenario, taking into account the sales of foley catheters during the forecast period. Price point comparison by region with global average price is also considered in the study.
Foley Catheters Market segmentation
Fact.MR has studied the foley catheters market with detailed segmentation on the basis of product, material, end-users and key regions.
| | | | |
| --- | --- | --- | --- |
| Product | Material | End-users | Key Regions |
| 2 way catheters | Latex | Hospitals | North America |
| 3 way catheters | Silicone | Long-term Care Facilities | Europe |
| 4 way catheters | | Others | Asia Pacific |
| | | | Latin America |
| | | | Middle East & Africa |
"This taxonomy prepared is confidential and intended exclusively for the individual or entity with whom it is being shared. Reading, disseminating, distributing, or copying this to any party other than addressee(s) is unauthorized and prohibited."
Foley Catheters Market: Analysis on market size evaluation
The foley catheters market has been analyzed for each market segment, in terms of value (US$ Mn).
Market estimates at global and regional levels for foley catheters is available in terms of "US$ Mn" for value, along with market attractiveness evaluation in the report. A Y-o-Y growth contrast on prominent foley catheter segments, along with market attractiveness evaluation has been incorporated in the report.
Foley Catheters Market: Inspected Assessment on Regional Segments
Key sections have been elaborated in the foley catheters market report, which have helped to deliver projection on the regional markets. These chapters include the regional macros (economic and business environment outlook), which are expected to have a momentous influence on the growth of foley catheters market during the forecast period.
Country-specific valuation on demand for foley catheters has been offered for each regional market, along with the market scope estimate and forecast, price index, and impact analysis of dynamics of prominence in regions and countries. Detailed breakup in terms of value for emerging countries has also been included in the report.
Foley Catheters Market: In-depth Analysis on Competitive Landscape
The report sheds light on the leading manufacturers of foley catheters along with their detailed profiles. Essential and up-to-date data information related to the market performers, who are principally engaged in the production foley catheters, has been brought with the help of a detailed dashboard view. Market share analysis and comparison of prominent players provided in the report permits the report readers to take preemptive steps in advancing their businesses.
Company profiles have been included in the report, which includes essentials such as product portfolio, key strategies along with all-inclusive SWOT analysis on each player. Company presence is mapped and presented through the matrix for all the prominent players thus providing the readers with actionable insights, which helps in thoughtfully presenting market status, and predicting the competition level in foley catheters market. Prominent manufacturers with established market presence in global foley catheters market are C.R. Bard (Becton, Dickinson & Company), Coloplast Corp, Cardinal Health, Inc., Bactiguard and Cook.
Fact.MR offers custom research services that help clients to get specific research solutions
We are committed towards customer satisfaction and quality service.
---
Our Clients

Foley Catheters Market Forecast, Trend Analysis & Competition Tracking - Global Market Insights 2020 to 2027