Pleural Catheters Market on a Steady Growth Trajectory on Back of Better Pleural Effusion Management
The utilization of pleural catheters has developed exponentially, especially in the management of malignant pleural effusions, since the FDA approved their utilization in 1997. Commonly utilized, commercially available devices include Rocket IPC (Rocket Medical, England) and PleurX catheter (BD, USA). Improved patient outcomes with reducing clinical variability are playing a vital role in the pleural catheters market growth. Moreover, increase in demand for pleural catheters from surgeons, pulmonologists and physicians to provide effective fluid control with reduction in the risk is improving quality of life and is expected to be an important factor surging the growth of the market. Widespread adoption of pleural catheters coupled with reduced hospitalization are the critical factors boosting market growth. The worldwide demand for pleural catheters is anticipated to increase as new vendors are introducing new and improved products.
Malignant Pleural Effusions to Gain Maximum Traction in Pleural Catheters Market
Malignant pleural effusions are the commonly occurring complications of advanced malignancy, resulting in critical dyspnea, cough or chest tightness. Since the introduction of pleural catheters, they have become a standard choice for palliation of malignant pleural effusions. Pleurodesis approaches offer a restricted course of treatment in long term control of the effusion, while pleural catheters offer minimally intrusive long term drainage with lower possibility of pleurodesis. Patients with a symptomatic recurrent malignant pleural effusion ought to be considered for definite treatment. Noteworthy improvements in dyspnea have been reported for indwelling pleural catheter insertions. A prospective randomized trial of indwelling pleural catheters noted similar improvement in dyspnea scores and overall quality of life measures in both groups. Overall, it appears that intrapleural catheters may have a better safety profile, particularly with regard to severe complications.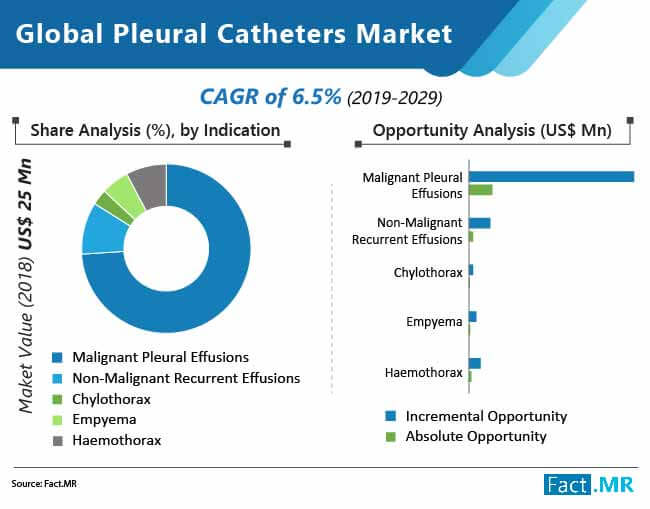 North America to Remain in Forefront in Pleural catheters Market
North America holds a noteworthy market share in the Pleural catheters market with 39% of total revenue and is expected to grow at a CAGR of 7.3% during the forecast period. Growing incidence of chronic respiratory diseases, rising elderly population, increase accessibility to healthcare facilities and rising demand by clinicians are the factors expected to contribute to the dominance of North America in the pleural catheters market. Owing to increase in research and development activities, rapidly improving insurance sectors and increase in demand for pleural catheters, Europe is projected to be the second most lucrative region for the Pleural catheters market and is expected to grow at a CAGR of 6.1% during the forecast period. Increase in the prevalence of COPD and expansion of private hospitals in rural areas are boosting the demand for Pleural catheters in Asia Pacific.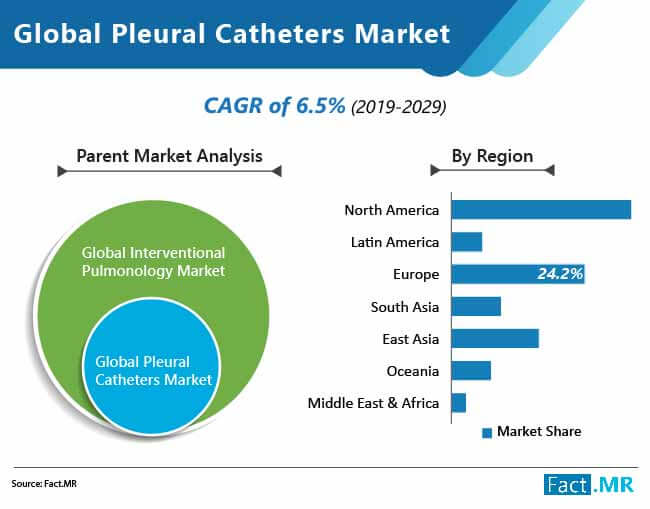 New Product Launch is the Key Strategy Followed by Leading Players in Pleural Catheters Market
The market for pleural catheters is a fragmented market with some key players across the globe including Merit Medical Systems, Rocket Medical, Armstrong Medical and others. Investment in R&D to launch new product lines is the key strategy adopted by manufacturers in the Pleural catheters market.
Manufacturers are focusing on new product launches in order to upsurge their product portfolio and expand their regional presence in the pleural catheter market. In February 2018, Merit Medical launched Aspira Drainage System, which is a tunneled, long-term catheter used to drain accumulated fluid from the pleural or peritoneal cavity to relieve symptoms associated with malignant pleural effusion or malignant ascites. The system may allow patients to drain fluid and manage their symptoms without repeated trips to the hospital. These winning strategies by leading players are also followed by regional and local players.
Pleural Catheters Market: Scope of the Report
Fact.MR recently published a market study on the pleural catheters market. The study provides detailed assessment on the key market dynamics, including drivers, trends, opportunities, restraints, and detailed information about the pleural catheters market structure. The market study presents exclusive information about how the pleural catheters market will grow during the forecast period (2019-2029).
Key indicators of market growth, which include Year-on-Year (Y-o-Y) growth of the market, and compound annual growth rate (CAGR) are explained in Fact MR's study in a comprehensive manner. This information can help readers understand the quantitative growth prospects of the Pleural catheters market during the forecast period.
The study is relevant for stakeholders in the pleural catheters market, including manufacturers, suppliers, distributors, and investors, and can help them in developing appropriate strategies to grow in the market. Stakeholders in the pleural catheters market, investors, industry experts, researchers, and journalists, as well as business researchers can leverage the information and data presented in Fact MR's study.
The study also includes statistics as well as facts related to macroeconomic as well as microeconomic factors that are impacting key developments in the market. It also offers actionable insights based on the future trends in the pleural catheters market. Furthermore, small businesses and new entrants in the pleural catheters market too can make use of the information presented in this study, based on which, they can make appropriate business decisions to gain momentum in the market.
Key Segments of Pleural catheters Market
Fact MR's study on the pleural catheters market offers information divided into three important segments—indication, end user, and region. This report offers comprehensive data and information about the important market dynamics and growth parameters associated with these categories.
Indication

End User

Region

Malignant Pleural Effusions
Non-Malignant Recurrent Effusions
Chylothorax
Empyema
Haemothorax

Hospitals
Ambulatory Surgical Centers

North America
Latin America
Europe
South Asia
East Asia
Oceania
Middle East & Africa
Key Questions Answered in Fact.MR Pleural catheters Market Report
Which regions will continue to remain the most profitable regional markets for pleural catheters market players?
Which factors will induce a change in the demand for pleural catheter manufacturers during the assessment period?
How will changing trends impact the pleural catheters market?
How can market players capture the low-hanging opportunities in the pleural catheters market in developed regions?
Which companies are leading the pleural catheters market?
What are the winning strategies of stakeholders in the pleural catheters market to upscale their position in this landscape?
Pleural catheters Market: Research Methodology
In Fact.MR's study, a unique research methodology is utilized to conduct extensive research on the growth of the pleural catheters market, and reach conclusions on the future growth parameters of the market. This research methodology is a combination of primary and secondary research, which helps analysts ensure accuracy and reliability of conclusions.
Secondary resources referred to analysts during the production of the pleural catheters market study include statistics from government organizations, trade journals, white papers, and internal and external proprietary databases. Analysts have interviewed senior managers, product portfolio managers, CEOs, VPs, marketing/product managers, and market intelligence managers, who have contributed to the development of this report as a primary resource.
Comprehensive information acquired from primary resources and secondary resources acts as a validation from companies in the pleural catheters market, and makes Fact.MR's projection on the growth prospects of the pleural catheters market more accurate and reliable.
Fact.MR offers custom research services that help clients to get specific research solutions
We are committed towards customer satisfaction and quality service.
---
Our Clients

Pleural Catheters Market Forecast, Trend Analysis & Competition Tracking - Global Market Insights 2019 to 2029