Chlor-Alkali Market
Chlor-Alkali Market Analysis by Product (Chlorine-based, Caustic Soda-based, Soda Ash-based Chlor-Alkali), by Application (Vinyl, Organic Chemical Production, Water Treatment) & by Region - Global Insights 2022-2032
Analysis of Chlor-Alkali market covering 30 + countries including analysis of US, Canada, UK, Germany, France, Nordics, GCC countries, Japan, Korea and many more
Chlor-Alkali Market Outlook (2022-2032)
The global chlor-alkali market size is likely to be valued at US$ 88.5 Billion in FY 2022, up from US$ 84 Billion in 2021.
During the past year, the chlor-alkali industry registered a Y-o-Y increase worth 5.3%. From 2022 to 2032, Chlor-Alkali sales are poised to flourish at a CAGR of 5.4% to reach a value of US$ 150 Billion by the end of 2032.
Report Attributes

Details

Anticipated Base Year Value (2021)

US$ 84 Billion

Expected Market Value (2022)

US$ 88.5 Billion

Projected Forecast Value (2032)

US$ 150 Billion

Global Growth Rate (2022-2032)

5.4% CAGR

Growth Rate of the U.S Market (2022-2032)

4.3% CAGR

Expected Market Value of China (2032)

US$ 55 Billion (Approx.)

U.K Market Expansion Rate (2022-2032)

4.6% CAGR

Key Companies Profiled

Formosa Plastics Corporation
Solvay SA
AGC Inc.
Dow Inc.
Tronox Limited
Tata Chemicals Limited
Xinjiang Zhongtai Chemical Co. Ltd.
Axiall Chemicals
BorsodChem
Olin Corporation
Westlake Chemical Corporation
Tosoh Corporation
Hanwha Solutions Corporation
INOVYN
Nirma Limited
Ciner
Occidental Petroleum Corporation
Solvay SA
Akzo Nobel SA
The global chlor-alkali market is poised to yield absolute dollar growth worth US$ 150 Billion by 2032. Demand for chlorine-based chlor-alkali will continue to thrive, with a documented CAGR of 5.1% during the 2015-2021 historical period of assessment, while demand for Chlor-Alkali in Vinyl Production at a rate of 4.6% during the same period.
The APAC will dominate the global market, registering a growth opportunity worth US$ 55 Billion from 2022 to 2032.
Know thy Competitors
Competitive landscape highlights only certain players
Complete list available upon request
2015 to 2021 Chlor-Alkali Market Revenue Analysis vs. Market Outlook 2022-2032
Fact.MR has predicted the Chlor-Alkali market to upswing at 5.4% CAGR between 2022 and 2032 in comparison to the 5.3% CAGR throughout the historic period. The increasing emphasis on the sustainable manufacturing process and increasing application of Chlor-alkali derivatives act the prominent drivers across the globe.
Manufacturers are all set to adopt the PFAS-coated (Polyfluoroalkyl Substances) membrane technology in the upcoming future and avoid the usage of Chlor-alkali in chemical & other end-use industries to reduce the adverse effects on the environment.
Key Drivers Stimulating Chlor-Alkali Industry Expansion
Soaring Application of Chlor-Alkali Derivatives in Water Treatment is Boosting Demand
As urbanization proliferates, so is the demand for wastewater treatment. Societal and environmental pressures have prompted industries, households, and agricultural stakeholders alike to reduce wastewater generation and thoroughly treat the same before discharge.
Globally, 56% of household wastewater flows were safely treated in 2020, according to UN-Water. Countries are striving to increase the same to 100%, for which demand for efficient wastewater treatment systems is inclining. Hence, the preference for Chlor-alkali-based treatment is expected to surge in the coming years.
The Chlor-alkali process helps remove unwanted solvents, via the process of electrolysis. It is typically useful for removing salts from brine. The by-products- chlorine, caustic soda, and hydrogen, can then be used across various chemical processes to manufacture other useful products.
Global Chemical Industry Spurs the Adoption of Chlor-Alkali Process
Chlor-alkali by-products: sodium hydroxide, chlorine, and soda ash are instrumental in generating necessary raw material for the bulk chemical industry. These chemicals are extensively used across plastic, alumina, paper & pulp, and other major industries.
According to the European Chemical Industry Council, the output of the global chemical industry grew by 3% in 2021 and 2% by 2022. Furthermore, it is estimated that sales in 2019 were valued at US$ 4.1 billion, with sales expected to peak at nearly US$ 7.5 trillion by 2032. Attributed to these figures, demand for the Chlor-alkali process to generate useful chemicals is bound to rise significantly.
Key Challenges to Chlor-Alkali Industry Expansion
Stringent Government Regulations to Act as Key Restraining Factor
Owing to the increasing environmental concerns, several governments have enforced strict regulations are enforced, thereby likely to impede the market growth. Chlor-alkali uses asbestos and mercury, which have undesirable effects on the environment. Lately, the US NGO Health Building Network (HBN) has advised that the nonstop usage of mercury and asbestos in the supply chain of PVC and other chlorine-based products, is a cause of environmental pollution.
Nevertheless, prominent market players such as DowDupont which has established an example by converting asbestos-based diaphragm technology to non-asbestos operations to align the production facility with the regional regulations. As per the Fact.MR's recent analysis, key vendors are planning to avoid using harmful production technologies and adopt the PFAS-coated (Polyfluoroalkyl Substances) membrane technology in the upcoming future. Besides, the endless demand for PVC will always create a sustainable Chlor-alkali market.
Country-wise Analysis
How Opportunistic are Growth Prospects across the U.S Market?
Increased Emphasis on Sustainable Manufacturing to Rev up Sales of Chlor-Alkali
Fact.MR's recent analysis reveals that North America is expected to possess nearly 35% of the market share through 2032. The Chlor-Alkali market evaluates nearly US$17 Bn in 2022 and is estimated to yield a dollar opportunity of US$ 26 Billion through 2032, following a CAGR of 4.3%. Manufacturing technology has strategically shifted from the diaphragm and mercury cell system to the membrane cell process globally, owing to increasing mercury pollution levels. Hence, industries are transitioning towards more sustainable manufacturing practices, spurring demand for Chlor-alkali derivatives.
In addition, the presence of chemical industries in the U.S is driving the growth of Chlor-alkali in the region. Thus, new and modern facilities will drive higher utilization and increase profitability.
Why are Chlor-Alkali Providers Venturing into China?
Demand for Caustic Soda Chlor-Alkali Derivatives Surging in Asia?
Demand for Chlor-alkali derivatives manufactured from caustic soda is expected to witness significant growth across Asia, exhibiting promising growth prospects across the Indian, Chinese and other East & Southeast Asian landscapes. Demand is primarily due to uptake in wastewater treatment facilities.
Besides, rising aluminum production, and growing paper and pulp industries in China, India, Indonesia, and Malaysia are expected to drive growth in the Asia-Pacific Chlor-alkali markets. Presently countries in Asia such as China and India account for a major chunk of caustic soda exports thus boosting the market in these regions.
According to Fact.MR, Asia is expected to accumulate more than 40% of the chlor-alkali market share. As per the forecast report, the market is likely to reach nearly US$ 35 Billion in 2022 which is likely to expand to US$ 55 Billion, following a CAGR of 4.6% throughout the forecast period.
Country-wise Value CAGRs for Chlor-Alkali (2022-2032)
| | |
| --- | --- |
| U.S | 4.3% |
| U.K | 4.4% |
| China | 4.6% |
| Japan | 4.5% |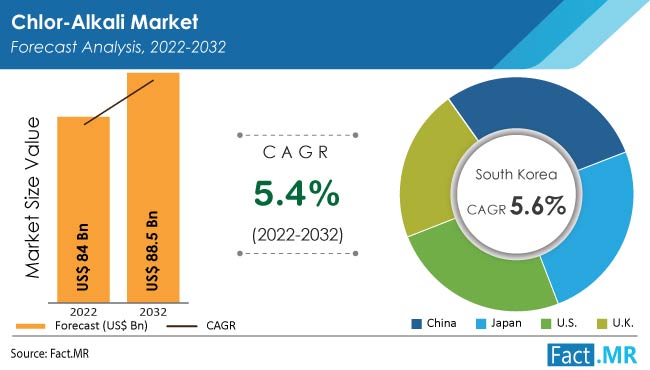 Category-wise Insights
By Application, which Chlor-Alkali is expected to Dominate?
Chlor-Alkali Sales Driven by Increasing Vinyl Production
As per Fact.MR estimates, chlor-alkali chemicals for vinyl production are likely to be the highest, underpinned by the increasing trade of polyvinyl chloride. In 2022, the trade value of vinyl chloride polymers and other olefins is expected to be worth US$ 20.48 Billion.
The use of chlor-alkali derivatives, including polyvinyl chloride plastics in the construction sector, is anticipated to broaden expansion prospects for the entire industry. As per the report, the market is slated to surge at a CAGR of 4% from 2022 to 2032.
Which Product Type is Most Preferred in the Chlor-Alkali Market?
Chlorine-based Chlor-Alkali Products Are Most Preferred Worldwide
Chlorine has gained prominence due to its disinfectant properties. Not only is chlorine used for disinfecting swimming pool water but it is also used for disinfecting drinking water. In addition, chlorine is used by a wide range of end-user industries such as textiles, paper, paint, and insecticides.
This, in turn, has spurred the chlorine demand. According to Fact.MR, in the assessment period, chlorine is expected to accumulate more than 50% of the market share in the global Chlor-alkali industry.
Competitive Landscape
Prominent Chlor-Alkali providers are reliant on partnerships, collaborations, acquisitions, and new software launches to stay afloat in the global market. Constant innovations to ensure a seamless client-customer relationship are the main focus of prominent market players.
In March 2021, AGC Inc. passed a resolution to integrate and reorganize its 3 consolidated subsidiary companies, AGC Chemicals (Thailand) Co., Ltd, Vinythai Public Company Limited, and AGC Chemicals Vietnam Co., Ltd, and to form a new company that will promote the business development of Chlor-alkali products and services in Thailand and Cambodia, Laos, Myanmar, and Vietnam markets, with target completion by the first half of 2022
In Oct 2019, Borregaard invested 207 million Norwegian kroner in a chloralkali plant at the Sarpsborg site in Norway; The project aims at modernizing existing equipment and is expected to near completion in 2022.
More Insights, Lesser Cost (-50% off)
Insights on import/export production,
pricing analysis, and more – Only @ Fact.MR
Key Segments Covered in the Chlor-Alkali Industry Survey
by Product

Chlorine-based
Caustic Soda-based
Soda Ash-based

by Application

Glass Manufacturing
Vinyl Production
Organic Chemical Production
Inorganic Chemicals Production
Pulp & Paper Production
Chlorinated Intermediates
Water Treatment
Other Applications

by Region

North America
Latin America
Europe
Asia Pacific
Middle East & Africa
- FAQs -
As of 2021, Fact.MR estimated the Chlor-Alkali market to have reached US$ 84 Billion
By 2022, Fact.MR expected demand for Chlor-Alkali to reach US$ 88.5 Billion
From 2015-2021, the Chlor-Alkali market grew at a 5.3% value CAGR
From 2022-2032, Chlor-Alkali demand is likely to surge at a 5.4% CAGR
By 2032, the market for Chlor-Alkali is likely to be valued at US$ 150 Billion
By 2032, Fact.MR expects the U.S market for Chlor-Alkali to reach US$ 26 Billion
China is expected to register a 4.6% CAGR in the Chlor-Alkali industry
South Korea and Japan are expected to document CAGRs worth 4.4% and 4.6% respectively in the Chlor-Alkali market
Chlorine-based Chlor-Alkali will be maximum, expanding at a ~5% CAGR
Chlor-Alkali for vinyl production will remain most preferred, expanding at a CAGR of 5.1% until 2032