Video Streaming Market to Grow at 17% y-o-y in 2021
Global video streaming market revenues are set to grow at over 17% y-o-y in 2021 over 2020, according to latest intelligence by Fact.MR.
The video streaming market report by Fact.MR offers detailed analysis and insights on the key factors that are likely to shape adoption and subscription of video streaming during the assessment period.
Confined to their homes due to the outbreak of Covid-19, global video streaming viewership has witnessed a substantial spike among consumers globally.
Internet enabled smart televisions with captivating picture quality such as FHD, HD, and 4K are increasing subscription for video streaming services.
This has also increased video streaming on other connected devices in urban households such as smartphones, tablets, and laptops.
As these trends gain momentum, the global video streaming market is set for a 5X growth during the forecast period (2019 - 2029). Video streaming platforms are investing in creating original content for premium subscribers.
This puts them directly in competition with online video content platforms such as Netflix. The competition gives consumers a plethora of options to choose from which furthers the demand for video streaming services in general.
Tech-driven advancements such as 3 dimensional videos, virtual reality, and augmented reality present profitable prospects for video streaming services.
Live Streaming Set to Expand Profit Pools for Video Streaming Companies
Leveraging the strong fan-base of live sports, and entertainment events, the live streaming segment emerges as the principal streaming type segment.
Live streaming accounts for a lion's share of ~62% of the total market revenues. Digitization initiatives by international sports associations coupled with strong cloud infrastructure will continue to create perpetual demand for video streaming.
However, non-linear streaming offers the most financially rewarding opportunities with a staggering ~18% CAGR during the forecast period.
Adoption of internet enabled home entertainment systems amid inter-connected customer experience regardless of the device (smartphone, laptop, or television) are accredited for this segment's growth.
To get exclusive insights on video streaming market, ask an analyst here
US Leads Global Sales of Video Streaming Subscription Revenues
US accounts for the largest market value share of more than 20%. Presence of major video streaming platforms such as Netflix and Amazon Prime are primary factors for share-wide dominance of this region.
Further, innovation and development of advanced streaming technology enables data efficient streaming of content.
The average consumption of video streaming services is over 38 hours of content in the US.
This points to favorable consumer trends in North American countries. The highest growth rate can be traced to the Middle East & Africa.
Countries in this region are witnessing exponential adoption of smartphones, tablets, and smart televisions.
Middle East & Africa offers remunerative growth opportunities with a phenomenal 19% CAGR through 2029.
COVID-19 Impels Video Streaming
Omnipresent lockdowns across the globe have generated a meteoric increase in video streaming. As organizations shift to work-from-home as a step towards mitigating financial losses.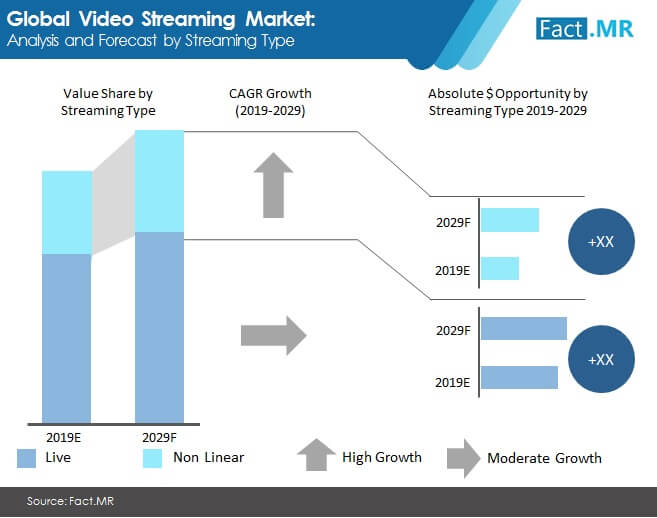 Video streaming services such as video conferencing, and video call meetings garner multiplying users every day.
Popular service providers such as Zoom Video Communications, Microsoft Teams are continuously adding infrastructure capacity to keep their video streaming services from crashing.
COVID-19 presents a true test of technical infrastructure and scalability models of video streaming service providers.
However, this test also presents remunerative opportunities for market players to gain market value share.
Entertainment video streaming giants such as Netflix, Amazon Prime, HooQ are tackling the increase in pressure by reducing the quality of videos.
For instance, in Europe, Netflix has limited the highest quality to HD videos, whereas in India Netflix has been requested by Cellular Operators Association of India (COAI) to limit video streaming quality to SD.
These are preventive steps to ensure that telecommunication infrastructures aren't disrupted due to excessive video streaming.
The pandemic has become a collective responsibility of the world, video streaming players across the globe are playing an important role.
The global video streaming market will grow exponentially during COVID-19 lockdowns, and post pandemic normalization.
Content Relevance Outlines Growth Trajectory for Video Streaming Vendors
Developing local content for high growth regions is a major competitive strategy among market players.
The likes of Amazon, Netflix, and YouTube are partnering with social media influencers, and celebrities to curate regional content that appeals to local communities.
Education end-uses of video streaming is a remunerative trend to keep an eye on. Prevalence of e-learning across the globe further creates surging demand for real-time video streaming of course content.
Organizations are analyzing consumer behavior using consumer sentiment analysis to differentiate content amid stiff competition. Streaming rights, and cost efficient production of video content dictates profits and sustained growth.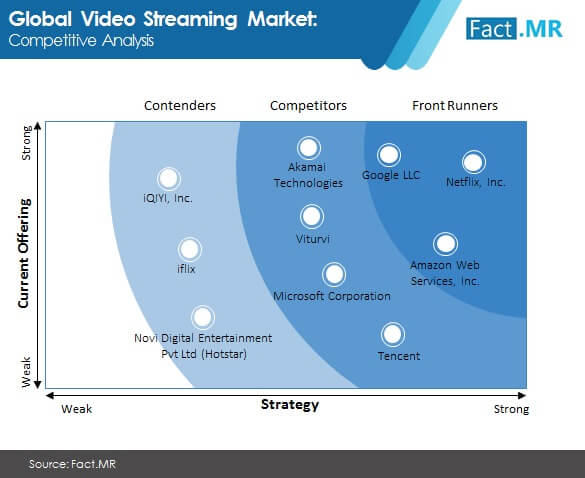 Major organizations that influence competition are, but not limited to, Netflix, Inc., Akamai Technologies, Amazon Web Services, Inc., Google LLC, Microsoft Corporation, Tencent, iQIYI, Inc., Novi Digital Entertainment Pvt Ltd (Hotstar), iflix, HOOQ, and Rakuten Viki.
To get critical and intuitive insights on video streaming market, request for a report sample here
Global Video Streaming Market – Scope of the Report
The following report provides forecast and analysis of the global video streaming market along with the historical data of 2014, estimated data 2019 and forecast data up to 2029 in terms of value (US$ Mn) and, according to a Fact.MR study. The research propounds critical trends that are currently influencing growth within the global video streaming market along with several macro-economic indicators. This newly published and insightful report on video streaming sheds light on key dynamics, and their impact on the overall value chain from suppliers to end-users, which are expected to transform the future of the global video streaming market.
The report also comprises the study of current issues with end users and opportunities for video streaming. It also contains value chain analysis, including the key market participants. To provide users of this report with a comprehensive view of the market, we have included a detailed competitive analysis about the key players involved in the market and strategic overviews. The dashboard included in the report provides a detailed comparison of video streaming manufacturers on parameters such as total revenue, product offerings, and key strategies. A list of key companies operating in the video streaming market provided in the report adds to the credibility of this exhaustive research study.
Global Video streaming Market: In-Depth Assessment on Key Segments
The global video streaming market is segmented on the basis of streaming type, delivery channel, platform, service, revenue model, end use and region.
| | | | | | | |
| --- | --- | --- | --- | --- | --- | --- |
| Streaming Type | Delivery Channel | Platform | Service | Revenue Model | End Use | Region |
| Live | Internet Protocol TV | Gaming Consoles | Consulting | Advertising | Enterprise | North America |
| Non Linear | Over-the-Top (OTT) | Laptops & Desktops | Managed Services | Rental | Corporate Communications | Latin America |
| | Pay-TV | Smartphones & Tablets | Training & Support | Subscription | Knowledge Sharing & Collaborations | Europe |
| | | Smart TV | | | Marketing & Client Engagement | East Asia |
| | | | | | Training & Development | South Asia & Oceania |
| | | | | | Consumer | Middle East & Africa |
| | | | | | Real-Time Entertainment | |
| | | | | | Web Browsing & Advertising | |
| | | | | | Gaming | |
| | | | | | Social Networking | |
| | | | | | E-Learning | |
This taxonomy and the detailed TOC prepared are confidential and intended exclusively for the individual or entity with whom it is being shared. Reading, disseminating, distributing, or copying this to any party other than addressee(s) is unauthorized and prohibited.
Country-specific assessment on demand for video streaming has been provided for each regional market, along with the market size valuation and forecast price point assessment, price index and impact analysis of key regional and country-wise dynamics, which were obtained through quotes from numerous video streaming manufacturers, experts, and suppliers. Y-o-Y growth projections have also been offered on all regional markets incorporated in the report. Moreover, future trends, growth prospects, and other possibilities related to the market have been answered in the report.
The report provides company-level market share analysis, which has been derived on the basis of the company's annual sales and segmental revenue in all the target end-use industries. The market has been forecasted based on constant currency rates. The report provides detailed competitive and company profiles of key participants operating in the global video streaming market. Some of the major competitors operating in the video streaming market are Netflix, Inc., Akamai Technologies, Amazon Web Services, Inc., Google LLC, Microsoft Corporation, Tencent, iQIYI, Inc., Novi Digital Entertainment Pvt Ltd (Hotstar), iflix, HOOQ, Rakuten Viki and others.
Global Video Streaming Market: Research Methodology
A number of primary and secondary sources were consulted during the course of the study. Secondary sources include Factiva, Morningstar and Hoovers, and company annual reports and publications. Comprehensive interviews have been conducted by our analysts, and the intelligence and insights obtained have been used for validating the information gained through secondary research. The report also includes a description of assumptions and acronyms utilized for research purposes. Data gathered has been validated using the triangulation method to offer useful quantitative and qualitative insights into the video streaming market.
A short market viewpoint offered in the report elucidates the macro-economic aspects that influence the growth of the video streaming market, which includes global GDP growth rate, urbanization growth rate, population growth rate, internet penetration growth and others. This report serves as an authentic resource of intelligence on the video streaming market, enabling the readers to take fact-based decisions on the future direction of their businesses
Fact.MR offers custom research services that help clients to get specific research solutions
We are committed towards customer satisfaction and quality service.
---
Our Clients

Video Streaming Market Forecast, Trend Analysis & Competition Tracking - Global Market Insights 2019 to 2029