Rising Preference for Interventional Radiology to Uplift Market Growth
Advancements in guidewire tip technologies has increased adoption of interventional radiology techniques in image-guided diagnosis and treatment of diseases. Interventional radiology has significantly improved patient recovery outcomes. This is because the procedure involves minimum risk, less pain and faster recovery time compared to open surgery. Interventional radiology is highly suitable for vascular, gastrointestinal, hepatobiliary, pulmonary and genitourinary diseases.
This rise in adoption of minimally invasive surgeries, coupled with technological advancements in surgical procedures is poised to propel the global guidewires market in the future. A positive growth trajectory is anticipated for the global guidewires market, set to expand at a CAGR of 6.1% during the forecast period (2020-2025).
Coronary Guidewires to Dominate, Urology Guidewires Show High Expansion Rate
The coronary guidewires segment shall dominate the global guidewires market. Rising incidences of coronary diseases are anticipated to steer the market forward. These guidewires are easy to navigate across blood vessels in order to reach a lesion or vessel segment. It acts as a guide for larger catheters which facilitates easy delivery to the treatment site. The coronary guidewires are projected to capture two-fifth of the overall guidewires market, expanding at a CAGR of 6.6% during the forecast period.
The urology guidewires segment is set to expand the highest, with a CAGR of 7.0% during the forecast period. This is attributed to increasing prevalence of chronic kidney dysfunctions and use of dialysis catheters which is anticipated to drive the urology guidewires segment's growth. Moreover, urology guidewires offers an atraumatic hydrophilic tip, which facilitates negotiating tight areas. Urology guidewires are anticipated to account for at least 15% of the global guidewire market share.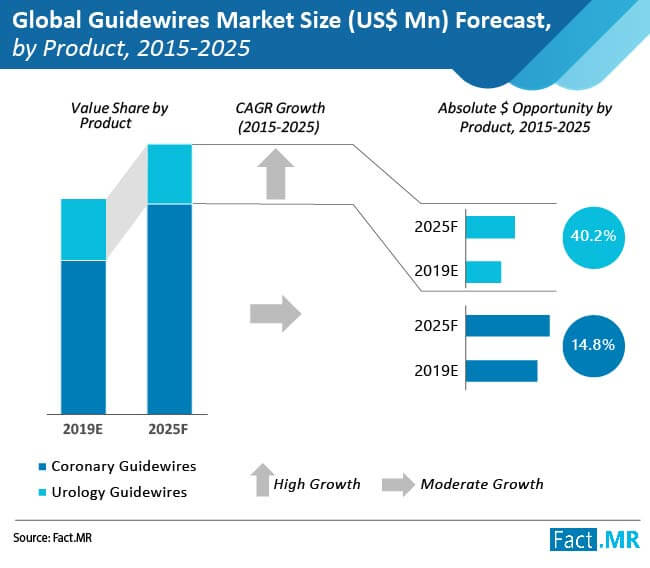 To know more about guidewires market, ask an analyst here
North America Reigns Supreme, Asia-Pacific Poised to Emerge as Lucrative Market
North America is poised to remain the leader in the global guidewires market. High prevalence of cardiovascular and urological diseases, combined with sophisticated healthcare infrastructure and the presence of several guidewire manufacturers are attributed as key growth drivers. A market share of almost two-fifth is anticipated for the North American guidewires market, expanding by one-and-a-half times during the forecast period.
Asia-Pacific is foreseen to emerge as the fastest growing market, registering a CAGR of 7.2% throughout the forecast period. Expansion of businesses in emerging countries motivated by rising incidences of health problems shall augment the growth of the Asia-Pacific guidewires market. These emerging countries have witnessed increase in the adoption of high quality guidewire brands imported from developed regions. Economic growth and favorable government policies have facilitated business operations by key market players in the region.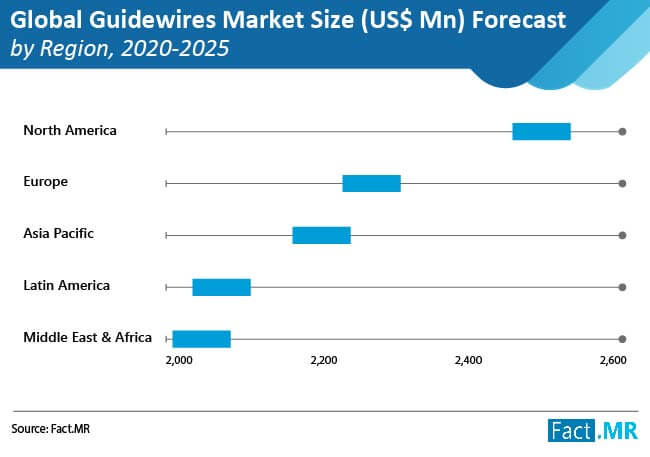 For critical regional insights on guidewires market, request for a report sample here
Product Development, Patient Comfort to Motivate Market Players
The global guidewires market is fragmented, with top four players accounting for more than half of the market. These players are: Abbott Technologies, Terumo Medical Corporation, Integer Holdings Corporation and Boston Scientific Corporation. These players concentrate on expanding their product portfolio by developing guidewires for various therapeutic applications and providing improved patient comfort in the form of lubricous coating.
Abbott Technologies leads in the global guidewires market. The company focuses on new product developments. One of its products is the Hi-Torque Command 18 018 guidewire. This guidewire has a hybrid design that combines the durability of nitinol and the push, torque and support of stainless steel. Another product, titled PressurewireTM X assesses hemodynamics using either FFR fractional flow reserve or Resting Full Cycle Ratio (RFR) measurements.
Terumo Interventional Systems, another market player, offers hydrophilic and novel hybrid guidewires in nitinol core for coronary and vascular interventional procedures. Its products include the Long Taper GLIDEWIRE, the J-tip GLIDEWIRE and GLIDEWIRE TORQUETM Device. These glidewires provide unmatched lubricity and lubricity retention. This ensures consistency throughout the entire operation.
COVID-19 Market Insights:
The COVID-19 pandemic has brought the entire world to a stalemate. Several international businesses have come to a stand-still, with production and manufacturing capacities becoming limited or ceasing. This cessation of business is anticipated to have recessionary impacts on the world economic in the coming days. Supply-chains have become disrupted, owing to limited availability of transport. As a precautionary measure, employees have been encouraged to work from home, thus limiting output of key industries.
Until now, over 1.5 million people have been infected by the COVID-19 virus, with over one-fifth of the population succumbing to the disease. Particularly vulnerable patients are those with pre-existing chronic conditions such as heart disease, renal failure, cancer and diabetes. Naturally, these patients require top priority care as the COVID-19 infection can create multiple complications in their bodies. Realizing this, the leading guidewire manufacturing companies have directed a major chunk of their research and funds in finding solutions for combating the coronavirus.
Abbott Laboratories, for instance, has received FDA approval for the fastest available molecular point-of-care test for the detection of COVID-19, delivering positive results in as little as five minutes. The company is ramping up its production of its ID NOW testing boxes, delivering 50,000 units on a daily basis. Also, Terumo International has concluded that its production capacity has not been hindered due to procurement difficulties of components and raw materials, which includes guidewires. However, strict countermeasures such as restriction of movement between business locations, staggering work shift timings and work from home have been implemented. To conclude, while guidewires production may be impacted by the pandemic, manufacturers are not poised to experience too many supply chain disruptions as they are constantly engaged in production and eradication measures.
Global Guidewires Market- Scope of the Report
The recent study by Fact.MR on global guidewires market offers a 5-year forecast between 2020 and 2025. The study analyzes crucial trends that are currently determining the growth of global guidewires market. This report explicates on vital dynamics such as the drivers, restraints and opportunities for key market players along with key stakeholders as well as emerging players associated with the manufacturing of guidewires. The study also provides dynamics that are responsible for influencing the future status of the global guidewires market over the forecast period.
A detailed assessment of the global guidewires market value chain analysis, business execution, and supply chain analysis across the regional markets has been covered in the report. A list of prominent companies operating in the global guidewires market along with their product portfolio enhances the reliability of this comprehensive research study.
Global Guidewires Market: Report Summary
The study offers a comprehensive analysis on diverse features including production capacities, demand, product developments, revenue generation and sales in global guidewires market across the globe.
A comprehensive estimate of the global guidewires market has been provided through an optimistic as well as a conservative scenario, taking into account the sales of the global guidewires market during the forecast period. Price point comparison by region with global average price is also considered in the study.
Global Guidewires: Market Segmentation
Fact.MR has studied the global guidewires market with detailed segmentation on the basis of product, end user and key regions.
| | | |
| --- | --- | --- |
| Product | End-user | Key Regions |
| Coronary Guidewires | Hospitals | North America |
| Peripheral Guidewires | Clinics | Europe |
| Neurovascular Guidewires | Ambulatory Surgical Centers | Asia Pacific |
| Urology Guidewires | Diagnostic Centers | Eastern Europe |
| Radiology Guidewires | | Latin America |
| Gastroenterology Guidewires | | Middle East & Africa (MEA) |
| Other Guidewires (Otolarynology & Oncology) | | |
"This taxonomy prepared is confidential and intended exclusively for the individual or entity with whom it is being shared. Reading, disseminating, distributing, or copying this to any party other than addressee(s) is unauthorized and prohibited."
Global Guidewires Market: Analysis on Market Size Evaluation
The global guidewires market has been analyzed for each market segment, in terms of value (US$ Mn).
Market estimates at global and regional levels for guidewires is available in terms of "US$ Mn" for value and thousand units for volume. A Y-o-Y growth contrast on prominent guidewire market segments, along with market attractiveness evaluation has been incorporated in the report.
Global Guidewires Market: Inspected Assessment on Regional Segments
Key sections have been elaborated in the global guidewires report, which have helped to deliver projection on the regional markets. These chapters include the regional macros (economic, and business environment outlook), which are expected to have a momentous influence on the growth of the global guidewires market during the forecast period.
Country-specific valuation on demand for guidewires has been offered for each regional market, along with the market scope, estimate and forecast, price index, and impact analysis of dynamics of prominence in regions and countries. For all regional markets, Y-o-Y growth estimates have also been incorporated in the report.
Global Guidewires Market: In-Depth Analysis on Competitive Landscape
The report sheds light on the leading manufacturers of global guidewires along with their detailed profiles. Essential and up-to-date data information related to the market performers, who are principally engaged in the production of global guidewires, has been brought with the help of a detailed dashboard view. Market share analysis and comparison of prominent players provided in the report permits the report readers to take preemptive steps in advancing their businesses.
Company profiles have been included in the report, which includes essentials such as product portfolio, key strategies along with all-inclusive SWOT analysis on each player. Company presence is mapped and presented through the matrix for all the prominent players thus providing the readers with actionable insights, which helps in thoughtfully presenting market status, and predicting the competition level in the global guidewires market. Prominent manufacturers with established market presence in the global guidewires market are Abbott Laboratories, Terumo Medical Corporation, Integer Holdings Corporation, Boston Scientific Corporation, Olympus Corporation and Cardinal Health to name a few.
Fact.MR offers custom research services that help clients to get specific research solutions
We are committed towards customer satisfaction and quality service.
---
Our Clients

Guidewires Market Forecast, Trend Analysis & Competition Tracking - Global Market Insights 2020 to 2025