Alcohol-Based Hand Sanitizer to Witness Positive Growth owing to Outbreak of COVID-19
Growing awareness about hand hygiene amid COVID-19 is expected to fuel the demand for alcohol-based hand sanitizers. Furthermore, the governments of developed and developing countries are promoting the usage of clinical hand hygiene products due to the recent Coronavirus outbreak. This, in turn, is driving the popularity of hand sanitizers and fostering the demand for alcohol-based sanitizers.
Besides, it is recommended by leading global health organizations such as WHO, CDC, and FDA to opt for sanitizers which contains more than 60% of alcohol for maximum efficacy. Hence, consumer adoption of hand sanitizers is anticipated to create a plethora of opportunities for the players operating in the hand sanitizer market. In Fact.MR's report it is estimated that alcohol-based sanitizer will register approximately 1.9X growth in terms of value and grow at a CAGR of ~6.5% during the forecast period 2020-2030.
Pump Bottle Hand Sanitizers to Remain Highly Preferred
Pump bottles are an easy way to dispense hand sanitizer and are widely used in multiple end-use industries such as institutions, hospitals, household purposes, offices, and manufacturing industries. The pump bottles are ideal to use as it ensures minimal contact with other surfaces and also saves time. Owing to its benefits like ease in dispensing, applicability, and ability to be wall mounted is foreseen to reinforce the demand for the pump bottle hand sanitizers. Based on the above-mentioned facts, the pump bottle hand sanitizer segment is expected to cross ~US$ 1.1 Bn mark by the end of the forecast period. On the other hand, the pump bottle hand sanitizer segment is foreseen to grow 1.4X faster than the flip-flop bottles segment by 2030.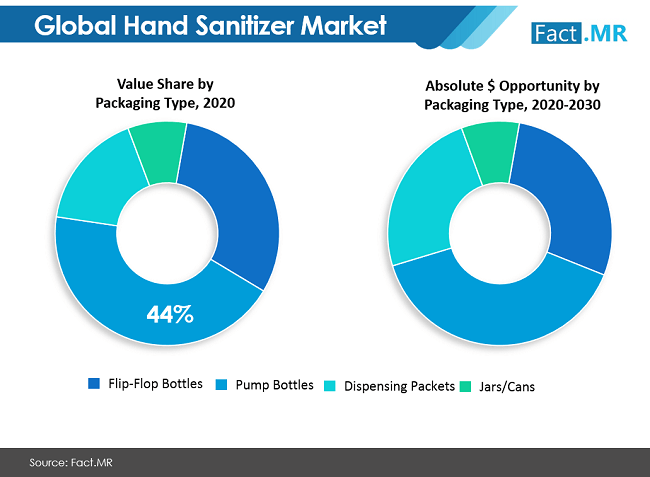 To get in-depth insights on the hand sanitizer market, ask an analyst here
North America Gains Prominence in Hand Sanitizer Market
North America is pegged to be the prominent market for hand sanitizers owing to the consumer inclination towards hand hygiene and growing concern over health which is expected to drive the market in this region. Furthermore, amidst the outbreak of coronavirus, sales of hand sanitizer has exponentially increased in the US. The use of sanitizers among the people and end-use sectors such as hospitals and offices is contributing immensely to the growth of the hand sanitizer market. Moreover, with increasing awareness among consumers, manufacturers are ramping up their production to cater to the high demand for hand sanitizers. In its report, Fact.MR projects that North America is projected to hold more than 28% value share of the global hand sanitizer market during the forecast period 2020-2030.
Impact of Covid-19 on Global Hand Sanitizer Market
The Coronavirus, Covid-19, outbreak has a led to a huge uptick in the demand for hand sanitizers globally. The sudden spike in demand as the virus goes global, manufacturers are ramping their production. As the virus is spreading globally, people have started to "panic-buy" hand sanitizers as a preventive measure. With the sudden spike in demand of hand sanitizers, a vital raw material for hand sanitizer is in short supply. The prices for the chemicals are jumping sharply on the back of a surge in demand because of the coronavirus pandemic. Isopropyl alcohol also known as isopropanol or IPA is sold at high prices, according to ICIS. Stocks of isopropyl alcohol are low, due to unexpected increase in demand. World Health Organization and other public bodies have advised the use of alcohol-based hand sanitizer with alcohol content above 60% as a preventive measure for virus spread.
The hand sanitizer market in particular has faced the impact from the Covid-19 crisis as demand was observed to increase in January and February compared to demand in 2019 during those months. The increasing demand for hand sanitizers in 2020 can be understood under three scenarios: positive, pessimistic and probabilistic. Under the optimistic scenario, the global hand sanitizer market is expected to increase in the first quarter of 2020 under Covid-19's strong impact, and demand may grow from the second quarter. On the other hand, under the probabilistic scenario, the market is expected to remain under strong crisis control until the second quarter, and will benefit sales of hand sanitizer. Although the impact of the crisis may increase the demand for hand sanitizer only in first two quarters in the pessimistic scenario, the market will begin to show decline by the first quarter of 2021.
Industry Players Focusing on Partnerships for Business Opportunities
The prominent players in the hand sanitizer market are focusing on developing partnerships to widen their product portfolio and offering advanced products to enhance their market share in the global market. For instance:
In 2020, Reckitt Benckiser partnered with a leading e-commerce platform Jumia in Africa. With this partnership, the company will supply its hygiene products such as soap bars, sanitizers, disinfectants, and liquid hand washes to prevent the spread of COVID-19.
In 2019, Kimberly Clark partnered with APIC (Association for Professionals in Infection Control and Epidemiology) to support international infection prevention. This partnership took place to increase awareness about combating infection worldwide.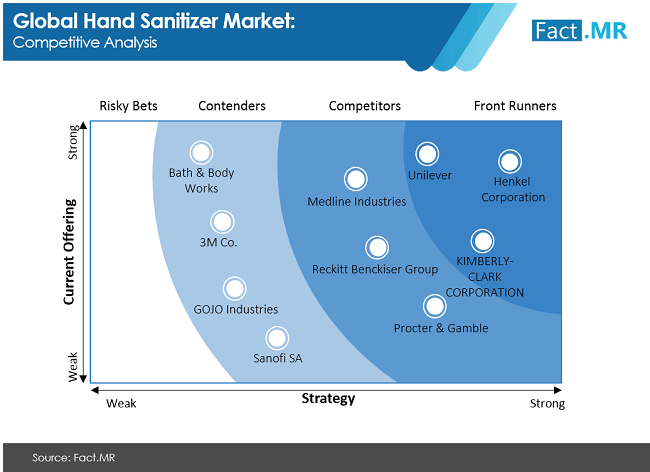 To get an exhaustive overview of the competition landscape of the hand sanitizer market, request for a report sample here
Hand Sanitizer Market - Scope of the Report
Fact.MR recently published a market study on the global market for hand sanitizer. The study provides a detailed assessment on the key market dynamics, including drivers, trends, opportunities, restraints, and detailed information about the hand sanitizer market structure. The market study presents exclusive information about how the Hand sanitizer market will grow during the forecast period of 2020-2030.
Key indicators of market growth, which include Year-on-Year (Y-o-Y) growth of the market, value chain, supply chain analysis, and Compounded Annual Growth Rate (CAGR) are explained in Fact. MR's study in a comprehensive manner. This information can help readers understand the quantitative growth prospects of the hand sanitizer market in the forecast period.
The study is relevant for stakeholders in the hand sanitizer market, including manufacturers, suppliers, distributors, and investors, and can help them in developing appropriate strategies to grow in the market. Stakeholders in the hand sanitizer market, investors, industry experts, researchers, and journalists, as well as business researchers can leverage the information and data presented in the Fact.MR study.
The study also includes statistics as well as facts related to macro as well as microeconomic factors that are impacting developments in the hand sanitizer market. It also offers actionable insights based on future trends in the hand sanitizer market. Furthermore, small businesses and new entrants in the hand sanitizer market too can make use of the information presented in this study, based on which, they can make appropriate business decisions in order to gain momentum in the market.
Key Segments of the Hand Sanitizer Market
Fact.MR's study on the hand sanitizer market offers information divided into seven key segments— product, content, active ingredient, packaging, end use, pack size, sales channel and region. This report offers comprehensive data and information about important market dynamics and growth parameters associated with these categories.
Product

Foaming Hand Sanitizers
Foaming Instant Hand Sanitizer
Instant Hand Sanitizer Gel
Spray Hand Sanitizer

Content

Alcohol Based

Upto 60% Content
Above 60% Content

Non-Alcohol Based

Active Ingredient

Ethanol or Ethyl Alcohol
Benzalkonium Chloride
Isoprophyl

Packaging

Flip-Flop Bottles
Pump Bottles
Dispensing Packets
Jars/Cans

End Use

Institutional

Hospitals & Healthcare
Offices/Commercial
Foodservice
Food Processing
Schools & Universities
Manufacturing & Industrial
Hospitality
Grocery, Convenience & Retail
Others
Household

Pack Size

Below 100 ml
101 ml – 300 ml
301 ml – 500 ml
501 ml & Above

Sales Channel

Direct
Indirect

Hypermarkets/ Supermarkets
Specialty Stores
Multi-Brand Stores
Discount Stores
Independent Departmental Stores
Online Retailers
Other Sales Channel

Region

North America
Latin America
Europe
South Asia
East Asia
Oceania
MEA
Key Questions Answered in the Fact.MR's Hand Sanitizer Market Report
Which regions will continue to remain the most profitable regional markets for hand sanitizer market players?
Which factors will induce a change in the demand for hand sanitizer during the assessment period?
How will changing trends impact the hand sanitizer market?
How can market players capture the low-hanging opportunities in the hand sanitizer market in developed regions?
Which companies are leading the hand sanitizer market?
What are the winning strategies of stakeholders in the hand sanitizer market to upscale their position in this landscape?
Hand Sanitizer Market: Research Methodology
In Fact.MR's study, a unique research methodology is utilized to conduct extensive research on the growth of the hand sanitizer market, and reach conclusions on future growth parameters of the market. This research methodology is a combination of primary and secondary research, which helps analysts ensure the accuracy and reliability of conclusions.
Secondary resources referred to analysts during the preparation of the hand sanitizer market study include statistics from governmental organizations, trade journals, white papers, and internal and external proprietary databases. Analysts have interviewed senior managers, product portfolio managers, CEOs, VPs, marketing/product managers, and market intelligence managers, who have contributed to the development of this report as a primary resource.
Fact.MR offers custom research services that help clients to get specific research solutions
We are committed towards customer satisfaction and quality service.
---
Our Clients

Hand Sanitizer Market Forecast, Trend Analysis & Competition Tracking - Global Market Insights 2020 to 2030