Nitrobenzene Market to Grow 1.4X; High Demand for Paint Solvents to Support COVID-19 Recovery
Accelerating demand for high-performance plastics across the globe will continue to generate revenue for nitrobenzene manufacturers. Applications in producing methyl diphenyl diisocyanate (MDI) to enhance the durability of plastic is a prime factor for this growth. The global nitrobenzene market exhibits a very modest 3.6% CAGR during the forecast period (2020 - 2030). Need for industrial chemicals manufactured using nitrobenzene is another factor that contributes to nitrobenzene sales. The pale yellow chemical (nitrobenzene) is produced by forming nitronium ion (NO2+) from sulfuric acid and nitric acid. Hence, the availability of these raw materials will influence the profit margins of manufacturers. Increasingly stringent norms by statutory organizations such as the Environmental Protection Agency (EPA) to curb carbon emissions from nitrobenzene production forces market players to shift capacity expansion plans. The dependency of nitrobenzene production on crude oil raw materials also influences market growth.
Aniline Production to be Primary Revenue Source
Aniline production emerges as the most lucrative application of nitrobenzene. The application segment generates maximum demand with more than 74% of total market value share. Aniline employed in MDI manufacturing is a major factor for growing demand for this application segment. Financially rewarding opportunities can be found in the paint solvent market. The increase in disposable income of millennial consumers drives the demand for high-grade paint solvents for a satisfactory finish. The segment will continue to capture market value share with an impressive 6.5% CAGR through 2029.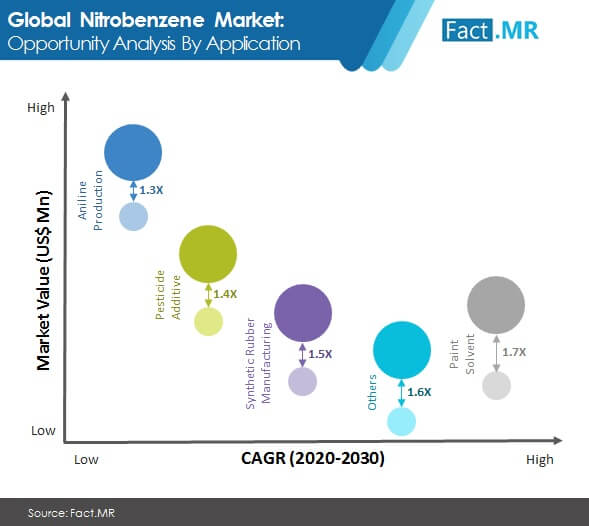 East Asia to Maintain Hegemony over Global Sales
East Asia is the leader of global sales with over 33% of the total market value among six major regions (North America, Latin America, Europe, East Asia, South Asia & Oceania, and MEA). China is the largest producer of nitrobenzene. The presence of prominent nitrobenzene manufacturers in East Asia position the region as the largest demand generator. South Asia & Oceania presents the most remunerative growth opportunities. The region is witnessing a surge in demand for high performance plastic and rubber products. Booming digital economies such as Indonesia, Singapore, and Malaysia will continue to bolster demand for nitrobenzene employed in manufacturing electric automotive and rubber tires for the same. South Asia & Oceania Nitrobenzene market will grow at a healthy 5.3% CAGR through 2030.
Market Dynamics during the COVID-19 Pandmeic
Oil & gas production plants are at an all-time low capacity. The Covid-19 pandemic has disrupted the value chain for nitrobenzene. For the time being, raw material availability, procurement, and logistics are primary concerns for market players. The impact of COVID-19 on crucial regions such as China, and the US will influence the recovery pattern of the market. More than 20 million cases have been reported, with deaths close to a 10th of a million. Countries are extending lockdowns to curb the rampant spread of covid-19.
However, nitrobenzene organizations can find sustainable opportunities in pharmaceuticals. As the word struggles with anxiety and stress of extended lockdowns. The demand for analgesic acetaminophen will witness a surge during the forecast period. Another opportunity lies in the need for sanitization of residential and commercial infrastructure due to Covid-19. It will create demand for fresh paint and repainting of infrastructure. Such trends post the pandemic will further the demand from paint solvents applications of nitrobenzene. Successful recovery strategies can be formed by targeting low impact regions and mapping alternate distribution and raw material procurement routes. Companies with digitized business operations are leveraging the benefits of technology in terms of reduced losses. A popular recovery strategy is integrating industry 4.0 technologies to reduce the dependency on human labor post Covid-19.
Strategic Capacity Expansion to Shape Competition
Manufacturers are targeting capacity expansion in Asia Pacific countries with comparatively lenient chemical manufacturing laws than developed countries such as the US. Gainful opportunities can be discovered in multiplying construction projects in developing countries. Countries such as India, and Indonesia are heavily invested in developing infrastructure to support the development of digital economies. Resurgent housing projects in North America and Europe are an area of interest for many market players. Nitrobenzene producing organizations that shape the competitive landscape are, but not limited to, BASF SE, Huntsman Corporation, The Dow Chemical, Chemours Company, Aromsyn Co., Ltd, Bann Quimica Ltda, Covestro AG, Finetech Industry Limited, Shandong Jinling Chemical Co., Ltd,Tianjin Elong Co.,Ltd, Wanhua Chemical Group Co., Ltd., and Total SA.
Global Nitrobenzene Market – Scope of the Report
The following report provides forecast and analysis of the global nitrobenzene market along with the historical data of 2015, estimated data 2020 and forecast data up to 2030 in terms of value (US$ Mn) and volume (Tons), according to a Fact.MR study. The research propounds critical trends that are currently influencing growth within the global nitrobenzene market along with several macro-economic indicators. This newly published and insightful report on Nitrobenzene sheds light on key dynamics, and their impact on the overall value chain from suppliers to end-users, which are expected to transform the future of the global nitrobenzene market.
The report also comprises the study of current issues with end users and opportunities for nitrobenzene. It also contains value chain analysis, including the key market participants. To provide users of this report with a comprehensive view of the market, we have included a detailed competitive analysis about the key players involved in the market and strategic overviews. The dashboard included in the report provides a detailed comparison of nitrobenzene manufacturers on parameters such as total revenue, product offerings, and key strategies. A list of key companies operating in the nitrobenzene market provided in the report adds to the credibility of this exhaustive research study.
Global Nitrobenzene Market: In-Depth Assessment on Key Segments
The global nitrobenzene market is segmented on the basis of application, end use and region.
| | | |
| --- | --- | --- |
| Application | End Use | Region |
| Aniline Production | Construction | North America |
| Pesticide Additive | Agriculture | Latin America |
| Synthetic Rubber Manufacturing | Pharmaceutical | Europe |
| Paint Solvent | Automotive | East Asia |
| Others | Others | South Asia & Oceania |
| | | Middle East & Africa |
This taxonomy and the detailed TOC prepared are confidential and intended exclusively for the individual or entity with whom it is being shared. Reading, disseminating, distributing, or copying this to any party other than addressee(s) is unauthorized and prohibited.
Country-specific assessment on demand for Nitrobenzene has been provided for each regional market, along with the market size valuation and forecast price point assessment, price index and impact analysis of key regional and country-wise dynamics, which were obtained through quotes from numerous nitrobenzene manufacturers, experts, and suppliers. Y-o-Y growth projections have also been offered on all regional markets incorporated in the report. Moreover, future trends, growth prospects, and other possibilities related to the market have been answered in the report.
The report provides company-level market share analysis, which has been derived on the basis of the company's annual sales and segmental revenue in all the target end-use industries. The market has been forecasted based on constant currency rates. The report provides detailed competitive and company profiles of key participants operating in the global nitrobenzene market. Some of the major competitors operating in the nitrobenzene market are BASF SE, Huntsman Corporation, The Dow Chemical, Chemours Company, Aromsyn Co., Ltd, Bann Quimica Ltda, Covestro AG, Finetech Industry Limited, Shandong Jinling Chemical Co., Ltd, Tianjin Elong Co.,Ltd, Wanhua Chemical Group Co., Ltd., Total SA and others.
Global Nitrobenzene Market: Research Methodology
A number of primary and secondary sources were consulted during the course of the study. Secondary sources include Factiva, Morningstar and Hoovers, and company annual reports and publications. Comprehensive interviews have been conducted by our analysts, and the intelligence and insights obtained have been used for validating the information gained through secondary research. The report also includes a description of assumptions and acronyms utilized for research purposes. Data gathered has been validated using the triangulation method to offer useful quantitative and qualitative insights into the nitrobenzene market.
A short market viewpoint offered in the report elucidates the macro-economic aspects that influence the growth of the nitrobenzene market, which includes global GDP growth rate and other sector growth rate such as construction, agriculture, pharmaceutical, automotive and others. This report serves as an authentic resource of intelligence on the Nitrobenzene market, enabling the readers to take fact-based decisions on the future direction of their businesses.
Fact.MR offers custom research services that help clients to get specific research solutions
We are committed towards customer satisfaction and quality service.
---
Our Clients

Nitrobenzene Market Forecast, Trend Analysis & Competition Tracking - Global Market Insights 2020 to 2030