Sensitive Toothpaste Market on a Steady Growth Trajectory, Disruptive Marketing Strategies Uphold Demand, Concludes Fact.MR
Growing consumer awareness about teeth sensitivity and its adverse effects, generates high demand for sensitive toothpaste. This can be attributed to innovative awareness campaigns by major players to attract, engage, and delight consumers. The global sensitive toothpaste market will grow at a steady ~5% CAGR during the forecast period (2020 - 2030). Unhealthy lifestyle of a multiplying millennial consumer base garners revenues for market players. As consumer lives get hectic there is a continuous increase in healthcare spending which includes preference of sensitive toothpaste over conventional products. Penetration of e-commerce platforms in developing countries such as India, China, and Indonesia create ample opportunities for manufacturers to expand their global footprint.
Advancements in material science helps manufacturers develop products that cater to specific consumer demands. Major players are leveraging industry 4.0 technologies such as machine learning (ML) to increase the cost and resource efficiency of production processes. Support from medical research furthers consumer adoption of sensitive toothpaste products. As the product is a fast moving consumer good, market players are focused on capturing market value share via disruptive marketing strategies. For instance, GSK Consumer Healthcare has emerged as a sensitive toothpaste brand in India by aggressive field marketing campaigns. The company invests in door-to-door, as well as, digital marketing campaigns to generate remunerative recall value and capture market share in India.
Whitening Sensitive Toothpastes to Capture Lion's Share of 55%
Whitening sensitive toothpastes foster the maximum revenues for market players with a lion's share of more than 55% of the total market value. This can be attributed to the ability of this product type to prevent and repair tooth decay from dietary acid erosion. Rapid relief sensitive toothpastes are the second most demanded product by consumers.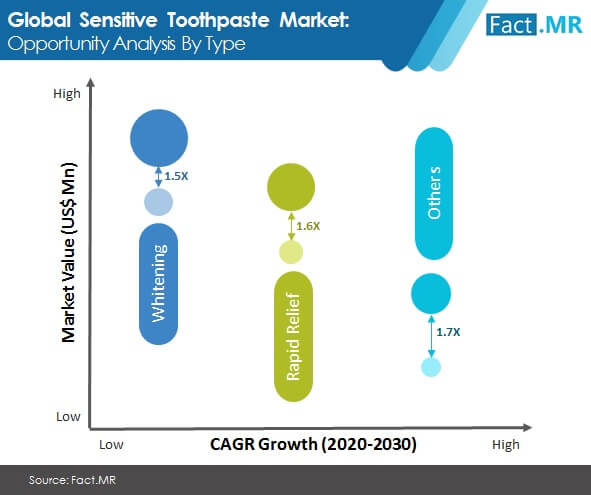 Get exhaustive insights on the sensitive toothpaste market by asking an analyst here
The adoption of rapid relief products stems from increasing spending on dental care by high disposable income consumers. Rapid relief sensitive toothpastes offer a strong 6% CAGR through 2020. The product type segment accounts for more than ¼ of the total market value. Surge in health consciousness among millennial and baby boomers alike will continue to strengthen demand for this product type segment. Herbal multi care is an emerging product category that is expected to establish itself as a sizable product type during the forecast period. Increasing adoption of plant based and vegan diets is the root cause of growth in this segment.
Supermarkets to Remain on Top, Online Channels Catching up
Supermarkets/hypermarkets generate the maximum revenues, accounting for a majority ~65% share of total market value. On the back of still prevalent grocery shopping in semi-urban areas, sensitive toothpastes will continue to sell more through supermarkets/hypermarkets. The presence of supermarkets/hypermarkets in high footfall areas such as malls, and commercial spaces contributes significantly to the segment's share-wide dominance.
Online distribution channels present financially rewarding opportunities with an impressive 7% CAGR during the projection period. Increasing number of millennial consumers and their demand for convenience over in-store shopping is a central factor for growth in this segment. Convenience stores are another popular touch-point for manufacturers. The convenience store distribution channel holds the second largest share, 22% of the total market value is generated from this segment. Dental professionals are witnessing an increase in customer footfalls which furthers the prescription of sensitive toothpastes from dentists. Pharmacies & Drug Stores offers the second most lucrative growth prospects with a strong 6% CAGR through 2030.
East Asia, South Asia and Oceania to Capture 47% Share
A majority of global sales come from East Asia and South Asia & Oceania. Together, these regions account for more than 47% share of total sales. Increasing disposable income of consumers, coupled with prominence of preventive care among consumers drive the demand from these regions. Favorable government initiatives in South Asia such as Make-in-India makes South Asia & Oceania a high-growth region with the highest 6.8% CAGR through 2030. Regional market competition is driven by consumer awareness programs to attract, educate, and delight consumers. The Sensodyne dental awareness program by GSK Consumer Healthcare is an ideal example of what kind of strategies garner maximum revenues. Uptake of e-commerce in Indonesia, Singapore, Malaysia, and India will continue to propagate sales in South Asia & Oceania countries.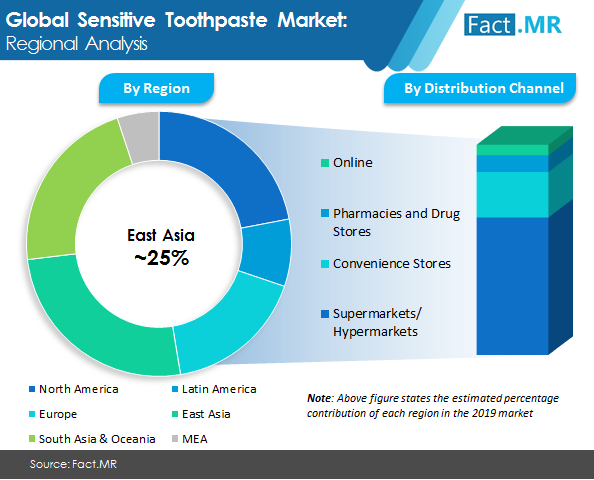 To get exclusive regional insights on the sensitive toothpaste market, request for a report sample here
COVID-19 Impact on Sensitive Toothpaste Market
The COVID-19 Pandemic has disrupted the supply chain in many high-growth regions. However, online distribution channels are still up and running to ensure daily grocery deliveries. Consumer trends such as social-distancing will have an adverse effect on supermarket/hypermarket sales during normalization post the pandemic. This demand will be shifted to online distribution channels, as consumers will prefer convenience and safety of e-commerce platforms. Recovering economies such as Singapore, Indonesia, exhibit strong chances of being the first countries to declare victory over COVID-19.
The impact of heat and tropical environments on coronavirus contribute to this conclusion. However, analysts are continuously tracking government declarations, and vaccine updates across the globe to pinpoint potentially recovering markets. Manufacturing challenges such as lack of raw material availability, insufficient workforce, and logistics probations are ubiquitous concerns in the market. Recovery strategies will be greatly influenced by the nature of a company's production and distribution channels. Locally present distribution and production channels may get early relief from governments. However, international distribution and production channels face a testing financial quarter.
Research and Development to be Market Imperative
The market is fairly consolidated with tier-1 toothpaste manufacturers collectively accounting for a majority market value share. However, niche category marketing campaigns help small and medium sized enterprises to differentiate their products and gain market share. Research and development of sensitive toothpastes with special ingredients such as herbal, salt, and fresh mint will continue to be a key growth strategy. Key players that influence the competitive landscape are, but not limited to, Colgate-Palmolive Company, GlaxoSmithKline plc, Church and Dwight Co., Inc., Procter and Gamble, Unilever, and Tom's of Maine.
Analyst's Comment
Well-established companies are using different strategies for urban and rural areas. For instance, to incentivize trade-up among metro city consumers, companies are launching premium sensitive toothpastes with attractive smart packaging in a bid to stand out from competitors.
Global Sensitive Toothpaste Market – Scope of the Report
The following report provides forecast and analysis of the global sensitive toothpaste market along with the historical data of 2015, estimated data 2020 and forecast data up to 2030 in terms of value (US$ Mn) and volume (Tons), according to a Fact.MR study. The research propounds critical trends that are currently influencing growth within the global sensitive toothpaste market along with several macro-economic indicators. This newly published and insightful report on sensitive toothpaste sheds light on key dynamics, and their impact on the overall value chain from suppliers to end-users, which are expected to transform the future of the global sensitive toothpaste market.
The report also comprises the study of current issues with end users and opportunities for sensitive toothpaste. It also contains value chain analysis, including the key market participants. To provide users of this report with a comprehensive view of the market, we have included a detailed competitive analysis about the key players involved in the market and strategic overviews. The dashboard included in the report provides a detailed comparison of sensitive toothpaste manufacturers on parameters such as total revenue, product offerings, and key strategies. A list of key companies operating in the sensitive toothpaste market provided in the report adds to the credibility of this exhaustive research study.
Global Sensitive Toothpaste Market: In-Depth Assessment on Key Segments
The global sensitive toothpaste market is segmented on the basis of product type, distribution channel and region.
| | | |
| --- | --- | --- |
| Product Type | Distribution Channel | Region |
| Whitening | Supermarkets/ Hypermarkets | North America |
| Rapid Relief | Convenience Stores | Latin America |
| Others | Pharmacies and Drug Stores | Europe |
| | Online | East Asia |
| | | South Asia & Oceania |
| | | Middle East & Africa |
This taxonomy and the detailed TOC prepared are confidential and intended exclusively for the individual or entity with whom it is being shared. Reading, disseminating, distributing, or copying this to any party other than addressee(s) is unauthorized and prohibited.
Country-specific assessment on demand for Sensitive toothpaste has been provided for each regional market, along with the market size valuation and forecast price point assessment, price index and impact analysis of key regional and country-wise dynamics, which were obtained through quotes from numerous sensitive toothpaste manufacturers, experts, and suppliers. Y-o-Y growth projections have also been offered on all regional markets incorporated in the report. Moreover, future trends, growth prospects, and other possibilities related to the market have been answered in the report.
The report provides company-level market share analysis, which has been derived on the basis of the company's annual sales and segmental revenue in all the target end-use industries. The market has been forecasted based on constant currency rates. The report provides detailed competitive and company profiles of key participants operating in the global sensitive toothpaste market. Some of the major competitors operating in the sensitive toothpaste market are Colgate-Palmolive Company, GlaxoSmithKline plc, Church and Dwight Co., Inc., Procter and Gamble, Unilever, Tom's of Maine and others.
Global Sensitive Toothpaste Market: Research Methodology
A number of primary and secondary sources were consulted during the course of the study. Secondary sources include Factiva, Morningstar and Hoovers, and company annual reports and publications. Comprehensive interviews have been conducted by our analysts, and the intelligence and insights obtained have been used for validating the information gained through secondary research. The report also includes a description of assumptions and acronyms utilized for research purposes. Data gathered has been validated using the triangulation method to offer useful quantitative and qualitative insights into the sensitive toothpaste market.
A short market viewpoint offered in the report elucidates the macro-economic aspects that influence the growth of the sensitive toothpaste market, which includes global GDP growth rate and other sector growth rate such as retail, e-commerce, consumer goods and others. This report serves as an authentic resource of intelligence on the Sensitive toothpaste market, enabling the readers to take fact-based decisions on the future direction of their businesses
Fact.MR offers custom research services that help clients to get specific research solutions
We are committed towards customer satisfaction and quality service.
---
Our Clients

Sensitive Toothpaste Market Forecast, Trend Analysis & Competition Tracking - Global Market Insights 2020 to 2030