Growing use of mouthwash, from freshening the breath to preventing tooth decay, continues to drive its demand at a steady pace. Consumers have actively included mouthwash in their daily lifestyles. Manufacturers are aiming at achieving the top brand status by offering mouthwashes that kill highest number of germs and bacteria and help consumers in maintaining great oral health. As more consumers grow conscious about their oral hygiene, the demand for mouthwash will continue to witness an upsurge. According to the recent study published by Fact.MR, the global mouthwash market is pegged to expand at a healthy pace in the years to come.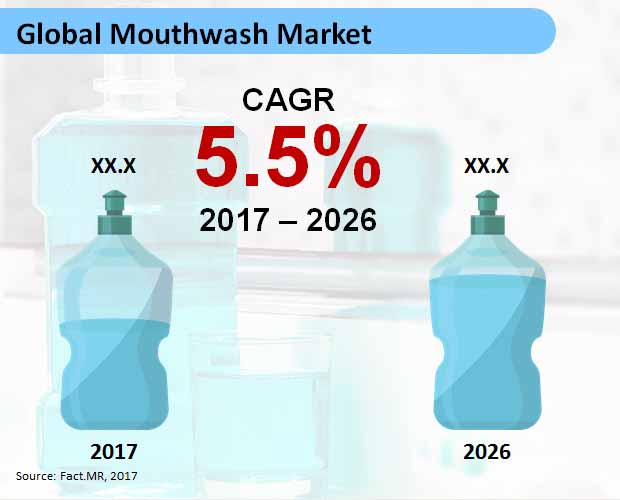 During the forecast period, 2017-2026, the global mouthwash market is poised to grow at a CAGR of 5.5% in terms of value. By the end of 2026, more than 2,200,000 tons of mouthwash will be sold across the globe, according to the study findings.
Market Taxonomy
| | | | |
| --- | --- | --- | --- |
| Region | Product Type | Nature | Sales Channel |
| North America | Therapeutic | Conventional | Modern Trade |
| Latin America | Cosmetic | Natural & Organic | Departmental Stores |
| Europe | Antiseptic | | Convenience Stores |
| Japan | Other Products | | Drug Stores |
| APEJ | | | Online Stores |
| MEA | | | Other Sales Channel |
(Additional information, including cross-sectional data and country-wise analysis & forecast is available in the report)
Cosmetic Mouthwashes to Register High Volume Growth during 2017-2026
The report estimates that in 2018 and beyond, cosmetic mouthwashes will represent top-selling products in the global mouthwash market. By the end of 2026, more than 35% of the overall market volumes will be accounted by sales of cosmetic mouthwashes. The report further estimates that cosmetic mouthwashes will register fastest volume growth at 6.6% CAGR over the forecast period. The demand of therapeutic mouthwashes is projected to dwindle due to low uptake of mouthwash as a pre-procedural consumable in dentistry.
Modern Trade to Represent Largest Sales Channel through 2026
In 2017, more than 60% of mouthwashes sold in the global market were conventional in nature. The demand for conventional mouthwash will continue to gain steady traction, reflecting an estimated 5% CAGR in terms of volume over the forecast period. The report further estimates that modern trade outlets will register highest sales of mouthwashes across the globe. In 2017, approximately 30.4% of mouthwashes were sold globally through modern trade sales channels. By the end of 2026, over 710,000 tons of mouthwashes are expected to be sold through modern trade outlets across the globe. The report also estimates that the global sales of mouthwashes through online stores will register fastest traction, reflecting a volume CAGR of 6.1% over the forecast period.
Competition Tracking
Leading manufacturers of mouthwash have been profiled in the report. Companies namely, GlaxoSmithKline plc, Reckitt Benckiser Group plc., Procter & Gamble, 3M Co, Unilever plc, Church & Dwight Co., Inc., Colgate-Palmolive Company, Royal Philips N.V., Henkel AG & Co. KGaA, Kao Corp, Johnson & Johnson, Hawley & Hazel, Amway, Caldwell Consumer Health, Dr. Harold Katz, SUNSTAR, Dentyl Active, Jason Natural, Lotus Brands, and Rowpar Pharmaceuticals are observed as the global leaders in production of mouthwashes. In the future, several market players are expected to be introducing new formulations for improving the ability of their mouthwashes in killing oral germs and bacteria extensively. In addition, multiple companies will be eyeing for extending the cosmetic and therapeutic applications of their mouthwash products.
Note: The insights mentioned here are of the respective analysts, and do not reflect the position of Fact.MR
From freshening breath to preventing tooth decay, mouthwash has a variety of uses. As a convenient option to brushing, mouthwash is widely used among consumers on a daily basis. Growing popularity of mouthwash in maintaining great oral health has driven its demand as a consumer good and as a pre-procedural consumable in dentistry. New formulations are being developed to improve the abilities of mouthwash in killing the bacteria and germs inside our mouths effectively. This report, compiled by Fact.MR, provides in-depth analysis of the global mouthwash market for the forecast period 2017-2026, and offers key insights about future market direction.
Scope
The scope of Fact.MR's report is to analyze the global mouthwash market for the forecast period 2017-2026 and provide readers an unbiased and accurate analysis. Mouthwash manufacturers, stakeholders, and suppliers in the global consumer goods sector can benefit from the analysis offered in this report. This report offers a comprehensive analysis, which can be of interest to leading trade magazines and journals pertaining to mouthwash.
Summary
The report commences with a brief information of the global mouthwash market. This executive summary sets the tone for the rest of the report, providing users the scope of the report. The executive summary includes important facts and statistics on the global mouthwash market.
Overview
The next section offers an overview of the global mouthwash market. This comprises an introduction to the market, along with a standard definition of the product – mouthwash. In this section, market value and year-over-year growth is offered to the readers. Year-over-year growth provides readers with a broader view of growth patterns over the forecast period.
The report's succeeding section focuses on drivers, restraints and key trends from macroeconomic, demand, and supply perspectives. Impact analysis of weighted average model-based growth drivers is contained in the report for better provision of decision-making insights to clients.
In order to offer readers with up-to-date information about the latest advancements in the global mouthwash market, the report provides updates about market opportunities, which can benefit leading manufacturers of mouthwash. With continuous evolution of the consumer goods sector, keeping a record of latest developments and trends is fundamental for mouthwash manufacturers to formulate key business strategies. Detailed insights about raw material sourcing, supply chain, pricing analysis, list of distributors, and cost structure are provided in this section.
Considering the wide scope of the global mouthwash market and to offer in-depth insights, Fact.MR's report provides segment-wise analysis and forecast. The mouthwash market has been categorized on the basis of product type, nature, sales channel, and region. This segmentation analysis is comprehensive, coupled with a detailed country-wise forecast provided on all parameters.
The report's last section comprises of the global mouthwash market competitive landscape, to provide readers with the dashboard view of company analysis and market players. This competitive intelligence is based on the providers' categories across value chain, and their presence in the global mouthwash market.
Research Methodology
Fact.MR is committed to offer unbiased and independent market research solutions to its clients. Each market report of Fact.MR is compiled after months of exhaustive research. We bank on a mix of tried-and-tested and innovative research methodologies to offer the most comprehensive and accurate information. Our main sources of research include,
Primary research
Secondary research
Trade research
Focused interviews
Social media analysis
Fact.MR offers custom research services that help clients to get specific research solutions
We are committed towards customer satisfaction and quality service.
---
Our Clients

Mouthwash Market Forecast, Trend Analysis & Competition Tracking - Global Market insights 2017 to 2026