Mouthwash Market
Mouthwash Market Analysis By Product Type (Therapeutic Mouthwash, Cosmetic Mouthwash, Antiseptic Mouthwash & Other Mouthwash) By Nature (Conventional Mouthwash & Natural & Organic Mouthwash) & By Sales Channel – Global Market Insights 2021 to 2031
FACT498MR
Oct-2021

List of Tables : 111

List of Figures : 87

170 Pages
Mouthwash Market Outlook 2021 - 2031
The global mouthwash market to be valued at US$ 8.49 Bn in 2021, predicted to increase at a CAGR of over 6% into the upcoming decade.
Attribute

Details

Market size value in 2021

USD 8.49 Billion

Market forecast value in 2031

USD 16 Billion

Growth Rate

CAGR of 6.54% from 2021 to 2031
Forecast Period
2021-2031
Historical Data Available for
2016-2020

Key Companies Profiled

GlaxoSmithKline Plc.
Reckitt Benckiser Group Plc.
Procter & Gamble Company
3M Company
Unilever Plc.
Church & Dwight Co. Inc.
Colgate-Palmolive Company
Royal Philips N.V.
Henkel AG & Co. KGaA
Kao Corporation
Johnson & Johnson
Hawley & Hazel
Amway
Caldwell Consumer Health
Dr. Harold Katz
Sunstar Group
Dentyl Active
Jason Natural Care
Lotus Brands Inc.
Rowpar Pharmaceuticals Inc.
The market is likely to be driven by the increased frequency of dental caries in both children and adults. As per the report, cosmetic mouthwash shall account for over 1/3rd of overall market volume by 2026.
Interested to Procure The Data
Mouthwash Consumption Analysis 2016-2020 Vs Outlook 2021-2031
According to Fact.MR- a market research and competitive intelligence provider- the global mouthwash industry expanded at above 4% value CAGR from 2016 to 2020. The market reached a value of over US$ 8 Bn.
During the COVID-19 pandemic, routine dental care and prevention via surgical intervention decreased significantly. Closure and reduced hours of dental practices, except for emergency services, is the main reason. Hence, dental practitioners have advocated use of home based oral care, inclining demand for mouthwash.
Future demand will be reliant on the rising prevalence of dental caries of primary teeth. The condition affects about 530 million children, according to the World Health Organization. Key firms such as Procter & Gamble and Colgate-Palmolive have initiated campaigns to raise dental hygiene awareness amongst both children and adults. From 2021 to 2031, mouthwash sales will likely surge at a CAGR of 6.54%.
Growing Burden of Periodontal Diseases to Increase Mouthwash Usage?
Oral diseases compel countries to incur hefty expenditures across the world. More than their financial implications, these diseases induce a major health burden, causing immense discomfort, disfigurement and pain amongst patients.
Severe periodontal diseases affects 10% of the global population, with the end result being tooth loss. Furthermore, as per the World Health Organization, high-income countries allocate 5% of their total healthcare expenditure for dental treatment.
Consequently, patients are seeking institutional as well as home-based dental care in large numbers. Amongst all prescribed courses of treatment, the use of mouthwash is highly convenient and cost-effective. Antibacterial mouthwashes can reduce plaque biofilm, attack microbes in inaccessible places and also eliminate contaminants from the cheeks and tongue.
An Adaptive Approach to Modern-day Research Needs
How are Recent Chemical Technology Developments Aiding Mouthwash Industry Growth?
As the incidence of dental plaque and tooth decay continue to rise, oral care products manufacturers are developing highly advanced formulae to prevent onset of periodontal diseases such as gingivitis and periodontitis, leading to incorporation of complex formulations.
A 2021 study published in MDPI advocates that incorporating ingredients such as chlorhexidine (0.2%), cetylpyridinium chloride (0.05%) and fluoride exhibited high chances of preventing the onset of supragingival plaque. These ingredients offer better anti-dental biofilm and anti-gingivitis properties compared to essential oil mouthwashes.
Recently, in November 2020, an in vitro test conducted by the Unilever Group concluded that mouthwashes containing cetylpyridinium chloride (CPC) is effective in reducing SARS-CoV-2 viral load by 99.9%. Consequently, the company intends to manufacture these mouthwashes on an increased scale.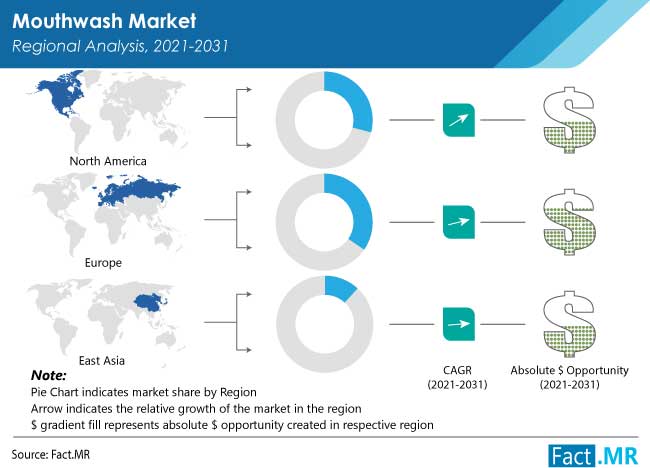 Country-wise Analysis
How are Mouthwash Sales Shaping Up in the U.S?
The U.S is expected to hold more than 25% of the mouthwash revenue share, due to high product adoption in the region. The prevalence of dental diseases, a rise in the aging population, and an increasing number of product launches are all contributing to market growth.
As of 2019, 4 out of 5 U.S adults considered oral health as their top priority, surpassing mental health, exercise and diet control respectively. Furthermore, the American Dental Association reports that 18% of people affected by oral diseases experience problems in other aspects of their lives, such as the inability to secure jobs. Hence, usage of mouthwash with advanced disinfectants is inclining considerably.
What are the Factors Driving Revenue Generation in India?
India is expected to emerge as a highly opportunistic market for mouthwashes across the forecast period. Dental caries and gum diseases affect nearly 60-80% of the Indian population, linked to bacterial endocarditis, atherosclerosis, chronic obstructive lung disease and preterm low birth weight.
The Dental Council of India estimates that 72% of the population residing in rural areas lack access to proper oral care. To counter this, initiatives such as the National Oral Health Programme have been implemented, to improve access to institutional and home grade oral care, including affordability of mouthwashes. According to Fact.MR, the Indian market for mouthwashes is expected to surge at a CAGR of nearly 7% across the 2021-2031 forecast period.
How Opportunistic is the Mouthwash Industry in the U.K?
According to Fact.MR, mouthwash sales in the U.K is likely to comprise 45% of the total market across Europe in the upcoming decade. Statistics from the Oral Health Foundation reveal that 66% of adults have visible plaque, while almost one in three adults suffer from tooth decay and 3 million people suffer from oral pain.
Recent years have therefore witnessed increased focus on oral care, with companies introducing a broad range of mouthwash products. For instance, Corsodyl Treatment Mouthwash, comprising 0.2% of chlorhexidine digluconate, is the most widely deployed oral care product in the U.K which helps kill bacteria within half-a-minute.
Category-wise Insights
Why are Antiseptic Mouthwashes Witnessing High Demand?
One of the most regularly prescribed antiseptics in oral healthcare is chlorhexidine-containing mouthwashes at a concentration of 0.2%. They've long been regarded as the gold standard in oral antiseptic mouthwashes, as they work against bacteria, spores, and fungi.
As a result, in the future years, the antiseptic mouthwash market will see significant demand and expansion. Fact.MR projects the segment to expand at a CAGR of 6% until 2031.
Will Natural & Organic Mouthwash Emerge as the Gold Standard?
Because traditional mouthwashes may contain toxic components such as alcohol, poloxamer 407, and sodium saccharin, customers are turning to natural and organic mouthwashes.
Natural mouthwash, moreover, performs all of these tasks without interfering with other biological functions. According to projections put forward by Fact.MR, the natural & organic mouthwash segment will capture a revenue share of nearly 30% into the upcoming decade.
Avail customized purchase options for your needs
Competitive Landscape
Prominent mouthwash manufacturers are emphasizing on extensive research & development initiatives so as to introduce products containing highly effective disinfectants. Besides, strategies such as capacity expansion, acquisitions and partnerships are also relied upon. Some key developments are as follows:
In November 2020, Unilever Research Laboratories discovered that rinsing for 30 seconds with mouthwash containing CPC Technology reduces the viral load of SARS-CoV-2, the virus that causes Covid-19, by 99.9%.
Likewise, in December 2020, Procter & Gamble unveiled its HDPE recyclable toothpaste tubes across North America for its Crest, Oral-B and Blend-a-Mend toothpaste brands, which reinforces the company's commitment to sustainability
Also, Himalaya Pharmaceuticals is the first herbal brand to introduce an entire line of alcohol-free mouthwashes. Comprising of natural ingredients like pomegranate, pineapple and papaya; the mouthwashes complement Himalaya's pre-existing range of toothpastes and are available in three different variants
Key Segments Covered
Product Type

Therapeutic Mouthwash
Cosmetic Mouthwash
Antiseptic Mouthwash
Other Mouthwash

Nature

Conventional Mouthwash
Natural & Organic Mouthwash

Sales Channel

Mouthwash Sales via Modern Trade
Mouthwash Sales via Departmental Stores
Mouthwash Sales via Convenience Stores
Mouthwash Sales via Drug Stores
Mouthwash Sales via Online Stores
Mouthwash Sales via Other Sales Channels