Cross Border E-Commerce Software Market
Cross Border E-Commerce Software Market Analysis By Deployment (Cloud-based & On-premises Cross Border E-Commerce Software) By Application (Cross Border E-Commerce Software for Large Enterprises & SMEs) & By Region – Global Market Insights 2022 to 2032
Analysis of Cross Border E-Commerce Software market covering 30 + countries including analysis of US, Canada, UK, Germany, France, Nordics, GCC countries, Japan, Korea and many more
Cross Border E-Commerce Software Market Outlook (2022-2032)
Cross border e-commerce software demand was valued at US$ 2.4 Billion in FY 2021, and is slated to register a Y-o-Y incline of nearly 17% in 2022, reaching US$ 2.8 Billion. During the forecast period ranging from 2022 to 2032, the market is poised to incline at a staggering 15.2% value CAGR, concluding at a valuation of US$ 11.6 Billion.
As business globally continue expanding in their scope of operations, the need for efficient and streamlined e-commerce platforms is aggrandizing across all verticals.
Report Attributes

Details

Anticipated Base Year Value (2021)

US$ 2.4 Billion

Expected Current Market Value (2022)

US$ 2.8 Billion

Projected Forecast Value (2032)

US$ 11.6 Billion

Global Growth Rate (2022-2032)

15.2% CAGR

Growth Rate of U.S (2022-2032)

14.6% CAGR

Expected Market Value of China (2032)

US$ 793.2 Million

Dollar Opportunity in Japan (2022-2032)

US$ 465.9 Million

Dollar Opportunity in South Korea (2022-2032)

US$ 272 Million

Key Cross Border E-Commerce Software Providers

Zonos
Flow Commerce Inc.
Glopal
Anchanto Services Pvt. Ltd.
OpenCommerce Group
aCommerce
WiseTech Global
FedEx Corporation
FlavorCloud
The global e-commerce industry has made significant gains, with 900 Million additional shoppers being added to the ever mushrooming list. It is expected that almost 95% of all business transactions will occur through e-commerce, which is opening up growth avenues for cross border e-commerce software providers. Market demand for cloud-based platforms has majorly increased, documenting a historical CAGR of 17.5% from 2015 to 2021.
Application of cross border e-commerce software solutions is expected to remain most prominent across large enterprises. From 2015 to 2021, demand across the large enterprise segment rose at a healthy 17.3% value CAGR. Overall, the market for cross border e-commerce software is expected to yield absolute dollar growth worth US$ 8.8 Billion across the 2022-2032 forecast period.
Know thy Competitors
Competitive landscape highlights only certain players
Complete list available upon request
2015-2021 Cross Border E-Commerce Software Demand Analysis vs. Forecast 2022-2032
According to market research and competitive intelligence provider Fact.MR- the market for cross border e-commerce reflected a value CAGR worth 17.8%. As the volume of e-commerce transactions increase exponentially, enterprises and customers alike are seeking out highly sophisticated and streamlined platforms, prompting major service providers to offer software solutions. As geographical boundaries blur, conducting business on a global scale is becoming easier with each passing day.
As countries liberalize their economies, trade laws are becoming more flexible. This is permitting key industries to search for clients overseas. The scope for cross-border e-commerce platforms has especially widened in the past two years, as the COVID-19 pandemic prompted a massive shift of business transactions to the virtual space. According to UNCTAD, the average share of online purchases increased to 60% throughout 2020 and 2021, compared to 53% in 2019.
Building up on the pandemic experience, major retailers including Amazon are doubling down technological advancements which helped sustain their revenue streams. The concept of a digital economy is likely to prevail in the coming years. Naturally, business are revving up their capabilities and strengthening their virtual presence. Based on these aforementioned trends, the scope for cross border e-commerce software is slated to expand more than 4x from 2022 to 2032.
Prominent Cross Border E-Commerce Software Market Drivers
Increase in Global E-Commerce Transactions to Stimulate Uptake
It is expected that global e-commerce is likely to surpass US$ 5 trillion by 2022-end. This figure is only slated to experience further incline in forthcoming years. Needless to say, prospects for cross border e-commerce software is expected to incline even further, opening new avenues for growth.
Studies conclude that a mere 18% of sales were made from online purchases as of 2020, which is expected to reach 21% by 2022, representing a 17.9% increase. Amongst all geographies, China continues to dominate the global e-commerce market, representing over half of all retail sales worldwide.
As globalization continues to acquire pace, geographical boundaries are diminishing to a very large extent, making cross-border e-commerce a reality. It is estimated that over 70% of millennials are engaged in B2B buying processes, leading to global payment flows to reach US$ 156 Trillion in 2022.
Cross-border e-commerce is one of the fastest-growing e-commerce segments. Over the last few years, cross-border e-commerce has been expanding rapidly due to the growth in online retail and consumers' preference for international products.
Another factor is the steady increase of consumers using social media. Studies show that consumers are more likely to purchase after seeing a product on social media. Social media platforms such as Facebook and Instagram also provide convenient ways to buy directly through their sites or apps.
Moreover, prominent platforms such as Amazon, E-Bay and Alibaba are collaborating with major social media giants so as to solidify their influence in the cross-border e-commerce software domain.
Rising Government Support to boost International E-Commerce to Pivot Growth
As the incidence of cross border online trade continues to expand, governments across the world are taking steps to reduce entry barriers, relax trade policies and provide incentives for both online trade platforms and e-commerce fora. In additional, central banks are permitting interoperability between prepaid payment instruments, including digital wallets, prepaid cash coupons and telephone top-up cards.
All these initiatives are expected to majorly benefit the market for cross border e-commerce software. In April 2020, the Chinese government announced the establishment of 46 new cross-border e-commerce zones, offer tax breaks for trade processing enterprises and extend preferential tax policies for small businesses. Furthermore, in-zone companies are encouraged to jointly build and share overseas warehouses.
On a similar plane, in 2019, the Government of India announced a new draft of its National E-Commerce Policy, which seeks to develop a multi-pronged approach to encourage greater reliance on e-commerce.
These include creating a facilitative regulatory environment for the sector's growth, as well as empowering domestic entrepreneurs as well as promoting Make in India, among other initiatives. In the light of such developments, key service providers are likely to adopt more cross-border e-commerce software.
Key Challenges hindering Cross-Border E-Commerce Software
Complexities in Logistics and Supply Chain Management may Restrain Uptake
Although cross-border e-commerce software exhibits tremendous potential, there also exist significant challenges which may hamper its success in the long-run. These challenges are mostly related to logistics and supply chain management, particularly for new entrants. The constant threat of counterfeit product flooding, delivery glitches, geographical constraints and inconvenient returns are some of these issues.
Furthermore, in case of a system glitch, which may include a partial or total collapse in case of an internet connectivity issue or security breach, may lead to delays in processing orders, causing inconvenience to both customers and distributors alike. Also, there may be instances wherein the wrong product or service is delivered to the customer, leading to product returns and leading to considerable delays in order processing.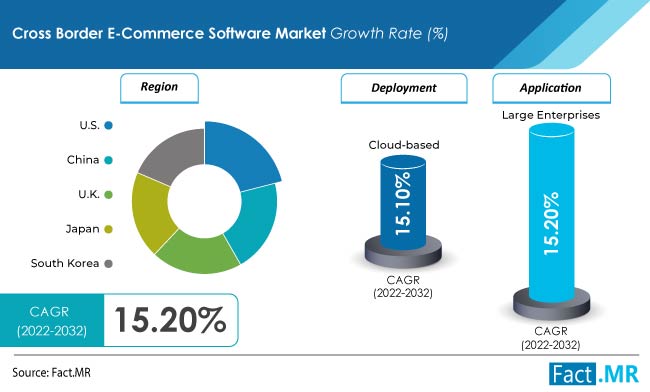 Country-wise Analysis
How will the U.S perform in the Global Market for Cross Border E-Commerce Software?
A Flourishing E-Commerce Ecosystem and Rise in Cross-Border Purchases propelling Growth
As per Fact.MR's analysis, the cross border e-commerce software market in the U.S is expected to flourish at a 14.6% CAGR from 2022-2032. By the end of the said period of assessment, a market valuation of US$ 4 Billion is expected, with a dollar opportunity worth US$ 3 Billion. Growth is primarily attributed to the flourishing of a rich e-commerce ecosystem throughout the country.
The U.S remains the largest and most accessible of all global markets, with a strong consumer confidence. This is buoyed in part due to rising personal disposable incomes and increasing level of personal savings. This future confidence in the U.S economy and rising discretionary spending are driving the growth of consumer and business online spending at home and abroad is what will likely drive growth of the cross border e-commerce software across the country.
Players such as Flow Commerce Inc. are prominent service providers when it comes to cross border e-commerce software. The company, also known as Global-E, announced a partnership with Klarna, a leading global retail bank, payments and shopping service. This partnership is aimed at strengthening the former's position with notable brands, including Versace, Marc Jacobs and Marks & Spencer, across Canada.
Will China be the Kingpin of the Cross Border E-Commerce Software Landscape across Asia?
Extensive Development of E-Commerce Channels to aid Market Expansion
While the e-commerce landscape across China was already flourishing in the past few years, it has especially become massive since the onset of COVID-19. Since the past two years, cross border e-commerce channels are providing unprecedented access to markets across China. This is a product of improvements in delivery models, policies permitting D2C cross-border transactions and exemption of certain goods and services from stringent registration procedures.
According to data published by the International Trade Administration, China's cross border e-commerce imports reached US$ 88.2 Billion as of 2020, representing an increase of 16.5% over 2019. Over 68% of Chinese consumers report considering foreign goods as better quality, particularly in the fashion and beauty domains, which comprises the largest segment of e-commerce imports.
According to Fact.MR, a market value worth US$ 793.2 Million is expected for the cross border e-commerce software industry in China by 2032. During the 2022-2032 forecast period, a CAGR of 14.4% has been estimated for the Chinese market, along with an absolute dollar growth worth US$ 587 Million. As of 2022, China's market is likely to be valued at US$ 206.2 Million.
More Insights, Lesser Cost (-50% off)
Insights on import/export production,
pricing analysis, and more – Only @ Fact.MR
Category-wise Analysis
By Deployment, which Category of Cross Border E-Commerce Software will dominate?
Preference for Cloud-based Cross Border E-Commerce Software Increasing
According to Fact.MR's estimates, the market for cloud-based cross border e-commerce software is forecast to rise significantly. As per the study, the segment is poised to register a value CAGR of 15.1% from 2022 to 2032. The increasing volume of online trading activities is a salient factor bolstering use of cloud-based solutions.
Significant developments are unfolding in the cloud-based cross border e-commerce solutions space, with Cadence Design Systems Inc. introducing its OnCloud SaaS and e-commerce platform on June 8 2022. The platform is powered by Amazon Web Services, and is designed for companies with a "cloud-first" approach.
Which Application is expected to abound for the Cross Border E-Commerce Software Industry?
Cross Border E-Commerce Software to be deployed mostly across Large Enterprises
As businesses worldwide experience an increase in their scale of operations, they are looking for clients across the globe. Several large enterprises and corporations are extensively digitizing their operations to achieve economies of scale by widening revenue and profit margins and garnering a wide customer base. As a consequence, deployment of cross border e-commerce solutions is rising rapidly.
As per the market study, cross border e-commerce software applications in large enterprise is forecast to increase at a CAGR of 15.2% during the 2022-2032 forecast period. Simultaneously, deployment across SMEs is also expected to rise substantially, given that a huge number of small-scale e-commerce providers are acquiring prominence.
Competitive Landscape
The market for cross border e-commerce appears to be majorly consolidated, characterized by the presence of a few prominent service providers. To cement their geographical presence, these players are relying on a multitude of growth strategies- ranging from collaborations with government entities to rebranding of existing portfolios and penetrating new markets. Some prominent developments are as follows:
Since April 2022, Zonos has entered a contractual agreement with the U.S Postal Service to extend their international services by leveraging the company's scalable technology to simplify international commerce. Zonos APIs will empower USPS services with new features to calculate duty and tax quotes. Furthermore, it will help automate HS code of classification for international shipments.
In May 2021, Flow Commerce Inc. introduced a new visual identity to better support growth for cross border e-commerce. This rebranding initiative reflected the company's position as a leading provider of flexible and frictionless cross border e-commerce experiences for international customers
Anchanto Services Pvt. Ltd. penetrated the UAE market in May 2022 as an initiation to expand and solidify its position as a prominent e-commerce service provider across the Middle East. The company has partnered with Logistics Executive Group and opened an office to support expansion across the Arab world
Don't Need a Global Report?
save 40%! on Country & Region specific reports
Key Segments Covered in the Cross Border E-Commerce Software Market Report
By Deployment :

By Application :

By Region :

North America
Latin America
Europe
Asia Pacific
Middle East & Africa
- FAQs -
According to Fact.MR, the cross border e-commerce software market to reach a valuation of US$ 224.3 mn by 2032
A 15.2% CAGR is projected for the cross border e-commerce software industry from 2022-2032
Cloud-based cross border e-commerce software deployment will experience maximum expansion, flourishing at a 15.1% CAGR
According to Fact.MR, large enterprises will likely account for bulk of cross border e-commerce software use, expanding at a 15.2% CAGR
Japan and South Korea are expected to yield absolute dollar growth worth US$ 465.9 Million and US$ 272 Million respectively