Respiratory Virus Vaccines Market
Respiratory Virus Vaccines Market Analysis by Type (Inactivated/Killed, Live-attenuated, Recombinant), By Route of Administration (Intramuscular, Intranasal, Subcutaneous), By Indication (Influenza, Measles, Mumps, & Rubella, Coronavirus Disease (COVID-19)), By Age Group (Pediatric, Adults), By End User (Physician Offices, Hospitals, Clinics, Pharmacies/Stores) & By Region – Global Market Insights 2023 to 2033
Analysis of Respiratory Virus Vaccines Market Covering 30+ Countries Including Analysis of US, Canada, UK, Germany, France, Nordics, GCC countries, Japan, Korea and many more
Respiratory Virus Vaccines Market Outlook (2023 to 2033)
The global respiratory virus vaccines market size is valued at US$ 8.69 billion in 2023 and is predicted to reach US$ 18.6 billion by 2033-end, expanding at a CAGR of 7.9% over the forecast period (2023 to 2033).
Respiratory vaccinations, particularly those targeting influenza and pneumonia, are critical in reducing the strain on healthcare systems and lowering the likelihood of COVID-19 co-infection. Healthcare practitioners have been focusing on vaccination to protect people against respiratory diseases such as influenza to reduce outbreaks.
Demand for respiratory virus vaccines has grown significantly in recent years, owing to advancements in vaccine technology, notably the discovery of vaccinations targeting SARS-CoV-2. The effective creation, licensing, and deployment of COVID-19 vaccines highlighted the scientific community's ability to respond quickly to respiratory risks, paving the path for future advances in respiratory vaccine research and development.
Government support and surveillance at both domestic and global levels to monitor the availability, diffusion, and application of influenza vaccinations is a key element driving market expansion. Furthermore, rising investments by notable key companies, with a focus on the introduction of innovative vaccines into the market, have contributed to the industry's growth.
Pfizer, for example, announced its plans to begin Phase 3 clinical trials for its mRNA-based influenza vaccine in September 2022. This experiment included 25,000 people aged 18 and up from the United States.
Report Attributes
Details

Respiratory Virus Vaccines Market Size (2022)

US$ 8.05 Billion

Estimated Market Value (2023)

US$ 8.69 Billion

Forecasted Market Value (2033)

US$ 18.6 Billion

Global Market Growth Rate (2023 to 2033)

7.9% CAGR

Leading Regional Market

North America

Key Companies Profiled

Sanofi
AstraZeneca
Merck & Co., Inc.
GlaxoSmithKline PLC
Serum Institute of India Pvt. Ltd.
Moderna Inc.
Bavarian Nordic
SINOVAC
INOVIO Pharmaceuticals
Don't Need a Global Report?
save 40%! on Country & Region specific reports
What are the Aspects Driving the Expansion of the Respiratory Virus Vaccines Market?
"Increasing Incidence of Viral Respiratory Infections and Rising Awareness of Benefits of Vaccination"
Respiratory viruses are highly contagious and can cause significant morbidity and mortality. Need for effective vaccines to prevent infections and reduce disease burden is a driving factor for respiratory virus vaccines market growth.
The emergence of novel respiratory viruses, such as SARS-CoV-2, has highlighted the importance of robust vaccine development and distribution capabilities. Governments and healthcare organizations are investing in vaccine research and development to be better prepared for future outbreaks.
Public awareness about the importance of vaccination has grown, leading to increased sales of respiratory virus vaccines. Governments and healthcare organizations are implementing vaccine management solutions to achieve wider population coverage.
"Advancements in Vaccine Technology and Increasing Government Investments"
Advancements in vaccine technology, such as mRNA-based vaccines (e.g., Pfizer-BioNTech and Moderna COVID-19 vaccines), have improved the speed and efficiency of vaccine development. This has positively impacted the market by accelerating the availability of vaccines.
Governments worldwide are providing financial support and regulatory incentives to expedite vaccine development and ensure widespread access. Such initiatives have fostered market growth by encouraging research and production.
The respiratory virus vaccines market is highly competitive, with several pharmaceutical companies, biotechnology firms, and research institutions actively involved in vaccine development. Collaborations between public and private entities to leverage expertise and resources are common.
More Insights, Lesser Cost (-50% off)
Insights on import/export production,
pricing analysis, and more – Only @ Fact.MR
What are the Hurdles That Manufacturers of Respiratory Virus Vaccines Need to Navigate?
"Vaccine Hesitancy and Stringent Regulations Governing Vaccine Approvals"
Vaccine hesitancy, characterized by doubts, concerns, or reluctance about vaccines, poses a significant challenge. Misinformation, lack of trust in healthcare systems, and fear of side effects can hinder vaccine uptake, impacting the market's growth and effectiveness in preventing respiratory viral infections.
Developing and gaining regulatory approval for vaccines is a complex and time-consuming process. Stringent regulatory requirements and extensive clinical trials can delay vaccine development and market entry.
"Complex and Resource-Intensive Vaccine Manufacturing Processes"
Vaccines can be costly to develop, manufacture, and distribute. Pricing strategies, reimbursement policies, and affordability challenges can affect the market dynamics and accessibility of respiratory virus vaccines, especially in regions with limited healthcare resources.
Scaling up vaccine production to meet global demand can be a significant restraint. Vaccine manufacturing processes can be complex and resource-intensive, and expanding production capacity requires significant investments in facilities, equipment, and skilled personnel.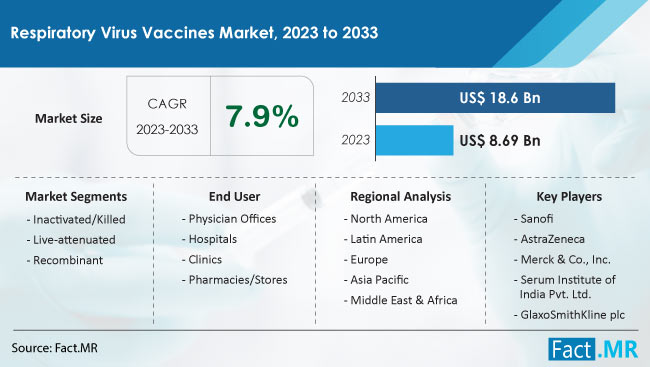 Country-wise Insights
What are the Prospects for the Growth of the Respiratory Virus Vaccines in the United States?
"Extensive Vaccination Campaigns, Robust Healthcare Infrastructure, and Government Funding"
The United States offers vaccines targeting respiratory viruses such as influenza, respiratory syncytial viruses (RSVs), and coronaviruses (including SARS-CoV-2).
The COVID-19 pandemic has had a substantial impact on market growth in the United States. Development and distribution of COVID-19 vaccines have been a primary focus, with several vaccines authorized for emergency use, including those developed by Pfizer-BioNTech, Moderna, Johnson & Johnson, and AstraZeneca. The government has launched extensive vaccination campaigns, aiming for high population coverage.
The United States has a robust vaccination infrastructure comprising healthcare providers, public health agencies, pharmacies, and vaccination centers. These entities play a crucial role in administering respiratory virus vaccines, particularly during mass vaccination campaigns.
The government plays a vital role in supporting vaccine development and distribution. Initiatives such as Operation Warp Speed, which accelerated the development of COVID-19 vaccines, and funding through agencies such as the National Institutes of Health (NIH) and the Biomedical Advanced Research and Development Authority (BARDA), have facilitated research and production efforts.
Why is Demand for Respiratory Virus Vaccines Growing in China?
"Robust Vaccine Manufacturing Capacity and Increasing Public Awareness about Benefits of Vaccination"
The respiratory virus vaccines market in China is expanding due to the growth of the pharmaceutical and healthcare industries. This can be ascribed to the country's well-functioning research laboratories. In addition, the prevalence of respiratory diseases is increasing, with a huge number of firms seeking to produce a vaccine against disorders such as COVID-19.
China has a robust vaccine manufacturing capacity. It is one of the largest vaccine producers globally and has invested heavily in vaccine manufacturing infrastructure. This capacity has allowed China to meet its domestic demand for respiratory virus vaccines and contribute to global vaccine sales.
Public awareness and acceptance of vaccines have been increasing in China in recent years. Government-led education campaigns, healthcare provider recommendations, and the influence of social media platforms have played a role in raising awareness about the importance of vaccination.
Know thy Competitors
Competitive landscape highlights only certain players
Complete list available upon request
Category-wise Insights
Which Type of Respiratory Virus Vaccine Accounts for High Sales?
"Safety and Efficacy of Inactive/Killed Respiratory Virus Vaccines Boosting Their Sales"
Inactive or killed respiratory virus vaccines, also known as inactivated vaccines, are a type of vaccine that contains viruses that have been rendered non-infectious but retain their ability to stimulate an immune response. These vaccines are used to prevent viral respiratory infections by providing immunity against specific viruses.
These vaccines are generally considered safe and have a long history of successful use. Since the viruses in these vaccines are inactivated, there is no risk of causing the disease they target. However, they may be less effective in stimulating a strong and long-lasting immune response than live attenuated vaccines or newer vaccine technologies. Booster doses or periodic revaccination may be required to maintain immunity.
Inactivated vaccines have played a crucial role in preventing respiratory viral infections and have been widely used for many years. However, it is worth noting that newer vaccine technologies, such as mRNA-based vaccines, have gained prominence in recent years, particularly in the context of the COVID-19 pandemic. These newer technologies offer advantages such as faster development timelines and potentially enhanced immune responses.
Which Medical Condition is Respiratory Virus Vaccines Extensively Utilized For?
"Rising Global Campaigns and Collaborations between WHO and Healthcare Agencies Driving Widespread Adoption of Influenza Respiratory Virus Vaccines"
The influenza respiratory virus vaccine, commonly known as the flu vaccine, is specifically designed to protect against influenza viruses. Influenza is a contagious respiratory illness caused by influenza viruses, and the flu vaccine is an essential tool in preventing flu infections.
Campaigns are conducted worldwide to promote widespread flu vaccination and reduce the impact of seasonal influenza. National health authorities, healthcare providers, and public health organizations collaborate to raise awareness and improve vaccine coverage.
The influenza vaccine is updated annually to account for the most prevalent circulating strains. The World Health Organization (WHO) and the United States Centers for Disease Control and Prevention (CDC) collaborate to determine the specific strains to include in each year's vaccine based on global surveillance data.
Effectiveness of the influenza vaccine can vary from year to year due to the circulating strains and how well the vaccine matches them. The vaccine's effectiveness also depends on individual factors such as age, overall health, and immune response. However, even if the vaccine's effectiveness is moderate, it can still significantly reduce the risk of severe illness, hospitalization, and death from influenza.
Competitive Landscape
The respiratory virus vaccines market is influenced by factors such as research and development capabilities, manufacturing capacities, regulatory compliance, vaccine efficacy and safety profiles, supply chain capabilities, pricing strategies, and distribution networks. Government contracts, public health partnerships, and collaborations with research institutions also play a role in shaping the competitive dynamics within the market.
AstraZeneca and the University of Oxford entered into a collaboration in April 2020 to develop a vaccine for COVID-19.
In April 2020, Serum Institute of India Pvt. Ltd. announced a collaboration with the University of Oxford to speed up the development of a COVID-19 vaccine developed by the university.
Key Segments of Respiratory Virus Vaccine Industry Research
By Type :

Inactivated/Killed
Live-attenuated
Recombinant

By Route of Administration :

Intramuscular
Intranasal
Subcutaneous

By Indication :

Influenza
Measles
Mumps & Rubella
Coronavirus Disease (COVID-19)

By Age Group :

By End User :

Physician Offices
Hospitals
Clinics
Pharmacies/Stores

By Region :

North America
Latin America
Europe
Asia Pacific
Middle East & Africa
- FAQs -
The global respiratory virus vaccines market is valued at US$ 8.69 billion in 2023.
From 2023 to 2033, sales of respiratory virus vaccines are expected to increase at a CAGR of 7.9%.
By 2033, worldwide sales of respiratory virus vaccines are forecasted to reach US$ 18.6 billion.
The United States is expected to hold a leading share of the market in 2033.
Sanofi, GlaxoSmithKline plc, and Merck & Co., Inc. are leading manufacturers of respiratory virus vaccines.