Immunochemicals Market
Immunochemicals Market By Product (Antibodies, Protein & Peptides, Ancillaries), By Research Area (Neurology, Oncology, Autoimmune Diseases, Metabolic Diseases), By Application (Proteomics, Genomics), By End User & By Region - Global Market Insights 2023 to 2033
Analysis of Immunochemicals Market Covering 30+ Countries Including Analysis of US, Canada, UK, Germany, France, Nordics, GCC countries, Japan, Korea and many more
Immunochemicals Market Outlook (2023 to 2033)
Expanding at a CAGR of 7.5%, the global immunochemicals market is estimated to increase from a valuation of US$ 3 billion in 2023 to US$ 6.2 billion by the end of 2033.
Proteomic uses account for a major market share of immunochemicals owing to applications in biomarker detection and cancer profiling.
Immunochemicals are materials that largely find use in the analysis of molecular mechanisms and reactions, particularly for applications in life sciences, healthcare, and drug development solutions. They are also referred to as immunoglobulins, antibodies, and antigens.
Immunochemicals are used to examine the immune system. They can be utilized for fundamental investigation, sickness diagnostics, and therapy. In biomedical research and several areas of medicine, immunochemical techniques are crucial tools.
Antibodies, cytokines, antigens, and peptides are only a few examples of the numerous varieties of immunochemicals. Each sort of immunochemical has a distinct purpose and can be applied in various ways.
Growing demand for immunochemicals in healthcare diagnostics and genetics research is projected to drive market expansion throughout the forecast period. Growing government investments in drug development, rising incidences of chronic ailments, and strategic collaborations among academic institutes and market players are key factors that drive developments in the immunochemicals market.
The science of immunohistochemistry (IHC) entails the complete process of identifying antigens in tissue cells with the use of antibodies that have been precisely designed to bind to those antigens in human tissues. By identifying the characteristics of a particular protein, antibody, and antigen, as well as their interactions, immunochemistry tools support important immune system processes.
By utilizing the idea of antibodies specifically attaching to antigens in biological tissues, immunohistochemistry is a technique that can be used to identify and detect antigens in cells of a tissue segment. There are several techniques to see the antibody-antigen binding. Alkaline phosphatase (AP) and peroxidase are two common enzymes used to catalyze color-producing reactions. This is widely employed in the diagnosis of cancer.
The study of pollution and its consequences on ecosystems is known as environmental science. Due to their ability to bind to particular contaminants and aid in their removal from the environment, immunochemicals can be used to monitor environmental contamination. Immunochemical methods can also be applied to find unidentified pollutants to lower the environmental impact.
Continued investments in the field of biotechnology will also contribute to market growth. The availability of reimbursements for IHC tests, new developments, and medical professionals' increased awareness of new diagnostic tools are the elements boosting market value.
Report Attributes

Details

Immunochemicals Market Size (2023)

US$ 3 Billion

Projected Market Value (2033)

US$ 6.2 Billion

Global Market Growth Rate (2023 to 2033)

7.5% CAGR

Market Share of Antibodies

50%

Key Companies Profiled

Biolegend
Abcam Plc
PerkinElmer
Cell Signaling Technology
Bio-Rad Laboratories
Merck
Thermo Fisher Scientific
Beckman Coulter GmbH
Agilent Research Laboratories
GenScript Biotech Corporation
Rockland Immunochemicals
Santa Cruz Biotechnology
Don't Need a Global Report?
save 40%! on Country & Region specific reports
Why is Demand for Immunochemicals Increasing Rapidly Across Regions?
"Rising Expenditure in Clinical Research Organization Operations and Life Sciences Research"
Key factors driving the global demand for immunochemicals include the development of antibody technology and the rising incidence of cancer. The expression of cancer-related proteins, signaling pathways, the discovery of potential biomarkers, and the study of enzyme activity are just a few of the areas in which antibodies are used as tools.
The global market for immunochemicals is expanding as a result of rising expenditure in clinical research organization operations and life sciences research. The market for immunochemicals is also being driven by a rise in research into ways to produce food more efficiently, improve the nutrition and quality of food, and produce pharmaceuticals using genetically modified plants.
"Growing Demand for Targeted Therapeutics"
Applications in infectious disease and oncology are expected to reflect strong growth during the forecast period. This can be attributed to an increase in patients and the growing demand for targeted therapeutics. As immunochemistry has become more prevalent in clinical diagnosis, sales of immunochemicals are anticipated to increase. Thus, it is projected that the incidence of chronic diseases will boost consumer demand for immunochemicals.
It is also predicted that an increase in individuals suffering from conditions such as cancer and cardiovascular illnesses would boost the market share for immunochemicals. The most common applications for immunochemicals are in the diagnosis and treatment of cancer.
"Increasing Prevalence of Autoimmune Diseases"
The availability of numerous medications that have been approved by regulatory bodies and trends of increasing clinical efficacy for new drug approvals are contributing to market growth. The industry is also fueled by the increased prevalence of autoimmune diseases. Companies invest in the development of biologic pharmaceuticals as a result of the increase in successful clinical studies due to environmental variables and the demand for biologics.
The prevalence of immunological disorders, which is rising due to the aging population and the adoption of sedentary lifestyles, is another factor driving the market's expansion. Moreover, the market will grow as a result of increased research and development in the life sciences and biologics, particularly immunological medications.
What Barriers are Being Encountered by Key Market Participants?
"Lack of Qualified Workers and Product Failures & Recalls"
Market growth is being constrained by factors, including a high level of consolidation. Moreover, the lack of qualified workers, strict government rules governing the production of immunochemistry products, and product failures and recalls are possible obstacles to the overall expansion of the worldwide immunohistochemistry market.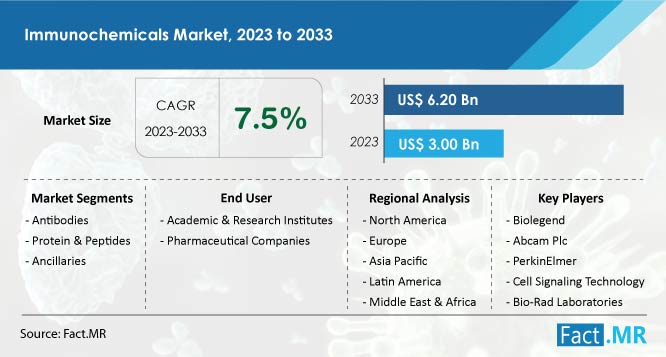 Which Region is Predicted to Lead Market Expansion Going Forward?
"Growing Awareness about Therapeutic Uses of Immunochemicals in North America"
North America accounts for 50% share of the global market is attributed to growing awareness about the therapeutic uses of immunochemicals in disease management practices.
Further, rising investments in research for life science studies and advances made in healthcare infrastructure are aiding market growth in the region.
More Insights, Lesser Cost (-50% off)
Insights on import/export production,
pricing analysis, and more – Only @ Fact.MR
Country-wise Insights
Why is the United States Emerging as a Lucrative Market for Immunochemical Suppliers?
"Rapid Expansion of Pharmaceutical Industry in the United States"
Market growth in the United States is being fueled by an increase in R&D activities, expanding pharmaceutical industry, and the availability of key market participants. The growing prevalence of cancer and infectious disorders and an increase in the use of companion diagnostic assay kits are boosting market expansion.
Which European Country is Likely to Be a Prominent Marketplace?
"Increasing Research Efforts on Applications of Genetics"
Rising disposable income, expanding healthcare spending, increasing demand for high-quality medical care, and an increase in research efforts into applications of genetics are the factors driving market growth in Germany. The geriatric population and increased academic and government spending on diagnostic research are stimulating market revenue in the country.
What is the Demand Outlook for Immunochemicals in Japan?
"Increasing Government Initiatives to Assist R&D in Biotechnology"
Market growth in Japan is driven by innovations in the biotechnology industry to support the rising need for antibodies in terms of research activities. Also, increasing government initiatives to assist R&D in biotechnology are promoting market expansion. Activities in the clinical research organization sector are being accelerated by improvements in infrastructure, a rise in the local supply of immunochemical products, and the availability of low-cost labor.
Category-wise Insights
Which Product is Expected to Gain Immense Popularity in This Space?
"Antibodies Play Key Role as Both Therapeutic and Diagnostic Agents in Immunology"
By product, the market is segmented into antibodies (catalog antibodies & custom antibodies), proteins & peptides, and ancillaries.
Antibodies account for 50% share of the global market owing to the prevalence of chronic diseases, along with funding from healthcare organizations and research institutions.
The research and development of diverse antibodies are being accelerated by the quick development of immunohistochemistry. In immunology, antibodies play a key role as both therapeutic and diagnostic agents. Increased interest in personalized healthcare and medicine is likely to drive the development of antibodies.
Catalog antibodies are pre-made antibodies that may be obtained straight from the manufacturer without needing to be customized. Companies create and distribute immunochemical products called catalog antibodies for application in a range of industries, such as biotechnology, agriculture, and environmental research.
Monoclonal or polyclonal antibodies known as custom antibodies are produced in response to a particular antigen. They have a wide range of applications, including research, diagnostics, and treatment. Animals can be immunized with the necessary antigen to make custom antibodies, or monoclonal antibodies can be created using recombinant DNA technology.
Which End User Will Bring in High Revenue Streams?
"Immunochemicals Widely Used by Academic & Research Institutes to Evaluate Drug Efficacy Studies During Drug Development Process"
Based on end user, the market is divided into academic & research institutes and pharmaceutical companies. The demand for immunochemicals is expected to increase in academic & research institutes due to their several benefits over staining methods that are often employed in pharmaceutical research and development. Immunochemicals are used by academic & research institutes to evaluate drug efficacy studies during the medication development process.
Competitive Landscape
Top providers of immunochemicals are enhancing product standards following safety regulations and making academic collaborations for the development and commercialization of offerings. They are focusing on quality control and pricing trends to gain a competitive edge in the market.
Leading companies are continually concentrating on the research and development of pharmaceuticals as well as the strategic acquisition of other domestic competitors to improve their market position. To establish their presence in developing regions, major firms are constantly working to create new immunochemical products and strengthen their supply chain management. These are some of the main causes of the increasing market share of these businesses.
For instance :
In Sept 2020, GEI Delaware Technical Community College teamed up with Rockland Immunochemicals to launch its new offering CRISPR in a Box, including target DNA molecules, gene editing tools, cell-free extracts, and more, which is primarily to be used in the education sector.
The Wistar Institute a leading player in immunology, infectious disease, and cancer diagnostics has partnered with Rockland Immunochemicals have entered into a partnership to bolster product pipelines in terms of cutting-edge biomarker and biologic offerings.
In February 2022, Arena Pharmaceuticals was acquired by Pfizer. To increase the range of immune-inflammatory disorders it can treat, this clinical-stage startup created novel potential medicines.
Key Segments of Immunochemicals Industry Research
By Product :

Antibodies

Catalog Antibodies
Custom Antibodies

Protein & Peptides
Ancillaries

By Research Area :

Neurology
Oncology
Autoimmune Diseases
Metabolic Diseases
Infectious Diseases
Others

By Application :

Proteomics
Genomics
Drug Discovery/Delivery

By End User :

Academic & Research Institutes
Pharmaceutical Companies

By Region :

North America
Europe
Asia Pacific
Latin America
Middle East & Africa
- FAQs -
The global immunochemicals market is valued at US$ 3 billion in 2023.
Biolegend, Abcam Plc, and PerkinElmer are the top producers of immunochemicals.
The market for immunochemicals is estimated to reach US$ 6.2 billion by 2033.
North America accounts for 50% share of the global immunochemicals market.
Sales of immunochemicals are forecasted to rise at a CAGR of 7.5% through 2033.