5K Display Resolution Market
5K Display Resolution Market Analysis By Product (Cameras, Televisions, Monitors, Smartphones/Tablets, Projectors), By End Use (Commercial, Residential), By Sales Channel (Online Sales, Offline Sales) & By Region - Global Market Report 2023 to 2033
Analysis of 5K Display Resolution Market Covering 30+ Countries Including Analysis of US, Canada, UK, Germany, France, Nordics, GCC countries, Japan, Korea and many more
5K Display Resolution Market Overview (2023 to 2033)
The global 5K display resolution market size is valued at US$ 14.31 billion in 2023 and is projected to reach US$ 56.41 billion by 2023. Worldwide demand for 5K display resolution technologies is forecasted to increase rapidly at a CAGR of 14.7% from 2023 to 2033.
The field of display technology is witnessing a remarkable evolution, with consumers and professionals seeking ever-higher levels of visual clarity and detail. Accordingly, the emergence of 5K display resolution has sparked significant interest and is now at the forefront of technological advancements.
A 5K display boasts a resolution of 5120 x 2880 pixels, resulting in a pixel density that offers a stunning visual experience. This level of detail and clarity exceeds that of traditional Full HD (1080p) and even 4K displays (3840 x 2160 pixels).
One of the primary drivers of the surging demand for 5K displays is the professional graphics and design sector. Graphic designers, video editors, and content creators demand high-resolution displays to ensure precision in their work. The high pixel density of 5K monitors translates to more accurate color representation and sharper images, making it a preferred choice for creative professionals. As technology continues to progress, 5K displays are likely to become more prevalent in various industries and everyday life.
leading 5K display resolution products are cameras, televisions, monitors, smartphones/tablets, and projectors. Cameras hold a major contribution in the global 5K display resolution market share, because they are instrumental in capturing high-quality images and videos, catering to both professional and consumer demands.
With a 5K display resolution, which offers a pixel count of 5120 x 2880 pixels, cameras can capture intricate details and produce stunning visuals. This level of detail is essential for professional photographers, videographers, and content creators who demand the utmost image quality. Demand for high-resolution content is on the rise, driven by platforms such as YouTube, Netflix, and other social media. Content creators require cameras capable of shooting in 5K or higher resolutions to produce visually appealing videos and images that stand out in a competitive digital landscape.
Higher-resolution footage from cameras enables more flexibility during post-production processes. Editors can crop, zoom, and manipulate footage without sacrificing image quality. This flexibility is crucial in the film, video, and advertising industries. The camera market is highly competitive, with manufacturers continually innovating to meet the demand for higher resolution and better image quality. Inclusion of 5K resolution in camera models helps companies stay competitive and attract a wide range of customers.
Report Attributes
Details
5K Display Resolution Market Size (2023E)
US$ 14.31 Billion
5K Display Resolution Market Forecast Value (2033F)
US$ 56.41 Billion
5K Display Resolution Market Growth Rate (2023 to 2033)
14.7% CAGR
Key Regional Market
Asia Pacific
Key Companies Profiled

Samsung Electronics
Sony Corporation
Canon Inc.
Red Digital Cinema Camera Company
Dell Inc.
Apple Inc.
LG Electronics Inc.
Philips
HP
Sharp Corporation
Hewlett-Packard
Don't Need a Global Report?
save 40%! on Country & Region specific reports
Why is Application of 5K Display Resolution Technologies Surging?
"Superior Graphics and Visual Effects Make 5K Displays Impressive for Gaming Experiences"
The gaming industry is going through a remarkable transformation, not only in terms of the quality and complexity of games but also in the technology used to play them. A pivotal part of this transformation is the integration of 5K displays, which are becoming a preferred choice for both gamers and game developers. This shift towards high-resolution displays is driven by the industry's relentless pursuit of immersive and visually stunning gaming experiences.
5K displays offer a substantial leap in visual fidelity compared to lower resolution screens, immersing gamers in intricate, detailed, and lifelike game worlds.
5K displays provide gamers with unparalleled levels of detail and realism, allowing them to spot enemies, objects, and intricate game features with greater clarity, appealing to eSports and competitive gaming enthusiasts.
Modern games are designed to push the boundaries of graphics and visual effects. With 5K displays, game developers have more canvas to work with, enabling them to create breath-taking visual landscapes, intricate textures, and realistic lighting effects.
"5K Displays Revolutionizing Medical Imaging and Diagnostics"
Integration of 5K displays in the medical field is a testament to the ongoing commitment to improving patient care and enhancing medical professionals' capabilities. These displays are revolutionizing medical imaging and diagnostics by providing unprecedented clarity and detail, facilitating precise diagnosis and treatment planning, and enhancing communication with patients. The continuous use of technology in the healthcare industry boosts the role of 5K displays in medical practice, leading to improved patient outcomes and advancements in the field of medicine.
The medical field is increasingly utilizing 3D imaging techniques for a more comprehensive understanding of complex anatomical structures. 5K displays provide the necessary resolution to render 3D medical images with exceptional clarity. Surgeons, in particular, benefit from these displays when planning intricate surgeries and navigating in real-time during procedures.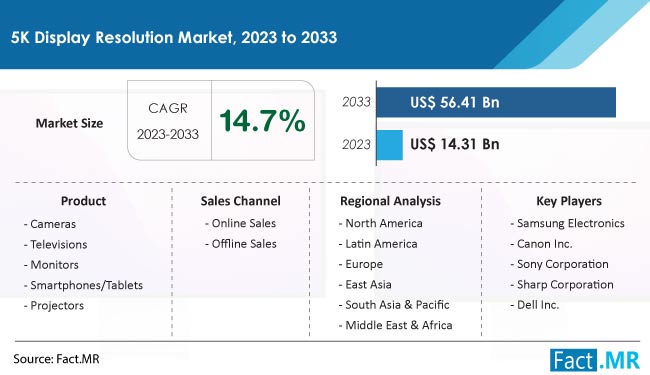 What Issues Do Manufacturers of 5K Displays Face?
"Limited Consumer Accessibility and Incompatibility with Existing Hardware"
The cost of 5K displays can be prohibitive for many consumers, limiting access to this advanced technology. High-end displays are often beyond the budget of the average consumer, which can lead to a digital divide where only consumers with high financial resources can enjoy the benefits of 5K resolution.
Small and medium-sized businesses may find it challenging to invest in 5K displays for their offices and workstations due to the high upfront costs. This limitation can impact their ability to provide employees with cutting-edge tools for productivity and creativity.
Integrating 5K displays into existing setups often requires upgrading other components such as graphics cards, processors, and even connectors (e.g., HDMI and DisplayPort). This adds to the overall cost, making it even less feasible for those with older equipment.
More Insights, Lesser Cost (-50% off)
Insights on import/export production,
pricing analysis, and more – Only @ Fact.MR
How Can New 5K Display Resolution Producers Enter This Highly Competitive Space?
"Integration of Innovative Features and Strategic Partnerships"
Newcomers in the 5K display resolution market can succeed by focusing on product differentiation, competitive pricing, effective marketing, strategic partnerships, continuous improvement, and more. By employing these strategies, new companies can establish a foothold and earn trust in the industry.
Introduction of unique and innovative features in their 5K displays can increase revenue growth. This could include advancements in color accuracy, HDR support, faster response times, or integration with cutting-edge technologies such as OLED or Mini LED.
While maintaining quality, newcomers can also gain an edge by offering competitive pricing. This strategy can attract price-conscious consumers and businesses, especially if newcomers can deliver a comparable product at a lower cost.
Offering bundled packages with complementary accessories or providing discounts on introductory products can encourage initial adoption and help build a customer base. Collaborations with established players in the industry, such as retailers or e-Commerce platforms, can help newcomers access a wider distribution network and tap into existing customer bases.
Country-wise Analysis
According to the detailed study by Fact.MR, a market research and competitive intelligence provider, the 5K display resolution product sales in Japan, the United States, and Germany are driven by factors such as professional demands, content creation, gaming, and technological advancements.
Why is 5K Display Resolution Demand So High in Japan?
"High Use of Advanced 5K Display Resolution Technologies by Professionals"
Japan has a culture deeply rooted in technology appreciation and adoption. Japanese consumers are early adopters of high-resolution displays, making 5K displays an attractive choice for those seeking cutting-edge visual experiences.
The country is also home to thriving professionals, particularly in industries such as gaming, design, and animation. Professionals demand top-tier displays for their work, and 5K resolution is seen as essential for tasks that require precise detail and accuracy. Thus, all these factors are driving the demand for 5K display resolution products.
How are Sales of 5K Display Resolution Products Evolving in the United States?
"High Use of 5K Display Products in Content Creation and Gaming"
The United States is a global hub for content creation, including film, television, advertising, and digital media. Content creators demand high-resolution displays such as 5K to ensure the quality and precision of their work.
The United States also has a fervent gaming community. Gamers are willing to invest in 5K displays for the competitive advantage and immersive experiences they offer.
Will Germany Be a Profitable Market for 5K Display Resolution Technology Producers?
"Engineering and Manufacturing Excellence Driving Sales of 5K Display Resolution Technologies"
Germany is renowned for its precision engineering and manufacturing. Industries such as automotive, aerospace, and industrial machinery rely on high-resolution displays for design, modeling, and quality control, making 5K displays indispensable.
The country is also a leader in medical technology. The medical sector relies on advanced displays for diagnostic imaging, patient monitoring, and surgical procedures, with 5K displays aiding in accurate medical assessments.
Know thy Competitors
Competitive landscape highlights only certain players
Complete list available upon request
Category-wise Analysis
Entertainment, productivity, affordability, evolving technologies, and changing work and education patterns are increasing the use of 5K display resolution products in residential settings.
According to Fact.MR study, use of 5K display resolution technologies in commercial settings is also witnessing healthy growth.
Who are Leading Consumers of 5K Display Resolution Technologies?
"Entertainment, Gaming, and Content Creation Increasing 5K Display Resolution Product's Use in Households"
Consumers increasingly value high-quality visuals and immersive experiences, whether for gaming, streaming, or content consumption. 5K displays provide stunning clarity, vibrant colors, and intricate detail that significantly enhance the viewing experience.
Home entertainment and gaming are the primary drivers of 5K display adoption. Gamers seek immersive, lifelike experiences, and 5K displays can deliver the level of detail and realism they desire. Likewise, 5K displays elevate the enjoyment of 4K and higher-resolution content on streaming platforms.
An increasing number of households engage in content creation, including video editing, photography, and graphic design. 5K displays are essential tools for beginners, professionals, and enthusiasts in these fields, as they enable precise editing and accurate color representation. Thus, these aspects are driving the use of 5K display resolution technologies in residential settings.
Competitive Landscape
Key players in the 5K display resolution market are adopting a combination of marketing strategies such as product differentiation, sustainability initiatives, strategic partnerships, continuous innovation, and more to enhance their market position and increase earnings. These strategies focus on providing value to consumers, building brand loyalty, and staying competitive in the rapidly evolving display technology landscape.
Dell is actively expanding its portfolio of high-resolution displays, including 5K monitors, targeting both professional and consumer markets. Dell's products are popular due to the integration of features such as HDR support, thin bezels, and improved color accuracy.
In March 2022, Apple Inc. launched Mac Studio, a powerful desktop computer, and Studio Display, a 27-inch 5K Retina display monitor. Mac Studio is driven by the M1 Max and M1 Ultra chips, while Studio Display boasts a 12MP Ultra-Wide camera with Center Stage and a premium six-speaker spatial audio system.
Key Segments of 5K Display Resolution Market Research
By Product :

Cameras
Televisions
Monitors
Smartphones/Tablets
Projectors

By End Use :

Commercial

Graphic Design and Video Editing
Medical Imaging
Gaming and Entertainment

Residential

Home Entertainment
Photography and Video Editing
Home Offices

By Sales Channel :

Online Sales

Company Websites
e-Commerce Websites

Offline Sales

Electronic Stores
Company/Franchised Stores
Hypermarkets

By Region :

North America
Latin America
Europe
East Asia
South Asia & Oceania
MEA
- FAQs -
The global 5K display resolution market is valued at US$ 14.31 billion in 2023.
Global demand for 5K display resolution products is projected to increase at a CAGR of 14.7% from 2023 to 2033.
The market for 5K display resolution is forecasted to reach US$ 56.41 billion by 2033.
Asia Pacific holds a leading position in the global market at present.
Leading manufacturers are Samsung Electronics, Sony Corporation, Canon Inc., and Dell Inc.
5K display resolution is widely used in cameras, televisions, monitors, smartphones/tablets, and projectors.