6G Market
6G Market Analysis By Component (Hardware, Software, Services), By Communication Infrastructure (Wireless, Fixed), By Application (Multisensory XR Applications, Connected Robotics & Autonomous Systems, Wireless Brain-Computer Interactions (BCI), Digital Twins, Smart Cities, Internet of Everything (IoE), Blockchain & DLT), By End User (Governments, Consumers, Industrial, Enterprises) & Region – Global Market Insights 2023 to 2033
Analysis of 6G Market Covering 30+ Countries Including Analysis of US, Canada, UK, Germany, France, Nordics, GCC countries, Japan, Korea and many more
6G Market Outlook (2023 to 2033)
The global 6G market is valued at US$ 5 billion in 2023 and is predicted to bloat to US$ 300 billion by 2033, advancing at an astonishing CAGR of 50% during the forecast period (2023 to 2033).
The evolution of mobile networks has seen incredible growth over the last decade. With greater data rates and lower latency, 5G technology marks a significant milestone in mobile networking. However, the most recent advancement in mobile networks is 6G technology, which is projected to bring even more disruptive changes to the sector.
Even though 6G technology is still in its early phases, with NTT Docomo estimating 2030 as the launch year for 6G, the market is now focused on developing 5G-advanced and shifting from 5G to 6G. 6G technology is expected to provide faster data speeds, higher bandwidth, lower latency, and more dependable connections than 5G technology. This innovative technology will allow new applications such as real-time virtual reality and holographic communication.
6G technology has the ability to transform many industries and technologies. Some potential applications for 6G technology include augmented reality, industry 4.0, eHealth, network-enabled robotics and autonomous systems, autonomous transportation, multisensory extended reality, personalized user experiences, distributed sensing and communications, and technological advancements, such as augmented reality, virtual reality, artificial intelligence, and the metaverse.
6G networks will need to leverage cutting-edge technology such as machine learning, artificial intelligence, post-quantum cryptography, cognitive networks, and IoT-based automation to accomplish these use cases. With these developments, 6G technology can become a driving force for innovation and economic growth, as well as a catalyst for progress in various industries.
Many countries such as the United States and China are already competing to improve the next step in high-speed communications.
According to the South China Morning Post, in January 2022, Chinese researchers set a new record for data streaming speed with a groundbreaking technology that is expected to help China take the top spot in the global race for next-generation wireless communication or 6G. The researchers used vortex millimeter waves, a form of extremely high-frequency radio waves with fast-changing spins, to send one terabyte of data over 1 kilometer (3,300 feet) in a second.
Fact.MR, a market research and competitive intelligence provider, expects such massive new improvements will drive huge demand for 6G over the next ten years.
Report Attributes

Details

6G Market Size in 2023

US$ 5 Billion

Projected Market Value (2033)

US$ 300 Billion

Global Market Growth Rate (2023 to 2033)

50% CAGR

Leading Regional Market

North America

Leading End User

Governments

Key Companies Profiled

Apple Inc
AT&T Inc
Nokia Corporation
Google LLC
Intel Corporation
Huawei Technologies Co., Ltd
Verizon Communications Inc
Samsung Electronics Co., Ltd
Don't Need a Global Report?
save 40%! on Country & Region specific reports
What Makes 6G the Next Big Thing?
"Meeting Economic Growth and Societal Sustainability Goals"
As mobile technology expands throughout additional regions and industries, the next-generation mobile platform is going to play an important part in meeting economic growth and societal sustainability goals. In this line, the United Nations has devised a model of 17 sustainable development goals that all countries must meet to attain global peace and prosperity.
5G is already making a significant contribution to global economic growth, and 6G has the potential to deliver a considerable additional boost by bringing connected intelligence to even more sectors and use cases. A lack of connectivity exacerbates inequality and social economics. Since connecting more people reduces inequality and improves the quality of life, the primary objective of 6G is to make connectivity easier to access, regardless of economic level or region.
As the world moves towards the 6G era, the role of green networks and devices becomes increasingly vital for sustainability. The top aim is to create a more energy-effective network architecture that emits fewer pollutants. It is also crucial to lessen the environmental effects of billions of devices by manufacturing them with a lower carbon footprint and engineering them to use less electricity.
"Providing Better Experiences and New Categories of Use Cases"
4G-enabled smartphones to become mainstream. Wireless is expanding into new services and verticals as a result of 5G. With new kinds of services, devices, and deployments, 6G is ready to deliver new user experiences at the connected intelligent edge.
6G will provide an evolution route for fixed and mobile broadband with more capacity, lower latency, and greater speed. It will deliver more widespread access via higher-density connections and ubiquitous coverage and broaden mission-critical services through improved reliability and availability.
6G will also assist in improved services and new use cases. Hologram telepresence, human augmentation, collaborative robotics, deeper immersion in the digital and virtual worlds, and enhanced senses are all envisaged use cases. 6G will act as an innovation platform for experiences, products, and use cases that develop in the years following 2030 and beyond.
"Use of Holography in Communication"
Over the projected period, key players in the global 6G market are projected to benefit from the usage of holographic technology in communication. Holographic technology employs the ideas of interference and diffraction to collect and reconstruct accurate three-dimensional representations of objects. A head-mounted display and assistive technologies such as AR/VR can be employed to create the perfect holographic display.
The global market is expected to expand rapidly during the study period due to the increasing use of holographic technology in several applications such as communication, telemedicine, entertainment, office design, and games that allow users to interact with projected content.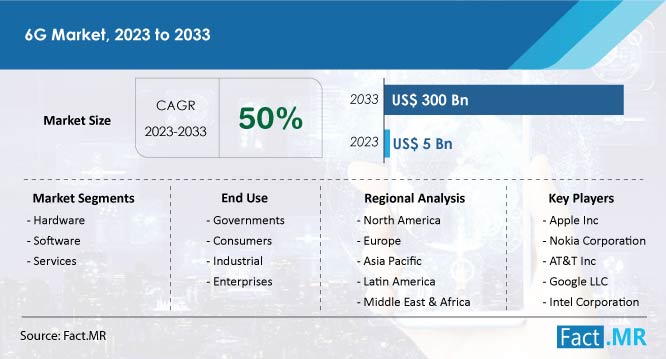 Country-wise Insights
Why is the United States at the Helm of the Global Market?
"Strong Government Efforts to Set Up 6G Infrastructure"
North America is expected to dominate the global market for 6G during the forecast period. The region has a reputation for the rapid adoption of advanced technologies such as wearable technology, the Internet of Things (IoT), and others. 6G is meant to address the need for these technologies to have reliable and rapid communication. Moreover, market participants are already developing applications to capitalize on 6G technology advancements, justifying financing for research and development, smart manufacturing, and broader government-agency use of 6G applications.
The United States is making tremendous advancements in the worldwide market. The presence of multiple significant 6G technology companies will favorably impact the market growth as they continue to investigate 6G technology and the efficiency of associated components, solutions, and equipment. Furthermore, government incentives and funding to accelerate 6G research and deployment are projected to support market growth.
In 2022, the Federal Communications Commission (FCC) granted the first Spectrum Horizons License - a ten-year special class of license for testing with frequencies ranging from 95 GHz to 3 THz. It has also formed an expert committee to assist the board in carrying out spectrum operations in 6G.
The US Congress is now debating two draft proposals to fund a task force to examine how to create and deploy 6G technologies. On the presidential front, the Biden administration has signed MOU (memorandum of understanding) with countries such as Japan, with whom the United States would contribute US$ 4.5 billion in 6G research.
How are India, South Korea, and Japan Supporting Asia Pacific Market Growth?
"Heavy Investments Made by Governments to Develop 6G"
Asia Pacific is experiencing considerable growth in the worldwide 6G market. South Korea, India, and Japan are strongly supporting regional market growth.
In March 2023, Prime Minister Narendra Modi launched India's 6G mission, which envisions a targeted initiative for next-generation technology in India, as well as the official 6G testbed project to facilitate study on new network technologies. The government has established an elite committee to manage the Bharat 6G initiative.
South Korea has announced a five-year project centered on 6G core technology research and development that would cost more than 220 billion won (US$ 193 million).
The Japanese government will invest 50 billion yen (US$ 482 million) in 6G wireless communications research and development.
Such robust efforts by the Indian, South Korean, and Japanese governments are expected to support regional market growth considerably.
How are Germany and the United Kingdom Strengthening their Positions in the Global Market?
"Increasing Government Initiatives and Collaborations with Telecom Companies"
Europe is making a major contribution to the global 6G market as a result of increased government activities in Germany and the United Kingdom to roll out 6G.
Germany's Ministry of Education and Research (BMBF) is investing heavily in 6G communications technology, eventually replacing the current standard 5G services. The ministry is expected to invest substantially in the next four years from the government's "Future Fund" and other sources to fund 6G research.
In December 2022, three prominent UK universities, the University of Bristol, the University of Surrey, and the University of York received US$ 28 million to collaborate with key telecoms companies such as Samsung, Ericsson, and Nokia to design and develop future networks such as 6G.
More Insights, Lesser Cost (-50% off)
Insights on import/export production,
pricing analysis, and more – Only @ Fact.MR
Category-wise Insights
Why is 6G Set to Revolutionize Multisensory XR Experiences?
"6G to Overcome 5G's Shortcomings"
A completely immersive MR/AR/VR experience requires a collaborative design that takes into account not only engineering (wireless, computing, storage) but also perceptual needs arising from human senses, physiology, and cognition.
Future 5G systems are expected to fall short of providing a completely immersive XR experience that collects all sensory inputs. They are incapable of accomplishing very low latencies for data-rate-intensive XR applications. 6G technology is projected to offer lower latency, higher bandwidth, faster data speeds, and more reliable connections compared to 5G technology.
Why is the Government and Public Sector Emerging as a Promising End User of 6G Technology?
"Need for Advanced Technology and Robust Security"
Government and public sectors are expected to emerge as promising sectors for 6G systems. The 6G has a variety of uses in municipalities, law enforcement, and office operations, among others. Furthermore, government organizations are increasingly adopting 5G technology to improve the speed and precision of operations. Since they will use advanced encryption technology and artificial intelligence-centered security methods, 6G networks will be safer than their predecessors. This will aid in the security and confidentiality of data, as well as the protection of users' personal information.
Competitive Landscape
Despite the fact that 6G is yet to become a reality, the market appears to be tremendously competitive. Although there are presently a few 6G technology and service providers, the industry seems to be fragmented due to large expenditures and ongoing research into making 6G data transmission successful with improved distance records.
Major telecom companies are developing wireless communication technology to support cellular data networks. Simultaneously, mobile device manufacturers are investigating the feasibility of building 6G compatible devices capable of wireless transmission as well as the reception of 6G THz data across a longer distance outdoors. Moreover, many start-ups are spouting up in the worldwide market.
In January 2022, Samsung Electronics partnered with Korea University to set up a department devoted to the study and development of 6G.
The University of Texas at Austin opened a 6G research center in July 2021, with the cooperation of key industry firms such as Samsung, AT&T, and Qualcomm.
Apple recruited engineers in June 2021 to work on the next generation of wireless technologies, 6G.
Know thy Competitors
Competitive landscape highlights only certain players
Complete list available upon request
Key Segments in 6G Industry Research
By Component :

Hardware
Software
Services

By Communication Infrastructure :

By Application :

Multisensory XR Applications
Connected Robotics and Autonomous Systems (CRAS)
Wireless Brain-Computer Interactions (BCI)
Digital Twins
Smart Cities
Internet of Everything (IoE)
Blockchain and DLT
Others

By End User :

Governments
Consumers
Industrial
Enterprises

By Region :

North America
Latin America
Europe
Asia Pacific & China
Middle East & Africa
- FAQs -
The global 6G market is valued at US$ 5 billion in 2023.
Global demand for 6G is anticipated to surge at a CAGR of 50% through 2033.
The market for 6G is estimated to reach US$ 300 billion by 2032.
Apple Inc, AT&T Inc, Nokia Corporation, Google LLC, Intel Corporation, Huawei Technologies Co., Ltd, Verizon Communications Inc, and Samsung Electronics Co., Ltd are key players in the 6G market.