Alkyl Polyglucoside Market
Alkyl Polyglucoside Market Growth to Propel on the back of Proliferating Demand from Coco Alkyl Polyglucosides
FACT747MR
Jul-2021

List of Tables : 181

List of Figures : 96

170 Pages
Market Snapshot
Latest alkyl polyglucoside market analysis published by Fact.MR - a market research and competitive intelligence provider, shows that global demand enjoyed year-on-year (YoY) growth of 7.7% in 2021, to total 584 KT. Admixtures for cement, concrete & plaster application displayed negative Y-o-Y growth of 0.1% to total 26 KT, while industrial & institutional cleaners were up 0.6% to 91 KT over the same period.
Key Points Covered in Alkyl Polyglucoside Industry Survey:
Market Estimates and Forecasts (2016-2031)
Key Drivers and Restraints Shaping Market Growth
Segment-wise, Country-wise, and Region-wise Analysis
Competition Mapping and Benchmarking
Market Share Analysis
Consumption Analysis of Alkyl Polyglucosides
Certification and Compliamce Requirements
Leading Export-Import Destinations for Alkyl Polyglucosides
COVID-19 Impact on Alkyl Polyglucosides and How to Navigate
Recommendation on Key Winning Strategies
Know More Details About the Report
Revenue Analysis of Alkyl Polyglucoside from 2016 to 2020 Compared to Demand Outlook for 2021 to 2031
As per the alkyl polyglucoside industry research, historically, from 2016 to 2020, value of the alkyl polyglucoside business increased at around 5.9% CAGR, wherein, countries such as the U.S., Brazil, Germany, China, and Japan held significant market share.
Inclination of personal care product manufacturers towards bio-surfactants is significantly increasing, thus paving the way for strong growth of the market during medium- and long-run forecast period.
Through 2031, the market for alkyl polyglucosides is anticipated to expand at a high CAGR of close to 8%.
Alkyl polyglucoside revenues were up 0.7% year-over-year in 2020. Fact.MR estimates revenue to grow 2.2X by 2031, reaching nearly US$ 2.8 Bn.
As per Fact.MR's alkyl polyglucoside business insights, global market revenue totaled US$ 1.1 Bn in 2020.
Demand for coco alkyl polyglucosides to accelerate at highest pace.
Demand for alkyl polyglucosides in personal care products to increase substantially.
Top 5 providers of alkyl polyglucosides held for more than 50% market share in 2020.
Demand for alkyl polyglucosides in home cleaning products to rise rapidly.
While demand was impacted by COVID-19, long-term forecasts look good, especially for homecare products.
Why is There Huge Demand for Alkyl Polyglucoside across Regions?
Non-ionic surfactants such as alkyl polyglucosides surfactants are naturally derived with enhanced bio-degradability meeting circular economy guidelines. Alkyl polyglucosides, which are used for a variety of uses including cosmetic and industrial applications, are seeing a surge in demand in the market as consumers become more aware of cleaning and personal care goods.
Key functions of alkyl polyglucosides such as emulsifiers, foaming agents, soil removing agents, and wetting and cleansing agent have strengthened its adoption across bundle of industries such as personal care and cosmetics, pharmaceuticals, and homecare, wherein, it is used in applications such as surface cleaners, detergents, oral care, and other personal care and home care products.
Over the last decade, demand for alkyl polyglucosides has been increasing as regional polices associated with manufacturing such as ease of business, financial supports from institutions and other entities, cost effectiveness, raw material availability, etc., have improved. Demand for akyl polyglucosides as cleaning agents will see a steady rise over the coming years.
Avail customized purchase options for your needs
What are the Key Barriers Faced by Alkyl Polyglucoside Suppliers?
Alkyl polyglucosides, being a bio-based surfactant, is largely being used for various applications ranging from detergents, skin care, and others. However, manufacturers have introduced alternative materials that can act as natural surfactants with similar properties offering higher efficiency across various application areas.
These alternatives, typically from the glucamide plant family, are widely being used in the cosmetics industry, as they offer enhanced mildness, sustainability, and are easily compatible with the skin.
In addition, these alternatives also deliver higher foam forming and cleaning efficiency, and are in alignment with Nordic and EU Ecolabel standards for environment health. Such alternatives are likely to exert a negative influence on the use of alkyl polyglucoside surfactants, thereby impeding the growth of the business.
Alkyl polyglucosides have been the subject matter of a number of patent protection applications during the last three decades. The initial proliferation of alkyl polyglucoside-related patents has subsequently been replaced, not only by a decrease in the number of applications but also by the tendency to narrow the scope of their protection.
However, due to innovations that continue to occur in respect to alkyl polyglucosides, new applications are expected to arise over the period of 2021-2031.
Which Region Offers the Largest Opportunity for Sales of Alkyl Polyglucosides?
Europe is the dominant market for alkyl polyglucoside business. In 2020, the region accounted for over 33% of the market value share. Accounting for such a prominent share is due to the fact that consumers in the region are extensive users of natural homecare and personal care products.
In addition, growing awareness of people towards harmful effects of parabens, sulfates, etc., in personal and homecare products has led to higher inclination towards organic products. Such a shift has created demand for bio-surfactants such as alkyl polyglucosides in the region.
Furthermore, stringent regulations by EU regulatory bodies on inorganic surfactants, as they are hazardous to the environment, have also forced personal care manufacturers to use alkyl polyglucosides in their products. As per latest forecasts, it is anticipated that demand for alkyl polyglucosides in the region will grow 2.3X by the end of 2031.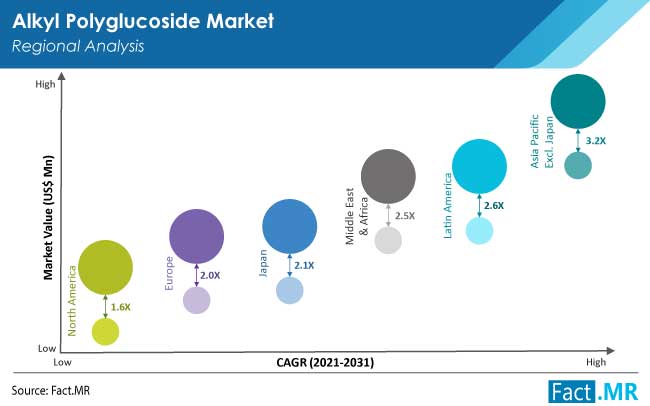 An Adaptive Approach to Modern-day Research Needs
Country-wise Analysis
What Makes the United States Lead the Alkyl Polyglucoside Business Landscape?
The United States is one of the prominent markets for alkyl polyglucosides. Historically (2016-2020), the U.S. market rose at a CAGR of over 3%, owing to favorable policies and higher adoption of the product by end-use industries.
It is one of foremost countries for setting fashion and beauty trends, which are playing the role of an influencer for increasing the demand for homecare and personal products. Cosmetic and detergents are dominating the demand pie of alkyl polyglucosides in the country.
Thus, the U.S. is anticipated to showcase strong market potential over the coming years. During 2021-31, the alkyl polyglucoside business in the country is expected to grow at a rate of 1.5X, and will project a market value of around US$ 466 Mn.
How Has Alkyl Polyglucoside Demand Been Shaping across Established & Emerging Markets?
Germany: The alkyl polyglucoside business has reached a maturity phase of PLC curve in Germany, owing to extensive adoption of the AKP for manufacturing various home care & personal care products.
Stringent regulatory policies on the usage of inorganic surfactants has led to higher usage of alkyl polyglucosides by end users in the country. This shift has been observed from the past decade, owing to which, sales of alkyl polyglucosidse in the country were valued at US$ 112 Mn in 2020. With the local government giving subsidies to organic product manufacturers, adoption of alkyl polyglucosides is estimated to further increase 1.7X by the end of 2031.
India: India is an emerging market for alkyl polyglucosides. Growing awareness of the people towards the benefits of organic products is driving its sales. Owing to this, local manufacturers of home & personal care products have started introducing organic products manufactured using alkyl polyglucosides.
Since, organic products cost more than synthetic ones, only a small portion of the population is using them. Launching of low cost organic products by players over the coming years will support market growth.
In 2020, India projected a value share of 20.7% in the APEJ market, and is set to expand at a CAGR of 7.5% through 2031.
How is China Faring in the Alkyl Polyglucoside Landscape?
From the past half-decade, alkyl polyglucoside sales in China grew at a rate of 6.7%, and have projected a market value of US$ 114.5 Mn in 2020. The country is experiencing such a growth due to the fact that the number of alkyl polyglucoside manufacturers is quiet high. The regional competitive landscape is highly fragmented.
Local producers, often sub-scale, are competing with larger multinationals who are setting up manufacturing primarily to take part in the growing consumer market for surfactant containing products such as laundry detergents, shampoos, and cosmetics.
In order to become a global surfactant industry leader, China is now looking to invest in research & development, sustainable solutions, and increasing capacity in line with the country's socioeconomic development goals.
Category-Wise Insights
Why Does Home Care Application of Alkyl Polyglucosides Have Higher Significance over Personal Care?
Homecare application is diversified and the amount of alkyl polyglucosides utilized per home care products produced is high compared to personal care products. In 2020, homecare application accounted for nearly 47% of the global market share.
Apart from rate of utilization of alkyl polyglucosides in manufacturing, rate of consumption of home care downstream products is high as compared to personal care in terms of volume. These factors play a major role in driving demand for alkyl poly glucoside.
Higher potential of home care products such as disinfectants and cleaners was observed in FY2020, owing to precautionary measures taken by not only individuals but also by institutions, which has provided a spike in the production and enhanced demand by 10 fold.
During the forecast period, demand for home care products is anticipated to rise at a CAGR of over 7%, and will project a market value of US$ 1.1 Bn by the end of 2031.
Which Type of Primary Function is the Most Sought-after for Alkyl Polyglucoside?
As per latest in-depth alkyl polyglucoside business analysis on the various primary functions of alkyl polyglucosides, the following conclusions has been drafted.
On the basis of its properties and primary function, alkyl polyglucoside emulsifying agents hold around 25% market share, and on the other hand, degreasing agents have shown a higher CAGR of 8.7% over the historical time frame.
Moreover, degreasing agents are expected to obtain high market share after wetting agents over the coming years.
How Has COVID-19 Impacted the Sales of Alkyl Polyglucosides?
COVID-19, which the World Health Organization has labelled as a pandemic, is having a significant influence on global economic growth and also this industry. According to the International Monetary Fund, global GDP declined by over 4% in 2020.
The pandemic has affected operations of various industries including homecare and personal care industries owing to rapid spread of COVID cases. As, alkyl polyglucosides are widely used in industries, the decline in their operations had a direct impact on alkyl polyglucosides market growth.
Since these personal and home care products come under the essential goods category, their sales was impacted during Q2 of 2020. From the start of Q3 2020, sales got back on track and so did the demand for alkyl polyglucosides, thus, having a minimal impact on the overall market.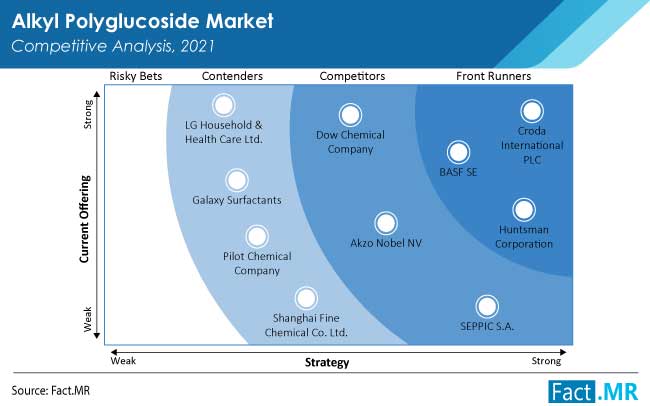 Have a report related query? Speak to us directly
Competition Landscape
Prominent companies discussed in the report have focused on expansion, investment, acquisitions, delivery focus, portfolio expansion, and brand development.
Some of the key developments are:
In December 2019, Pilot Chemical Company acquired Órgano Síntesis S.A. de C.V. (OSSA). This step will assist the company to expand its surfactants and antimicrobial products in the Latin America.
In October 2019, BASF SE, increased its alkyl polyglucoside production by 1000 tons. With this the company's total production capacity got increased to 3000 tons. This will allow the company to cater the increasing demand in Chinese market and other countries in Asia Pacific.
Similarly, recent developments related to other companies offering alkyl polyglucosides have been tracked by the team at Fact.MR, which are available in the full report.
Alkyl Polyglucoside Market Report Scope
Attribute

Details

Forecast Period

2021-2031

Historical Data Available for

2016-2020

Market Analysis

US$ Mn for Value & Tons for Volume

Key Regions Covered

North America
Europe
Asia Pacific
Rest of the World.

Key Countries Covered

Key Market Segments Covered

Product type
Application
Primary Function
Region

Key Companies Profiled

Croda International Plc.
BASF SE
Huntsman Corporation
Dow Chemicals Co.
SEPPIC S.A.
LG Household & Health Care Ltd
Galaxy Surfactants
Akzo Nobel NV
Pilot Chemical Company
Shanghai Fine Chemical Co Ltd

Pricing

Available upon Request
Market Segments Covered in Alkyl Polyglucoside Industry Analysis
Product Type

Coco Alkyl Polyglucosides
Lauryl Alkyl Polyglucosides
Decyl Alkyl Polyglucosides
Capryl Alkyl Polyglucosides
Others

Application

Homecare

Surface Cleaners
Dishwashing Detergents
Laundry Detergents
Other Homecare Products

Personal Care

Bath Products
Cleansers & Wipes
Oral Care
Other Personal Care Products

Industrial & Institutional Cleaners
Agricultural Chemicals
Oil Fields
Admixtures for Cement, Concrete & Plaster
Others

Primary Function

Alkyl Polyglucoside Cleansing Agents
Alkyl Polyglucoside Emulsifying Agents
Alkyl Polyglucoside Wetting Agents
Alkyl Polyglucoside Degreasing Agents
Alkyl Polyglucoside Solubilizing Agents
Alkyl Polyglucoside Hydrotope
Alkyl Polyglucoside Foaming Agents
Others
Alkyl Polyglucoside Market - Scope of Report
A recent study by Fact.MR on the alkyl polyglucoside market offers a 10-year forecast for 2021 to 2031. The study analyzes crucial trends that are currently determining the growth of the market. This report explicates on vital dynamics, such as the drivers, restraints, and opportunities for key market players along with key stakeholders as well as emerging players associated with the development of alkyl polyglucoside.
The study also provides the dynamics that are responsible for influencing the future status of the market over the forecast period. A detailed assessment of value chain analysis, business execution, cost structure analysis, and supply chain analysis across regional markets has been covered in the report.
A list of prominent companies manufacturing alkyl polyglucoside, along with their product portfolios, key strategies, SWOT Analysis, enhances the reliability of this comprehensive research study.
Report Summary
The study offers comprehensive analysis on diverse features, including revenue growth, product enhancements, and revenue generation from alkyl polyglucoside across the globe.
A comprehensive estimate on the market has been provided through an optimistic scenario as well as a conservative scenario, taking into account the revenue of alkyl polyglucoside during the forecast period.
Analysis on Market Size Evaluation
The market has been analyzed for each market segment in terms of value (US$ Mn) and volume (Tons).
Market estimates at global and regional levels for alkyl polyglucoside are available in terms of "US$ Mn". A Y-o-Y growth contrast on prominent market segments, along with market attractiveness evaluation, has been incorporated in the report. Furthermore, absolute dollar opportunity analysis of all the segments adds prominence to the report. Absolute dollar opportunity plays a crucial role in assessing the level of opportunity that a company can look to achieve, along with identifying potential resources, considering the revenue perspective in the global alkyl polyglucoside market.
Inspected Assessment on Regional Segments
Key sections have been elaborated in the report, which have helped deliver projections on regional markets. These chapters include market forces analysis, which is expected to have a momentous influence on the growth of the alkyl polyglucoside market during the forecast period.
Country-specific valuation on revenue for alkyl polyglucoside has been offered for each regional market, along with market scope estimates and forecasts, and impact analysis of the dynamics of prominence in regions and countries. For all regional markets, Y-o-Y growth estimates have also been incorporated in the report.
Detailed breakup in terms of value for key countries has also been included in the report.
In-depth Analysis on Competition
The report sheds light on leading providers of hair grooming products, along with their detailed profiles. Essential and up-to-date data related to market performers who are principally engaged in the hair grooming products has been brought with the help of a detailed dashboard view. Market share analysis and comparison of prominent players provided in the report permits report readers to take preemptive steps in advancing their businesses.
Company profiles have been included in the report, which include essentials such as product portfolios and key strategies, along with all-inclusive SWOT analysis on each player. Company presence is mapped and presented through a matrix for all the prominent players, thus providing readers with actionable insights, which helps in thoughtfully presenting the market status, and predicting the competition level in the hair grooming products market.
Need an Exclusive Report for your Unique Requirement?
Talk Show:
The Rise of Intelligent Packaging
Personalized, Connected and Sustainable
November 18, 2021
11:00-11:45 AM PST (USA & Canada)
This is a LIVE session


- Our Clients -

- Evaluate How Fact.MR's Report Can Help. -
Is the market research conducted by Fact.MR?
Yes, the report has been compiled by expert analysts of Fact.MR, through a combination of primary and secondary research. To know more about how the research was conducted, you can speak to a research analyst.
What research methodology is followed by Fact.MR?
Fact.MR follows a methodology that encompasses the demand-side assessment of the market, and triangulates the same through a supply-side analysis. This methodology is based on the use of standard market structure, methods, and definitions.
What are the sources of secondary research?
Fact.MR conducts extensive secondary research through proprietary databases, paid databases, and information available in the public domain. We refer to industry associations, company press releases, annual reports, investor presentations, and research papers. More information about desk research is available upon request.
Who are the respondents for primary research?
Fact.MR speaks to stakeholders across the spectrum, including C-level executives, distributors, product manufacturers, and industry experts. For a full list of primary respondents, please reach out to us.
Is a sample of this report available for evaluation?
Yes, you can request a sample, and it will be sent to you through an email.