Acrylates Copolymer Market
Acrylates Copolymer Market Analysis By Type (Powder, Emulsion), By End Use (Textiles, Cosmetics, Paints & Coatings, Electrical & Electronics, Building & Construction, Automotive) & Region – Global Market Insights 2023 to 2033
Analysis of Acrylates Copolymer Market Covering 30+ Countries Including Analysis of US, Canada, UK, Germany, France, Nordics, GCC countries, Japan, Korea and many more
Acrylates Copolymer Market Outlook (2023 to 2033)
Based on this new market analysis by Fact.MR, the global acrylates copolymer market is valued at US$ 7 billion in 2023 and is forecasted to soar at a CAGR of 11% to reach US$ 20 billion by the end of 2033.
Acrylic acid and other monomers are combined to form acrylates copolymers. These polymers are renowned for their capacity to enhance a variety of items' performance attributes. Acrylates copolymers' composition and molecular structure can be changed to produce desirable qualities, including improved adhesion, flexibility, and durability.
In recent years, high demand for high-performance adhesives and coatings has driven the market for acrylates copolymers. Due to the expanding applications in sectors, including packaging, automotive, and construction, the market is increasing.
With increasing environmental awareness, industries are seeking sustainable and eco-friendly materials. Acrylates copolymers, known for their low VOC emissions and environmentally friendly characteristics, are preferred choices in many applications, which boosts their market growth.
Powdered acrylates copolymers are in fine powder form, which allows ease of handling and dosing during manufacturing. This characteristic is advantageous for industries where precise and controlled formulations are critical. Their properties, including film-forming abilities and adhesive strength, make them suitable for various industrial uses.
The building & construction industry accounts for 60% usage of acrylates copolymers.
Rising demand for personal care and cosmetic products worldwide has significantly increased the use of acrylates copolymers. These copolymers are used in hair care products, skincare formulations, and makeup owing to their film-forming and thickening properties.
High-performance materials are required by the architecture and construction industries for both decorative and defensive objectives. Acrylicate-based solutions must provide extraordinarily consistent quality and performance while also being cost-effective for use in architecture and construction. As a result, acrylate-based systems are becoming more popular in the construction industry.
Rapid industrialization and urbanization in developing countries are driving the growth of the acrylates copolymer industry. It is projected that the market expansion will be fueled by increased infrastructure projects as well as the automotive and electronics sectors.
Governmental policies support the production of acrylates copolymers. Government regulations and standards promoting the use of eco-friendly and low-emission materials are influencing industries to adopt acrylates copolymers in their products, thereby expanding the market. Both domestic and international producers in the market will profit from this development.
Report Attributes
Details

Acrylates Copolymer Market Size (2023)

US$ 7 Billion

Projected Market Value (2033)

US$ 20 Billion

Global Market Growth Rate (2023 to 2033)

11% CAGR

Market Share of North America (2023)

40%

Market Share of Building and Construction Industry (2023)

60%

Key Companies Profiled

Sasol Limited
Celanese Corporation
Arkema
Rheolab
Nouryon
Novista Chemicals
The Lubrizol Corporation
Dow Chemical Company
BASF SE
LG Chem Ltd.
Mitsubishi Chemical Corporation
Evonik Industries AG
Ashland Inc.
Don't Need a Global Report?
save 40%! on Country & Region specific reports
Why are Sales of Acrylates Copolymers Rising Rapidly across Geographies?
"Increasing Demand for Advanced Acrylates Copolymers with Improved Properties"
Advancements in acrylates copolymers have led to the development of high-performance coatings with improved durability, weather resistance, and corrosion protection. These coatings find applications in various industries, including automotive, aerospace, and infrastructure, where protective and long-lasting finishes are essential.
Researchers have made strides in designing and synthesizing acrylates copolymers with specific structures and functionalities. By controlling the monomer ratios and copolymerization techniques, copolymers can be customized to possess desired properties such as enhanced adhesion, increased flexibility, and improved film-forming capabilities.
Rapid innovations in acrylates copolymers have resulted in the creation of smart materials with responsive properties. These functional copolymers can adapt to changes in environmental conditions, such as temperature, pH, or humidity, leading to applications in self-healing coatings, drug delivery systems, and other innovative technologies.
Nanotechnology has been integrated with acrylates copolymers to create nanocomposite materials with enhanced mechanical, thermal, and barrier properties. Nanoparticles such as clay, silica, and graphene are incorporated into the copolymer matrix to achieve improved performance in various applications.
"Growing Usage of Acrylates Copolymers in Packaging Sector"
In the packaging business, acrylates copolymers are widely employed as adhesives and sealants. The strong bonding and adhesion capabilities they offer allow for the safe sealing of packing materials such as boxes, cartons, and bags. These copolymers guarantee package integrity during storage and transportation, preventing product contamination and leakage.
The unique properties of acrylates copolymers contribute to enhancing the performance, sustainability, and aesthetics of packaging materials. Acrylates copolymers are used in flexible packaging materials, including pouches and sachets. They are blended with other polymers to create flexible films that offer excellent barrier properties against moisture, gases, and external contaminants. These films help extend the shelf life of perishable products and maintain the quality of packaged goods.
As the packaging industry continues to focus on sustainability and innovation, the demand for acrylates copolymers is projected to rise over the coming years. They contribute to sustainable packaging solutions. They enable the production of eco-friendly and recyclable packaging materials with low VOC emissions, reducing the environmental impact of packaging products. Acrylates copolymers are used in anti-fog coatings applied to packaging films to prevent fogging and condensation, enhancing the visibility of products inside the package.
What's Restricting the Demand Growth for Acrylates Copolymers?
"Volatility in Raw Material Prices and Stringent Environmental Regulations"
Fluctuations in the price of raw materials, such as acrylic acid and other monomers, can affect the profitability of acrylates copolymer producers, which in turn acts as a market restraint. The usage of chemicals and their effects on the environment are strictly regulated in the acrylates copolymer market. For market participants, compliance with these requirements can be difficult.
More Insights, Lesser Cost (-50% off)
Insights on import/export production,
pricing analysis, and more – Only @ Fact.MR
How Can New Companies Make a Mark in This Industry?
"New Manufacturers Should Focus on Product Differentiation and Sustainability"
According to recent research by Fact.MR, a market research and competitive intelligence provider, new companies should focus on developing unique and innovative acrylates copolymer formulations that offer distinct advantages over existing products in the market. Consider customizing copolymer properties to cater to specific industries and applications.
New entrants should ensure strict quality control and adherence to industry standards in the production of acrylates copolymers. Consistent product quality is essential to gain customer trust and loyalty. Collaborating with established players can help them access their distribution networks and gain credibility in the industry.
Emerging companies should emphasize eco-friendly and sustainable practices in their operations and product offerings. As environmental concerns increase, sustainable solutions gain preference in the market.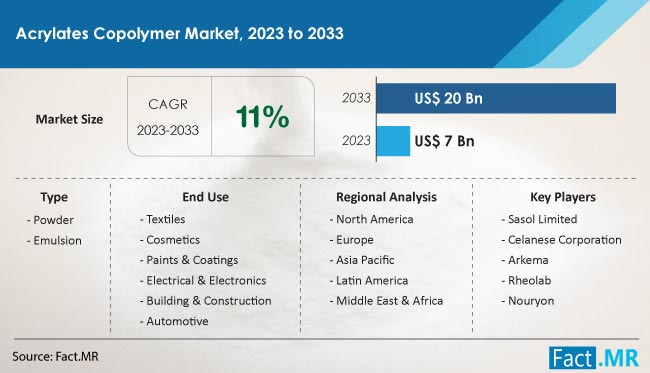 Why is North America a Key Market for Acrylates Copolymer Producers?
"Presence of Well-established Technological Infrastructure"
In 2023, North America is leading the global acrylates copolymer market with 40% share.
The North American region, particularly the United States and Canada, has a well-established technological infrastructure with a strong focus on research and development. This has driven the demand for acrylates copolymers in various applications, including coating additives, and personal care products.
Stringent environmental regulations in North America have encouraged the use of eco-friendly and low-VOC materials, creating opportunities for acrylates copolymers as sustainable alternatives. The construction industry in the region also contributes to the demand for acrylates copolymers in building and infrastructure projects.
Know thy Competitors
Competitive landscape highlights only certain players
Complete list available upon request
Country-wise Insights
Why are Sales of Acrylates Copolymers Surging in Germany?
"Huge Demand for Acrylates Copolymers in Automotive Industry"
Germany has a robust automotive industry, where acrylates copolymers are extensively used in coatings and adhesives for vehicle manufacturing. The cosmetics industry in Germany also drives the demand for acrylates copolymers in products such as hair styling gels, creams, and lotions.
Market growth is driven by the presence of major automotive manufacturers, active research and development efforts, and strict environmental restrictions. Increasing consumer demand for environmentally friendly and sustainable goods is boosting market value.
What is Fueling Demand for Acrylates Copolymers in China?
"Rise in Construction Activities Driving Market Growth in China"
The market in China is witnessing rapid industrialization and urbanization, leading to increased construction activities and infrastructure development. This, in turn, fuels the demand for acrylates copolymers in construction materials.
Growing consumer awareness of personal grooming and beauty products in China is boosting the demand for acrylates copolymers in the cosmetics sector. The expanding construction and packaging industries are important drivers of market expansion in China.
Category-wise Insights
Which End Use Accounts for High Usage of Acrylates Copolymers?
"Increasing Need for Infrastructure Development Driving Demand for Acrylates Copolymers in Building & Construction Sector"
Based on end use, the market is divided into textiles, cosmetics, paints & coatings, electrical & electronics, building & construction, automotive, and others.
With 60% share, the building & construction industry is dominating the global market in 2023.
The booming building & construction industry is a significant driver for acrylates copolymers. They are used in various construction materials for enhancing performance and durability. The increasing demand for infrastructure development and urbanization fuels the need for these copolymers in the building & construction sector.
To increase energy efficiency and save heating and cooling expenses in buildings, acrylates copolymers are utilized in thermal insulation materials. They also aid with sound insulation, making living or working situations quieter and more comfortable.
The building and construction industry relies heavily on acrylates copolymers because they provide an array of advantages and capabilities that make them essential components in a variety of applications. They provide strong and durable bonds between various substrates, such as concrete, wood, metal, and plastics. These adhesives are essential for joining building materials together, ensuring structural integrity and longevity.
Competitive Landscape
Top acrylates copolymer manufacturers are focusing on introducing cutting-edge features to differentiate their products from those of rival companies while also continuously enhancing their product range. A variety of analytical methods are being used by the main competitors. Major players are extending their influence through alliances, new developments, quality control, joint ventures, product standards, and supply chain management.
For instance :
In 2021, Nouryon's new manufacturing plant in Ningbo, China, will increase the production of polymers used in paints, packaging, coatings, and construction end sectors to meet the expanding demand for these materials.
Key Segments of Acrylates Copolymer Industry Research
By Type :

By End Use :

Textiles
Cosmetics
Paints & Coatings
Electrical & Electronics
Building & Construction
Automotive
Others

By Region :

North America
Europe
Asia Pacific
Latin America
Middle East & Africa
- FAQs -
The global acrylates copolymer market is valued at US$ 7 billion in 2023.
Worldwide demand for acrylates copolymers is expected to reach US$ 20 billion by 2033.
Sales of acrylates copolymers are predicted to rise at a CAGR of 11% through 2033.
Sasol Limited, Celanese Corporation, and Arkema are the top manufacturers of acrylates copolymers.
North America accounts for 40% share of the global market for acrylates copolymers in 2023.