Olefin Block Copolymers Market
Olefin Block Copolymers Market Size, Share Report By Type (Soft OBCs, Hard OBCs), By Process (Chain Shuttling Catalysis, Ziegler-Natta catalyst System), By Application (Footwear, Adhesives, Houseware, Health and Hygiene Elastic Films), By Region - Global Insights 2021-2031
FACT4201MR
Oct-2021

List of Tables : 75

List of Figures : 134

170 Pages
Olefin Block Copolymers Market Outlook (2021-2031)
The global olefin block copolymers market is anticipated to expand at a CAGR 5.6% over the forecast period of 2021 to 2031 and top US$ 367 Mn by 2031-end. The global shift towards advanced block copolymers speculating demand for quality thermoplastic elastomers in opening up requirement for olefin block copolymers.
Globally, the olefin block copolymers market experienced a downfall in demand in 2020 due to the COVID-19 pandemic. However, owing to rising demand followed by increasing olefin block copolymer production, the market again started picking pace since the beginning of 2021. Fact.MR analysed that demand increased 4.1% till September 2021 from the beginning of the Q1 2021.
Avail customized purchase options for your needs
Olefin Block Copolymers Industry Report Scope
Attribute
Details
Market size value in 2020
USD 204 Mn
Market forecast value in 2031
USD 367 Mn
Global Growth Rate
CAGR 5.6%
North America Market Size in 2020
USD 54 Mn
Latin America Market Size in 2020
USD 20 Mn
Europe Market Size in 2020
USD 47 Mn
East Asia Market Size in 2020
USD 41 Mn
South Asia & Oceania Market Size in 2020
USD 33 Mn
Middle East and Africa Market Size in 2020
USD 8 Mn
Forecast Period
2021-2031
Historical Data Available for
2016-2020
Market Analysis
Value in US$ Mn, Volume in KT
Key Regions Covered

North America
Latin America
Europe
East Asia
South Asia
Oceania
Middle East Africa

Key Countries Covered

U.S.
Canada
Mexico
Brazil
Argentina
Germany
Italy
Spain
Italy
Portugal
China
Japan
India
Taiwan
Indonesia
GCC Countries
South Africa
Turkey

Key Market Segments Covered

By Type
By Process
By Application
Region

Key Companies Profiled

Dow Chemical Co.
Polyone (GLS Corp)
Mitsubishi Chemical Co.

Pricing
Available upon Request
Demand Analysis of Olefin Block Copolymers from 2016 to 2020 Vs Market Outlook for 2021 to 2031
Historically, from 2016-2020, the market for olefin block copolymers increased at a CAGR of 4.9%. Although other thermoplastic elastomers captured more potential globally, the extraordinary properties of olefin block copolymers inclined consumers towards this shift.
Rising application of olefin block copolymers in footwear is one of the prominent factor for growing sales during 2016-2020. In terms of value, the footwear segment reached over US$ 89 Mn in 2016, and expanded to US$ 100 Mn in 2020.
Additionally, application of olefin block copolymers in adhesives, injection moulding, 3D printing, houseware, and automotive over the past half-decade opened up demand for OBC compounds. It is anticipated that consumption of olefin block copolymers across the globe will cross 157 KT by 2031-end.
Below points summarize the market over the long-run forecast period:
Athletic footwear manufacturers are the largest consumers of olefin block copolymers across the globe.
The United States accounted for a prominent chunk of the market and is anticipated to rise at a CAGR 5.2% during the forecast period.
Application of olefin block copolymers in the health and hygiene sector is anticipated to grow at a steady pace.
Vietnam is the centre of attraction for OBC manufacturers as the country exceeded over 10% of global footwear export during 2020. By 2031, the country's footwear industry will be going to the next level, which, in turn, increases the requirement for OBCs.
Application of olefin block copolymers in houseware is anticipated to increase at a CAGR 4.7% and reach US$ 52 Mn by 2031.
An Adaptive Approach to Modern-day Research Needs
What are the Prominent Driving Factors for Olefin Block Copolymers?
Increasing consumption of thermoplastic elastomers for numerous applications, including automotive, footwear, and consumer goods, has been instrumental in from the past half-decade. Due to superior physical and chemical properties, thermoplastic elastomer is gradually diversifying into industries such as construction and industrial equipment.
Olefin block copolymers are a promising substitute for traditional thermoplastic elastomers and exhibit marvelous application potential in many fields. By looking into the exceptional properties, end-use product manufacturers are already adopting OBCs for better performance and results.
Additionally, numerous applications of OBCs in the automotive industry, film & packaging industry, and other applications such as adhesives, seals and gaskets, profiles & hoses, etc., are reasons behind overall market growth of OBCs, which, in turn, is dominating old thermoplastic use at a certain level.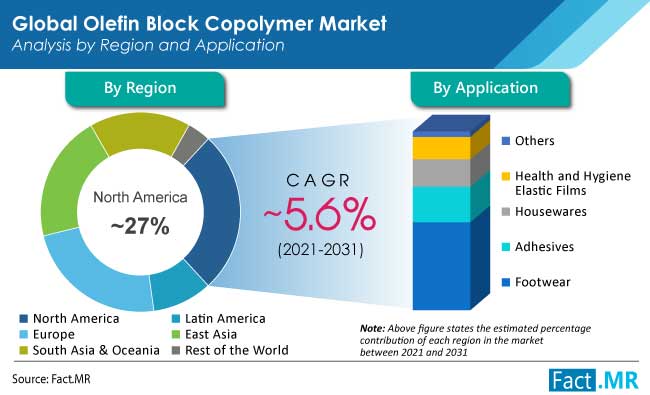 Country-wise Analysis
What Makes the U.S. a Prominent Market for Olefin Block Copolymer Suppliers?
Olefin block copolymers were first developed in the United States. DOW Chemical was the company that first found the potential of block copolymers in a different way. The shale gas revolution is also one of the reasons behind the encouragement of developing and producing OBCs at a high volume in the country. Both, in terms of production and consumption, the U.S. is considered as the largest market for olefin block copolymers.
Over the period of 2016-2020, the United States market expanded at a CAGR 2.6% and reached US$ 41 Mn in 2020. Growing demand for athletic footwear, adhesive applications, and health & hygiene elastic films are driving the requirement for OBCs in the United States.
Why is the Olefin Block Copolymer Business in China Anticipated to Grow at a Much Faster Rate than the Global Average?
China is one of the largest footwear producers across the globe. The footwear industry is one of the significant contributors to the country's GDP. Thermoplastic elastomers is one of the high demanding material in the Chinese industry.
Growing requirement for quality footwear in the global market encourages Chinese manufacturers to elevate their level of quality production. Footwear manufacturers are looking for better thermoplastic elastomers than existing ones.
Demand for olefin block copolymers in China increased with the shifting mentality of manufacturers. In terms of value, the market in China is anticipated to rise at a CAGR of 6.7% and be valued over US$ 58.6 Mn by 2031-end.
Interested to Procure The Data
Category-wise Analysis
How is Growing Athletic Footwear Demand Triggering OBC Requirement?
Olefin block copolymers have had great significance in the footwear industry worldwide from the past half-decade. Although a few companies are involved in the production of OBCs, demand has been increasing at a high pace. Block copolymers have enabled the development of athletic shoe midsoles with significantly improved performance.
Growing awareness towards fitness and athletic activities along with increasing involvement in games and sports among people across the globe driving is demand for athletic products, including footwear, fueling requirement for olefin block copolymers.
Globally, the footwear industry is the highest consumer of olefin block copolymers. Over 49% of OBCs produced across the globe are consumed by the footwear industry, in which, the athletic footwear segment holds the highest share both, in terms of value and volume.
Why is the Chain Shuttling Catalysis Process of OBC Production the Successful One by Far?
'Chain shuttling catalysis' is the most successful process to produce OBCs. The process was first developed by "Dow Chemical Company", who came up with various grades of olefin block copolymers in the U.S. market in 2008. Later on, it was exported to several countries across the globe. Over 90% of OBCs produced nowadays are by the chain shuttling catalysis process.
By looking into the demand for olefin block copolymer products, companies across the globe are focused on developing the production technique. Mitsubishi and other companies have developed OBC products using the Ziegler-Natta catalyst system, but haven't made that much impact in the global market.
In terms of value, OBCs produced by the Ziegler-Natta catalyst system reached over US$ 15 Mn in 2020, whereas, OBCs produced by chain shuttling catalysis reached over US$ 189 Mn.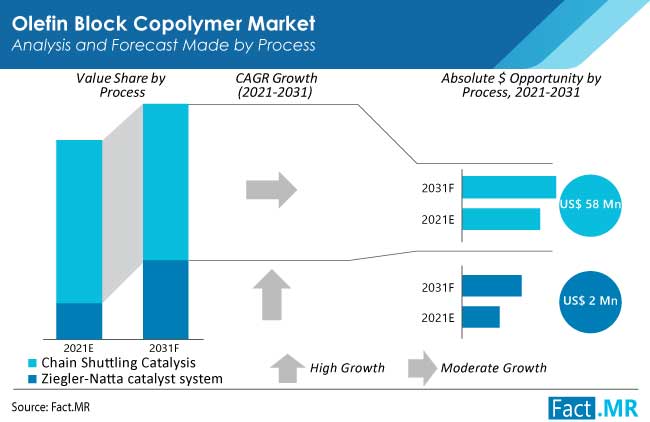 Competitive landscape
The olefin block copolymers (OBC) market competitive landscape shows that top manufacturers of olefin block copolymers include Dow Chemical Co., Polyone (GLS Corp), and Mitsubishi Chemical Co. All these manufacturers are focussed on gaining maximum market attraction, delivery focus, portfolio expansion, and brand development.
Olefin Block Copolymers Industry Research: Key Segments
By Type

By Process

Chain Shuttling Catalysis
Ziegler-Natta catalyst System

By Application

OBCs for Footwear
OBCs for Adhesives
OBCs for Houseware
OBCs for Health and Hygiene Elastic Films
Others