Aircraft Fuel Cells Market
Aircraft Fuel Cells Market Analysis By Type (Hydrogen, Methanol, Biofuel), By Technology (Proton Exchange Membrane Fuel Cells (PEMFC), Solid Oxide Fuel Cells (SOFC), Molten Carbonate Fuel Cells (MCFC)), By Application (Auxiliary Power Units (APUs), Main Propulsion Systems, Emergency Power Systems), By Aircraft Type (Commercial Aircrafts, Military Aircrafts, Business Jets, Unmanned Aerial Vehicles (UAVs) & By Region - Global Market Insights 2023 to 2033
Analysis of Aircraft Fuel Cells Market Covering 30+ Countries Including Analysis of US, Canada, UK, Germany, France, Nordics, GCC countries, Japan, Korea and many more
Aircraft Fuel Cells Market Outlook (2023 to 2033)
According to Fact.MR, the global aircraft fuel cells market stands at US$ 460.66 million in 2023 and is projected to jump to US$ 5.88 billion by 2033. Worldwide demand for aircraft fuel cells is forecasted to skyrocket at a CAGR of 29% over the next 10 years.
A fuel cell functions as an electrochemical device, which transforms the chemical energy of a fuel such as hydrogen and an oxidizing agent, typically oxygen from the air, into electrical energy via a set of redox reactions. Unlike conventional batteries, fuel cells require a constant supply of fuel and oxygen to sustain the chemical reaction.
With growing concerns about climate change and environmental impact, the aviation industry is actively seeking more sustainable alternatives to traditional fossil fuels. Fuel cells offer a promising solution as they produce electricity through the chemical reaction between hydrogen and oxygen, emitting only water vapour and heat, making them a cleaner alternative to conventional aircraft engines. Hydrogen, methanol, and biofuels are some of the types of aircraft fuel cells.
Demand for hydrogen aircraft fuel cells is predicted to rise rapidly at a CAGR of 30% from 2023 to 2033.
In recent years, the aviation industry has been facing mounting pressure to address its environmental impacts and contribute to global efforts to combat climate change. As a result, the search for sustainable aviation solutions has intensified and hydrogen aircraft fuel cells have emerged as a promising technology. This innovative technology is gaining momentum and several factors are contributing to its high demand and potential to transform the aviation sector.
Zero-emissions: One of the most compelling reasons driving the demand for hydrogen aircraft fuel cells is their ability to produce zero-emission during flight. Traditional jet engines rely on burning fossil fuels, releasing significant amounts of greenhouse gases and pollutants into the atmosphere. Hydrogen fuel cells, on the other hand, produce clean electricity without emitting harmful gases, making them an essential component in achieving carbon-neutral or even carbon-negative aviation.
Flexibility in Aircraft Types: Hydrogen fuel cell technology is versatile and can be adapted to power various types of aircraft, from small regional planes to larger commercial airliners. The flexibility of the technology makes it a viable option for different aviation needs, helping to accelerate its adoption across the industry.
Report Attributes
Details

Aircraft Fuel Cells Market Size (2023E)

US$ 460.66 Million

Forecasted Market Value (2033F)

US$ 5.88 Billion

Global Market Growth Rate (2023 to 2033)

29% CAGR

Canada Market Growth Rate (2023 to 2033)

25% CAGR

Germany Market Growth Rate (2023 to 2033)

33.5% CAGR

Japan Market Growth Rate (2023 to 2033)

22% CAGR

China Market Growth Rate (2023 to 2033)

25.5% CAGR

Key Companies Profiled

Advent Technologies
Airbus SAS
Australian Fuel Cells Pty. Ltd
Cummins Inc.
ElringKlinger AG
Honeywell International Inc.
Intelligent Energy Limited
Nuvera Fuel Cells, LLC
The Boeing Company
Don't Need a Global Report?
save 40%! on Country & Region specific reports
Why is Demand for Aircraft Fuel Cells Increasing Rapidly?
"High Demand for Aircraft Fuel Cells Owing to Their Reduced Emission, Fuel Efficiency, and Light Weight"
Rising Demand for Fuel-efficient Solutions: One of the primary drivers of the aircraft fuel cells market growth is the aviation industry's increasing focus on fuel efficiency and sustainability. Fuel cells offer a cleaner and more energy-efficient alternative to traditional internal combustion engines. As environmental concerns and regulations have become more stringent, aircraft manufacturers and operators are exploring greener technologies, fuel cells being one of them.
Advancements in Fuel Cell Technology: Over the years, there have been significant advancements in fuel cell technology, particularly in proton exchange membrane fuel cells (PEMFCs). These advancements are resulting in improved performance, high power density, reduced weight, and enhanced reliability of fuel cells, making them more suitable for aircraft applications.
Longer Flight Durations and Extended Range: Aircraft fuel cells allow for longer flight durations and extended ranges compared to conventional battery technologies. They offer a higher energy-to-weight ratio, enabling aircraft to carry more payload or passengers while maintaining a reasonable flight range. This is particularly beneficial for unmanned aerial vehicles (UAVs) and electric aircraft.
Reduced Emissions and Environmental Impacts: Aircraft powered by fuel cells produce lower emissions, including greenhouse gases and pollutants, compared to conventional combustion engines. With increasing awareness of climate change and its impact on the environment, the aviation industry is under pressure to reduce its carbon footprint. Fuel cell technology aligns with these sustainability goals.
"Government Support and Incentives Promoting Adoption of Aircraft Fuel Cells"
Many governments around the world are promoting the adoption of fuel cells and other sustainable technologies. They are offering financial incentives, grants, and tax benefits to aircraft manufacturers, operators, and research institutions working on fuel cell development for aviation. This support fosters innovation and boosts sales of aircraft fuel cells.
"Use of Fuel Cells in Creating Hybrid-Electric Aircraft Propulsion Systems"
Fuel cells can be used in conjunction with batteries or other power sources to create hybrid-electric propulsion systems. These systems offer the advantages of both fuel cells and batteries, providing improved energy efficiency and power management. Hybrid-electric aircraft are gaining interest in the industry, and fuel cells play a crucial role in making them a reality.
"Technological Collaborations & Partnerships between Stakeholders"
Collaboration between aviation companies, fuel cell manufacturers, and research institutions is accelerating the development of fuel cell technology. Various stakeholders pool their expertise and resources for faster and more efficient progress in fuel cell technology.
"Reduced Noise Levels of Fuel Cells Driving Their Popularity"
Fuel cells are quieter than traditional aircraft engines, leading to a reduction in noise pollution. This aspect is especially significant in urban air mobility (UAM) applications and other noise-sensitive areas, where quieter flight operations are essential for public acceptance and regulatory compliance.
What are the Challenges Encountered by Aircraft Fuel Cell Manufacturers?
"High Initial Costs and Fuel Storage-Major Challenges Lowering Aircraft Fuel Cell Adoption Rates"
High Initial Cost: Initial costs associated with developing and implementing fuel cell technology for aircraft can be significant. Research & development initiatives and certification processes add to the expenses. The higher upfront investment compared to conventional propulsion systems might deter some aircraft manufacturers and operators from adopting fuel cells.
Limited Hydrogen Infrastructure: Hydrogen is a common fuel source for fuel cells, and while it is abundant, the infrastructure for producing, storing, and distributing hydrogen remains limited. The lack of a well-established hydrogen infrastructure could impede the widespread adoption of fuel cells in the aviation industry.
Fuel Storage Challenges: Hydrogen storage is a critical aspect when using fuel cells in aircraft. Hydrogen has a low energy density by volume, requiring large storage tanks or complex compression systems. The added weight and space requirements for hydrogen storage could reduce the payload capacity or cabin space of the aircraft.
"Safety Concerns & Regulatory Hurdles Restraining Demand for Fuel Cells"
Use of hydrogen as a fuel raises safety concerns due to its flammability and potential for leakage. Ensuring the safe handling, storage, and transport of hydrogen is essential for gaining regulatory approvals and public acceptance.
The aviation industry is subject to strict regulatory standards and certifications. Integrating new technologies such as fuel cells requires adherence to rigorous safety and performance requirements. Delays in obtaining necessary approvals can slow down the adoption of fuel-cell-powered aircraft.
"Competition from Alternative Sustainable Technologies"
Fuel cells face competition from other emerging sustainable technologies such as battery-electric propulsion systems. Different aircraft types and applications may find alternative technologies more suitable for their specific needs.
More Insights, Lesser Cost (-50% off)
Insights on import/export production,
pricing analysis, and more – Only @ Fact.MR
What are Strategies Adopted by New Companies in the Aircraft Fuel Cells Market?
"Investing in R&D for Fuel Cell Advancements and Forging Strategic Partnerships"
For newcomers entering the aircraft fuel cells industry, staying ahead of trends and adopting effective tactics significantly aid in earning more success and market shares. Here are some key aspects that are beneficial for start-ups:
Focusing on Sustainability & Emissions Reduction: Start-ups are emphasizing the environmental benefits of fuel cell technology and positioning it as a sustainable solution that reduces emissions and supports the aviation industry's efforts to address climate change. This approach resonates with environmentally conscious airlines, aircraft manufacturers, and regulators.
Investments in Research and Development: Newcomers are allocating resources to research and development efforts to improve fuel cell technology. Investing in innovation is expected to lead to advancements that address limitations such as energy density, storage capacity, and cost-effectiveness, making the product more attractive to potential customers.
Strategic Partnerships & Collaborations: Start-ups are seeking partnerships with established aerospace companies, fuel cell manufacturers, research institutions, and government agencies. Collaborating with industry leaders can provide access to expertise, funding, and a broader customer base.
Market Diversification: New manufacturers are identifying various applications for fuel cell technology in the aviation sector. While commercial aircraft may be the primary target, exploring opportunities in military aviation, unmanned aerial vehicles (UAVs), electric vertical take-off and landing (eVTOL) aircraft, and auxiliary power units (APUs) are estimated to open up new revenue streams.
Cost Competitiveness: Start-ups are working toward achieving cost competitiveness. While fuel cells offer long-term savings through fuel efficiency, initial costs are a significant consideration for aircraft manufacturers and operators, and demonstrating a clear cost advantage is a compelling selling point.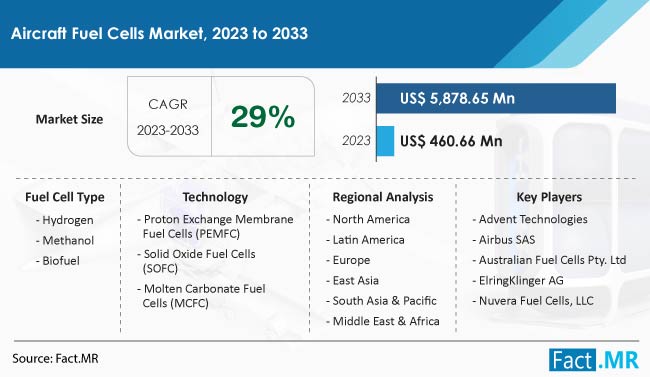 Country-wise Analysis
What's Fueling the Demand for Aircraft Fuel Cells in the United States?
"Increasing Demand for Fuel-efficient & Eco-friendly Aircraft"
Demand for aircraft fuel cells in the United States is witnessing significant growth. The increasing need for more fuel-efficient and environmentally friendly aircraft is driving sales of aircraft fuel cells in the country. Fuel cells, as an alternative power source, are gaining traction in the aviation industry to reduce carbon emissions and comply with stricter environmental regulations.
The United States aerospace industry's emphasis on research and development initiatives is also playing a crucial role in the aircraft fuel cell's evolution. Leading regional companies are investing in advancing fuel cell technologies to make them more efficient, lightweight, and reliable, thereby increasing their attractiveness to airlines and aircraft manufacturers.
In June 2022, Event 38, a US-based manufacturer specializing in mapping drones, made an exciting announcement regarding the successful test flight of their E400 UAV, which was modified to operate on a hydrogen cell. This achievement marked a significant milestone in the journey toward adopting cleaner and more efficient technologies compared to traditional battery or gas-powered systems.
Why is Germany a Profitable Market for Aircraft Fuel Cell Producers?
"Government Backing and Notable Efforts of Research Institutions"
In Germany, sales of aircraft fuel cells are estimated to increase at a significant CAGR of 33.5% over the forecast period, bolstered by the country's strong commitment to sustainable aviation solutions. The German government, along with various research institutions, is actively supporting projects aimed at developing and integrating fuel cell technology into aircraft.
Collaborations between academia, industry players, and government agencies are fostering innovation in the field. All such developments are driving sales of aircraft fuel cells in Germany.
How is Demand for Aircraft Fuel Cells Evolving in China?
"From Batteries to Hydrogen-China's Flight Path towards Sustainable Aviation"
As per this report by Fact.MR, a market research and competitive intelligence provider, demand for aircraft fuel cells in China is forecasted to increase at a CAGR of 25.5% through 2033.
Rapid growth of China's commercial aviation sector is primarily boosting sales of aircraft fuel cells. Fuel cells are seen as a viable option, supporting the growing aviation industry while adhering to stringent emission standards.
The Chinese government's focus on green technologies and sustainable development is also influencing the demand for aircraft fuel cells. Domestic aircraft manufacturers and suppliers in China are actively collaborating with international players and adopting cutting-edge fuel cell technologies, which is contributing to market growth.
Know thy Competitors
Competitive landscape highlights only certain players
Complete list available upon request
Category-wise Analysis
Which Aircraft Fuel Cell Technology Enjoys Higher Adoption Rates?
"PEMFC Technologies Advancing Aircraft Performance Due to Their Efficient Hydrogen Conversion Capabilities"
Demand for proton exchange membrane fuel cell (PEMFC) technologies in the aircraft sector is gaining traction. Following are some factors supporting their growth:
Energy Efficiency: PEMFCs are known for their high energy efficiency compared to traditional internal combustion engines. They can convert hydrogen fuel directly into electricity and heat with very little waste, making them an attractive option for aircraft aiming to reduce fuel consumption and increase range.
Environmental Benefits: As the aviation industry faces increasing pressure to reduce greenhouse gas emissions and environmental impacts, PEMFCs offer a promising alternative to conventional jet engines. When hydrogen is used as the fuel source, PEMFCs produce only water vapour and heat as byproducts, significantly reducing carbon dioxide and other harmful emissions.
Light Weight: PEMFC systems are generally lighter than conventional internal combustion engines, which is crucial for aircraft, where weight directly impacts fuel efficiency and overall performance.
Longer Range and Endurance: Aircraft powered by PEMFCs potentially have longer range and endurance capabilities, which is beneficial for long-haul flights and unmanned aerial vehicles (UAVs).
Competitive Landscape
Leading companies in the aircraft fuel cells market are investing heavily in research and development activities to improve the efficiency, performance, and durability of fuel cell technologies. By staying at the forefront of innovation, they are expected to offer cutting-edge products that attract more customers and command premium prices. They are also focusing on mergers, partnerships, and collaborations to earn more.
In May 2022, Airbus made a significant decision to set up a cutting-edge facility in Filton, United Kingdom. The establishment, known as the Zero Emission Development Centre (ZEDC), is dedicated to crafting hydrogen fuel systems specifically designed for aircraft usage. The primary focus of the ZEDC is the development of an efficient and cost-effective cryogenic fuel system, which is to be incorporated into Airbus's ZEROe passenger aircraft. These advanced aircraft models are expected to begin commercial service in 2035, paving the way for a more sustainable and environmentally friendly future in the aviation industry.
Key Segments of Aircraft Fuel Cells Industry Research
By Fuel Cell Type :

Hydrogen
Methanol
Biofuels

By Technology :

Proton Exchange Membrane Fuel Cells (PEMFC)
Solid Oxide Fuel Cells (SOFC)
Molten Carbonate Fuel Cells (MCFC)

By Application :

Auxiliary Power Units (APUs)
Main Propulsion Systems
Emergency Power Systems

By Aircraft Type :

Commercial Aircraft
Military Aircraft
Business Jets
Unmanned Aerial Vehicles (UAVs)

By Region :

North America
Latin America
Europe
East Asia
South Asia & Oceania
MEA
- FAQs -
The global aircraft fuel cells market is estimated at US$ 460.66 million in 2023.
The market for aircraft fuel cells is projected to reach US$ 5.88 billion by 2033.
Sales of aircraft fuel cells are forecasted to rise at a significant CAGR of 29% from 2023 to 2033.
Demand for aircraft fuel cells in Germany is foreseen to increase at a CAGR of 33.5% during the forecast period.
Hydrogen aircraft fuel cells are higher in demand and their sales are forecasted to surge at a CAGR of 30% during the next 10 years.