Allergic Rhinitis Treatment Market
Allergic Rhinitis Treatment Market Analysis By Treatment Type (Anti-histamines, Decongestants, Corticosteroids, Immunotherapy (SCIT, SLITD, SLITT)), By Route of Administration (Oral, Nasal, Intraocular, Intravenous), By Distribution Channel (Hospital Pharmacies, Retail Pharmacies, Online Pharmacies), By Allergen Type (Seasonal Allergic Rhinitis, Perennial Allergic Rhinitis) and By Region - Global Market Report (2024 to 2034)
Analysis of Allergic Rhinitis Treatment Market Covering 30+ Countries Including Analysis of US, Canada, UK, Germany, France, Nordics, GCC countries, Japan, Korea and many more
Allergic Rhinitis Treatment Market Outlook (2024 to 2034)
The global allergic rhinitis treatment market size is estimated at US$ 16.03 billion in 2024 and is projected to reach a valuation of US$ 23.38 billion by the end of 2034, advancing at a CAGR of 3.8% over the next ten years. This expansion is being driven by the rising prevalence of allergic rhinitis worldwide, which affects people of all ages, and a shift toward individualized therapy. Allergic rhinitis, a common allergy illness characterized by nasal passage inflammation, has prompted rapid changes in the treatment landscape.
Immunotherapy is the cornerstone of allergy management and is gaining traction in the market for allergic rhinitis treatment. Immunotherapy offers a potential long-term cure by gradually exposing individuals to increasing dosages of allergens, with the added benefit of desensitizing them to certain triggers. In allergic rhinitis treatment, over-the-counter allergy medications such as corticosteroid nasal sprays and oral antihistamines play a critical role.
Ease of use and convenience of OTC allergy relief remedies contribute to their growing popularity. The ability to tailor immunotherapy programs based on individual allergen profiles demonstrates the dedication of the industry to precision medicine. The approach to allergic rhinitis treatment has progressed from symptomatic relief to increasingly complicated and focused approaches.
Key Market Growth Drivers
Rising prevalence of allergies, particularly those caused by airborne allergens, is driving the demand for allergic rhinitis treatment devices.
Healthcare professionals are adopting a patient-centered approach, adapting treatment strategies to individual patient needs and preferences, fueling demand for tailored allergic rhinitis therapy.
Government measures to raise awareness about allergic illnesses and improve healthcare infrastructure are driving market expansion.
Diagnostic and treatment advancements are providing healthcare practitioners with more efficient tools for accurate allergic rhinitis diagnosis and effective management of allergic rhinitis.
With in-depth knowledge of allergic rhinitis at the molecular level, the market is shifting toward medicines that target individual patient profiles, improving efficacy while avoiding side effects.
Environmental causes, lifestyle changes, and genetic predisposition are all contributing to the increased prevalence of allergic rhinitis, fueling the demand for effective treatment alternatives and driving allergic rhinitis treatment market growth.
Report Attributes
Details
Allergic Rhinitis Treatment Market Size (2023A)
US$ 15.44 Billion
Estimated Market Value (2024E)
US$ 16.03 Billion
Forecasted Market Value (2034F)
US$ 23.38 Billion
Global Market Growth Rate (2024 to 2034)
3.8% CAGR
East Asia Market Growth Rate (2024 to 2034)
3.6% CAGR
Western Europe Market Share (2034F)
23.5%
Oral Route of Administration Segment Share (2024E)
48.8%
Perennial Allergic Rhinitis Segment Growth Rate (2024 to 2034)
4.1% CAGR
Key Companies Profiled

Merck & Co., Inc.
Boehringer Ingelheim International GmbH
AstraZeneca
GSK plc.
Johnson & Johnson Services, Inc.
Teva Pharmaceutical Industries Ltd.
Novartis AG
Mylan N.V.
Aytu BioPharma, Inc.
Glenmark Pharmaceuticals Ltd.
Himalaya Wellness Company
Regeneron Pharmaceuticals Inc.
Allergy Therapeutics
Stallergenes Greer
Bayer AG
Dr. Reddy's Laboratories Ltd.
ALK-Abelló A/S
Revolo Biotherapeutics
Don't Need a Global Report?
save 40%! on Country & Region specific reports
Why is There High Need for Allergy Management Solutions?
"Rising Incidence of Allergic Rhinitis Driving Demand for Effective Treatment Options"
Rising incidence of allergic rhinitis is a major driver fueling market growth. A significant increase in allergic rhinitis cases has been recorded around the world, which is attributed to a combination of environmental, genetic, and lifestyle factors. Climate change, increasing exposure to airborne allergens, and a sophisticated, urbanized lifestyle all contribute considerably to the rising occurrence.
Genetic predisposition plays a role, making certain people more prone to developing allergic rhinitis. This increase in cases not only generates demand for effective treatment but also emphasizes the importance of novel and diversified treatments. As the worldwide population gets more urbanized and environmental factors continue to evolve, the increasing incidence of allergic rhinitis remains a driving force in market expansion.
"Technological Integration Enabling Healthcare Providers Make Data-driven Decisions"
Technological advancements, such as telemedicine platforms, smartphone apps, and digital health solutions, have transformed how allergic rhinitis is diagnosed, monitored, and managed. Telemedicine allows healthcare providers to access a larger patient population and provide timely interventions by facilitating distant consultations.
Patients can use mobile applications to track symptoms, adhere to treatment programs, and actively participate in their healthcare journey. This integration not only improves patient engagement but also leads to more effective and individualized treatment plans. Technology allows for real-time monitoring, enabling healthcare providers to make data-driven decisions and quickly change treatment programs. The introduction of digital health solutions is consistent with the broader trend toward patient-centered treatment, as it provides individuals with tools to actively participate in the management of their allergic rhinitis.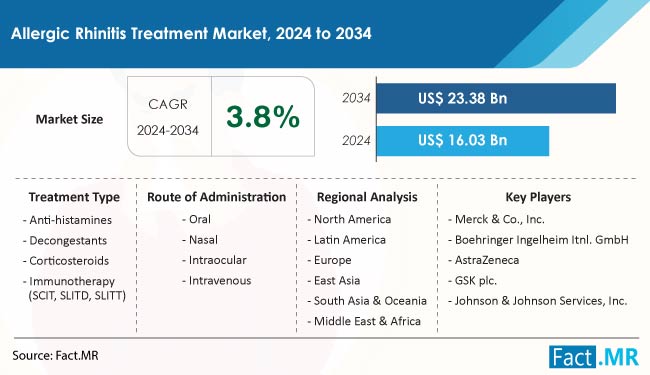 What's Impeding Revenue Growth from Allergic Rhinitis Prevention Treatment?
"Limited Access to Treatment Options and High Cost of Advanced Medicines"
Access to advanced medicines is a key impediment to the widespread adoption of innovative and effective treatment interventions. Access to cutting-edge medical facilities, specialist practitioners, and cutting-edge treatments may be limited in certain places, which prevents a large portion of the patient population from benefiting from advanced therapies.
Sometimes, the cost of innovative rhinitis medications, including targeted therapies and biologics, is unaffordable, making them unavailable to a significant portion of the population, especially in places with inadequate access to healthcare. The introduction of new medicines may be delayed due to stringent approval processes and lengthy regulatory clearance deadlines. Addressing the issue of limited accessibility necessitates a multifaceted approach that takes into account infrastructure development, affordability, regulatory efficiency, and equitable healthcare policy.
More Insights, Lesser Cost (-50% off)
Insights on import/export production,
pricing analysis, and more – Only @ Fact.MR
How Can New Companies Help Allergic Rhinitis Patients?
"Focus on Providing Personalized and Targeted Medicines"
Start-ups should focus on creating novel treatment solutions, such as advanced medications, novel drug delivery systems, or cutting-edge digital health solutions. Embracing precision medicine and adapting treatments to unique patient profiles helps differentiate start-ups and align them with the shift of the industry toward personalized and targeted medicines.
Forging strategic alliances with established pharmaceutical corporations, research institutions, or technology enterprises can help start-ups obtain access to critical resources, knowledge, and a greater market reach. These agreements have the potential to speed up the research and commercialization of novel allergy care alternatives.
Offering cheap treatment choices, investigating generic alternatives, or implementing value-based pricing models can enhance market penetration, particularly in regions where cost is a major concern for patients and healthcare providers. Creating user-friendly apps for symptom tracking, treatment adherence, and telemedicine consultations can boost patient involvement and propel entrepreneurs to the forefront of technology-driven allergic rhinitis treatment.
Country-wise Insights
The North American market is being influenced by a high prevalence of allergic rhinitis, modern healthcare infrastructure, and a significant emphasis on R&D. The European market is characterized by rising demand for biologics and immunotherapies. Because of its large population base, rising disposable income, and growing awareness of allergies, the East Asian market is poised for expansion. Countries such as China and Japan are seeing an increase in allergic rhinitis cases, which presents prospects for market players.
Why are Allergic Rhinitis Treatment Providers Being Drawn to China?
"Large Population and Expanding Healthcare Landscape"
| Attribute | Details |
| --- | --- |
| Market Value (2024) | US$ 463 Million |
| Demand Growth (2024 to 2034) | 3.8% CAGR |
| Projected Value (2034) | US$ 673 Million |
Allergy rhinitis is becoming common in the country as a result of rapid economic development, urbanization, and lifestyle modifications. Improved healthcare infrastructure and increasing access to medical services are driving the adoption of allergic rhinitis treatment. Environmental factors such as air pollution and allergens contribute to a higher incidence of allergic rhinitis in China. As people become more conscious of their health, there is a growing desire for innovative and effective treatment options.
The country is focusing on supporting innovation in healthcare, which has led to the development of cutting-edge medicines for allergic rhinitis. Collaborations between Chinese academic institutions, pharmaceutical companies, and international partners accelerate the pace of innovation in the field even further.
Favorable government policies, such as healthcare reforms and regulations encouraging research and development, promote market growth. As the Chinese government continues to prioritize public health, a greater emphasis is being placed on preventative therapy and chronic disease management.
How is France Influencing Growth of the Allergic Rhinitis Treatment Market?
"Integration of Technological Advancements and Proactive Approach to Personalized Medicine"
| Attribute | Details |
| --- | --- |
| Market Value (2024) | US$ 616 Million |
| Demand Growth (2024 to 2034) | 4% CAGR |
| Projected Value (2034) | US$ 911 Million |
France has a large number of allergic rhinitis cases, mirroring the global trend of increasing allergy cases. This rising prevalence is influencing the demand for effective allergic rhinitis therapies, resulting in a thriving market ecology. The country is at the forefront of innovation in the treatment of allergic rhinitis due to its dedication to research and development and in-depth medical knowledge.
Inclusion of technological advances and a proactive attitude to personalized medicine contribute to the prominence of France in the market, creating an environment conducive to the development and implementation of new treatments.
France has shown a commitment to preventive healthcare through programs aimed at raising awareness about allergies and improving general healthcare accessibility. This proactive approach fosters a favorable climate for market participants, stimulating investments and easing the implementation of cutting-edge treatments. The collaborative nature of the European healthcare landscape allows for effective cross-border research collaborations and the sharing of best practices, expediting the development and adoption of innovative allergic rhinitis treatments.
Know thy Competitors
Competitive landscape highlights only certain players
Complete list available upon request
Category-wise Insights
Immunotherapies, particularly subcutaneous and sublingual methods, are emerging as game changers. A prominent trend in this category is the personalization of immunotherapy for allergy plans based on individual allergen profiles. Based on allergen type, the perennial allergic rhinitis segment is set to lead the market through 2034, reveals Fact.MR, a market research and competitive intelligence provider.
Which Route of Administration Generates Higher Revenue Streams?
"Diverse Spectrum of Patients Access and Benefit from Oral Drugs"
| Attribute | Details |
| --- | --- |
| Market Value (2024) | US$ 7.82 Billion |
| Demand Growth (2024 to 2034) | 3.8% CAGR |
| Projected Value (2034) | US$ 11.32 Billion |
The oral category occupies a leading allergic rhinitis treatment market share because of its ease of use, acceptance by the general public, and convenience of administration. Anti-histamines and decongestants taken orally have been the favored treatment option for both healthcare practitioners and patients seeking effective and convenient treatments. The ease of administration appeals to a wide spectrum of patients, from young people to adults.
The oral allergy treatment route is a non-invasive and patient-friendly option that does not require injections or intrusive procedures. Patients who are familiar with oral formulations, which are often available in tablet or liquid forms, are more likely to comply with treatment plans for allergic rhinitis because they are used to incorporating allergic rhinitis drugs into their daily routines.
The oral part comprises both prescription and over-the-counter (OTC) medications, providing patients with a variety of options based on the severity of their symptoms. OTC oral antihistamines, intranasal antihistamines, and decongestants are convenient options for those with milder allergic rhinitis, allowing them to control symptoms without a prescription from a healthcare provider.
High share of the oral segment in the overall allergic rhinitis treatment market size can be attributed to its convenience, patient-friendliness, wide acceptance, and continual attempts by pharmaceutical companies to improve and innovate oral formulations.
Competitive Landscape
Allergic rhinitis treatment market trends indicate that it is characterized by dynamic interactions between existing pharmaceutical titans, new biotech businesses, and young start-ups, all striving for a major share of the market. Merck & Co., Inc., Teva Pharmaceutical Industries Ltd., Himalaya Wellness Company, Allergy Therapeutics, Stallergenes Greer, Bayer AG, Dr. Reddy's Laboratories Ltd., and ALK-Abelló A/S are some of the top players in the market.
ALK-Abelló announced that its sublingual immunotherapy (SLIT) tablet for grass pollen allergy treatment GRASTEK® (GRAZAX®) has been approved by the FDA.
Merck & Co. announced that it submitted to the FDA a New Drug Application (NDA) for an oral experimental medicine intended to treat allergic rhinitis.
The competitive landscape is projected to change further as the market evolves, with a constant influx of novel medicines, technical advancements, and collaborative ventures determining the future trajectory of allergic rhinitis treatment.
Segmentation of Allergic Rhinitis Treatment Market Research
By Treatment Type :

Antihistamines
Decongestants
Corticosteroids
Immunotherapy (SCIT, SLITD, SLITT)

By Route of Administration :

Oral
Nasal
Intraocular
Intravenous

By Distribution Channel :

Hospital Pharmacies
Retail Pharmacies
Online Pharmacies

By Allergen Type :

Seasonal Allergic Rhinitis
Perennial Allergic Rhinitis
Others

By Region :

North America
Europe
Latin America
East Asia
South Asia & Oceania
Middle East & Africa
- FAQs -
The global allergic rhinitis treatment market is estimated at US$ 16.03 billion in 2024.
The oral administration segment is estimated to hold 48.8% share of the global market in 2024.
Revenue from allergic rhinitis treatment solutions is forecasted to reach US$ 23.38 billion by 2034-end.
Sales of allergic rhinitis treatments are projected to rise at a CAGR of 3.8% through 2034.
The perennial allergic rhinitis segment is forecasted to expand at a CAGR of 4.1% over the forecast period.
The market in China is projected to expand at 3.8% CAGR from 2024 to 2034.