Biofilms Treatment Market
Biofilms Treatment Market Analysis By Product (Debridement Equipment, Gauzes, Dressings, Gels, Ointments), By Wound Type (Traumatic Wounds, Surgical Wounds, Open Wounds, Diabetic Foot Wounds, Venous Leg Ulcers, Burn Wounds), By End User (Hospitals, Ambulatory Surgical Centers, Wound Care Centers) & By Region – Global Market Insights 2023 to 2033
Analysis of Biofilms Treatment Market Covering 30+ Countries Including Analysis of US, Canada, UK, Germany, France, Nordics, GCC countries, Japan, Korea and many more
Biofilms Treatment Market Overview (2023 to 2033)
The global biofilms treatment market size is valued at US$ 1.55 billion in 2023 and is projected to expand at a CAGR of 7.5% to reach US$ 3.3 billion by 2033-end, according to the latest market study by skilled analysts at Fact.MR.
Examples of biofilms include dental plaque and algae found in ponds. Various environmental factors influence the development of biofilms. In simpler terms, biofilms are communities of microorganisms composed of cells and an extracellular matrix. They tend to adhere to surfaces. Bacteria employ biofilm formation as a strategy for survival. Cutting-edge methodologies like fluorescence, the FISH technique, CLSM, metagenomics, and metatranscriptomics are widely applied for the investigation and exploration of biofilm physiology.
Demand for biofilm treatment products is influenced by several factors related to healthcare, environmental, and industrial applications. Biofilm-associated infections often lead to chronic diseases. Patients suffering from chronic infections, such as chronic wound infections, diabetic foot ulcers, and implant-related infections, drive the demand for biofilm treatment products that can provide long-term solutions.
The treatment of biofilms in surgical wounds is a critical aspect of wound care, as biofilms can significantly impede the healing process and lead to chronic infections. Managing biofilms in surgical wounds involves various strategies and approaches. Removal of biofilms is a crucial step in treatment. Debridement can be performed surgically, mechanically, or enzymatically to eliminate the biofilm matrix and biofilm-associated bacteria.
Gauzes play a role in biofilm treatment, particularly in wound care and medical settings. Gauze dressings are commonly used to manage wounds that may be susceptible to biofilm formation, such as traumatic injuries, surgical wounds, and chronic ulcers.
The gauzes segment is projected to expand at a CAGR of 6.9% through 2033.
Anti-biofilm agents are substances, compounds, or technologies designed to prevent the formation, disrupt the structure, or eliminate biofilms. Biofilms are complex communities of microorganisms that adhere to surfaces and produce a protective matrix, making them highly resistant to conventional antimicrobial treatments.
Report Attributes
Details
Biofilms Treatment Market Size (2022A)
US$ 1.35 Billion
Estimated Market Value (2023E)
US$ 1.55 Billion
Forecasted Market Value (2033F)
US$ 3.3 Billion
Global Market Growth Rate (2023 to 2033)
7.5% CAGR
Gauzes Segment Growth Rate (2023 to 2033)
6.9% CAGR
Debridement Equipment Segment Growth Rate (2023 to 2033)
5.5% CAGR
China Market Growth Rate (2023 to 2033)
10.8% CAGR
Leading Regional Market

North America

Key Companies Profiled

Novozymes A/S
3M Company
Pfizer Inc.
Merck & Co. Inc.
Sanofi
Biofilm Inc.
BioGaia AB
Kane Biotech Inc.
Don't Need a Global Report?
save 40%! on Country & Region specific reports
What is Behind the Rising Interest in Biofilms Treatment?
"Regulatory Recognition of Public Health Implications of Biofilm-related Infections"
Biofilms extend their influence beyond healthcare, impacting a range of sectors such as water treatment, food processing, and agriculture. The necessity to manage biofilm-related challenges across various industries plays a part in the expanding adoption of biofilm treatment solutions.
Regulatory bodies are progressively acknowledging the public health implications of biofilm-related infections. They are formulating rigorous rules and directives to tackle the prevention and management of infections linked to biofilms, thus stimulating the requirement for biofilm treatment solutions that comply with these regulations.
Biofilm dispersal can occur through various mechanisms, including the production of enzymes, release of individual cells or cell aggregates, and degradation of the biofilm matrix. An enzyme called Dispersin B can break down the matrix, facilitating the release of microorganisms.
"Increasing Prevalence of Chronic Diseases Linked to Biofilms"
The growing acknowledgment of biofilms' involvement in chronic infections, including dental issues, wounds, and infections related to medical devices, is boosting the need for efficient biofilm treatment. Managing these long-term health conditions requires innovative approaches to biofilm control, contributing to market expansion as healthcare providers strive to enhance patient outcomes and overall quality of life.
With increasing awareness regarding biofilm's involvement in chronic infections, patients and healthcare professionals are pursuing more effective treatment options. Initiatives focused on patient education and awareness are fostering greater demand for therapies targeting biofilms, thereby propelling market expansion.
Biofilm prevention refers to the strategies and measures implemented to inhibit the formation, growth, and development of biofilms. Biofilms are complex communities of microorganisms that adhere to surfaces and produce a protective matrix, making them resistant to conventional antimicrobial treatments. Preventing biofilm formation is essential in various sectors, including healthcare, industry, and environmental management.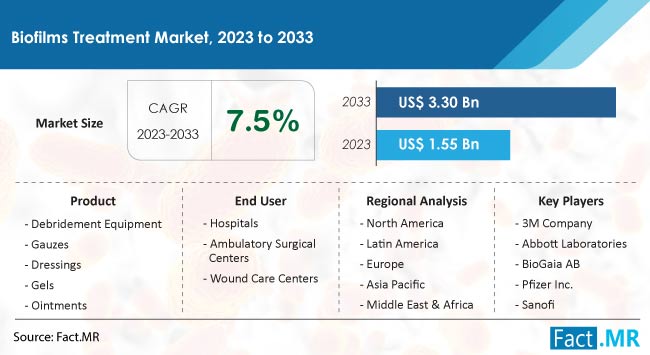 What Challenges are Impacting the Sales Growth of Biofilm Treatment Products?
"Resistance of Biofilms to Antimicrobial Agents and Heterogeneity in Biofilm Structures"
One of the primary challenges in biofilm treatment is the ability of biofilms to adapt and develop resistance to antimicrobial agents and treatment methods over time. This adaptability can make it difficult to completely eradicate biofilms.
Compared to planktonic (free-floating) bacteria, biofilms are more resilient and less responsive to traditional antibiotic treatments. This limited range of effective treatment options can pose a significant constraint in managing biofilm-related infections.
Biofilms can be highly heterogeneous, with different microorganisms and structures within the same biofilm. This diversity can make it challenging to develop a one-size-fits-all treatment approach.
"Interdisciplinary Collaboration Requirements Creating Challenges in Accurate Diagnosis"
Biofilm-related infections often lead to chronic diseases, which can be challenging to treat and may require long-term, costly interventions. This can strain healthcare resources.
Effective biofilm treatment often requires collaboration between various disciplines, including microbiology, medicine, materials science, and engineering. Coordinating efforts and knowledge-sharing across these disciplines can be challenging.
Accurate and rapid diagnosis of biofilm-related infections can be challenging. The lack of widely available diagnostic tools and techniques for detecting biofilms in clinical settings can hinder timely treatment.
More Insights, Lesser Cost (-50% off)
Insights on import/export production,
pricing analysis, and more – Only @ Fact.MR
Country-wise Insights
This section provides a glimpse into the revenue generated from key markets, with the United States and China emerging as prominent leaders in the primary market. According to the analysis conducted by Fact.MR, these statistical results underscore significant regional opportunities within the countries examined in the report.
Why is the United States a Lucrative Market for Biofilm Treatment Product Manufacturers?
"Incorporation of Advanced Dressings and Therapies to Address Biofilm-related Wounds"
A discernible pattern in North America involves the embrace of state-of-the-art wound care technologies, including treatments designed to combat biofilms. Hospitals and wound care facilities are incorporating advanced dressings and therapies to proficiently address issues associated with biofilms, to enhance patient outcomes.
Researchers have developed and tested a 3D printing tool capable of precisely arranging individual bacteria within a transparent, gel-like substance called hydrogel. They employ 3D printing technology to map out microorganisms within droplets of liquid hydrogel resin, subsequently solidifying the material with laser light to create a rudimentary biofilm. Furthermore, the increasing number of collaborations, driven by the prospects of future projects, is anticipated to contribute to revenue growth in this region.
What Makes China a Vital Market for Biofilm Treatment Providers?
"Enhanced Awareness Initiatives for Wound Care among Elderly Population with Diabetes"
The China market is projected to advance at a substantial CAGR of 10.8% from 2023 to 2033. The Asia Pacific region is characterized by a movement towards heightened awareness of wound care. Enhanced educational and outreach initiatives are fostering early recognition of biofilm management among healthcare practitioners and individuals, resulting in timely interventions and improved wound healing results.
Market growth in China is primarily propelled by the increasing elderly population, which heightens the potential risk of diabetes and pressure ulcers among the populace. Diabetes can lead to the development of diabetic foot ulcers, necessitating wound dressing for treatment.
According to the International Diabetes Federation (IDF), in 2019, an estimated 116 million adults in China were afflicted with diabetes, placing diabetic patients at risk of life-threatening complications. Additionally, more than 65 million of these adults remain undiagnosed, potentially increasing their vulnerability.
Category-wise Insights
This section offers an overview of the market segmented by product, wound type, end user, and region, with prominent categories including debridement equipment and traumatic wounds. As per Fact.MR, these segments exhibit significant potential for lucrative opportunities in the upcoming years.
Why are Sales of Debridement Equipment Gaining Traction?
"Crucial Role of Debridement Equipment in Efficient Removal of Biofilm from Wounds"
The debridement equipment segment is projected to advance at a CAGR of 5.5% over the projected period. Debridement equipment plays a crucial role in biofilm treatment, particularly in wound care and medical settings.
Debridement is the process of removing dead tissue, foreign materials, and biofilm from wounds or infected areas. Debridement equipment aids in this process by facilitating the removal of biofilm and promoting the healing of chronic wounds and infections.
Key aspects of debridement equipment in biofilm treatment:
There are several different types of debridement equipment, each with a unique mechanism for removing biofilm and necrotic tissue.
Typical types are as follows:
Sharp Debridement: With surgical tools like scalpels and scissors, the biofilm and injured tissue are physically removed with this technique.
Mechanical Debridement: When dressings are changed, biofilm and debris are manually removed using debridement instruments such as wet-to-dry dressings and specific pads.
Enzymatic Debridement: Applying topical enzymes to the wound helps degrade biofilm and dead tissue during enzymatic debridement.
Autolytic Debridement: A moist wound environment facilitates the natural process of autolytic debridement, allowing the body's enzymes to break down biofilm and necrotic tissue.
Larval Therapy: Medical-grade maggots are used in maggot debridement therapy to eat pathogens, necrotic tissue, and biofilm from wounds.
Why is Biofilm Treatment Widely Adopted for Traumatic Wounds?
"Increased Risk of Biofilm Formation in Traumatic and Surgical Wounds"
The traumatic wounds category dominates the biofilms treatment market. This is largely owing to the rising incidence of diabetes and the growing volume of surgical procedures conducted, both of which are contributing significantly to market growth.
Traumatic wounds are injuries caused by physical forces, such as accidents, falls, cuts, or abrasions. These wounds can vary in severity, from minor cuts and scrapes to more significant injuries like lacerations, puncture wounds, or burns. Traumatic wounds may become contaminated with bacteria and other microorganisms, potentially leading to biofilm formation if not managed properly.
Surgical wounds are intentional incisions made during surgical procedures. These wounds can be planned or emergencies. Surgical wound care is essential to prevent infections and complications. Biofilm formation in surgical wounds can pose a significant challenge, as it can hinder the healing process and lead to post-operative infections.
Know thy Competitors
Competitive landscape highlights only certain players
Complete list available upon request
Competitive Landscape
The competitive landscape for the biofilms treatment market refers to the overall structure and dynamics of companies and organizations operating within a specific industry. It encompasses various factors, including the number and size of competitors as well as their market share, strategies, strengths, weaknesses, and overall impact on the market.
On May 4, 2023, Trellis Bioscience revealed positive interim phase 1 findings regarding TRL1068, an innovative native human monoclonal antibody designed to alleviate the impact of bacterial biofilm in chronic prosthetic joint infections. TRL1068 has demonstrated the capability to eradicate bacterial biofilm, thereby enabling the use of conventional antibiotics for the treatment of challenging bacterial infections.
Key Segments of Biofilms Treatment Market Research
By Product :

Debridement Equipment
Gauzes
Dressings
Gels
Ointments

By Wound Type :

Traumatic Wounds
Surgical Wounds
Open Wounds
Diabetic Foot Wounds
Venous Leg Ulcers
Burns Wounds

By End User :

Hospitals
Ambulatory Surgical Centers
Wound Care Centers

By Region :

North America
Latin America
Europe
Asia Pacific
Middle East & Africa
- FAQs -
The global biofilms treatment market stands at US$ 1.55 billion in 2023.
Worldwide demand for biofilms treatment is predicted to rise at a CAGR of 7.5% from 2023 to 2033.
The market for biofilms treatment is set to reach US$ 3.3 billion by the end of 2033.
The United States is projected to emerge as a lucrative market for providers of biofilms treatment over the forecast period.
Demand for biofilms treatment in China is forecasted to increase at a CAGR of 10.8% through 2033.
Antibiotics and various antimicrobial agents can be employed to eliminate or eradicate biofilms as part of infection treatment.