Bicycle Subscription Market
Bicycle Subscription Market to Witness Rise in Demand for E-bike Subscription during 2021-2031
Analysis of Bicycle Subscription market covering 30 + countries including analysis of US, Canada, UK, Germany, France, Nordics, GCC countries, Japan, Korea and many more
Bicycle Subscription Market Outlook
Increased focus on health, eco-friendly rides, and affordability are the key reasons more people are riding bicycles these days. Although the purpose of the bicycle has evolved over time, from a wooden bicycle in the nineteenth century to a foldable bicycle in the twenty-first century, it continues to tempt consumers and is a preferred mode of transportation for many.
In the previous few years, the global bicycle market has seen a rapid transformation. Incentives and infrastructure to assist bicycle commuting are being aggressively implemented by governments in a number of developed countries. App-based dock-less bicycle sharing systems have emerged as a result of recent technology developments in mobile apps and Global Positioning System (GPS), which are projected to fuel future demand.
Cycling has traditionally been one of the most efficient, adaptable, and dependable modes of transportation. Even before the COVID-19 outbreak, millions of people relied on bicycles to go about and also for work. However, the function of bicycles changed when stay-at-home orders briefly reduced daily activity across the globe. One out of every ten American adults has ridden a bike for the first time in a year or longer since the commencement of COVID-19, which has provided a sense of acceptance of using bicycle as reliable mode of commuting.
Around the world, more than two billion bicycles are in use. By 2050, this number may rise to five billion. Over half of the world's population knows how to ride a bicycle. Bicycles are used by close to 40% of the population in China. In Belgium and Switzerland, nearly half of the population rides bicycles. It is little over 55% in Japan and more than 60% in Finland. The Netherlands holds the world record for the highest number of bicycles per capita.
Looking at the optimistic scenario in the overall bicycle market, the bicycle subscription business model emerged as a new avenue for revenue generation. Subscriptions are considered as a more economical option to personal ownership. E-bikes typically cost between US$ 1,000 and U$$ 3,000. Whereas, customers pay US$ 30 to US$ 70 per month for an e-bike or even less for conventional bicycle subscription, and can cancel at any moment.
The burden of ownership, maintenance, insurance, and also the threat of theft is covered by the service rendering company, while the customer just has to subscribe for the bicycle and pedal it to the respective destination. Universities are taking this concept of subscription-based bicycles forward by allowing companies to build stations and parking across various points in campuses, allowing students and faculty to enjoy hassle-free commuting.
Membership models are designed keeping the elements of demographics, work culture, and infrastructure across the region of operations, wherein, end use customers are offered a tailored service plan as per their specific requirements.
All in all, bicycle subscription has become the talk of the town, while people and market players are expanding their base while receiving capital funding from a pool of investors as the market portrays lucrative opportunities.
Don't Need a Global Report?
save 40%! on Country & Region specific reports
What is the Current State of the Bicycle Market?
As per the market tracking and study by Fact.MR, a market research and competitive intelligence provider, on the mobility market, in recent years, despite the availability of new options and the evident adverse effects imposed by climate, car ownership remains high, with all of its adverse consequences such as congestion and pollution. However, several cities around the world, including Bogota, Barcelona, Milan, New York, Oakland, Paris, and Toronto, are taking substantial steps to enhance their bicycle infrastructure.
The global market for bicycles stood at US$ 58 Bn in 2020, wherein, around 140 Mn bicycles are produces yearly across the globe. The market is set to reach a valuation of little over US$ 127 Bn by 2030, and is projected to rise at above 8% CAGR through 2031.
China holds a dominant position in manufacturing and exporting, while second in line is India. Chinese bicycles are lower priced than Indian ones by nearly 15%, as raw materials contribute nearly 70-80% of the cost of manufacturing, and this is where China has abundant availability.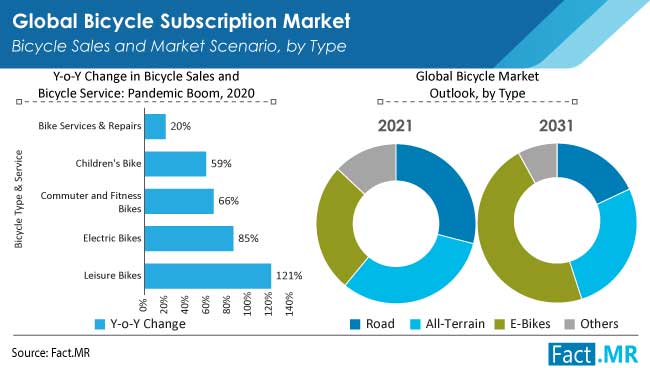 What are the Various Dynamics of the Bicycle Industry?
Post-pandemic structural changes in cycling trends; increasing ridership, and expanding penetration have resulted in a boom in bicycle demand.
The global bicycle boom will continue due to supply-demand imbalance as there is constant fluctuation in demand and uncertain market forces.
Inventory of key players are low while demand is at a peak, leading to maximum capacity utilization from prominent players, creating ups and downs across the supply chain.
In 2021, bike production was high in Southeast Asia, putting India in a position with ample opportunity.
More Insights, Lesser Cost (-50% off)
Insights on import/export production,
pricing analysis, and more – Only @ Fact.MR
Emergence of E-bike Market: A World of Possibilities
In 2018, the worldwide e-bike market was valued US$ 20 Bn, and it is expected to reach US$ 40 Bn by 2025. Meanwhile, 2,300 kilometres of additional bike lanes have been created across Europe in 2020 to meet the growing popularity of cycling. Given that e-bikes cost four times as much as ordinary bicycles, they are an investment that should be taken advantage of and considered before buying, and that's where the subscription of e-bikes becomes a potential option.
The picture is clear for bicycle subscription-offering companies; their prime focus is to expand their fleet with significant number of e-bikes as the consumer trend is extensively inclined towards it. While consumers get expensive e-bikes to ride by paying a minimal price, subscription offering companies can leverage the megatrend of green-rides.
E-bikes Buzzing Ahead: Boon for Cycle Subscription Market
On the back of dynamic demand, Giant Group generated total consolidated sales of US$ 1.5 Bn in the first half of the fiscal year 2021. E-bikes are, without a doubt, one of Giant Group's primary growth drivers, as the Taiwanese company's e-bike market, both OEM manufacturing and private label, collectively had around more than quarter share of revenue in Europe and the Americas.
Bianchi has unveiled a hefty investment plan to double its output by August 2022. The new approach includes not only an increase in bicycle and e-bike capacity but also the launch of their own carbon frame production in Italy. Robotics will be implemented as one of the techniques to accomplish this production capacity as part of the initial US$ 35 Mn investment. Bianchi will invest almost US$ 11.8 Mn in the production of carbon frames in the second phase.
As bicycle manufacturers gain high investments and have high volumes sales, its makes sense for subscription-offering players to develop partnerships with these manufactures.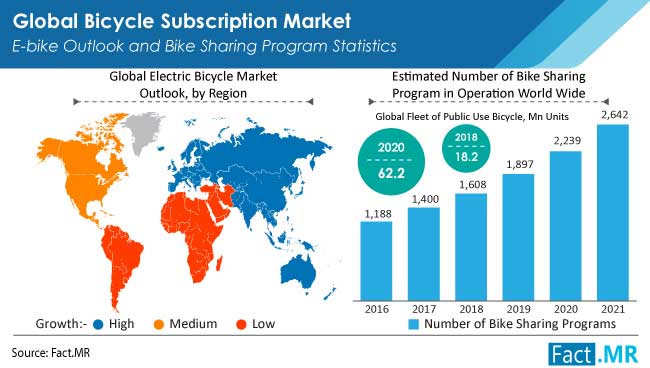 Did COVID-19 Turn the Bicycle Market Upside Down?
EU e-bike imports climbed 10% in 2020, and Taiwan enhanced its position as an e-bike provider for the European market, increasing its market share from 46% in 2009 to 51% in 2020. In 2020, Taiwan shipped 415,270 e-bikes to the EU, compared to 342,058 in 2019. In addition, second- and fourth-placed countries, Vietnam and Turkey, respectively, increased their exports to the European Union by more than double digits.
Between January and November 2020, Vietnam exported about 150,000 e-bikes to Europe, while Turkey shipped nearly 50,000. The European market holds the highest market share of around 1/3 of the total bicycle market. As more and more people are shifting to bicycles post the pandemic effect, the bicycle subscription market will proliferate over the coming half decade.
Know thy Competitors
Competitive landscape highlights only certain players
Complete list available upon request
Position of Taiwan: Mass Exporter and Replacement of China
During the post-COVID-19 pandemic era, record-low inventories at distributors, new lifestyle trends, and ongoing development momentum in the e-bike sector have propelled growth forward for the Taiwan bicycle market. As per trade, e-bike shipments increased around 20% in 2020 to over 759,000 units.
Taiwanese manufacturing was transitioning from traditional bicycle components to e-bikes in full swing. E-bikes are transforming traditional bicycles, necessitating new manufacturing, distribution, and marketing techniques. The Taiwanese industry is now totally focused on e-bike engineering, and they are doing everything possible to match global market demands.
While Taiwan emerges as the key manufacturing hub of bicycles and is shifting its focus to e-bikes, players offering subscription services can develop long-term collaborations with Taiwan manufacturers to streamline the expansion of their fleets.
With many countries imposing regulations or having a trade war situation from the goods manufactured in Mainland China, Taiwan will be the alternative for bicycle subscription providers to import bicycles for their fleets.
Europe Production by 2025: Leading from the Front
Europe holds the potential to have an in-house output of 7 to 8 Mn units of e-bikes in the next five year, which was almost 1.4 Mn e-bikes in 2017, while the number doubled to almost 3 Mn e-bikes produced in 2019. As production rises, companies operating in subscription market can leverage no import duty, lower prices, and domestic maintenance and services. Government incentives and subsidiaries will enable the market to perform better and grow exponentially over the forecast period.
How are European Countries Making it to the Top?
From 4.3 Mn units in 2019 to 5.2 Mn units in 2020, total market volume of e-bikes and bicycles climbed 17% in Germany. As e-bikes account for a majority of this rise, market value increased by a whopping 61%. This adds up to about US$ 11.7 Bn in total sales, including component and accessory sales.
In 2020, average sales price per unit (bicycles and e-bikes combined) was US$ 1,500. As Germany holds significant share in the Europe bicycle market and consumers are proactive in the country in adopting reliable services, the Germany market for bicycle subscriptions has highest share in Europe market.
Cycling in the U.K. is becoming safer owing to ongoing infrastructure upgrades such as new bike lanes, pavement expansion, and cycle-only corridors, which have been accelerated by the pandemic. Total number of bicycles sold in the U.K. in 2020 exceeded 3.3 Mn units, which was a 22% increase as compared to 2019.
Despite the fact that e-bikes have yet to play a significant role in terms of volume as they have in other European countries, their market value created a million dollar opportunity during the historic period.
The bicycle subscription market has already taken a lead in U.K. as many service providers have initiated their business and are actively conducting their operations in the country. Adoption of service-based models is high in the U.K. which provides companies operating in the country a set stage for increasing their consumer base.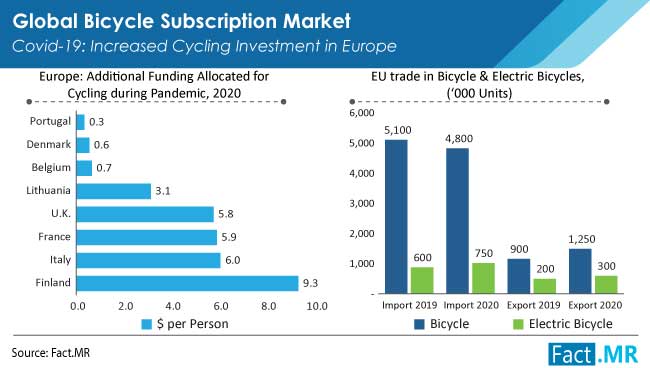 Will China Sustain Fierce Competition from South Asian Countries?
In China, the industry was booming, but oversupply and market dynamics caused the bubble to burst. Three of China's largest bike-sharing companies - Ofo, Bluegogo, and Mobike - faced cash-flow issues and eventually closed their operations in the country.
Although standing as the leading manufacturer of bicycles and having higher domestic ownership, export figures are on the decline. However, fleet owners in the countries have the lucrative opportunity of starting subscription models as this will lead to sustainable revenue generation if the strategies are framed in accordance with operational efficiency, cost structure, government policy, consumer demographics, and other market forces.
China's experience should serve as a reminder to U.S.- and Europe-based bike-sharing companies that they need to make significant changes to their business models in order to better implement cost-cutting and tax-analysis strategies and determine a quick and accurate approach how to increase cash flow and cut operational costs.
How Has the U.S. Marked its Optimistic Position is the Market?
In 2019, the average cost of a bicycle in the United States was US$ 23.9. Bicyclists aged six and up accounted for around 48.8 Mn people in 2019 in the U.S. The yearly value of the U.S. bicycle market, which includes retail sales of bicycles, related components, and accessories across all channels of distribution, is estimated to be over US$ 6 Bn. Mountain bikes with a retail value of over US$ 580 Mn were sold in the United States in 2017.
Consumers in the United States spend an average of US$ 22.6 per year on bicycles. Electric bicycle sales, which are bicycles with an integrated electric motors, are expected to expand rapidly in the future years. Global e-bike sales are expected to reach above 40 Mn units by 2023.
The market for bicycle subscriptions would be lucrative in the United States and the country will hold a dominant position with more than quarter market share during the forecast period.
India Market Scenario: Large Population, High Value Generation
Indian bicycles account for 1% of the world market in terms of value and 15% in terms of volume, which emphasises the need to change this with high-quality bicycles. Nitin Gadkari (Union Minister) declared that National Highways will feature cycle-ways (cycle lanes) in regions where they reach cities, supporting a healthy, pollution-free, and cost-effective mode of transportation in the country.
Four big bicycle manufacturers control nearly 85% of the market, while medium-sized manufacturers contribute to the remaining 15%. The Indian bicycle industry is growing at a rate of about 4%, and bicycle production is channelled for at domestic markets, with exports accounting for about 5%-7% of total production. Domestic demand is primarily from low-income individuals, making it a price-sensitive sector.
The subscription model for bicycles can become a big success in India as ownership of bicycles stands less than 10%, which makes it evident that people are less inclined towards owing one. While players have identified the gap, and are developing their base and catering to the densely populated country, it will provide high value revenue generation for operating players.
Are EU Funds Allocated for Cycling Pushing the Market towards Growth?
Cycling, in particular, requires continuous investments in networks of safe and comfortable cycle paths in urban, semi-urban, and rural locations throughout Europe. All levels of government, from local to the European Union, are framing policies for the same.
EU Structural Funds, which are part of the EU budget, and the Recovery and Resilience Facility, which is focused on tackling the economic crisis created by the COVID-19 pandemic, are two potential European financial sources that are financially making robust cycling infrastructure.
During the 2014–2020 EU budget, the EU's Structural Funds, primarily the European Regional Development Fund and the Cohesion Fund, invested around US$ 2.3 Bn in cycling infrastructure. It is estimated US$ 7 Bn will be spent across the new financial period 2021-2027 to encourage EU residents to switch from vehicles to bicycles by creating safe and comfortable infrastructure.
In order to boost ridership during the epidemic, some countries compensated the purchase of new bikes or bike maintenance expenses. Italy, for example, set aside US$ 250 Mn for a cash-back programme that provided a US$ 590 stipend to Italian residents who acquired a vehicle without an engine, while France has launched a similar programme.
Higher investments and incentives have become the boon for the bicycle subscription and service providers should advantage and developed partnerships with the government institutes to offer their services.
Who are Prime Customers for Bicycle Subscriptions?
Individual customers and businesses are the two main target audiences, which comprise food delivery, on-demand grocery, and last-mile parcel delivery segments, among others. Individual customers seek safe, economical, and efficient e-bikes for commuting to work, while corporations want greener, safer, and more efficient fleets.
Cycling statistics reveal that it has become a popular way to commute as an alternative mode, which makes sense given that it is dependable, and, in some cases, the fastest mode of transportation.
Employees with a flexible work schedule are more likely to subscribe than those with a fixed timetable to ride bikes to work.
A survey revealed that, 40% people ride to work for health reasons, 30% because of rising gasoline prices, and 30% to reduce their environmental effect.
If there are designated bicycle parking spaces and a shower at their workplace, more people will ride their bikes to work.
However, only 15% of individuals that commute by bicycles stated that their workplace has bike facilities, while the average cost of a commuter bike in the United States is US$ 687.
Mountain bikes are the most common mode of transportation in the United States, accounting for 30%, while road bikes at 28% are the most popular among working class, followed by hybrid bicycles holding 18%, and touring bikes enjoying a share of 17%
Considering the aforementioned statistics, bicycle subscription-offering players should tailor their services in accordance with the demographics, earning types, and bicycle type. Entering into long-term collaborations with universities, logistics companies, and last mile delivery companies would give core competence to players over their competitors.
How is the Food Delivery Industry Setting the Set Stage for Bicycle Subscriptions?
During the coronavirus outbreak, food delivery became a way of life for a significant portion of the population. As a result, delivery applications have become critical not only for customers but also for business owners and investors.
DoorDash recently filed for an IPO, and financial results from some of the sector's top companies, including Uber, Grubhub, and Postmates, have shown that the pandemic was immensely helpful to the business as a whole.
The online food delivery industry has made the most out of the pandemic and is expected to reach a market valuation of US$ 190 Bn by 2025 and showcase 11% CAGR from 2020-2025.
Companies offering bicycle subscriptions are tackling environmental concerns by coupling the power of light e-bikes and boosting food delivery services.
Will Initial Public Funds Help Players Expand their Customer Base?
Donkey Republic, a Danish bike sharing firm, extended its fleet to about 13,000 bikes and e-bikes in over 60 locations across 14 European nations since 2014. The company is currently planning for a Nasdaq First North listing in Copenhagen in order to support further expansion.
The bike-sharing business in Europe is expected to increase 15-20% annually over the next five years. To prepare for this expansion, the company wants to raise more funds to enter new markets and expand in existing ones. The company plans to generate a capital fund of US$ 15.8 Mn in 2021.
As companies are expanding their customer base and are becoming global, capital rise and introduction of IPOs will enable market players to cater to services more effectively. Such developments in the market will provide exponential rise in the revenue generation of companies.
How Has IoT Innovation Helped Service Providers Create Anti-Theft Locking Systems?
Apart from expanding access to e-bike platforms, it is evident that the internet of things will be the most important factor in advancing bike-share solutions. For example, the Citi Bike programme in New York uses QR codes instead of the previous dock-based keypads to unlock bikes, which is possible by IoT technology.
The company developed this tracker because 2 Mn bikes are stolen in North America each year, with close to only 5% being recovered. With the advent of GPS and QR codes, companies are seeing an opportunity to develop services with affordable purchases that would protect bicycles from loss or theft. This will benefit bicycle subscription providers to eliminate the threat of theft and insurance with the integration of technology-based locking systems.
Subscription Cost: The Make or Break Factor
Riders can choose from a variety of plans - basic lite plan for commuters costs nearly US$ 20 per week and has a weekly mileage limit of 50 miles. Subscribers receive an e-bike with a battery and charger, two lock options, and complete repair and tune-up service.
Courier plans start at US$ 35 per week and include a variety of bike models as well as mileage limits (including unlimited). There are no contracts to sign, and customer service is available 24 hours a day, 7 days a week.
Reliable service and no ownership burden with insurance, maintenance, and theft elements are taken care by service providers, which makes bicycle subscription services most effective for end users. As these service are gaining popularity in various developed countries, it is expected to have high growth potential during the forecast period.
How are Prominent Market Front Runners Making it Big?
Prominent companies operating in this market include
Bike Club
BiXi
Brompton Subscription
Buzzbike
Cowboy
Dance
Dash
GetHenry
Hurrecane
MOBY BIKES LTD.
MyByk
Revel
Swapfiets
Yulu
Zoomo
As the market is growing at a double-digit growth rate, players offering bicycle subscriptions have shown exceptional growth in terms of both, annual revenue generation, and user base. To increase penetration across high-potential regions, the aforementioned players are adopting a combination of organic and inorganic approaches.
Investments, initial public offerings, and fleet size increase, in addition to collaborations and partnerships with potential universities, logistics, manufacturing faculties, corporate offices, and others are rife.
Market Development Scenario: Are Investments the Driving Force?
In March 2021, Zoomo raises around US$ 12 Mn from funding from a new investor group and also a few existing to expand into new regions and further modify and advance its e-bike platform for enterprises. Similarly in August 2020, US$ 11 Mn through series A funding was raised totalling around US$ 26 Mn in the last 2 years.
VanMoof, an Amsterdam-based firm, raised US$ 128 Mn in a Series C fundraising round in 2021. Electric bikes, which are highly popular in various countries, are designed and sold by the firm. In comparison to the company's Series B, the Series C is a significant step forward. VanMoof raised US$ 40 Mn in a Series B funding last year.
Bike Club has decided to raise more funding to expand its service. By early 2022, the company wants to double the number of bikes to between 50,000 and 60,000. It has secured US$ 8.8 Mn in debt financing from Triple Point, a U.K. investment business, to fund the next phase of its long-term expansion aspirations.
In January 2021, MyByk, a public bicycle-sharing company, through pre-series A received US$ 1 Mn from Avon Cycle and other investors. It now intends to incorporate public transit into its services and smartphone app. In order to shift to a Mobility as a Service (MaaS) platform, MyByk is looking for state governments to for collaboration.
In 2020, Yulu, an electric vehicle micro mobility service provider, announced a fresh capital of US$ 4 Mn in equity finance, led by Rocketship, a U.S.-based venture capital firm, and current investors. The new investment in the midst of the COVID-19 problem validates the new-age mobility firms' growth potential. The new investment will be utilised to strengthen its mobility platform, develop innovative solutions, and enable quick growth.
Dance announced the closing of US$ 17.7 Mn Series A funding round in October 2020, led by HV Holtzbrinck Ventures, one of Europe's largest venture capital firms. Dance is a prominent player and has developed a network that does not need users to own a pricey bike and provides a rentable bicycle or e-bike in their locality.
What will Metropolitan Mobility and Subscription Services Look Like in the Future?
If the constructive expansion of delivery services and urban mobility in 2021 is any indication, offering quick delivery and quick couriers will be a corporate requirement by 2030. On-demand grocery delivery having less than 20 mins delivery time will become the new normal for e-Commerce, with light electric vehicles of many forms such as e-bikes, e-mopeds, and e-cargo serving as a prominent enterprise business.
Roadways will look very different in 2030, as sustainable transportation will quickly overtake diesel- and gas-powered means of transportation. Sidewalks will be broader, delivery vehicles will be totally electric, pedestrian-only roads will become more widespread, more cycles will occupy roadways, lanes will be planned for efficiency, and traffic will be obsolete.
Scanning a QR code, unlocking a bicycle, and reaching a respective destination would streamline bicycle subscription modes. The number of players will increase market valuation, the scenario will become more competing, and customers and enterprises would have options to choose from, leading to higher adoption of the services.
All in all, the market is projected to enjoy a growth rate of around 15-20% during the forecast years, enabling all stakeholders to have an opportunity for revenue generation.
Concluding Remarks
Fact.MR scrutinized an extensive range of data and further triangulated and simplified it into insights for better understanding of market penetration and key trends. We hope that this study would help you better understand crucial factors about the bicycle subscription market.
- FAQs -
The global bicycle market tends to reach a valuation of over US$ 127 Billion by 2030.
The rising prices of e-bikes drive the demand for a subscription based model, thus boosting the bicycle subscription market.
China dominates in manufacturing and exporting of bicycles whereas India ranks second.
Employees with a flexible work schedule, Individual customers and businesses like food, grocery deliveries remain the prime consumers for bicycle subscription market.