Cloud Radio Access Network Market
Cloud Radio Access Network Market Analysis by Component (Solutions, Services), by Deployment (Centralized, Cloud Radio Access Network), by Network Type (5G, 4G, 3G & 2G), by End User, by Region - Global Forecast 2022-2032
Analysis of Cloud Radio Access Network market covering 30 + countries including analysis of US, Canada, UK, Germany, France, Nordics, GCC countries, Japan, Korea and many more
Cloud Radio Access Network (C-RAN) Market Outlook (2022-2032)
The cloud radio access network (C-RAN) market reached a valuation of US$ 4 Billion in FY 2021, and is likely to register a Y-o-Y growth rate of 37.5% in 2022, closing at US$ 5.5 Billion.
Report Attributes
Details

Anticipated Base Year Value (2021)

US$ 4 Billion

Expected Market Value (2022)

US$ 5.5 Billion

Projected Forecast Value (2032)

US$ 43.2 Billion

Global Growth Rate (2022-2032)

22.9% CAGR

Expected Growth Rate of the U.S Market (2022-2032)

22.5% CAGR

Anticipated Market Value of China (2032)

US$ 3.2 Billion

Prominent Cloud Radio Access Network Service Providers

Nokia Corporation
Ericsson
Huawei Technologies Co. Ltd.
ZTE Corporation
Samsung Electronics Co. Ltd.
NEC Corporation
Altiostar
Fujitsu Limited
Intel Corporation
Mavenir
Cisco
ASOCS Ltd.
Radisys Corporation
CommScope Inc.
Artiza Networks Inc.
Anritsu Corporation
6WIND
EXFO
Airspan Networks
VIAVI Solutions
Infinera Corporation
Texas Instruments Incorporated
Amphenol Corporation
Xilinx Inc.
Dali Wireless
Casa Systems
Furthermore, across the 2022-2032 period of assessment, growth is expected to accelerate at a whopping 22.9% CAGR, reaching US$ 43.2 Billion.
Overall, the market is poised to yield an absolute dollar growth worth US$ 37.7 Billion across the forecast period. By component, cloud radio access network solutions enjoyed high popularity, experiencing a stellar 35% value CAGR from 2015 to 2021. Furthermore, the need for centralized cloud RAN will continue experiencing high uptake, documenting a forecast CAGR of nearly 21% from 2022 to 2032.
Don't Need a Global Report?
save 40%! on Country & Region specific reports
2015-2021 Revenue Analysis of Cloud Radio Access Network Market vs. Growth Outlook 2022-2032
According to market research and competitive intelligence provider Fact.MR, the cloud radio access network market experienced noteworthy growth, growing at a value CAGR of 37.2% from 2015 to 2021. Extensive digitization of business enterprises are leading to increased prevalence of virtual networks with highly diversified connectivity frameworks. To ensure continuity, reliance on centralized and cloud-based radio access networks is increasing.
With the onset of the COVID-19 pandemic, communication service providers have been navigating through four operational challenges. These include securing network data, maintaining operation continuity, adapting to new traffic patterns and assuring quality for key services. Hence, the presence of robust security frameworks heightened demand for cloud radio access networks.
Furthermore, the pandemic exposed vulnerabilities and inefficiencies in legacy processes, compelling enterprises to invest in centralized connectivity systems. The centralization of information processing afforded by C-RANs enables effective interference management at the geographical scale covered by distributed radio units. Across the forecast period ranging from 2022 to 2032, it is expected that global market demand for cloud radio access networks is poised to experience nearly 8x.
Key Market Drivers Influencing Cloud Radio Access Networks Industry Expansion
Extensive Deployment of 5G Connectivity to Bolster Market Growth Prospects
Worldwide, deployment of 5G connectivity solutions is rising at an aggrandizing rate. 5G networks are part of national critical infrastructure, and are designed to be very flexible, such that they can be adopted across a wide range of use case scenarios. To achieve this flexibility, network intelligence and security have to be managed effectively, further increasing complexity. Consequently, the popularity of cloud-based radio access networks is rising.
5G is highly flexible and offers best performance in a wide range of applications. To enable and support these wide use cases, the 5G network architecture requires that different functions are flexibly placed within the network. This consequently creates scenarios where parts of the radio access and cloud network functions are geographically co-located.
In addition, the intelligence of the network is typically distributed across the network. Therefore, the deployment possibilities are numerous, and this further makes all the components of vital in terms of network performance. Moreover, 5G radio access and cloud networks also require robust security frameworks, which necessitates deployment of multiple firewall and protocol layers. Based on these aforementioned progress, the need for cloud radio access networks is bound to rise in the future.
Extensive Reliance on the Internet by Industries to Propel Market Growth
According to Internet World Stats, as of 2021, there were over 5 Billion internet users globally, with a majority of users concentrated across Asia (54.8%). In terms of penetration, however, North America tops the chart, with incidence rates climbing as high as 94%, while the global average is just over 65%. This rising penetration is an end product of rapidly evolving technology and the need to optimize business operations.
As this incidence continues to rise every day, telecom service providers are leaving no stone unturned to enhance their revenue prospects. These service providers seek to overcome key challenges, including low latency, high bandwidth and reduced downtime to survive market competition. Consequently, they are investing in robust connectivity infrastructure, with a majority of these provider relying on virtual or cloud based deployment apparatus. Hence, sales of cloud radio access network systems are expected to incline sharply in the coming years.
Among all the path-breaking technological advancements, scope for edge computing is touted to rise immensely in the future. Several edge computing technologies originating from different backgrounds to decrease latency, improve spectral efficiency (SE) and support the massive machine type of communication have been emerging. To realize these objectives, cloud radio access networks have been proposed as an effective combination of emerging technologies, both from wireless networks and cloud computing.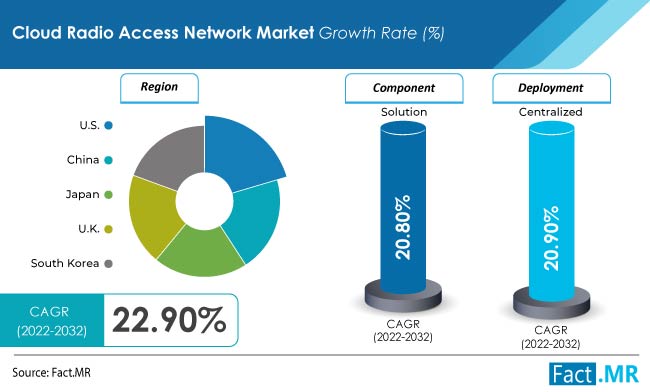 Key Challenges encountered by Cloud Radio Access Network Providers
Rising Security Threats, High Fronthaul Capacity Requirements to Hinder Prospects
A major challenge for cloud radio access network recognition is the fronthaul issue. Fronthaul connections are links between centralized baseband units (BBUs) and remote radio units (RRUs). The widely used interface between BBUs and RRUs is the Common Public Radio Interface (CPRI), which transfers digitized radio signals as input/output samples.
Due to a rise in the demand for the CPRI data rate, the optical fibers are mostly used for the fronthaul technology. In the present situation, fronthaul solutions are CPRIs, which consume immense amounts of resources, impeding adoption. Furthermore, this open broadcast nature of wireless architectures makes them vulnerable to new attacks, such as unauthorized or illegitimate access to sensitive information, leading to security breaches.
More Insights, Lesser Cost (-50% off)
Insights on import/export production,
pricing analysis, and more – Only @ Fact.MR
Comparative View of Adjacent Cloud Radio Access Network Markets
| | | | |
| --- | --- | --- | --- |
| Attributes | Cloud Radio Access Network Market | Radio Access Network Market | 5G Services Market |
| CAGR (2022-2032) | 22.9% | 12% | 55% |
| Market Value (2032) | US$ 43.2 Billion | US$ 90.6 Billion | US$ 3.8 Trillion |
| Growth Factor | Extensive deployment of 5G connectivity solutions and consequent deployment of virtual connectivity solutions is prompting enhanced adoption of cloud radio access networks. | Increased subscription for mobile and desktop broadband services is likely to fuel market growth prospects, as the need for faster connectivity solutions arise. | Growing deployment of IoT in various industries to bolster connectivity and consequently business outcomes is expected to provide massive leverage to the global market for 5G services in the near future. |
| Opportunity | Deepening penetration of internet and accompanying technological advancements likely to encourage cloud RAN adoption across key industries. | Rise in network densification to yield massively increased data rates and ultra-reliable low latency, are anticipated to enhance cloud radio access network deployment. | Deployment of 5G services is likely to benefit maximum across the healthcare and automotive domains. Modern healthcare would particularly focus on administering technology-driven treatments to the patients, thereby driving market growth. Likewise, the concept of Vehicle-to-anything (V2X) communication has paved the way for autonomous driving, which will leverage 5G connectivity solutions. |
Region-wise Analysis
How will Cloud Radio Access Network Deployment fare across the U.S?
Extensive Deployment of 5G Connectivity Technology to Broaden Growth Prospects
The U.S, an evident technological superpower, leads in 5G deployment, with as many as 270 million people having access to 5G services. When it comes to deployment, the country relies extensively on private players, with services providers such as Cisco and Ericsson enjoying significant presence in this regard. Telecommunications technology is now going through a transition similar to that brought on by the internet over two decades ago.
5G will provide mobile connectivity across a range of devices, not just computers or smart phones. It will expand opportunities for innovation in software and services—sectors where economic growth has been strong and can be made stronger.
As this 5G technology deployment acquires pace, the scope for cloud-based radio access networks throughout the country is rising at a stupendous rate. Prominent service provides such as Airspan and Cisco have played a significant part in furthering radio access networks across multiple application areas. Recently, in April 2022, Airspan was selected by Mercury Broadband to deliver broadband solutions for delivering citizen broadband radio services (CBRS) fixed wireless access solutions for the Midwest Rural Broadband Network Expansion project. As per Fact.MR, the U.S market is slated to flourish at a CAGR of 22.5% until 2032.
How will China Perform in the Global Cloud RAN Industry Landscape?
Numerous Partnerships between Global & Regional Players being witnessed
According to Fact.MR's projections, deployment of cloud radio access networks across China is forecast to expand at an impressive 22.5% value CAGR from 2022 to 2032. Moreover, a dollar opportunity worth US$ 2.7 Billion is expected across the said forecast period. By 2032, a market valuation of US$ 3.2 Billion has been projected by this study for China. As the country strives to improve connectivity infrastructure, deployment of cloud RANs is rising significantly.
The contemporary Chinese cloud radio access network landscape is experiencing a host of collaborations and partnerships between regional and global telecommunications service providers. For instance, in January 2021, China Mobile and Nokia announced the successful completion of their live trials of AI on their 5G radio access networks. The AI-based real-time user equipment (UE) was able to forecast bandwidth as well as to detect traffic anomalies with an accuracy of 90%.
The trial allowed China Mobile to introduce its I-wireless intelligent 5G network concept, which is designed to create a greener, smarter, and more effective 5G network. The RAN Intelligent Controller (RIC) can thus enable almost real-time control and optimization of RAN elements by using real-time data exposure and cross-layer perception capabilities with the help of AI and ML applications. Likewise, around 44 Chinese companies signed up for the OpenRAN initiative in 2019 to reduce costs and overcome barriers to market entry.
Country-wise Forecast CAGRs for the Cloud RAN Market
| | |
| --- | --- |
| U.S | 22.5% |
| U.K | 21.6% |
| China | 22.5% |
| Japan | 22.2% |
| South Korea | 21.4% |
Know thy Competitors
Competitive landscape highlights only certain players
Complete list available upon request
Category-wise Insights
Will Cloud Radio Access Network Solutions remain Dominant?
Demand for Greater Operational Flexibility to Enhance Growth Prospects
By component, demand for cloud radio access network solutions is likely to accelerate the fastest, documenting a value CAGR worth 20.8% from 2022 to 2032, according to Fact.MR. Cloud radio access network is a viable option for communications service providers to have increased flexibility, faster delivery of services, and greater scalability in networks.
With increasing penetration of 5G connectivity and IoT, cloud radio access network solutions are significant in the progression of wireless technology. Furthermore, cloud RAN solutions provide a cost-effective and manageable alternative for supporting more users.
Which is the Most Sought after Cloud RAN Deployment Category?
Centralized Cloud Radio Access Networks to be Most Widely Deployed
Deploying centralized radio access networks has become highly mainstream across key industries, attributed to advantages such as resource virtualization, better service deployment at the edge, and joint processing and co-operative radio sharing. Also, by combining resources, serves can be deployed at the network edge instead of the core.
According to projections published by Fact.MR, the centralized cloud radio access network segment is forecast to register a whopping 20.9% value CAGR across the 2022-2032 assessment period. Initially popularized across East Asia, the technology is now gaining momentum globally.
Cloud Radio Access Network Market- Competitive Landscape
Prominent service providers are taking advantage of the rapidly digitizing landscape to introduce new services equipped with cutting-edge innovative technology. To further their outreach, players are relying on collaborations, partnerships and acquisitions with existing small, medium and large-scale vendors. Some prominent market developments are as follows:
Finnish telecom giant Nokia Corporation collaborated with SK Telecom in January 2022, in order to provide the 5G 64TRX wireless-based vRAN, a highly advanced cloud-based radio access network platform, across South Korea. Both companies have successfully completed a proof-of-concept and demonstration of the said service, enabling them to meet agile computing requirements
In October 2020, Ericsson introduced its own cloud radio access network platform which would enable communications service providers add greater flexibility and versatility to their networks. The solution complements high-performing purpose-built baseband offerings in the Ericsson Radio System portfolio, providing service providers an optimal choice for any deployment scenario and need
In February 2022, Huawei Technologies Co. Ltd. unveiled new upgrades to its end-to-end Intelligent Cloud Network Solution. These upgrades are scheduled to take place across three major domains- CloudCampus 3.0, CloudWAN 3.0 and CloudFabric 3.0- and will release non-stop computing power and intelligence to every enterprise, accelerating digital transformation across industries
ZTE Corporation announced in March 2022 that it has updated its 5G radio access network portfolio by introducing the new-generation Massive MIMO product series- including the 32TR and 64TR AAUs, up to 192 antenna elements and 320 watt, as well as the world's lightest Massive MIMO product, weighing only 9 kilograms.
Key Segments Covered in the Cloud Radio Access Network Industry Report
Cloud Radio Access Network by Component :

Cloud Radio Access Network Solutions
Cloud Radio Access Network Services

Consulting Services
Implementation Services
Support Services

Cloud Radio Access Network by Deployment :

Centralized Cloud Radio Access Network
Cloud Radio Access Network

Cloud Radio Access Network by End User :

Cloud Radio Access Network for Telecom Operators
Cloud Radio Access Network for Enterprises

Cloud Radio Access Network by Network Type :

5G Cloud Radio Access Network
4G Cloud Radio Access Network
3G & 2G Cloud Radio Access Network

Cloud Radio Access Network by Region :

North America Cloud Radio Access Network Market
Europe Cloud Radio Access Network Market
Asia Pacific Cloud Radio Access Network Market
Middle East & Africa Cloud Radio Access Network Market
Latin America Cloud Radio Access Network Market
- FAQs -
As of 2021, the cloud radio access network market was valued at US$ 4 Billion
As of 2022, Fact.MR expects the cloud radio access network industry to be valued at US$ 5.5 Billion
According to Fact.MR, a CAGR of 37.2% was recorded for the cloud radio access network market from 2015-2021
From 2022 to 2032, the cloud radio access network industry is poised to flourish at a 22.9% CAGR
By 2032, the cloud radio access network landscape is slated to reach a valuation of US$ 43.2 Billion
Cloud radio access network solutions are expected to grow the fastest, at a CAGR of 20.8%
Centralized cloud radio access networks are expected to be most widely deployed, documenting a 20.9% value CAGR
As per Fact.MR's projections, the market for cloud radio access network in the U.S will likely expand at a 22.5% CAGR
China is poised to yield a valuation of US$ 3.2 Billion with respect to cloud radio access network in 2032