Chloromethane Market
Chloromethane Market Analysis By Product (Methylene Chloride, Methyl Chloride, Carbon Tetrachloride & Chloroform) By Application (Refrigerant, Industrial Solvent, Silicone Polymers, Laboratory Chemicals), By End-User, and Region – Global Insights 2022 to 2032
Analysis of Chloromethane market covering 30 + countries including analysis of US, Canada, UK, Germany, France, Nordics, GCC countries, Japan, Korea and many more
Global Chloromethane Market Outlook
The chloromethane market is predicted to grow at a moderate CAGR of 4.3% during the forecast period covering 2022 to 2032. The chloromethane market share is estimated to reach a value of nearly US$ 8.1 Billion by 2032, expanding from a total worth of US$ 5.1 Billion in 2021.
Although chloromethane is abundant in nature, it is also produced in industries for commercial purposes. Chloromethane was initially used as a refrigerant fluid in cooling machines, creating a distinct chloromethane market share that developed in later days.
Report Attributes

Details

Chloromethane Market Share (2021)

US$ 5.1 Billion

Chloromethane Market Size Value (2022)

US$ 5.3 Billion

Chloromethane Market Size Value (2032)

US$ 8.1 Billion

Chloromethane Market Growth Rate (2022-2032)

4.3%

Chloromethane Market Key Players

Akzonobel N. V.
KEM ONE
Shin-Etsu Chemical Co.
Gujarat Alkalies and Chemical Limited
INEOS Group
Solvay
Occidental Petroleum Corporation
Gujarat Fluorochemicals Limited
The Sanmar Group
SRF Limited
Alfa Aesar
Tokuyama Corporation
AGC Chemicals
Tokyo Chemical Industry
Methylene chloride, methyl chloride, carbon tetrachloride, Bromo chloromethane, and methly chloroform are some forms that have perpetuated the sales of chloromethane in different end-use verticals.
Know thy Competitors
Competitive landscape highlights only certain players
Complete list available upon request
Global Chloromethane Market Historical Analysis (2015-2021) Vs. Forecast Outlook (2022-2032)
According to the global market study report for chloromethane published recently by the Fact.MR the growth rate is found to have slipped down from the previously recorded 4.9% over the historical years 2015 to 2021.
Chloromethane consumption has dropped due to the COVID-19 epidemic and its market-related disruptions. Due to supply chain challenges and manpower shortages, most chemical industries were compelled to temporarily halt operations or run at reduced capacity complying with government limitations.
According to the United States Alliance for Automotive Innovation, over 90% of vehicle production in the United States was halted in April 2020. As a result, demand for silicone polymer-based goods dwindled in the aftermath and consequently impacting the chloromethane market growth.
Then again, increased expenditures in the healthcare and pharmaceutical industries to help boost products and services for COVID-19 patients, on the other hand, may have had a favorable influence on chloromethane demand, as evident from the chloromethane demand analysis record.
What is the Future of Global Chloromethane Market?
The silicon industry's increased need is driving the chloromethane market share. Furthermore, having one of the fastest expanding application segments in the silicone sector, sales of chloromethane is foreseen to increase throughout the projected period.
Over the speculated time period between 2022 and 2032, rising demand for silicone elastomers across different end-use sectors, such as construction and automotive, is expected to fuel the chloromethane market expansion.
However, rising demand for silicone polymers in the electronic and automotive industries is expected to be driving the chloromethane market growth contingently. The need for silicon polymers in the automobile sector is mostly for designing lightweight vehicles that use less fuel.
The rapid expansion of the cold chain business can be ascribed to increased international trade of fresh food goods and technical advancements in refrigerated transportation and storage methods. Hydro-fluoro olefins, which are being utilized as a substitute for hydrofluorocarbon refrigerants, are indeed prepared out of methyl chloride.
Chloromethane demand is predicted to climb substantially as more awareness spreads to choose hydrofluorocarbon alternatives.
A large portion of chloromethane products is used as feedstock in the production of synthetic mediums such as methyl chlorosilanes. Silicone liquids are made with these methyl chlorosilanes having a wide range of applications, from antifoaming agents to discharge agents to light-duty lubricants, and are also used in the production of several consumer goods that are suggested to propel the global chloromethane market with the growing trend of consumerism across the world.
More Insights, Lesser Cost (-50% off)
Insights on import/export production,
pricing analysis, and more – Only @ Fact.MR
What are the Major Challenges Experienced by the Chloromethane Market Players?
Despite having a wide range of applications, the global chloromethane industry is anticipated to face various challenges even during the projected years.
According to a paper released by the National Centre for Biotechnology Information (NCBI), chloromethane is the most volatile of all halogenated hydrocarbons, suggesting they may reach the stratosphere, resulting in the escalation of ozone layer depletion.
For the growing focus on decreasing greenhouse gas emissions and the global warming phenomenon, companies are gradually shifting away from chloromethanes and other chlorinated chemicals in favor of more environmentally friendly alternatives. As a result, the chloromethane market players are expected to face a major growth challenge in the future years.
Owing to the strict rules set by major regulatory agencies such as REACH and the US EPA, the worldwide chloromethane market future trends are expected to develop at a slower rate than expected. The European Union (EU) has also classed chloromethane as an ozone-depleting material, which is projected to impact market demand for methyl chloride and carbon tetrachloride in Germany and other European nations.
High toxicity levels and environmental concerns linked with the use of this aromatic substance, on the other hand, may limit the chloromethane market trends and forecasts to some extent. The sales of chloromethane for use in consumer goods has been prohibited by the European Union (EU) because of the dangers of its exposure to aging refrigerators and air conditioners. This may lead to a substantial disposition of chloromethane market adoption trends by alternatives such as chlorofluorocarbons, hydrofluorocarbons, and natural refrigerants.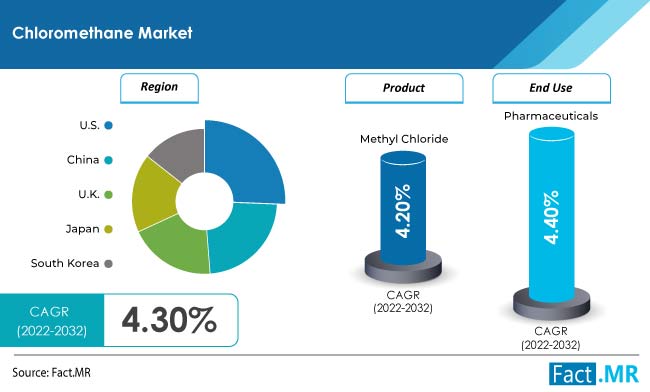 Region-wise Outlook
What is the Performance of Chloromethane Market in Different Geographical Regions?
The United States is figured out to be the most lucrative market for chloromethane manufacturing companies contributing nearly 36% of the global sales.The US chloromethane marketis poised to be the dominating regional segment with an estimated market value of US$ 2.9 Billion by the end of this forecast period in 2032.
Europe is also turning out to be a remarkably improving market forsales of Chloromethane,and the United Kingdom is leading the region with a CAGR of 3.1%. By virtue of the presence of significant Chloromethane manufacturing companieslike AkzoNobel and Nouryon, Germany is one of the main manufacturers and exporters of Chloromethane.
What is the Chloromethane Market Outlook for Asia Pacific Region?
The abundance of feedstock and the huge availability of shale gas deposits in China are two of the most important growth drivers for the China chloromethane market, which is why several chemical manufacturing companies have built bases around the region, turning it into a leading market of the Asia Pacific region with a net worth of US$ 400 Million as per the chloromethane market surveyfor the year 2022.
Asia's automotive industry is expanding rapidly, fuelling demand for silicone polymers in the area that has consequently favoredemerging trends in the chloromethane business. Japan and South Korea are at the forefront of automotive manufacturing and export, duly supplementing the chloromethane market key trends and opportunities in the Asia Pacific region. However, the regional chloromethane market of these two countries is predicted to grow at some gentle rates of 2.8% and 2.3%, respectively.
Government assistance for cold chain infrastructure and growing consumer demand for perishable commodities is suggested to be a determining factor for the chloromethane market key trends and opportunities in the Asia Pacific countries. Furthermore, countries such as India provide essential raw materials and trained labour at comparably low costs, encouraging players to develop manufacturing facilities there.
Increased demand for Chloromethane by the healthcare products and pharmaceutical industries can be ascribed to the rising living standards, the expansion of the middle class, and rising household income in the Asia Pacific area, as well as the rest of the world.
More Insights, Lesser Cost (-50% off)
Insights on import/export production,
pricing analysis, and more – Only @ Fact.MR
Category-wise Outlook
What is the Growth Outlook for the Chloromethane Market According to Different Segments?
"As nations around the world are rapidly modernising their healthcare systems, the market for chloroform in anaesthesia and other medical applications is expected to increase significantly boosting the demand for chloromethane production."
Based on product type, the methyl chloride segment is observed to be the most promising category forchloromethane manufacturers.It is expected to expand at an estimated CAGR of 4.2% in the coming days.
Methylene chloride, often known as dichloromethane, dominated the market in 2021, representing almost 65.8% of the global chloromethane market. Methylene chloride is a chemical intermediate used in manufacturing polyurethane foams, adhesives, and aerosols.
Its primary application, however, is in the refrigerant and coolant sectors. Increased global temperatures and rising disposable income in emerging nations are predicted to raise chloromethane-based refrigerants, thereby boosting the chloromethane market opportunities.
Contrastingly, from 2022 to 2032, the carbon tetrachloride segment is predicted to grow at a CAGR of 3.4%, as implicit from the chloromethane market statistics data. Carbon tetrachloride is utilised in a variety of products, including refrigerant precursors, cleaning chemicals, and firefighting equipment.
Who are the Prominent End Users of the Chloromethane Market?
By 2021, the pharmaceutical industries end-user category led the market, accounting for nearly 34% of total sales of chloromethane. Its increasing use in pharmaceutical formulations as a chemical intermediary in drug manufacturing and as a local anesthetic in medical institutions is driving the demand for chloromethane in the healthcare sector.
As claimed by Pharma World Magazine, the pharmaceutical sector is expected to be valued at over US$ 1.5 Trillion by 2023. This expansion is expected to assist all related sectors. In line with this development, the year-on-year growth rate of the pharmaceutical segment, as recorded by the new market research report on chloromethane, is predicted to be around 4.2%.
Due to the increased demand for silicone polymers in several concrete building items, the construction category is expected to account for the second biggest segment in the chloromethane market share. Rapid urbanization and expanding redevelopment and refurbishment activities in emerging economies have elevated the construction sector's contribution to the global chloromethane market growth in recent years.
How Strong is the Competitive Landscape for the Chloromethane Market?
Name of some of the chloromethane market key players includes Akzonobel N. V., KEM ONE, Shin-Etsu Chemical Co., Gujarat Alkalies and Chemical Limited, INEOS Group, Solvay, Occidental Petroleum Corporation, Gujarat Fluorochemicals Limited, The Sanmar Group, SRF Limited, Alfa Aesar, Tokuyama Corporation, AGC Chemicals, and Tokyo Chemical Industry among others.
Like for most of the other chemicals, the chloromethane industry is relatively straightforward to access for newcomers leading to established chloromethane corporations partnering with silicone production stakeholders to increase their market reach.
Recent Developments in the Global Chloromethane Market :
Nouryon Company declared in April 2019 to begin work on a project for expanding its chloromethane production facility in Frankfurt of Germany facility, in order to meet rising worldwide client demand for chloromethane. The project was scheduled to be finished in 2020 that is expected to raise the company profile in the global chemical market.
Don't Need a Global Report?
save 40%! on Country & Region specific reports
Key Segments
By Product :

Methylene Chloride
Methyle Chloride
Carbon Tetrachloride
Chloroform
Others

By Application :

Refrigerant
Industrial Solvent
Silicone Polymers
Laboratory Chemicals
Chemical Intermediates
Methylating and Chlorinating Agent
Propellant and Blowing Agent
Catalyst Carrier
Herbicide
Local Anaesthetics
Adhesives and Sealants
Others

By End User :

Pharmaceuticals
Agrochemicals
Textile
Automotive
Construction
Paints & Coatings
Personal Care Products
Plastics & Rubber
Others

By Region :

North America
Latin America
Europe
Asia Pacific
Middle East and Africa (MEA)
- FAQs -
The global chloromethane market is estimated to record a CAGR of 4.3% during the forecast period.
The global chloromethane market is predicted to be valued at US$ 8.1 Billion by 2032.
The global chloromethane market was valued at US$ 5.3 Billion in 2021.
United States (US) accounts for the largest revenue share of US$ 1.9 Billion in the year 2022.
Asia Pacific is predicted to witness the highest CAGR in the chloromethane market.