Clinical Trial Imaging Market
Clinical Trial Imaging Market Analysis By Service (Project & Data Management, Operational Imaging Services, Reading & Analytical Services, Others), By Application (Non-alcoholic Steatohepatitis, Oncology, Neurology, Endocrinology, Cardiology, Others), By End User & Region - Global Market Insights 2023–2033
Analysis of Clinical Trial Imaging Market Covering 30+ Countries Including Analysis of US, Canada, UK, Germany, France, Nordics, GCC countries, Japan, Korea and many more
Clinical Trial Imaging Market Outlook (2023–2033)
Worldwide sales of clinical trial imaging devices are predicted to increase at a CAGR of 6.5% from 2023 to 2033. The global clinical trial imaging market is currently valued at US$ 1.15 billion and is thus projected to reach US$ 2.17 billion by the end of the forecast period.
Clinical trial imaging services are classified into project & data management, operational imaging services, reading & analytical services, clinical trial design & consultation services, and system & technology support services. Global demand for project & data management solutions is expected to increase rapidly at a CAGR of 7% during the next 10 years.
Imaging-based clinical studies sometimes need the integration of several parties' workflows and data management. These services include operational knowledge and the establishment of trial workflows, tracking projects, digitizing scans, regulatory control, and quality assurance, providing real-time trial status reports, setting up and managing MRI centres, managing data, and reporting and problem-solving.
Recently, the U.S. government has adopted a cloud-based server that encrypts all medical imaging reports from natural disasters, including faster and easier retrieval of base and annotated images.
Global sales of operational imaging services are expected to rise at a CAGR of 6.5% during the forecast period. For numerous therapeutic applications, including neurology, cardiovascular diseases, gastroenterology, oncology, & musculoskeletal disorders, operational imaging services comprise imaging modalities including magnetic resonance imaging (MRI), computed tomography (CT), ultrasound, optical coherence tomography (OCT), positron emission tomography (PET), and single-photon emission computerized tomography (SPECT) as well as medical devices to conduct clinical trials.
Clinical studies often use imaging methods to collect data to support their conclusions. The Food and Drug Administration Modernization Act (FDAMA) of 1997 allowed data produced by imaging modalities to be included in regulatory submissions, allowing imaging modalities to be utilized as product development equipment/tool in medical devices or pharmaceutical clinical trials. Medical imaging phantoms are products that are substituted for human tissues in biomedical research to check the effectiveness of imaging systems and techniques.
The market for clinical trial imaging is expanding as a result of quickly increasing biotechnology and pharmaceutical sectors as well as rising R&D expenditures for creating new medications to treat several ailments. The clinical development of cutting-edge life science products actively involves medical imaging. The sales growth can be attributed to the increasing investments in the medical imaging industry and the use of cutting-edge imaging technologies to support medical device clinical trials.
Report Attributes

Details

Clinical Trial Imaging Market Size (2023E)

US$ 1.15 Billion

Forecasted Market Value (2033F)

US$ 2.17 Billion

Global Market Growth Rate (2023–2033)

6.5% CAGR

China Market Growth Rate (2023–2033)

10.5% CAGR

Japan Market Growth Rate (2023–2033)

3.5% CAGR

Germany Market Growth Rate (2023–2033)

4.5% CAGR

Canada Market Growth Rate (2023–2033)

5% CAGR

Key Companies Profiled

Bioclinica, Inc.
Biomedical Systems Corporation
Biotelemetry, Inc.
Cardiovascular Imaging Technologies, LLC
ERT Clinical
Icon PLC
Image Core Lab
Intrinsic Imaging LLC
Ixico PLC
Lyscaut Medical Imaging Company
Medical Metrics
Navitas Life Sciences
Parexel International Corporation
Perspectum Diagnostics
Prism Clinical Imaging
Quotient Sciences
Radiant Sage LLC
Resonance Health
Worldcare Clinical, LLC
Don't Need a Global Report?
save 40%! on Country & Region specific reports
Why is Global Demand for Clinical Trial Imaging Data Solutions Surging?
"Rising Prevalence of Chronic Disorders"
Globally, the prevalence of chronic diseases such as cancer, chronic obstructive pulmonary disease (COPD), arthritis, and coronary heart disease is increasing at an exponential rate, driving up the demand for diagnostic and therapeutic technologies.
In 2020, Nearly 18.1 million new cases of cancer were reported globally out of which more than 474,519 instances were of leukaemia, commonly known as blood cancer, according to a survey by the World Cancer Research Fund International.
To reduce cancer-related deaths, governments of several countries are launching several campaigns to raise awareness about early cancer detection.
For instance, to raise awareness of early cancer diagnosis, the Indian government has announced the establishment of the National Programme for Prevention and Control of Cancer, Diabetes, Cardiovascular Diseases, and Strokes (NPCDCS).
A plethora of such initiatives is anticipated to support the growth of the clinical trial imaging market as clinical diagnostic devices are highly used during medical diagnostics such as haematology testing for checking the blood samples for the diagnosis of cancer such as leukaemia.
"Growing Use of Predictive Analytics to Improve Clinical Trial Design"
The gathering, analyzing, and submission of clinical trial imaging data are all getting significantly better because of technological advancements. Clinical studies can benefit from technology-enabled imaging, particularly image analysis software, in several ways, including consistency, data accuracy, adaptability, and compliance. For instance, using the study of imaging time points, image analysis software is utilized to guide and control a reader.
Several businesses currently utilize predictive analytics tools, such as machine learning and artificial intelligence, to build models and inform choices. Given the abundance of health data that clinical trial investigators currently have access to, predictive analytics tools can be effectively used in clinical trial design to distinguish patient characteristics that are more probable to react to a particular treatment pattern, rising the success rates and lowering the risk to large, multi-center clinical trials.
Evaluating the impact of a specific therapeutic method on a subset of the patient population based on specific biomarkers can also help with the development of precision therapies. Clinical trial investigators' ability to comprehend complicated disease models will likely determine how much of an impact predictive analytics will have on clinical trial design. To maximize this impact, joint efforts are being made.
"Advancements in Medical Technologies"
The use of medical imaging in clinical trials is anticipated to increase as a result of both the rising use of imaging technology and improved processing capacity.
To achieve statistically significant and exact outcomes in clinical studies, the Quantitative Imaging Biomarkers Alliance (QIBA) program has developed standardized techniques and imaging procedures with identical protocols.
Several technology patents have been submitted to enhance picture assessment and capture. Additionally, imaging core lab players are offering unique technologies that are anticipated to help pharmaceutical businesses shorten development times.
For instance, the reading tool Assessa by IXICO helps with better decision-making in clinical trials for neurological disorders including dementia and cognitive impairment as well as diseases related to memory such as schizophrenia, Parkinson's, and Alzheimer's disease.
More Insights, Lesser Cost (-50% off)
Insights on import/export production,
pricing analysis, and more – Only @ Fact.MR
Which Aspects are Negatively Influencing the Sales of Clinical Trial Imaging Services?
"High Risk of Radiation-related Illnesses"
Radiation is absorbed by the body during clinical medical imaging procedures, which can disrupt molecular structures within the patient's body. High radiation doses can have negative effects on human cells, including hair loss, skin burns, and higher cancer risk. After receiving a radiation dose of 10 mSv during a CT scan, the likelihood of developing deadly cancer is 1 in 2000.
For example :
The American Cancer Society listed CT scans and X-rays as one of the causes of breast cancer, brain cancer, and other cancers.
The Radiological Society of America (RSNA) estimates that 1% to 2% of all malignancies in the U.S. are caused by CT scans.
According to the Centers for Disease Control and Prevention, acute radiation syndrome is a result of high radiation exposure.
Because of the high-risk radiation that develops, fewer clinical trial imaging devices would be used and sold, which would hurt the reputation of the clinical trial imaging tool producers. As a result, it is anticipated that the demand for clinical trial imaging solutions is likely to be constrained by high-risk radiation-causing disorders.
"Strict Set of Regulations"
A complex and broad system of laws, rules, and regulations governs the healthcare sector. Thus, such aspects are likely to disturb the sales growth of services for clinical trial imaging.
For example :
The quality of imaging data produced in clinical trials is covered by the U.S. FDA's revised Guidance for Clinical Trial Imaging Endpoint Process Standards, which was published for the sector in April 2018.
The FDA must first approve pharmaceutical and biotechnology companies before they can begin the medication development process. Before starting clinical research, they must file an Investigational New Drug (IND) application to the FDA.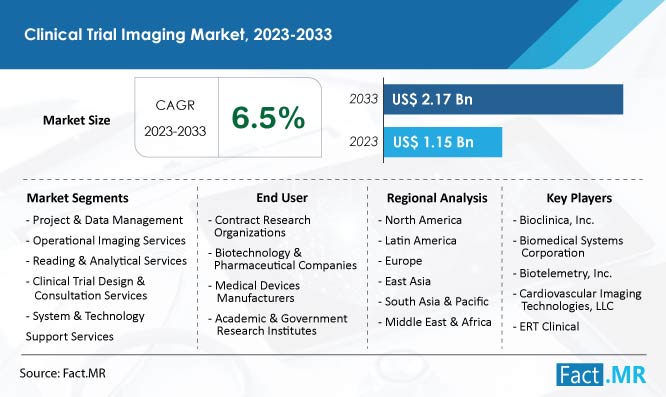 Country-wise Analysis
What is the Demand Outlook for Clinical Trial Imaging Solutions in the U.S.?
"Rising R&D Activities and Existence of Major Outsourcing Companies"
The U.S. currently dominates the North American clinical trial imaging market due to the increasing prevalence of chronic diseases, the presence of big outsourcing companies, rising R&D activities, and the rapidly growing rate of the elderly population in the nation.
In addition, improvements in healthcare infrastructure are facilitating quicker chronic disease identification and treatment. The US FDA and other regulatory bodies, however, have also played a significant part in achieving trial registration accomplishments to date and are likely to get support in overcoming such difficulties in the coming years. They also play an important role in maintaining product standards and quality control.
Which are the Leading Markets in the European Region?
"Germany & France Developing Quickly in Clinical Trial Sector"
Demand for diagnostic imaging services in Europe is being driven by factors such as the quick development of technologies such as virtual imaging trials and the rising prevalence of diseases such as Parkinson's, Huntington's, and Alzheimer's.
Currently, imaging systems are commonly used in clinical trials nowadays as a result of research laboratories' efforts to cut operational expenses. In the European Union (EU), about 4,000 clinical trials for medications are approved each year.
Western European nations including France, Germany, the Netherlands, and Switzerland conduct the majority of these trials. Global demand for clinical trial imaging solutions in Germany is expected to evolve at a CAGR of 4.5% during the forecast period.
How are Sales of Clinical Trial Imaging Devices Evolving in Japan & India?
"Rising Prevalence of Non-alcoholic Steatohepatitis and High Adoption of Data Management Systems"
Rapidly improving medical therapies and technologies, and the growing rate of non-alcoholic steatohepatitis (NASH) clinical trials are boosting the market growth in Asian Countries such as China, Japan, India, and South Korea.
Currently, non-alcoholic fatty liver disease (NAFLD) is more common in the Japanese population than it was in the early 1990s, it rose from 12.6% - 12.9% in the 1990s to 24.6% - 34.7% in the 2000s. Currently, it is thought that 1.9% to 2.7% of people in Japan have NASH.
Growing rate of the elderly population, rising cases of obesity and cancer, and the rapidly developing healthcare industry are also boosting demand for clinical trial imaging consulting services.
In India, there is a rising need for improved patient outcomes as well as the demand for lower healthcare expenses. All of this is laying the groundwork for the application of big data in the nation's healthcare system, where such information can be effectively examined and choices may be based on such a vast amount of data.
Rising spending power on healthcare, increasing use of electronic health records (EHRs), and expanding government efforts concentrating on customized medicine and population health management are some of the main reasons benefiting the demand for clinical data analytics in India.
Category-wise Analysis
Why are CROs Gaining Immense Popularity?
"Ability to Work Effectively on Research Activities"
A contract research organisation (CRO) in the life sciences is a business that supports the pharmaceutical, biotechnology, and medical device sectors by contracting out research activities. Many CROs specialise in offering services for clinical trials and studies for pharmaceuticals and/or medical devices.
Contract research organizations currently hold a significant share of the global market. This huge market share might be ascribed to the rising investments in R&D as well as the spiralling cost of developing new drugs.
The industry is expanding as a result of rising demand from biotechnology and pharmaceutical firms looking to save costs by outsourcing research and development services. Contract research outsourcing partnerships also provide cutting-edge services. Also, several governmental organizations favour giving projects to CROs to reduce costs and execute effectively.
Competitive Landscape
Some of the key players in the clinical trial imaging market are Bioclinica, Inc., Biomedical Systems Corporation, Biotelemetry, Inc., Cardiovascular Imaging Technologies, LLC, ERT Clinical, Icon PLC, Image Core Lab, and Intrinsic Imaging LLC. These market participants are concentrating on expansion tactics such as mergers and acquisitions and contract signing.
New Developments :
ICON PLC purchased MedPass International, a European CRO, reimbursement, and regulatory consultant, in February 2020. According to reports, this acquisition has aided in the growth of ICON's medical device and diagnostic research services throughout Europe.
To provide PET imaging clinical trials for evaluating innovative therapies in China, Clario teamed with XingImaging, a radiopharmaceutical production and Positron Emission Tomography (PET) acquisition company, in January 2022. To accelerate the beginning of clinical trials and drug discovery in China, the cooperation provides to share of the combined resources and neuroscience specialists of Clario and XingImaging.
Key Segments of Clinical Trial Imaging Industry Research
By Service :

Project & Data Management
Operational Imaging Services
Reading & Analytical Services
Clinical Trial Design & Consultation Services
System & Technology Support Services

By Application :

Non-alcoholic Steatohepatitis
Oncology
Neurology
Endocrinology
Cardiology
Dermatology
Hematology

By End User :

Contract Research Organizations
Biotechnology & Pharmaceutical Companies
Medical Devices Manufacturers
Academic & Government Research Institutes

By Region :

North America
Latin America
Europe
East Asia
South Asia & Oceania
MEA
- FAQs -
The global clinical trial imaging market is valued at US$ 1.15 billion in 2023 and is projected to reach US$ 2.17 billion by 2033.
Global sales of clinical trial imaging solutions are predicted to increase at a CAGR of 6.5% through 2033.
Sales growth is being fueled by a strong trend towards the commercialization of life science research and the use of cutting-edge technologies to reduce errors and maximize efficiency.
The U.S., Germany, Japan, South Korea, and China are some of the key countries covered in this report.
Leading companies providing clinical trial imaging solutions are Bioclinica, Inc., Biomedical Systems Corporation, Biotelemetry, Inc., and Cardiovascular Imaging Technologies, LLC.