Imaging Agents Market
Imaging Agents Market Analysis, By Modality (Diagnostic Radiopharmaceuticals, X-Ray, CT, MRI, Ultrasound), By Product (Iodinated, Gadolinium-based, Microbubble and Barium-based Contrast Media), By Application , By End User, & By Region - Global Market Insights 2022-2027
Analysis of Imaging Agents Market covering 30 + countries including analysis of US, Canada, UK, Germany, France, Nordics, GCC countries, Japan, Korea and many more
Imaging Agents Market Outlook (2022-2027)
As per a new Fact.MR analysis, expanding at a CAGR of 6%, the global imaging agents market is projected to increase from a valuation of US$ 10.2 billion in 2022 to US$ 13.6 billion by the end of 2027.
The use of radiopharmaceuticals enables the diagnosis of tumour cells within organs or throughout the body. One of the main factors driving the need for diagnostic radiopharmaceuticals is the rising prevalence of acute and chronic diseases such as cancer across the world. Global sales of diagnostic radiopharmaceuticals are predicted to rise at a CAGR of 7.5% and reach a valuation of US$ 7 billion by 2027.
To improve the visualisation of body organs during an ultrasound, MRI, X-ray, and CT scans, imaging agents are a crucial part of medical imaging. Angio-radioactive PET contrast agents and nanoscale MRI contrast agents' development generates opportunities in the imaging agents market.
Medical imaging agents are the chemicals that essentially allow doctors to see the operation of certain inside organs, tissues, or vessels during analysis or medical treatments. Medical professionals frequently employ imaging to diagnose conditions such as osteoarthritis, bone fractures, calcification, and bone loss because it helps uncover interior hidden pictures.
The past changes in the market situation are explained in 3 phases:
Phase I (COVID-19 Outbreak) - The COVID-19 pandemic had a negligible effect on the market for imaging agents. The market saw a minor reduction in revenue in 2020 as a result of the rising number of COVID-19 cases, travel restrictions, restricted availability of hospitals, and fewer patient appointments at imaging centres for imaging treatments.
Phase II - However, in 2021, the governments of some nations began to lift travel bans and lockdowns. This action benefited the healthcare sector's recovery and had a beneficial effect on the imaging agents market. Demand for imaging agents increased as a result of the growing adoption of imaging techniques.
Phase III - Healthcare centers resumed offering outpatient cancer care as the incidence of COVID-19-affected patients decreased globally. This led to an increase in imaging procedures and is gradually returning the procedural volume to its pre-pandemic level.
During imaging procedures, imaging agents or contrast agents are used to visualise the function of inside organs, comprising, among other aspects, chemical processes associated with blood flow, metabolism, and oxygen supply. Additionally, these agents make the targeted tissue more visible.
The capacity of molecular imaging agents to highlight minute abnormalities and to distinguish between healthy or inflamed tissues and cancer tissue based on early molecular changes rather than obvious anatomical differences makes them superior to conventional imaging agents.
In both anatomical and molecular imaging, nanoparticles represent a new class of imaging agents. Utilizing the signal strength, stability, and biodistribution characteristics of molecular imaging agents with submicron dimensions is known as nanoparticle-based imaging.
Also, high clinical trials of imaging agents are performed to improve the quality of the imaging agents. Over the coming years, the market expansion is anticipated to be driven by rising R&D expenditures, expanding healthcare infrastructure, and the use of cutting-edge imaging contrast agents.
Report Attributes

Details

Imaging Agents Market Size (2022E)

US$ 10.2 Billion

Forecasted Market Value (2027F)

US$ 13.6 Billion

Global Market Growth Rate (2022-2027)

6% CAGR

China Market Growth Rate (2022-2027)

10% CAGR

China Market Value (2022)

US$ 3 Billion

Key Companies Profiled

GE Healthcare
Eli Lily
Bayer Healthcare Pharmaceuticals
Alliance Medical
Bracco Diagnostics, Inc.
Aytu BioScience, Inc.
Curium
Guerbet Group
Lantheus Medical Imaging, Inc.
Trivitron Healthcare
Beijing Beilu Pharmaceutical Co Ltd.
Know thy Competitors
Competitive landscape highlights only certain players
Complete list available upon request
What is Influencing Imaging Agents Market Sales Growth?
"Rising Cases of Cancer & CVD Fuelling Demand for Imaging Agents"
Over the forecast period, it is anticipated that the rising incidence of cancer and CVD cases will fuel market demand for imaging agents.
For instance, the World Health Organization (2022) states that cancer is the major cause of mortality globally, and accounted for around 10 million fatalities in 2020, or almost one in every six deaths.
Additionally, the research from the same organisation states that cardiovascular diseases (CVDs), which claim a projected 17.9 million lives annually, are the most common cause of death worldwide.
The burden of cardiovascular and cancer disorders worldwide has increased as a result of rising alcohol and cigarette use. Nearly 22% of all cancer deaths are related to tobacco consumption. As a result, these factors will increase the demand for imaging procedures and imaging agents, which will be advantageous for the overall market sales of imaging agents.
Imaging tools are used to assess cancer's stages (how far along it is), as well as whether it has spread to blood vessels or essential organs. The majority of cardiac MRI procedures also employ intravenous gadolinium-based contrast agents to make the heart muscle and blood flow more visible.
The use of gadolinium-based contrast media, microbubbles contrast media, and iodine imaging agents are also becoming more common in cancer imaging techniques for the thyroid, lungs, and breasts. As a result, during the forecast period, the use of imaging agents for the pre-diagnosis of colorectal and breast cancer would gain in popularity and boost market revenue.
"High Price of Equipment & Imaging Diagnosis May Hinder Sales of Imaging Agents"
Fees of some imaging diagnosis processes are quite high depending on the type of disease one is infected with, and it may be difficult for people with low income to spend on the entire procedure. Also, the high price of some equipment is not affordable for small clinics.
Thus, it is anticipated that the high cost of imaging processes and equipment as well as the scarcity of qualified specialists will hinder the market's expansion.
Which Region is Most Targeted by Imaging Agent Producers?
"Presence of Well-established Healthcare Infrastructure in North America Attracts Major Imaging Agent Manufacturers"
The market for imaging agents in North America is forecast to expand at a healthy CAGR from 2022 to 2027 as a result of advanced medical infrastructure and R&D expenditures in the region. With its considerable initiatives, tools, and facilities of hospitals or other centres, the regional market is geared toward funding and early detection & treatment of chronic diseases.
The existence of several market players who concentrate on creating cutting-edge imaging agents for improved patient management would be beneficial for the growth of the medical imaging agents market.
The market in the Asia Pacific is expanding as a result of the region's rapidly rising rate of stroke cases, which raises demand for imaging methods and contrast materials. Major players in the Asia Pacific region are also concentrating on the development of MRI and CT angiograms of the newest generation for precise diagnostic and therapy choices.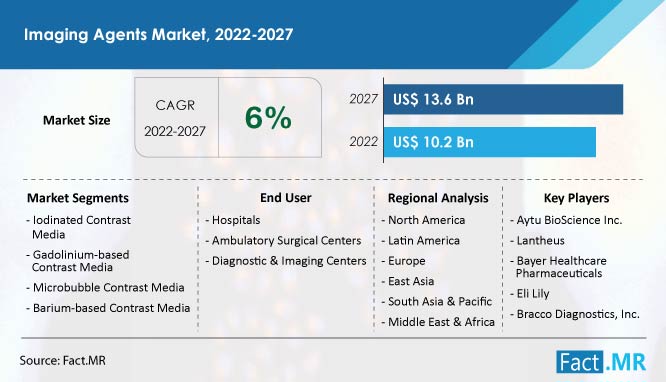 Country-wise Analysis
What is the Outlook for the U.S. Imaging Agents Market?
"Market Driven by Rising Prevalence of Cancer & Heart Disorders in the Region"
The market in the U.S. is expected to expand steadily due to an increase in cardiovascular and cancer patients. The term "heart condition" covers a wide range of conditions that can have an impact on the heart, including blood vessel diseases and genetic anomalies.
According to the Centers for Disease Control and Prevention
A heart attack is predicted to occur in America every forty seconds.
About 805,000 Americans experience a heart attack annually.
As a result, the growth of the industry will be aided by the rise in cardiac problems.
Lung cancer cases have increased in the United States as a result of rising tobacco consumption and smoking rates.
The Centers for Disease Control and Prevention (CDC) estimates that 12.5% of American adults, or 30.8 million people, smoke cigarettes.
This causes an annual rise in the incidence of cancer and other diseases.
How is Demand for Imaging Agents Expected to Shape Up in China?
"Presence of Major Imaging Agent Providers in the Country"
China's imaging agents market is predicted to increase at an impressive CAGR of 10% from 2022 to 2027 and will reach US$ 3 billion by 2027. This can be attributed to the existence of well-known local and international manufacturers in the nation, as well as the rise in healthcare spending.
For example, one of the major contrast media manufacturing plants of GE, (General Electric Pharmaceuticals Co., Ltd.) is based in Shanghai and is a subsidiary of GE that produces diagnostic medicines (CT/MR contrast media) in China.
It is projected that this aspect will support market expansion. Growth in the market is also driven by hospitals' increasing use of advanced diagnostic tools to identify and treat diseases as well as the country's growing hospital range.
More Insights, Lesser Cost (-50% off)
Insights on import/export production,
pricing analysis, and more – Only @ Fact.MR
Category-wise Analysis
What is Supporting Gadolinium-based Contrast Media Sales Growth?
"High Demand for Gadolinium-based Contrast Agents as They Help Provide High-quality Imaging Scans"
Based on product type, the market is segmented into iodinated contrast media, gadolinium-based contrast media, microbubble contrast media, and barium-based contrast media.
The gadolinium-based contrast media segment held a 13.8% market share in 2021, and this trend will likely continue in the coming years.
Growing use of gadolinium-based contrast agents to enhance the quality of magnetic resonance imaging (MRI) scans and to detect illnesses or other abnormalities boosts the market growth.
A majority of cardiac MRI procedures also employ intravenous gadolinium-based contrast agents (GBCAs) to make the heart muscle and blood flow more visible. Additionally, the rise in cancer imaging procedures requiring gadolinium-based imaging agents, such as those for breast, thyroid, and lung cancer, would further propel market expansion.
The success of new minimally-invasive treatments can be evaluated by the urologist using gadolinium-enhanced MRI during . Such elements will quicken both market and segment growth. Also, scientists are creating novel nanoscale MRI contrast materials made of gadolinium compounds that resonate when subjected to magnetic radiation and are encased in carbon nanotubes.
Numerous advantages that this imaging agent has over competing for products ensure both segmental as well as industry expansion.
Which Application Accounts for High Demand for Imaging Agents?
"High Demand for Imaging Agents in Diagnosis of Oncology-based Disorders"
Based on application, the market is segmented into oncology, cardiology, gastrointestinal, neurology, and others.
Due to the rising prevalence and expanding need for colorectal cancer screening along with rising levels of the geriatric population, the oncology segment is anticipated to expand at a healthy rate over the forecast period. A huge population of patients with lung cancer is caused by changing lifestyles and rising smoking rates, which boosts the market value of imaging agents.
Furthermore, in oncology, imaging techniques including CT, MRA, MRI, and PET/CT are used to identify brain cancers that have broken the blood-brain barrier. The segmental expansion will be aided by this aspect. Additionally, several market participants are concentrating on expanding their image technology businesses. This will hence increase demand for imaging agents.
To develop next-generation therapeutic radiopharmaceutical technologies for prostate cancer, for instance, Bracco Imaging launched a new subsidiary called Blue Earth Therapeutics in March 2019. This subsidiary is working to create a pipeline of therapeutic radiopharmaceuticals that are precisely targeted to expand into new cancer disease areas. The company's imaging agent business was expanded due to this tactic.
Don't Need a Global Report?
save 40%! on Country & Region specific reports
Competitive Landscape
To raise public awareness of the presence of superior imaging agents, which should accelerate the sector's growth in the coming years, major industry participants are also putting forth promotional and marketing efforts.
To maintain market competition, key players in the imaging agents market are using a variety of growth strategies with ongoing technological advancements.
The U.S. FDA approved Lantheus' PYLARIFY, a PSMA PET imaging agent for cancer related to the prostate, in May 2021. PYLARIFY injection aids in the visualisation of soft tissue, bone, and lymph node metastases to identify the presence of advanced or recurring prostate cancer. The company's entire product portfolio has improved due to this innovative method.
The U.S. FDA approved TAUVID and AMYVID (Florbetapir F 18 Injection) in May 2020 for Avid Radiopharmaceuticals, Inc., a division of Eli Lilly and Company. This imaging agent for positron emission tomography (PET) gives doctors useful knowledge about Alzheimer's disease. This approval aided the business in expanding its selection of imaging agents and boosted its income generation.
Key Segments in Imaging Agents Industry Research
By Modality:

Diagnostic Radiopharmaceuticals
X-ray
Computed Tomography (CT)
Magnetic Resonance Imaging (MRI)
Ultrasound
Others

By Product:

Iodinated Contrast Media
Gadolinium-based Contrast Media
Microbubble Contrast Media
Barium-based Contrast Media

By Application:

Oncology
Cardiology
Gastrointestinal
Neurology
Others

By End User:

Hospitals
Ambulatory Surgical Centers
Diagnostic & Imaging Centers
Others

By Region:

North America
Latin America
Europe
East Asia
South Asia & Oceania
MEA
- FAQs -
The global imaging agents market is currently valued at US$ 10.2 billion.
Global sales of imaging agents are predicted to increase at a CAGR of 6% from 2022 to 2027.
The global imaging agents market is projected to reach US$ 13.6 billion by 2027.
A diagnostic imaging agent is a material used to improve contrast in images of the internal structure of the body taken using radioactive particles, sound waves, X-rays, or MRIs to identify disease.
Lantheus Medical Imaging, Inc., GE Healthcare, Eli Lily, Alliance Medical, Bracco Diagnostics, Inc., Bayer Healthcare Pharmaceuticals, Aytu BioScience, Inc., Curium, and Guerbet Group are some of the major companies in the imaging agents market.