Diagnostic Imaging Services Market Outlook (2022-2032)
Demand for diagnostic imaging services reached a valuation of US$ 555 Million in 2021, and is projected to reach US$ 585 Million in 2022, exhibiting a Y-o-Y growth rate of 5.4%. From 2022 to 2032, the industry is poised to grow at a CAGR of 5.51% to reach a valuation of US$ 1 Billion.
The rapidly augmenting senescent population and the resulting escalation in the incidence of related diseases, as well as soared awareness about early disease diagnosis and the expanding breadth of clinical applications are the primary factors driving the growth of this industry. However, issues such as the high cost of diagnostic imaging equipment and the shoddy reimbursement structure for outpatient imaging facilities are projected to limit the growth of the diagnostic imaging services market in the future years.
Report Attributes

Details

Anticipated Base Year Value (2021)

US$ 555 Million

Expected Market Value (2022)

US$ 585 Million

Projected Forecast Value (2032)

US$ 1 Billion

Global Growth Rate (2022-2032)

5.51% CAGR

Key Diagnostic Imaging Services Service Providers

RadNet, Inc.
Alliance Healthcare Services, Inc.
Sonic Healthcare
Novant Health (MedQuest Associates Inc.)
Dignity Health
In Health Group
Center for Diagnostic Imaging
Shields MRI
I-MED Radiology Network (Permira)
Sonic Healthcare
The worldwide burden of chronic diseases is increasing, and medical imaging methods play an important role in the proper identification of chronic diseases. The ageing of the population, as well as changes in cultural behavior, are all leading to an increase in these prevalent and costly long-term health concerns. Cancer, cardiovascular disease, obesity, and diabetes account for the majority of chronic illness mortality. According to GLOBOCAN, around 19.3 million new cases of cancer were recorded globally in 2020, with this figure anticipated to rise to 30.2 million by 2040. The emerging markets would be the most affected, as population growth is expected to be greatest in developing nations.
Contemporary models for therapy and diagnosis are being created to deliver exact outcomes, aid in illness identification, and reduce the cost of treating certain diseases. People are getting more capable of accessing imaging technologies for early illness diagnosis as their disposable income rises.
Moreover, as a result of advancements in digital and communication technologies, the medical imaging area has evolved at a rapid rate. Most diagnostic laboratories and hospitals now have new imaging methods that disclose more anatomical features. The goal is to enhance access and precision, reduce costs, and reduce the adverse effects of radiation. The trend is going away from fixed equipment and toward portable equipment. For example, until recently, the size and power requirements of ultrasonography have hampered its proper usage. Smaller ultrasound machines may now give color-flow Doppler imaging while running purely on battery power.
Know thy Competitors
Competitive landscape highlights only certain players
Complete list available upon request
Diagnostic Imaging Services Market Revenue Analysis 2015-2021 vs. Future Outlook 2022-2032
Diagnostic imaging is an essential component of several healthcare companies throughout the world. Imaging services serve as the foundation for the diagnosis and treatment of a wide range of chronic and infectious disorders. The need for diagnostic imaging services has been steadily increasing as the elderly population pool grows each year. The elderly are twice or three times more likely than the younger group to receive diagnostic imaging.
Diagnostic imaging is critical for recognizing life-threatening disorders such as cancer. Furthermore, diagnostic imaging can detect life-threatening viral disorders such as the recently discovered corona virus. Given the scope of the COVID-19 pandemic, a sizable proportion of the global population has been diagnosed and is receiving treatment. As a result of these developments, the ubiquitous diagnostic imaging services market is expected to grow at a CAGR of 5.51% during the projected period.
Prominent Diagnostic Imaging Services Industry Growth Drivers
To Propel Growth, there is a Need for Personalized Diagnostics and Advanced Technological Support
From wellness and screening to early diagnosis, therapy selection, and follow-up, medical imaging is a crucial component of the whole healthcare continuum. The integration of chronic illness and acute care, image-guided medical procedures, and better treatment planning into normal medical practices across all subspecialties is becoming more common.
Commitment to improving patient care is bolstering the whole medical and diagnostic imaging sector, which in turn is supporting the services business. The increasing sophistication of cross-sectional imaging, together with the incorporation and quick growth of interventional radiology into clinical settings, has benefited modern patient care. Imaging advancements fueled by digital data and technology have changed the imaging sector. Owing to these factors, the worldwide market for diagnostic imaging services is expected to grow steadily during the projected period.
Investigating the Evolutionary Timeline
From Wilhelm Conrad Roentgen's original experiment with a Crookes cathode ray tube, which gave rise to X-rays in 1895, through today's technology-driven medical imaging, the route of progression has broadened. Within days, Roentgen's discovery gained universal acceptance, and the new technology was welcomed by both amateurs and medical authorities. Furthermore, when radiography became an important part of clinical diagnostics, fresh applications and data on disease representation were swiftly compiled.
The decades that followed saw tremendous advancements in medical imaging, fueled by researchers' increased curiosity and an unquenchable quest to better diagnosis and therapies. After more than seven decades, the development of computed tomography (CT) was seen, followed by the creation of magnetic resonance imaging (MRI), which became vital in cancer. Techniques such as ultrasound and nuclear imaging have transformed the face of diagnostic treatment as a result of ongoing research. The digital revolution and crucial technology developments have resulted in significant success during the previous few decades.
More Insights, Lesser Cost (-50% off)
Insights on import/export production,
pricing analysis, and more – Only @ Fact.MR
Key Challenges Prevalent in the Global Diagnostic Imaging Services Market
Inadequate Reimbursement Structure for Outpatient Imaging Facilities may Impede Growth Prospects
The high cost of diagnostic imaging equipment and the poor reimbursement structure for outpatient imaging facilities are projected to limit the growth of the diagnostic imaging services market in the future years.
Country-wise Analysis
What is the Growth Outlook for Diagnostic Imaging Services in the U.S?
North America is reported to have a considerable share of the diagnostic imaging services market and is predicted to maintain this trend during the forecast period, with no noteworthy variations. A significant impact on the market analyzed is also projected as a result of the COVID-19 pandemic. Because COVID-19 is extremely infectious, the American College of Radiology (ACR), which represents over 40,000 radiologists in the United States, has issued advice that CTs and X-rays should not be used as a first-line technique to diagnose or screen for it.
The United States has the lion's share of the diagnostic imaging services market, which may be ascribed to rising technical improvements, greater affordability rates among the population, and an increase in the number of diagnostic operations on an annual basis. Siemens Healthineers got FDA authorization for the Ysio Max digital radiography system in October 2020, which contains new detectors and usability features that improve images and speed up tests. Furthermore, the market is likely to soar during the forecast period due to the existence of well-established healthcare facilities, rising demand for improved healthcare systems among the ageing population, and rising incidence of chronic illnesses.
The rising prevalence of neurological illnesses such as brain tumors is also projected to drive market expansion. According to the National Brain Tumor Society, 700,000 persons in the United States will have a brain tumor by 2020, with an additional 87,000 projected to be diagnosed. As a result of the aforementioned reasons, the market in this area is likely to grow over the forecast period from 2022 to 2032.
How do Growth Prospects appear in the Chinese Market?
As a result of growing government financing and technical breakthroughs in diagnostic imaging services, China is expected to rise substantially. Portable diagnostic equipment is becoming increasingly popular since it significantly decreases scanning and wait time. For example, 3D ultrasonic holography gained popularity and acceptance in 2017 as a result of zero-radiation applications and being an appropriate scanning process for preventative and post-operative tests in breast cancer patients.
Furthermore, the enormous pool of patients, increased knowledge about the condition, improved healthcare infrastructure, and rising government funding in the nations are the primary driving variables for the growth of the diagnostic imaging services market in emerging country like China. China is expected to grow at a CAGR of 5.1%, accounting for more than two-fifths of the market.
Country-wise Forecast CAGRs in the Diagnostic Imaging Services Market
| Country | CAGR |
| --- | --- |
| U.S | 5.3% |
| U.K | 5% |
| China | 5.1% |
| Japan | 5.5% |
| South Korea | 5.6% |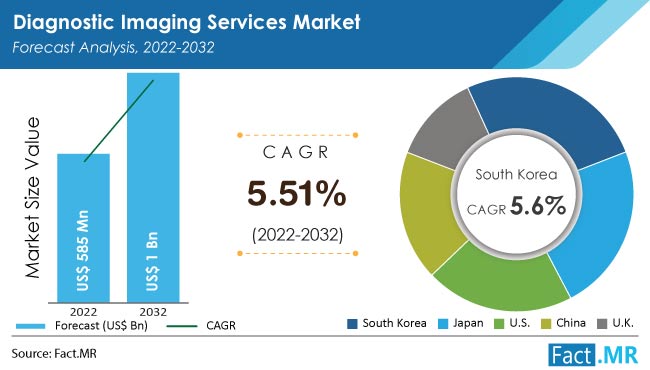 Category-wise Insights
By Service Provider, which Category is likely to lead the Market?
Diagnostic Imaging across Hospitals to be Most Pronounced
Diagnostic imaging services are also provided at hospitals, Diagnostic Imaging Centers, Ambulatory Surgical Centers and others. The hospital sector is expected to have the largest market share in the diagnostic imaging services industry. This is due to an increase in the number of treatments performed in hospitals to improve the quality of patient care.
Which Service Type will Leverage Diagnostic Imaging Services the Most?
CT-scans to be expanded MRI Techniques are rapidly gaining popularity
Throughout the forecast period, Computed Tomography (CT) scanning is expected to be the most popular form of diagnostic imaging technology. Key growth drivers include the capacity to discern between different density levels, depiction of tissues with thicknesses ranging from 1 to 10 millimeters, and the ability for clinicians to view 3D structures in the body.
During the projected period, the CT scanning segment is expected to grow at a CAGR of 5.6%. Following CT scans is the Magnetic Resonance Imaging (MRI) category, which is expected to increase at a CAGR of 5.4% during the forecast period. The capacity to provide clear pictures without using ionizing radiation is a critical growth factor for MRI scanning. It can also detect chemical and structural changes in body structure. It also does not employ harmful radiation, such as X-rays, to generate 3D pictures.
Don't Need a Global Report?
Save 40% on Country & Region specific reports
Competitive Landscape
The worldwide diagnostic imaging services industry is highly concentrated, with only a few service providers present. Companies that provide diagnostic imaging services concentrate on facility acquisition and joint venture development in order to grow their geographic footprint, notably in North American nations. Partnerships enable service providers to work with great radiologists who have been providing patient-centered care in specific locations to serve a larger number of patients. Furthermore, the emphasis remains on the establishment of additional diagnostic facilities with high-end diagnostic imaging modalities in order to meet the expanding demand. The key market players are:
RadNet, Inc.
Alliance Healthcare Services, Inc.
I-MED Radiology Network (Permira)
Sonic Healthcare
Key Segments Covered in the Diagnostic Imaging Services Industry Report
By Service Type

Service Type
Diagnostic Radiology
Ultrasound
Computed Tomography
Magnetic Resonance Imaging
Nuclear Imaging
Others

By Service Provider

Hospitals
Diagnostic Imaging Centers
Ambulatory Surgical Centers
Others

By Region

North America
Europe
Asia Pacific (APAC)
Latin America
Middle East & Africa (MEA)