Closed Molding Composites Market
Closed Molding Composites Market Analysis By Fiber (Glass Fiber, Carbon Fiber, Natural Fiber, Aramid Fiber), By Process (Vacuum Infusion & Bagging, Compression Molding, Injection Molding, Resin Transfer Molding), By Application (Transportation, Aerospace & Defense, Wind Energy, Electrical & Electronics, Construction) & By Region - Global Market Insights 2023 to 2033
Analysis of Closed Molding Composites Market Covering 30+ Countries Including Analysis of US, Canada, UK, Germany, France, Nordics, GCC countries, Japan, Korea and many more
Closed Molding Composites Market Outlook (2023 to 2033)
The global closed molding composites market size has reached US$ 66.2 billion in 2023 and is expected to climb to US$ 117.9 billion by 2033. Global demand for closed molding composites is predicted to increase at a CAGR of 6% during the next 10 years by Fact.MR.
A form of technology called closed molding enables the production of superior polymer composite parts in a shorter period, with fewer scraps, and with lower volatile gas emissions. Open molding techniques are being replaced by closed molding techniques since the former carry poor qualities and environmental problems. Closed molding techniques allow producers to produce items more quickly and consistently than open molding techniques. The necessity for post-work is decreased because the completed pieces have better surface aesthetics.
According to Fact.MR, a market research and competitive intelligence provider, glass fiber composites account for 60% share of the global closed molding composites market in 2023.
Resin transfer molding (RTM) and vacuum infusion process (VIP), two manufacturing techniques used in the production of closed molding composites, are environmentally benign and contribute to a reduction in the atmospheric emissions of volatile organic compounds, such as styrene vapours. Closed molding has several advantages, including improved qualities and higher output, this increases the usage of closed molding composite techniques in various end-use industries, including marine, aerospace, automotive, building, and transportation.
Several factors are likely to support global closed molding composites market growth, such as increasing urbanization across the world, growing popularity of industrial applications, rising number of multinational corporations, enhancement of output through innovative engineering approaches, minimization of energy consumption, and reduction of emission levels.
Fiber-reinforced polymer composites include glass fiber composites. Glass fiber composites are used extensively in the construction, automotive, and aerospace industries and have desirable characteristics including low density, high strength, and ease of processing.
Hybrid glass fiber composites are created by fusing glass fiber with other fibers in a single polymer matrix. In the realm of closed molding composites, hybridization in glass fiber composites sparks fresh concepts.
Glass fiber-reinforced plastic (GFRP) composites are increasingly in demand due to the development of new, high-quality materials. In both established and developing countries, rapid urbanization, and infrastructure development are driving sales of closed molding composites.
Report Attributes

Details

Closed Molding Composites Market Size (2023E)

US$ 66.2 Billion

Forecasted Market Value (2033F)

US$ 117.9 Billion

Global Market Growth Rate (2023 to 2033)

6.1% CAGR

United States Market Growth Rate (2023 to 2033)

5.8% CAGR

United Kingdom Market Growth Rate (2023 to 2033)

7.2% CAGR

Japan Market Growth Rate (2023 to 2033)

5.1% CAGR

China Market Growth Rate (2023 to 2033)

6.7% CAGR

South Korea Market Growth Rate (2023 to 2033)

4% CAGR

Key Companies Profiled

A. Schulman, Inc.
Royal Tencate N.V.
Polynt S.P.A
Exel Composites
Core Molding Technologies, Inc.
Strongwell Corporation
Menzolit GmbH
Continental Structural Plastics, Inc.
Saertex
GKN Aerospace
Huntsman Corporation
Gurit Holding AG
Scott Bader Co. Ltd.
Teijin Ltd.
Chomarat
Molded Plastic Industries Inc.
KraussMaffei Group
New Boston RTM
Seemann Composites Inc.
Don't Need a Global Report?
save 40%! on Country & Region specific reports
What's Driving the Sales of Closed Molding Composites Across the World?
Usage of closed molding composites in various applications is influenced by several variables, including the expanding need for lightweight components in the transportation industry, the move towards renewable energy sources, and increased material recycling.
"Aerospace & Defense Industries Taking Flight with Closed Molding Composites"
Compared to other composites, closed molding composites have various advantages including higher rigidity, electrical conductivity, temperature performance, higher tensile strength, higher chemical resistance, and lighter weight. They are highly utilized in aerospace and defense applications because of these qualities.
In comparison to a majority of woods and metals, composites are lightweight. In the military and aerospace industries, advanced composite materials have a long history. In thermal, chemical, mechanical, and ballistic applications in military aviation, there is a high use of composite materials. These applications specifically make use of fiber-reinforced plastic composites.
"Superior Surface Polish & Non-corrosive Qualities Driving Demand for Closed-molded Composites in Several End-use Industries"
Applications such as construction, transportation, and electrical & electronics are seeing an increase in the demand for closed molding composites produced by the compression molding method since these industries need the superior surface polish and non-corrosive qualities that these composites offer. Composites are effective insulators because they do not readily conduct heat or cold. When further protection from severe weather is required, they are employed in the building sector in panels, doors, and windows.
"Closed Molding Composites Catch Wind - Driving Growth in Renewable Energy Industry"
Renewable energy is becoming widely popular. The closed molding composite sale is expected to be driven by the wind energy industry globally during the forecast period. This is because there is a growing demand for long, lightweight wind turbine blades, which opens up opportunities for carbon fiber composites.
"Carbon Fiber Taking Driver's Seat in 3D-Printed Car Parts"
High adoption of more environmentally friendly building materials is a result of the widespread implementation of strict environmental regulations in countries that are both developed and developing. The benefits of carbon fibers and the related composites are their lower weights and improved fuel efficiency. As a result, the market for luxury and sports cars is driving up demand for activated carbon fibers.
For the production of 3D-printed car parts, carbon fiber is widely used in the automotive sector. The filament is more rigid and robust due to carbon fiber, which is incredibly powerful. As a result, the 3D-printed items are expected to be significantly lighter and more dimensionally stable as the fiber will assist in preventing the part from shrinking as it cools.
Which Challenges are Encountered by Closed Molding Composite Producers?
"High Initial Investments & Raw Materials Costs"
The closed molding process requires specialized equipment and tools, which can be costly to acquire and maintain. This can be a significant barrier to entry for smaller manufacturers who may not have the financial resources to invest in the required equipment.
Closed molding requires specialized raw materials, such as pre-impregnated fibers or resin transfer materials, which may not be readily available in all regions. In the automotive business, only luxury cars use carbon fiber composites (which are very costly), including carbon fiber tapes. Thus, the high cost of raw materials needed for processing and production is also hampering the closed molding composites market growth.
"Few Quality Control Challenges"
Closed molding processes require more precise control over the manufacturing environment, including temperature, humidity, and pressure. This can be difficult to achieve consistently, which may lead to variations in product quality, further hampering sales of closed molding composites.
More Insights, Lesser Cost (-50% off)
Insights on import/export production,
pricing analysis, and more – Only @ Fact.MR
Which Strategies Would Aid New Manufacturers of Closed Molding Composites Gain a Strong Market Position?
"Develop Deep Understanding of Closed Molding Processes"
Invest in learning about the technical and operational aspects of closed molding composites, including the equipment, materials, and manufacturing processes. This will help to develop high-quality products and optimize production processes.
"Focus on Innovation in Composites and Build Strong Network"
Innovation is a critical factor in the composites market. Develop new products and solutions that meet the needs of end users and differentiate your brand from competitors. This can include developing new materials or finding ways to reduce production costs.
Develop relationships with suppliers, customers, and industry experts to gain insights and access to new opportunities. Attend trade shows and conferences to network and stay up-to-date on industry trends.
"Invest in Quality Control"
Closed molding processes require precise control over manufacturing variables to ensure high-quality products. Invest in quality control processes and tools to monitor and optimize production processes, including testing and inspection processes.
By following these strategies, start-up companies may establish a strong position in the closed molding composites industry and grow their business over time.
Fairmat, a company established in 2020, recycles carbon fiber composite for use in composite material applications.
Arris is a leader in manufacturing technology with its headquarters in Berkeley, California was founded in 2017 by industry veterans Ethan Escowitz, Riley Reese, and Erick Davidson. For mass-market applications such as aerospace, automotive, and consumer goods, Arris Composites is the industry leader in next-generation composites.
An ETH Zurich start-up project called Antefil Composite Tech is revolutionizing the production of composites by fusing reinforcing filaments with thermoplastic matrix materials. They are primarily concerned with redefining the cycle time and laminate quality constraints seen in the large-scale production of composites and they offer recyclable material preforms for procedures currently restricted to thermosets.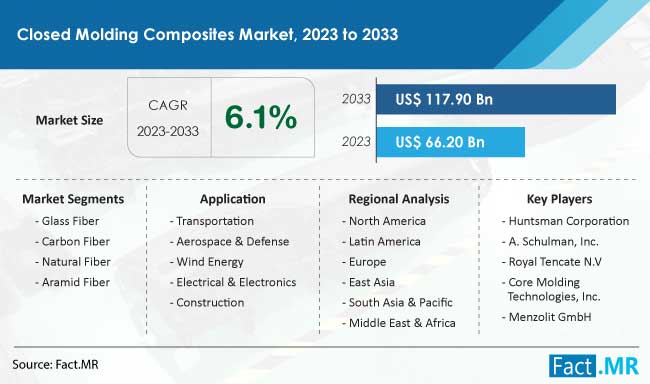 Country-wise Analysis
Which Aspects are Boosting the Sales of Closed Molding Composites in the United States?
"Advancements in Aerospace & Defense Manufacturing Units Due to Introduction of Lightweight, Durable Composites"
Increasing at a CAGR of 5.8%, demand for closed molding composites is expected to reach US$ 28.67 billion by 2033 in the U.S. Significant infrastructural & economic development is boosting the United States market for closed molding composites.
The domestic production, import & export patterns, as well as change in end users buying preferences, is assisting market players in the United States in identifying and seizing potential opportunities. Due to high investments in defense sector by the government, substantial investments in closed molding composite R&D activities, and an abundance of closed moulding composite suppliers are boosting the closed molding composite sales growth in the country.
Why is Demand for Closed Molding Composites Increasing Rapidly in China?
"From Bridges to Smartphones, Diverse Applications of Closed Molding Composites"
Sales of closed molding composites are expected to increase at a CAGR of 6.7% from 2023 to 2033 in China.
Demand for PAN-based carbon fiber composites in China is expected to be driven by growing construction projects during the projected period. Due to growing urbanization and high investment by the Chinese government in infrastructural projects, construction closed molding composites are being used more widely in tunnels, bridges, and structures.
The top producer of electronics worldwide is China. The market for consumer electronics in this country is growing at a rapid pace. Thus, due to these factors, demand for closed molding composites is predicted to reach US$ 29.26 billion by 2033 in the country.
How is Demand for Automotive Composites Progressing in the United Kingdom?
"Leading Green Way – Lightweight & Lower VOC Emission through Composite Use"
Demand for closed molding composites is predicted to expand at a CAGR of 7.2% from 2023 to 2033 in the United Kingdom.
Through creative engineering solutions, the closed molding process increases productivity, minimizes energy use, and lowers volatile organic compound (VOC) emission levels. The consumption of composites is experiencing a substantial rise in the automotive sector of the United Kingdom.
The United Kingdom's automotive sector is one of the major industries operating in the European region. Demand for automotive composites in automobile manufacturing is increasing due to their lightweight feature as they aid in reducing vehicle weight and carbon emissions.
Know thy Competitors
Competitive landscape highlights only certain players
Complete list available upon request
Category-wise Analysis
Why is Demand for Closed Molding Composites High in Aerospace & Defense Production Facilities?
"Lightweight & Strong - Advantages of Composite Materials in Aerospace & Defense Product Manufacturing"
In a rigid resin matrix, stiff fibers are used to create composite materials. Composites are materials that have a low density, high stiffness, strength, and toughness. They are constructed by blending natural and synthetic materials with complementary features.
Since there is a greater need for lightweight aircraft parts to increase fuel efficiency, closed molding composites are replacing other materials such as metals in the aerospace and defense industries.
Compared to wood and metals, composite materials are lightweight. The new Boeing 787 Dreamliner is one example of a modern aircraft that uses more composite materials than metals in construction.
In comparison to conventional materials, carbon fiber composites have a high strength-to-weight ratio. Demand for closed molding composites in aerospace and defense manufacturing facilities is expected to expand at a CAGR of 6.3% during the forecast period.
Competitive Landscape
Strategic alliances and collaborations are viewed as an effective strategy by leading manufacturers of closed molding composites for boosting their market share. Furthermore, businesses are teaming up to conduct R&D projects to increase their chances of succeeding in the market.
The National Institute for Aviation Research (NIAR) at Wichita State University and Solvay collaborated to launch a manufacturing innovation centre in August 2022. This innovation hub serves as a testing ground to investigate the benefits of novel composite material structures and production techniques that may result in the creation of lighter, safer, and more environmentally friendly aircraft.
Key Segments of Closed Molding Composites Industry Research
By Fiber :

Glass Fiber
Carbon Fiber
Natural Fiber
Aramid Fiber

By Process :

Vacuum Infusion & Bagging
Compression Molding
Injection Molding
Resin Transfer Molding

By Application :

Transportation
Aerospace & Defense
Wind Energy
Electrical & Electronics
Construction
Others

By Region :

North America
Latin America
Europe
East Asia
South Asia & Oceania
MEA
- FAQs -
The global closed molding composites market is valued at US$ 66.2 billion in 2023.
The market for closed molding composites is expected to reach US$ 117.9 billion by 2033.
Sales of closed molding composites are predicted to increase at a CAGR of 6.1% from 2023 to 2033.
Sales of glass fiber are progressing at a healthy pace due to their low density, high strength, and easy processing qualities.
The United Kingdom currently holds a dominating position in the European market for closed molding composites and is predicted to evolve rapidly at 7.2% CAGR.