Composites Testing Market
Composites Testing Market Analysis by Product (Continuous Fiber Composites, Discontinuous Fiber Composites, Polymer Matrix Composites, Ceramic Matrix Composites), Testing Method (Destructive Testing, Non-destructive Testing), by End-use Industry & Regional Forecast 2022-2032
Analysis of Composites Testing market covering 30 + countries including analysis of US, Canada, UK, Germany, France, Nordics, GCC countries, Japan, Korea and many more
Market Outlook of Composites Testing
Global demand for composites testing reached a market value of US$ 1.6 Billion in 2021, and is forecast to be valued at US$ 1.8 Billion in 2022, representing a Y-o-Y increase worth 12.5%.
During the 2022-2032 assessment period, the industry is poised to register a value CAGR worth 5.2% to reach US$ 3 Billion.
Report Attributes

Details

Anticipated Base Year Value (2021)

US$ 1.6 Billion

Expected Market Value (2022)

US$ 1.8 Billion

Projected Forecast Value (2032)

US$ 3 Billion

Global Growth Rate (2022-2032)

5.2% CAGR

Growth Rate of the U.S (2022-2032)

5.8% CAGR

Expected Market Value of China (2032)

US$ 900 Million

Key Composites Testing Service Providers

Exova Group
Intertek Group
Mistras Group Inc.
Element Materials Technology
Westmoreland Mechanical Testing & Research Inc.
Matrix Composites
Instron
ETIM Composites Testing Laboratory
Henkel AG & CO. KGaA
Know thy Competitors
Competitive landscape highlights only certain players
Complete list available upon request
Composites Testing Market Revenue Analysis 2015-2021 vs. Future Outlook 2022-2032
According to Fact.MR, a market research and competitive intelligence provider, historically, from 2015 to 2021, demand for composites testing increased at a 3% CAGR, owing to the increasing use of composites in transportation, aerospace, defense, and wind energy, all of which require stringent testing standards to be met.
Other uses of composites, including as building and construction, sporting goods, and electrical and electronics, are driving the increase in demand for composites testing. Different types of composites used in all of the aforementioned applications must meet severe testing criteria at every stage of the composite manufacturing supply chain.
With the increasing use of composites in the defense and aerospace industries, the need for composites testing on modern commercial aircrafts has grown over the years. The high amount of composites used in aero plane constructions, which necessitates specialized testing procedures, has created several opportunities for industry participants. The market for composites testing is expected to more than double in the next 10 years, reaching over US$ 3 Billion by 2032.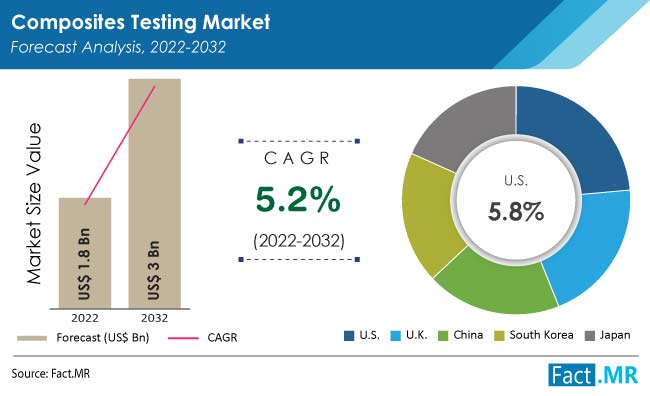 Prominent Composites Testing Industry Growth Drivers
Opportunities are available for Composites Testing Suppliers
With increased demand for composites from a variety of sectors, chances for composites testing appear to be promising in the future years. With the aerospace industry's increasing demand for lightweight composite materials and expanding quality and safety requirements as a significant necessity, composites testing are developing as a profitable and rapidly growing business opportunity. Furthermore, significant expenditures in the construction of cutting-edge composites testing facilities in Asia Pacific are fueling market expansion.
This testing procedure is widely utilized in the aero plane, automobile, and aerospace sectors to qualify the performance of composite materials, with significant investment predicted in all of the industries listed. Composite materials are also widely used in the design of critical components in sports, ships, buildings, and other high-performance applications that require adherence to high levels of safety and durability, causing the composites market to be subjected to severe restrictions in order to meet composite testing and manufacturers' proprietary testing requirements.
Because of this factor, worldwide demand for composites testing is expected to increase in the next years, creating a favorable environment for development and profitability. The expanding oil and gas sector, as well as the expanding chemical industry, will boost the need for composite pipes and tanks even higher. Various factors such as increased composite material usage in various industries, increased commercial aircraft production, increased R&D investments, rising safety standards in various industries, and rising demand for lightweight materials will drive profit growth for composites testing during the evaluation period of 2022-2032.
Key Challenges Prevalent in the Global Composites Testing Market
High Cost as well as Lack of Awareness may Impede Growth Prospects
High processing and material costs, a lack of awareness, and a lack of proper product standardization are some of the factors limiting composites testing service providers. Currently, few firms are investing in R&D, and instead of developing cutting-edge technology, more funds are being focused into developing technology that is relatively useful.
This is stifling the expansion of composites testing services. In addition, there is a severe shortage of skilled personnel to undertake composites material testing, which is hampering market growth. Furthermore, the COVID-19 pandemic had a significant influence on demand for composites testing since most industrial activities had been halted, which in turn had a significant impact on demand and the supply chain. Another aspect providing a significant threat to market growth is the non-recyclability of composite materials.
Many of the existing generic material recycling technologies do not cater to high-end composite materials, and these materials are frequently challenging for disposal. A great deal of research is being conducted to address the problem of composite material disposal and recycling, which will, in turn, tackle the primary challenge confronting the composites sector.
Country-wise Analysis
Why is there a Surge in Demand for Composites Testing in China?
According to the China Automotive Association, car manufacturing climbed by 30% in 2018. Growth has been ascribed to the country's FDI (foreign direct investment) policy, which has favored China's car sector and encouraged many well-known global companies to invest in it.
This has resulted in a significant demand for composites testing in the nation, particularly from the automobile industry. According to Fact.MR, demand for composites testing in China is poised to register a CAGR worth 4.7% from 2022 to 2032.
How is Japan's thriving Automobile Industry Driving Demand for Composites Testing?
According to a report by Japan's Automobile Manufacturers Association, total demand for passenger cars and commercial vehicles in Japan in 2017 was 5.19 million units, a 2.2% increase over the previous fiscal year, with sales of passenger cars and CVs (computer controlled vehicle systems), excluding mini-vehicles, totaling 3.34 million units and sales of mini-vehicles totaling 1.86 million units, a 7.9% increase.
Japan's thriving automobile sector has boosted demand for composites testing, and this trend is projected to continue in the coming years. A CAGR worth 4.5% has been forecast for the 2022-2032 period of assessment for the Japanese composites testing market.
Country-wise Forecast CAGRs in the Composites Testing Market
| | |
| --- | --- |
| Country Wise Analysis | Growth Rate |
| U.S | 5.8% |
| U.K | 5% |
| China | 4.7% |
| Japan | 4.5% |
| South Korea | 4.6% |
More Insights, Lesser Cost (-50% off)
Insights on import/export production,
pricing analysis, and more – Only @ Fact.MR
Category-wise Insights
Why are Mechanical Composites Testing highly Demanded?
Increasing Demand across various Application to be Top Growth Driver in the Coming Years
Mechanical composites testing has the greatest market share, accumulating a market share worth 36%, and its rapid rise may be due to rising demand for composites in a variety of applications such as vehicle interiors, medical devices, defense, and others. The addition of high strength fibres to a polymer matrix can increase mechanical parameters such as ultimate tensile strength, temperature resistance, and flexural modulus significantly. Mechanical testing is still in great demand due to these high-end structural applications of composites.
Mechanical composites testing have the largest market share, and its quick growth might be attributed to increased demand for composites in a number of applications such as car interiors, medical devices, defense, and others. The insertion of high strength fibres to a polymer matrix can greatly improve mechanical properties such as ultimate tensile strength, temperature resistance, and flexural modulus. Mechanical testing is still in high demand as a result of composites' high-end structural applications.
Why is Continuous Fiber Testing so Popular across the Globe?
Continuous Fibres and the Testing that follows them are in High Demand all around the World
Continuous fiber composites are laminated materials in which individual layers, piles, or lamina are oriented to maximize strength in any principal load direction.
Continuous fibres have a high tensile strength and thermoplastic matrix systems with a relatively low glass transition temperature, such as polypropylene/glass fiber, and are thus employed in a variety of automotive applications. Because of these multi-specialty applications, continuous fibres and their subsequent testing are in high demand all over the world.
Which End-Use Industry Leads the Composites Testing Industry?
Composites are in High Demand in a Variety of Automotive Applications
The vehicle sector continues to dominate composites testing demand, rising at a CAGR of more than 7%. Composites combine the typical benefits of semi-crystalline thermoplastic matrix composites in terms of molding processes, chemical resistance, damage tolerance, and environmental resistance.
As a result, composites are in high demand in a variety of automotive applications. With the ever-expanding automotive sector and its demand for composites all over the world, this category is seeing the most growth among end-users.
Competitive Landscape
According to Fact.MR's composites testing industry study, the market is fairly consolidated due to the existence of a few significant players on a worldwide scale. Market participants see strategic partnerships and collaborations as a viable approach to increasing their market share. Companies are also partnering to perform R&D operations and expand their market potential. Among the significant developments are:
In October 2019, a team of researchers from the University of Texas at Arlington began investigating new modelling approaches for economical, long-term testing of composite materials. The Air Force Research Lab also provided funding of US$ 2.3 million to continue a joint effort with colleagues from Wichita State University.
Continuous Composites, an additive manufacturing materials firm, announced collaboration with Arkema, a French advanced materials company, in September 2019 to merge Continuous Composites' proprietary Continuous Fiber 3D (CF3D) printing technique with Arkema's photocurable resin solutions.
Key Segments Covered in the Composites Testing Industry Report
by Product :

Continuous Fiber Composites
Discontinuous Fiber Composites
Polymer Matrix Composites
Ceramic Matrix Composites

by Testing Method :

Destructive Testing Method of Composites Testing
Non-destructive Testing Method of Composites Testing

by End-use Industry :

Aerospace & Defense
Transportation
Building & Construction
Wind Energy
Marine Industry

by Region :

North America
Europe
Asia Pacific
Latin America
Middle East & Africa
- FAQs -
By 2022, Fact.MR expected demand for composites testing to reach US$ 1.8 Billion
By 2032, Fact.MR expects the U.S market for composites testing to reach US$ 1.1 Billion
From 2015-2021, the composites testing market grew at a 3% value CAGR
From 2022-2032, composites testing demand is likely to surge at a 5.2% CAGR
By 2032, the market for composites testing is likely to be valued at US$ 3 Billion
As of 2021, Fact.MR estimated the composites testing market to have reached US$ 1.6 Billion
China is expected to register a 4.7% CAGR with regard to the Composites Testing industry
Japan is expected to document a CAGR worth 4.5% in the composites testing market
The automotive sector continues to dominate composites testing demand, rising at a CAGR of more than 7%.