Non-Destructive Testing Market
Non-Destructive Testing Market Analysis By Application (Services, Equipment), By Test Method (Visual Testing, Magnetic Particle Testing, Liquid Penetrant Testing, Eddy Current Testing, Ultrasonic Testing, Radiographic Testing), By End Use (Oil & Gas, Manufacturing, Aerospace & Defense, Construction, Automotive, Power Generation) & By Region - Global Market Insights 2023 to 2033
Analysis of Non-Destructive Testing Market Covering 30+ Countries Including Analysis of US, Canada, UK, Germany, France, Nordics, GCC countries, Japan, Korea and many more
Non-Destructive Testing Market Outlook (2023 to 2033)
The global non-destructive testing market is valued at US$ 9.58 billion in 2023 and is predicted to expand at a CAGR of 5.8% from 2023 to 2033. The market is thus expected to end up at a valuation of US$ 16.84 billion by 2033.
Non-destructive testing (NDT) involves the examination, assessment, and analysis of materials, components, or assemblies to detect flaws or variations in their properties, without causing any damage that would render the part or system unusable.
Various industries such as aerospace, defense, oil & gas, power generation, and automotive rely on NDT techniques to verify the integrity and reliability of their products. By employing NDT solutions, these industries can ascertain vital physical characteristics of materials, including impact resistance, ductility, yield strength, ultimate tensile strength, fracture toughness, and fatigue strength.
Increasing demand for efficient testing methods, stringent quality regulations, and the need to minimize operational downtime and repair costs are boosting growth in the non-destructive testing market. Visual testing, magnetic particle testing, liquid penetrant testing, eddy current testing, ultrasonic testing, and radiographic testing are some of the non-destructive testing methods.
According to Fact.MR, a market research and competitive intelligence provider, demand for ultrasonic non-destructive testing methods is predicted to increase at a CAGR of 6.5% over the next 10 years.
Non-destructive ultrasonic testing allows for thorough inspections without causing damage to the test object, making it a preferred method for quality control and maintenance purposes. Ultrasonic NDT provides precise defect detection, even in small sizes, and offers accurate measurements of material thickness and flaw dimensions. The technique applies to a wide range of materials, including metals, plastics, ceramics, composites, etc. It can be adapted to various shapes, sizes, and surface conditions.
Ultrasonic NDT provides immediate results, enabling real-time decision-making and facilitating quick repairs or further investigations when necessary. Modern ultrasonic testing equipment is lightweight, portable, and user-friendly, allowing for easy deployment in various field environments.
Ultrasonic non-destructive testing is a powerful method for evaluating the integrity and quality of materials and structures. Its ability to provide accurate defect detection, precise measurements, and real-time inspection makes it indispensable in industries such as manufacturing, aerospace, automotive, and infrastructure.
Report Attributes
Details

Non-Destructive Testing Market Size (2023E)

US$ 9.58 Billion

Forecasted Market Value (2033F)

US$ 16.84 Billion

Global Market Growth Rate (2023 to 2033)

5.8% CAGR

Germany Market Growth Rate (2023 to 2033)

8.1% CAGR

United States Market Growth Rate (2023 to 2033)

6.5% CAGR

Japan Market Value (2033F)

US$ 1.03 Billion

China Market Value (2033F)

US$ 3.5 Billion

India Market Value (2033F)

US$ 1.38 Billion

Key Companies Profiled

General Electric Company
Nikon Metrology NV
Olympus Corp.
Zetec Inc.
Eddyfi Technologies Inc.
Fisher Technologies Inc.
Ashtead Technology Ltd.
Mistras Group Inc.
Yxlon International GmbH
Sonatest Ltd.
Don't Need a Global Report?
save 40%! on Country & Region specific reports
Which Aspects are Driving Non-Destructive Testing Market Growth?
"Emergence of AI & IoT Driving NDT's Journey towards Perfection"
Non-destructive testing (NDT) techniques employ sophisticated machinery and equipment to achieve superior flaw detection results. The continuous technological advancements in sensors, the emergence of the Internet of Things (IoT), and the utilization of wireless sensors have significantly contributed to the growing demand for NDT, primarily due to their exceptional accuracy in testing outcomes.
Among various NDT methods, ultrasonic testing tomography is one of the most accurate methods, which incorporates an optical positioning system and software algorithms supported by artificial intelligence (AI). The utilization of an advanced analysis algorithm enables precise identification of probe positioning during the measurement process, enhancing the overall accuracy of the results obtained.
In 2018, Lynx Inspection Company introduced the ground-breaking Predictive 3D Radiography method, which revolutionized flaw detection and analysis. By combining 3D technology with X-ray imaging, the company enabled comprehensive assessment of intricate internal and external structures. This innovation had a transformative impact on machine vision solutions for parts manufacturing companies, offering cost-effective options for enhancing quality control.
In December 2021, VisiConsult reported that PFW Aerospace, a subsidiary of Hutchinson and a leading aviation supplier, has been exploring the integration of artificial intelligence (AI) to enhance its non-destructive testing practices. PFW Aerospace has embarked on evaluating an AI prototype, which includes test operations and a statistical qualification report. The use of AI substantially facilitates adherence to high-quality requirements in non-destructive testing by simplifying X-ray examination of longitudinally welded joints on titanium tubes as well as other test items.
"Non-Destructive Evaluation Safeguarding Integrity of Aircraft"
The aerospace industry demands the highest standards in terms of structure, materials, and strength to ensure optimal quality. This requirement is met through the implementation of non-destructive evaluation (NDE) techniques, which are also known as non-destructive inspection (NDI) and non-destructive examination (NDE). Failing to address surface defects, weaknesses, and cracks can pose significant risks, potentially leading to fatal accidents and loss of life.
A report released by an aviation consulting firm highlighted the safety improvements within the industry. In 2018, the rate of fatal accidents for large commercial planes stood at 0.3 accidents per million flights. This figure decreased to 0.18 accidents per million flights in 2019. These statistics demonstrate the positive impact of stringent quality control measures.
Non-destructive testing is a widely employed inspection method utilized during the assembly process of aircraft parts and components. This testing procedure is essential because aircraft components are highly susceptible to fatigue cracks, which may develop over time. By conducting NDT, potential flaws can be identified and addressed before assembly, ensuring the integrity and reliability of the aircraft.
Currently, visual inspection is the predominant method used worldwide, accounting for approximately 80% of inspections conducted on aircraft. This approach involves visually examining the aircraft for any signs of damage.
Methods such as magnetic particle testing and eddy-current testing are increasingly being utilized to inspect aircraft components. These methods offer advanced capabilities to detect cracks, flaws, and leaks in various systems, components, and parts of an aircraft.
Availability of these excellent testing methods contributes to the overall growth of the market. As these techniques continue to evolve and improve, they are predicted to enhance the efficiency and accuracy of inspections, ensuring the safety and reliability of aircraft.
"Utilization of NDT Techniques in Oil & Gas, Automotive, & Power Industries"
The NDT technique plays a crucial role in various industries such as oil & gas, automotive, and power. It encompasses extensive research and development (R&D) methods, comprehensive training, and service-based supply chains. In the oil & gas sector, this technique is employed to effectively examine both internal and external corrosion in pipelines. A range of methods is utilized, including visual inspection, liquid penetrant inspection, magnetic particle inspection, and ultrasonic inspection.
In the power industry, NDT techniques are utilized to inspect pressure systems as well as steam and gas turbines. Additionally, it finds application in nuclear power plants for inspecting fuel rods, small valves, waste containers, and waste management infrastructure. As a result, the increasing demand for the NDT methodology in the oil & gas and power industries is driving the market.
Enhanced NDT technologies also offer significant advantages in inspecting pipes, welds, valves, pressure systems, and storage vessels throughout all phases of the production cycle. These innovative NDT technologies contribute to improved operational efficiency and reliability. The advancements in probes, instrumentation, and software have led to accurate and rapid inspections, benefiting various industries.
In October 2020, Novosound introduced a new line of advanced NDT products, including Belenus, Kelpie, and Nebula. These products are specifically designed to streamline and enhance NDT inspections, minimizing downtime in sectors such as oil & gas, energy, aerospace, and renewables. Their introduction represents a significant step towards simplifying and optimizing NDT processes in these industries.
Which Facets are Restraining Sales Growth of NDT Technologies?
"High Cost of Advanced Instrumentation Required for Non-Destructive Testing"
One key limitation is the requirement for sophisticated and high-value advanced instrumentation to carry out NDT. The process of analyzing and detecting cracks, flaws, leakages, and troubleshooting demands the use of cutting-edge machinery and instruments to ensure the highest level of accuracy. This reliance on advanced NDT equipment is anticipated to hamper the financial budget of some users.
"Shortage of Skilled Workforce"
Another significant challenge is the lack of qualified and skilled professionals capable of operating the testing instruments effectively. The shortage of a proficient workforce to handle and manage the intricacies of NDT equipment is predicted to impede product demand over the forecast period.
More Insights, Lesser Cost (-50% off)
Insights on import/export production,
pricing analysis, and more – Only @ Fact.MR
How is the Non-Destructive Testing Market for New Companies?
"Setting Bar Higher: Start-ups Pioneering Cutting-Edge NDT Solutions"
The market is experiencing rapid technological advancements, leading to the development of innovative tools, equipment, and techniques. New companies are expected to use these advancements to offer cutting-edge solutions and differentiate themselves from established players.
With increasing emphasis on quality control, safety, and reliability, the demand for NDT services is on the rise. Start-up companies are offering comprehensive and reliable NDT solutions that meet industry standards and regulatory requirements.
As the demand for skilled NDT professionals is increasing, new entrants are contributing by offering training programs, certifications, or educational resources to develop a qualified workforce. Providing specialized training is expected to establish credibility and create a niche market for newcomers.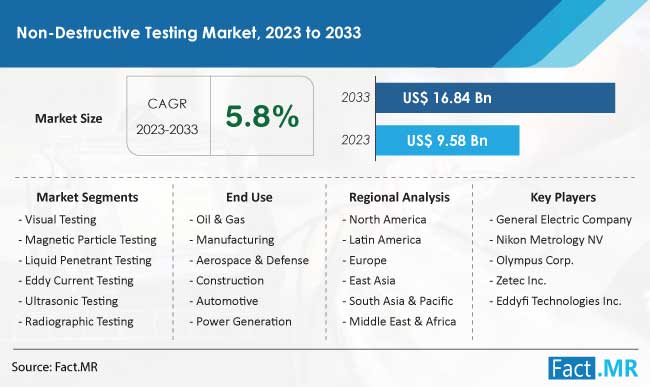 Country-wise Analysis
What is Driving Revenue Growth of NDT Suppliers in the United States?
"Use of NDT Technology in Renewable Energy Generation"
Progressing at a CAGR of 6.5%, the market for NDT methods in the United States is projected to reach US$ 3.92 billion by the end of 2033.
According to the United States Energy Information Administration, the electric power sector dominated the landscape of United States utility-scale electricity generation in 2021, accounting for approximately 96% of the total output.
Notably, renewable energy sources contributed around 20% of the total electricity generation in the United States in 2021. As the momentum of renewable energy generation continues to build, non-destructive testing technology sales in the United States are predicted to increase at a healthy pace over the forecast period. The need to ensure the structural integrity and reliability of renewable energy systems is likely to spur the adoption of NDT techniques, creating opportunities for several market players.
How are NDT Methods Safeguarding the Aerospace Industry in Germany?
"High-quality Assurance of German Aerospace Materials & Components"
Sales of NDT solutions in Germany are predicted to increase at a CAGR of 8.1% over the coming 10 years.
With its robust economy and substantial global military and aerospace expenditure, Germany stands as one of the leading marketplaces in the European region. The nation boasts prominent defense manufacturers such as Krauss-Maffei Wegmann GmbH & Co. KG, Rheinmetall AG, and more. These leading companies are driving the development of cutting-edge defense technologies, accelerating production rates, and fostering innovation through national and international investments, collaborations, and partnerships.
Non-destructive testing (NDT) emerges as a highly effective method for identifying even the tiniest imperfection or damage in aerospace materials and components throughout their operational lifespan. It offers a meticulous inspection process that doesn't compromise the integrity of the tested item. As Germany's defense sector thrives, the demand for NDT technologies in ensuring the quality and reliability of aerospace materials and components continues to grow.
Why is Japan a Fast-Evolving Market for Non-destructive Testing Technology Companies?
"Leading the Way - Revolutionizing NDT with AI, ML, & Data Analytics"
Japan is renowned for its commitment to quality control and adherence to rigorous industry standards. This emphasis on quality has led to higher adoption of NDT technologies to ensure the integrity and reliability of structures, equipment, and materials.
The market for NDT technologies in Japan is likely to reach US$ 1.03 billion by the end of 2033. Japan is at the forefront of technological innovation, and the NDT sector is no exception. The integration of digital solutions such as artificial intelligence (AI), machine learning (ML), and data analytics is enhancing the accuracy and efficiency of NDT inspections. Advanced techniques such as phased array ultrasonic testing (PAUT), computed tomography (CT), and laser-based methods are also gaining traction in the market.
Know thy Competitors
Competitive landscape highlights only certain players
Complete list available upon request
Category-wise Analysis
Who are the Prime End Users of NDT Technologies?
"Manufacturing Companies Employing NDT Services to Avoid Product Recalls and Ensure Safety"
Demand for NDT solutions in manufacturing facilities is projected to expand at a CAGR of 6.2% from 2023 to 2033. The high demand for non-destructive testing (NDT) services globally is attributed to the continuous growth of manufacturing facilities worldwide. As the manufacturing sector expands, it is increasingly adopting various NDT processes, resulting in a significant rise in sales.
NDT technologies allow manufacturers to assess the quality and reliability of their products, ensuring they meet industry standards and customer expectations. By detecting defects, flaws, or irregularities in materials, components, or assemblies, NDT helps identify potential failures before they occur, reducing the risk of costly recalls or product failures.
Competitive Landscape
The market for non-destructive testing is witnessing upcoming trends focused on the design of technologically advanced NDT techniques. These techniques involve the utilization of a combination of existing methods and the development of new materials.
Leading companies are actively embracing strategies such as acquisition, agreements, and partnerships to foster their revenue growth. They are also making significant investments in research and development activities to stay competitive and maintain their market position.
In September 2022, Waygate Technologies, a renowned global leader in industrial inspection and non-destructive testing solutions, unveiled Krautkrämer SpotVision. This state-of-the-art phased array ultrasonic solution is specifically designed for spot weld inspection purposes. Waygate Technologies, a Baker Hughes business, continues to push boundaries in the field of NDT with the introduction of this advanced technology.
Key Segments of Non-Destructive Testing Industry Research
By Application :

By Test Method :

Visual Testing
Magnetic Particle Testing
Liquid Penetrant Testing
Eddy Current Testing
Ultrasonic Testing
Radiographic Testing

By End Use :

Oil & Gas
Manufacturing
Aerospace & Defense
Construction
Automotive
Power Generation

By Region :

North America
Latin America
Europe
East Asia
South Asia & Oceania
MEA
- FAQs -
The global non-destructive testing market is valued at US$ 9.58 billion in 2023.
By 2033, worldwide sales of non-destructive testing technologies are projected to reach US$ 16.84 billion.
Demand for non-destructive testing solutions is predicted to rise at a CAGR of 5.8% from 2023 to 2033.
Evolving at a CAGR of 8.1%, Germany holds a leading position in the European market for non-destructive testing.