Connected Ship Market
Connected Ship Market Analysis By Ship Type (Commercial, Defense, Cargo), By Installation (Onboard, Onshore), By Application (Vessel Traffic Management, Operation, Fleet Health Monitoring), By Fit (Line Fit, Retrofit, Hybrid Fit), By Platform (Ships, Ports) and By Region – Global Market Report (2024 to 2034)
Analysis of Connected Ship Market Covering 30+ Countries Including Analysis of US, Canada, UK, Germany, France, Nordics, GCC countries, Japan, Korea and many more
Connected Ship Market Outlook (2024 to 2034)
The global connected ship market size is expected to reach a value of US$ 8.49 billion in 2024 and is forecasted to climb to US$ 15.35 billion by 2034, recording a noteworthy CAGR of 6.1% during the forecast period (2024 to 2034). The market is undergoing deep transformation, altering the operational landscape of the marine industry through novel technology and digitization.
Demand for connected ships is rising rapidly and offering new opportunities for stakeholders all over the world as ships evolve into intelligent, data-driven platforms. Adoption of the Internet of Things (IoT) and high-speed connectivity, which enable real-time data interchange among ship systems, are key drivers.
Advanced data analytics enable ship owners and operators to make more informed decisions, improve repair schedules, and cut operational expenses. Strict environmental restrictions and worldwide concerns about sustainability are driving the marine industry to adopt connected ship solutions that cut emissions and the carbon footprint of the industry.
Key Market Growth Drivers
Maritime safety standards are growing increasingly stringent, compelling ship owners and operators to invest in safety and compliance-enhancing technologies.
The marine industry is under pressure to cut operating expenses. Connected ship technology enables cost savings through improved fuel management, predictive maintenance, and operational efficiency.
Adoption of technology that reduces the carbon footprint and environmental impact of shipping operations is crucial for long-term sustainability.
Advantages of real-time data and remote management are becoming more apparent, fueling the adoption of linked ship technology.
To meet the growing demands of transportation, expansion of international trade requires the use of ships that are both efficient and interconnected. The global supply system relies heavily on the maritime industry, emphasizing the importance of its adaptability and innovation.
The connected ship market envisions a future in which vessels are smarter, more sustainable, and essential to the smooth operation of the global supply chain.
Report Attributes
Details
Connected Ship Market Size (2023A)
US$ 8 Billion
Estimated Market Value (2024E)
US$ 8.49 Billion
Forecasted Market Value (2034F)
US$ 15.35 Billion
Global Market Growth Rate (202 to 2034)
6.1% CAGR
Fleet Operations Application Segment Share (2023)
23.13%
Leading Type (2034)
Defense Ships
Key Companies Profiled

Northrop Grumman Corporation
Wärtsilä Corporation
Kongsberg Gruppen AS
Marlink AS
General Electric Co.
ABB
Thales Group
Emerson Electric Co.
Rockwell Automation Inc.
Ulstein Group ASA
Valmet Oyj
Jason Inc.
Inmarsat PLC
Synectics Global
Hyundai Heavy Industries Co.
RH Marine
Schneider Electric
Don't Need a Global Report?
save 40%! on Country & Region specific reports
How are Connected Ship Technologies Enhancing Maritime Operations?
"Connected Ships Facilitating Real-time Monitoring and Predictive Maintenance"
In an industry where crew, cargo, and vessel safety are critical, connected ship technology provides new solutions that greatly improve marine shaft power meter safety and regulatory compliance. Connected ships can proactively identify and handle possible safety hazards by offering real-time monitoring, predictive maintenance, and data-driven insights. This decreases the likelihood of accidents, enhances emergency response, and protects the lives of the crew members.
Strong international rules, such as the International Maritime Organization's (IMO) SOLAS and MARPOL agreements, require ships to meet stringent safety and environmental criteria. Ship owners and operators can comply with these increasing regulatory requirements with connected ship solutions, avoiding penalties and reputational damage.
Emphasis on safety and compliance extends to areas like as navigational safety, emergency response, and cybersecurity, ensuring that the commitment to maritime safety and environmental preservation is maintained.
"Vessel Connectivity Supporting Global Expansion of Trade"
International trade is thriving in a more interconnected world, and maritime transportation plays an important part in the global supply chain. As the volume of products transported across oceans increases, so does the demand for connected ships. Connected ships are well-equipped to manage the problems provided by increased cargo quantities, ensuring timely and secure cargo transit.
The intricacies of current trade routes, which frequently involve many smart ports and transshipment sites, require advanced navigational and logistical capabilities. With its real-time data interchange and predictive analytics, connected ship technology enables vessels to optimize routes, cut transit times, and improve the overall efficiency of global trade operations.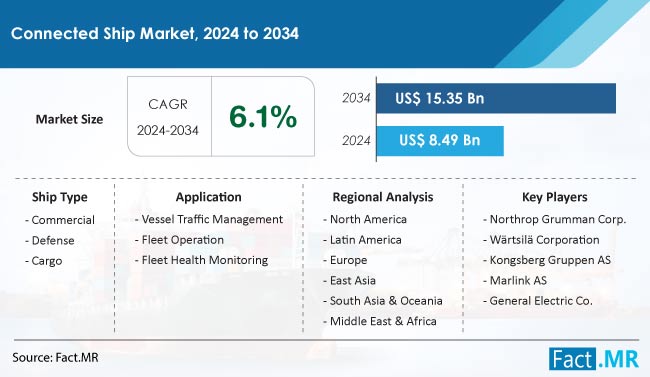 What's Limiting the Sales Growth of Connected Ships?
"Concerns about Maritime Cybersecurity in Smart Ship Solutions"
Ships grow vulnerable to cyberattacks as they become more connected and reliant on digital systems. Maritime cyberattacks can have serious effects, including jeopardizing the safety of ships, cargo, and crew. Hackers may exploit flaws in onboard systems to gain unauthorized access, modify data of connected navigation systems, or damage critical systems, potentially resulting in accidents or hijackings.
Data breaches, information theft, and ransomware assaults are also major concerns. Keeping connected ship systems secure is a difficult and ever-changing task. It necessitates ongoing monitoring, regular updates, and sophisticated security procedures, which can be costly and time-consuming. Ship operators must invest in solid cybersecurity solutions, train their crew regularly, and stay up-to-date on the latest cybersecurity threats and protection methods.
More Insights, Lesser Cost (-50% off)
Insights on import/export production,
pricing analysis, and more – Only @ Fact.MR
How are Start-ups Complementing the Growth of the Connected Ship Market?
"High Focus on Development of Standard-compliant Maritime Communication Systems"
Start-ups seeking to flourish in the market are identifying specific areas within the connected ship ecosystem, such as cybersecurity, predictive maintenance, or data analytics. This helps start-ups differentiate themselves and become experts in a certain subject, delivering novel solutions to unique difficulties.
Collaborations and partnerships are critical to boosting market growth. By forming alliances with established marine industry players, technology providers, or research institutes, start-ups can gain access to important resources, subject expertise, and market knowledge. This cooperation can also help accelerate the development and implementation of their solutions.
Being at the forefront of technology and innovation captures the attention of potential customers and partners. Solutions that assist ship owners and operators in adhering to growing standards relating to data privacy, emissions, and environmental impact can be a major selling point in the maritime industry, which works in a complicated regulatory environment. Start-ups can extend their operations, expand their presence, and continue their innovation journey in the connected ship industry with enough capital.
Wärtsilä is a Finnish firm that offers a variety of connected ship solutions, such as engines, generators, and propulsion systems. Wärtsilä 360, a new digital twin platform announced in 2022, can offer ship owners real-time data about the performance of their ships.
Country-wise Insights
Government measures to increase maritime safety and efficiency have aided the expansion of this business. The requirement to meet rigorous environmental standards has compelled ship operators to invest in more sustainable and connected solutions.
Why is Investing in the United States a Wise Choice for Connected Ship Manufacturers?
"Heightened Emphasis on Maritime Safety and Environmental Regulations"
The United States has a strong maritime industry that has long been at the forefront of technical breakthroughs, including the use of connected ship technology. With a long coastline and a thriving port network, American ship owners and operators are increasingly investing in innovative solutions to improve safety, efficiency, and sustainability.
Government programs emphasizing maritime safety and environmental regulations that incentivize the adoption of technology to reduce emissions and enhance sustainability contribute significantly to driving this expansion. As the global community prioritizes environmental issues, the United States is actively aligning its maritime sector with emerging rules to reduce the carbon footprint and environmental impact of the industry.
The push for sustainability fosters a climate suitable to the development of connected ship technology since it allows vessels to optimize their routes, minimize emissions, and deploy efficient energy management systems. The advantages of real-time data exchange, remote management, and advanced analytics are becoming more obvious, driving ship operators in the United States to embrace connected ship technology.
With a rising emphasis on data-driven decision-making, vessels in the United States are utilizing IoT-enabled maritime operations and high-speed connectivity to monitor various onboard systems and improve operating efficiency.
Why is the United Kingdom a Frontrunner in the Global Market?
"Strong Commitment to Development of Digital and Sustainable Maritime Ecosystem"
The United Kingdom has a strong maritime history and a thriving maritime industry, making it an ideal location for marine innovation and technological advancement. The government has demonstrated a strong commitment to the development of a digital and sustainable maritime ecosystem. Initiatives and legislative measures aiming at lowering emissions, improving safety, and increasing operational efficiency are consistent with the concepts underlying the deployment of connected ship solutions. As a result, the United Kingdom is a hospitable environment for enterprises and start-ups working to develop and implement breakthrough maritime technologies.
The country is an important crossroads for global shipping routes, making it a perfect testing ground for modern maritime technologies. Companies can use their strategic position to demonstrate the benefits of connected ship solutions, collect important insights, and then expand their offerings globally.
Collaborations between academia and industry players make it easier to develop and deploy cutting-edge connected ship technologies. These agreements generate an innovative culture, propelling the market forward and putting the United Kingdom at the forefront of maritime technological improvement.
Know thy Competitors
Competitive landscape highlights only certain players
Complete list available upon request
Category-wise Insights
Advanced data analytics technologies are required to derive significant insights from massive amounts of data generated by connected ships. Based on ship type, the defense segment is poised to be a leading segment in 2034.
Why are Fleet Management Solutions So Important in Today's World?
"Fleet Management Solutions Lowering Emissions and Enhancing Energy Management"
The fleet operations segment accounted for 23.13% of global revenue share in 2023. Connected ships have transformed fleet operations by allowing ship owners and operators to maximize vessel performance, improve safety, decrease operational costs, and assure environmental compliance. Fleet operation applications combine technology such as IoT shipboard sensors, marine data analytics, and real-time communication systems to deliver new insights into vessel performance and the surrounding environment.
Fleet operating apps can offer ship operators important information through real-time data collection and analysis, enabling proactive decision-making to limit potential hazards and avert accidents. Ship owners benefit from the integration of marine IoT devices and data analytics in areas such as fuel consumption, navigation efficiency, and maintenance scheduling.
Fleet management applications promote sustainability by optimizing routes, lowering emissions, and improving energy management systems. They allow vessels to comply with severe environmental requirements, reduce their carbon footprint, and contribute to the industry's overall commitment to decreasing environmental effects.
Fleet operating tools provide remote monitoring and control, allowing ship operators to manage their boats from any location on the planet. This amount of operational flexibility is priceless since it enables operators to make real-time decisions and respond quickly to changing situations or emergencies.
Competitive Landscape
The competitive landscape is characterized by a dynamic mix of established industry players, creative start-ups, and technology providers, all striving for a large piece of this quickly expanding sector. ABB Group, Kongsberg Gruppen, and Wärtsilä Corporation are key suppliers of connected ships, who have established themselves as global leaders in providing comprehensive connected ship solutions.
ABB Group, a global pioneer in industrial automation, provides innovative control systems, energy management solutions, and remote monitoring services, to improve operational efficiency and safety.
Kongsberg Gruppen, a Norwegian technology business, uses its significant position in the maritime industry to deliver a variety of solutions, including automation systems, navigation technology, and data analytics platforms.
Wärtsilä Corporation specializes in sophisticated technology for the marine and energy industry, providing predictive maintenance, navigation systems, and environmentally friendly solutions.
While the market is dominated by established businesses, a rising number of start-ups are making their mark with new offerings ranging from cybersecurity and predictive maintenance to data analytics and emissions reduction solutions. These firms bring excitement and new perspectives to the market, encouraging innovation and competitiveness.
Segmentation of Connected Ship Market Research
By Ship Type :

By Installation :

By Application :

Vessel Traffic Management
Fleet Operation
Fleet Health Monitoring
Others

By Fit :

Line Fit
Retrofit
Hybrid Fit

By Platform :

By Region :

North America
Latin America
Europe
East Asia
South Asia & Oceania
Middle East & Africa
- FAQs -
The global connected ship market is pegged at US$ 8.49 billion in 2024.
The fleet operation segment accounted for 23.13% market share in 2023.
By 2034-end, the market for connected ships is forecasted to reach US$ 15.35 billion.
Demand for connected ships is forecasted to rise at 6.1% CAGR over the next 10 years.
Commercial, defense, and cargo are the three main types of connected ships.