Electric Ship Market
Electric Ship Market Analysis By Ship Type (Commercial, Defense), By System (Energy Storage, Power Conversion, Power Generation, Power Distribution), By Power (Up to 745 kW, 746 to 7,560 kW, Above 7,560 kW), By Tonnage (< 500 DWT, 500 to 5,000 DWT, 5,001 to 15,000 DWT, > 15,000 DWT), By Range (<50 km, 50 to 100 km, 101 to 1,000 km, >1,000 km), By End Use (Newbuild & Line Fit, Retrofit), By Application (Commercial Shipping & Logistics, Defense & Naval Operations, Scientific Research & Exploration, Tourism & Leisure) and By Region – Global Market Report (2024 to 2034)
Analysis of Electric Ship Market Covering 30+ Countries Including Analysis of US, Canada, UK, Germany, France, Nordics, GCC countries, Japan, Korea and many more
Electric Ship Market Outlook (2024 to 2034)
The global electric ship market size amounted to US$ 5.6 billion in 2023 and is estimated at US$ 6.55 billion in 2024. The market is projected to reach US$ 31.48 billion by 2034, rising at a CAGR of 17% over the next ten years. The market is a dynamic and disruptive segment of the marine industry, ushering in a new era of sustainability and innovation. As the demand for cleaner marine transportation options grows, the worldwide electric ship business is gaining traction.
Traditional maritime propulsion systems that rely on fossil fuels are being replaced with electric ships fueled by energy from diverse sources such as batteries, fuel cells, and shore-based power. These electric containers are not only better for the environment but also more cost-effective in the long run. This shift toward electric motors not only addresses environmental issues but also saves money in the long run.
The global market is expected to expand significantly in the future years. This expansion is being driven by a greater emphasis on environmental sustainability, stronger emissions laws, and major advances in electric propulsion technologies.
Important Market Growth Drivers
Electric ships are well-known for their ability to drastically cut greenhouse gas emissions, making them an appealing option for environmentally aware consumers and regulatory organizations.
Globally, governments are enforcing tougher emissions limits for the maritime industry. These restrictions aim to decrease dangerous emissions from ship engines, such as sulfur and nitrogen oxide. Electric propulsion systems are well-positioned to assist ship operators in meeting and exceeding compliance requirements.
Battery technology advancements, notably lithium-ion batteries, have substantially improved energy density, dependability, and charging times, improving the overall performance and range of batteries in electric vehicles.
International agreements, such as those initiated by the International Maritime Organization (IMO) to reduce greenhouse gas emissions from the shipping industry, encourage global collaboration in the transition to greener and more sustainable maritime transportation.
Electric ships are not exclusive to a single industry. They are expanding into a variety of marine categories, including passenger ships, cargo vessels, naval applications, research vessels, and others.
Report Attributes
Details
Electric Ship Market Size (2023A)
US$ 5.6 Billion
Estimated Market Value (2024E)
US$ 6.55 Billion
Forecasted Market Value (2034F)
US$ 31.48 Billion
Global Market Growth Rate (2024 to 2034)
17% CAGR
Europe Market Share (2023)
35.7%
Europe Market Growth Rate (2024 to 2034)
20.6% CAGR
Commercial Ships Segment Share (2023)
66%
Key Companies Profiled

ABB
Boesch Motorboote
Bureau Veritas
Canadian Electric Boat Company
Corvus Energy Ltd.
Yara Birkeland
Duffy Electric Boat
General Dynamics (Electric Boat)
Kongsberg Gruppen ASA
Electrovaya Inc.
Triton Submarines
Vard (Fincantieri S.p.A.)
Baltic Workboats AS
Leclanche
Echandia Marine AB
Siemens
Norwegian Electric Systems
General Dynamics Electric Boat
MAN Energy Solutions SE
Wartsila
Schottel Group
Anglo Belgian Corporation NV
Eco Marine Power
Akasol AG
Don't Need a Global Report?
save 40%! on Country & Region specific reports
Why is Electric Propulsion Technology Being Used to Replace Fuel in Ships?
"Diversification of Energy Sources and Fuel Cost Stability"
Fuel cost stability is an essential driver because it has a direct impact on operational expenses. Traditional marine fuels, such as diesel, are volatile in price, making it difficult for shipping businesses to budget and plan properly. Electric ships buffer themselves from unpredictable variations in fuel prices by using electricity, which is especially significant for commercial fleets focused on cost-effectiveness.
Electric ships are less dependent on fossil fuels since they can collect electricity from several sources, including renewables. This diversification of energy sources gives pricing stability, which can assist shipping businesses in mitigating the financial risks associated with fuel price swings. As a result, electric ships have a more predictable and controllable cost structure, making them an appealing alternative for ship-owners looking to reduce operational expenses and enhance long-term financial planning.
"Innovation in Battery Technology Generating Increased Interest and Investments"
Electric propulsion systems have become more practicable for a wide range of ship designs as battery energy density, storage capacity, and efficiency have improved. Modern lithium-ion batteries, for example, can store a lot of energy and offer enough power for long journeys. As battery technology advances, battery-powered ships can operate for longer periods, carry larger payloads, and compete on a larger scale with traditional ships.
Battery technology advancement is increasing the capability and viability of electric ships, generating increased interest and investment in this industry. Electric ship batteries have become more energy-dense, with increased capacity and longevity, making them appropriate for a wide range of ship types and routes. Improved energy economy and energy management in electric propulsion systems are important drivers driving the electric ship market growth. Battery advancements have also enabled electric ships to run efficiently over longer distances, alleviating concerns about range constraints. This progress in battery technology not only increases the viability of electric ships but also allows them to compete favorably in terms of performance with traditional boats, making them more appealing to ship owners.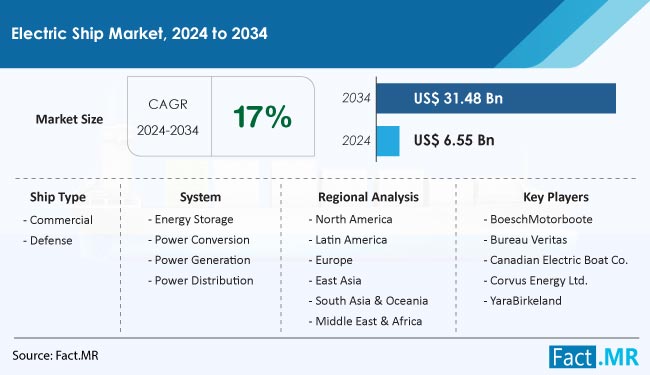 What is Holding Back the Growth of the Electric Ship Market?
"Limited Charging Infrastructure Affecting Operational Flexibility"
Limited charging infrastructure is a significant impediment to the broad deployment of electric propulsion systems for electric marine vessels in the electric ship industry. Electric ships necessitate specialized charging infrastructure, such as high-capacity shore-based charging stations or on-board charging technology. These facilities are critical for recharging the ship's batteries, and their scarcity may pose difficulties for ship operators wishing to transition to electric power.
One of the major difficulties is that the installation of such charging infrastructure necessitates significant finance, technological, and logistics investments. Electric ship charging stations, unlike regular fossil fuel filling stations, must satisfy the special power requirements and safety norms of electric ferry boats. The marine industry frequently encounters issues relating to port physical layout and the availability of sufficient electrical connections.
Not all ports are prepared to accommodate the electrical demands of electric ships, and adapting existing infrastructure can be expensive and inconvenient. With limited access to charging stations, ships may need to carefully plan their routes to ensure they have enough power to complete their travels. This can be especially problematic for ships traveling long distances or in areas with few charging facilities.
More Insights, Lesser Cost (-50% off)
Insights on import/export production,
pricing analysis, and more – Only @ Fact.MR
How Can New Manufacturers of Electric Ships Gain a Competitive Advantage?
"Focus on Endorsements and Certifications to Attract Environmentally Conscious Clients"
Start-ups must create unique electric propulsion technology, energy storage systems, or charging infrastructure that outperforms present ones. Collaboration with major shipbuilders, naval design firms, or marine technology corporations can bring substantial resources, knowledge, and market access to start-ups. Seeking financing, grants, and incentives from governments and organizations that promote research and development in the electric ship sector can help start-ups overcome financial obstacles. Investing in education and awareness initiatives helps educate potential customers, regulatory organizations, and the general public about the benefits and possibilities of electric ships.
New companies need to identify niche sectors or specific uses in the marine industry where electric ships can provide distinct benefits, such as research vessels or tourism in environmentally sensitive locations. To increase the attraction of electric ships to environmentally aware clients, start-ups should pursue certifications and endorsements relating to sustainability and environmental responsibility.
Country-wise Insights
With multiple countries at the forefront of technology and regulation, Europe is a hub for hybrid electric vehicles. Norway, in particular, is a pioneer in electric ferry operations, and other European countries are also investigating electric ship possibilities.
Which Dynamics are Increasing Opportunities for Electric Ship Manufacturers in Germany?
"Technological Expertise and Stringent Environmental Regulations"
Germany accounted for 23% of the global electric ship market share in 2023. Germany, like many other countries, is focusing on decreasing greenhouse gas emissions and combating climate change. Because they emit fewer emissions and have a lower environmental impact, electric ships are a more environmentally friendly alternative to typical diesel-powered vessels. International agencies and national governments have imposed strict regulations and emission reduction targets on the maritime industry, forcing it to embrace cleaner technologies.
As a member of the European Union, Germany is subject to such rules and has actively promoted the use of fully electric and hybrid electric ships. Electric ships have become more realistic and cost-effective as electric propulsion and energy storage technology have advanced. To support the development and deployment of electric ships, the German government and various maritime organizations offer incentives, grants, and subsidies. These financial incentives can assist ship owners in covering the higher initial expenses of electric propulsion systems and encourage them to invest in cleaner technologies.
Researchers, shipbuilders, and operators are collaborating to create and deploy electric boats, which is fueling industry growth. Growing public awareness of environmental issues, as well as consumer desire for sustainable transportation solutions such as electric ships for ferry services and tourism, have all contributed to the market's expansion.
Why is Norway a Leading Market for Sustainable Ship Technology?
"Investments in Charging Infrastructure and Progressive Government Policies"
Europe occupied 35.7% of the global market in 2023 and is anticipated to expand at 20.6% CAGR over the next 10 years. Norway has a long history of maritime activity and a thriving shipping industry. This legacy has resulted in a large pool of nautical expertise and a trained workforce, making it a suitable location for maritime innovation, including electric ships.
The Norwegian government has been proactive in supporting and incentivizing the deployment of electric and zero-emission ship technologies. Norway has a plethora of renewable energy sources, mainly hydroelectric power. Because electric ships can be charged with clean energy, they become more economically viable to operate. Renewable energy sources also assist electric ships to lower their carbon footprint.
Several Norwegian research institutes, universities, and private enterprises are working hard to create cutting-edge technologies for the electric ship industry. The use of electric ships is consistent with the environmental aims of the country and strengthens the reputation of the country as an environmentally conscious nation. A combination of favorable policies, a strong maritime tradition, a dedication to clean energy, and an emphasis on innovation has helped Norway lead the global electric ship industry in the European region.
Know thy Competitors
Competitive landscape highlights only certain players
Complete list available upon request
Category-wise Insights
While the semi-autonomous mode of operation segment leads the market, the fully autonomous mode of operation segment is gaining significant popularity, and demand for autonomous ships is projected to rise at 24.76% CAGR through 2034. Based on ship type, sales of defense ships are predicted to rise substantially over the next decade.
Which Ship Type is in High Demand?
"Low Environmental Impact and Long-Term Viability of Commercial Ships"
Commercial ships accounted for 66% of the electric ship market share in 2023, and the segment is forecasted to advance at 12.1% CAGR through 2034.
Commercial ships lead the worldwide electric ship market as a result of a convergence of elements that coincide with the evolving needs and sustainability aspirations of the industry. Commercial ships include a diverse range of vessels such as cargo ships, container vessels, passenger ferries, and electric cruise ships, and they account for a sizable percentage of the maritime transportation industry. These ships are increasingly using electric propulsion systems to minimize emissions, improve energy efficiency, and comply with severe environmental requirements.
Electric propulsion systems provide improved fuel efficiency and lower greenhouse gas emissions, both of which are important concerns in the maritime industry's efforts to lessen its environmental effect. Electric ships have a competitive edge in urban and environmentally sensitive areas with noise and air pollution regulations. As a result, the commercial ship segment is driving the adoption of electric propulsion technology, establishing a favorable precedent for the industry's long-term viability and playing a critical role in lowering its carbon footprint.
Competitive Landscape
Key suppliers of electric ships with a strong presence in the electric ship market include ABB, Siemens, Wartsila, and MAN Energy Solutions. They provide a wide range of electric propulsion technologies, including hybrid and fully electric systems, and have a proven track record of developing innovative solutions to suit the growing need for more environmentally friendly shipping.
As a market leader in electric ship propulsion systems, Siemens offers a variety of electric and hybrid propulsion options.
ABB provides electric and hybrid ship solutions, as well as energy storage systems and shore-to-ship charging infrastructure.
Wartsila offers a full range of electric and hybrid propulsion systems, as well as energy storage solutions.
The market is highly competitive with a dynamic mix of established industry giants, new entrants, partnerships, rules that are always changing, and shifting consumer preferences. As the transition to electric propulsion advances, market competitiveness is projected to heat up, spurring additional innovation and technological advancements in the maritime industry.
Segmentation of Electric Ship Market Research
By Ship Type :

By System :

Energy Storage
Power Conversion
Power Generation
Power Distribution

By Power :

Up to 745 kW
746 to 7,560 kW
Above 7,560 kW

By Tonnage :

<500 DWT
500 to 5,000 DWT
5,001 to 15,000 DWT
>15,000 DWT

By Range :

<50 Km
50 to 100 Km
101 to 1,000 Km
>1,000 Km

By End Use :

Newbuild & Line Fit
Retrofit

By Application :

Commercial Shipping & Logistics
Defense & Naval Operations
Scientific Research & Exploration
Tourism & Leisure

By Region :

North America
Latin America
Europe
East Asia
South Asia & Oceania
Middle East & Africa
- FAQs -
The global electric ship market is estimated at US$ 6.55 billion in 2024.
By 2034-end, electric ship sales are forecasted to reach US$ 31.48 billion.
Demand for electric ships is projected to rise at 17% CAGR over the next ten years.
Hybrid and fully electric are the two main types of electric ship engines available in the market.
The European region accounts for 35.7% share of the global market in 2024.