Cryogenic Grinders Market
Cryogenic Grinders Market Analysis By Type (Ball Mills, Knife Mills), By Application (Agriculture, Pharmaceuticals, Food Processing, Manufacturing, Others) & Region – Global Market Insights 2023 to 2033
Analysis of Cryogenic Grinders Market Covering 30+ Countries Including Analysis of US, Canada, UK, Germany, France, Nordics, GCC countries, Japan, Korea and many more
Cryogenic Grinders Market Outlook (2023 to 2033)
Global demand for cryogenic grinders is predicted to surge at a CAGR of 10.3% from 2023 to 2033. Currently, the global cryogenic grinders market is valued at US$ 1.5 billion and is thus expected to reach a valuation of US$ 4 billion by the end of 2033.
Cryogenic grinding is the procedure of cooling or freezing materials and grinding them into tiny particles before forming or mixing them. In simple terms, the material is cooled and embrittled with incredibly cold nitrogen before getting crushed, leading to small particles of the same quality as the original.
Cryogenic grinding is also known as freezer grinding, freezer milling, cryo milling, and cold grinding. Cryogenics is among three toll grinding procedures, the other two being wet and dry grinding. Cryogenic grinding is special as it is meant for cases where wet or dry milling cannot decrease the materials. The inclusion of liquid nitrogen streamlines the grinding process and makes material reduction easier.
For instance, grinding thermoplastics presents multiple issues since they clog screens, soften, and stick in lumpy masses at room temperature. When crystalline materials are ground without being cooled, friction causes them to melt. Chilling helps to crush them into fine particles easier and improves their applications.
Cryogenic grinders allow for precise particle size distribution (PSD), which is critical for producers in a variety of industries. Here are two instances:
Compliance with Regulations: PSD measures are used by manufacturers to ensure compliance with industry standards and legislation. For example, the International Conference on Harmonization rules specifies when particle sizes should be considered.
Production Enhancement: Analysis of particle size distribution can provide strategies to optimize the manufacturing process. PSD can have an impact on the new product's manufacturability, efficacy, safety, and shelf life.
Cryogenic grinding technology can be used for the following purposes :
Material Temperature Reduction: Materials under their glass transition temperatures are generally friable to some extent. The cryogenic grinding system lowers the temperature of the material below the glass transition temperature, which is the value at which a polymer changes from a brittle, glassy state at low temperatures to an elastic, rubbery state at high temperatures.
Assistance with Dangerous Decomposition: The method is utilized in temperature control, which aids in the prevention of hazardous decomposition in the high-energy environment of the mill.
Overheating Prevention: Heat is generated during the milling process of difficult-to-mill materials. Materials must remain below their melt temperatures or softening points to be friable. Freezer grinding prevents overheating of the material and the grinder.
Report Attributes

Details

Market Size in 2023

US$ 1.5 billion

Projected Market Value (2033)

US$ 4 billion

Global Market Growth Rate (2023 to 2033)

10.3% CAGR

Leading Regional Market

North America

Leading Application Segment

Food Processing

Key Companies Profiled

MechAir
Hosokawa Micron Group
ATS Scientific
Fritsch
Retsch GmbH
Sifter International
Thomas Scientific
Union Process
HORIBA Scientific
SPEX SamplePrep
Air Products
Fritsch
Don't Need a Global Report?
save 40%! on Country & Region specific reports
What Benefits of Cryogenic Grinders are Driving Their Popularity?
"Aid in Prevention of Caking"
Cryogenic feeds protect temperature-sensitive products from thermal degradation, preventing caking. This method eliminates the possibility of product caking in the mill. Cryogenic grinding prevents thermal deterioration by assisting with the temperature management difficulties related to industrial grinding. The cryogenic process embrittles the materials, causing them to fracture rather than melt, bend, or deform. This technique makes the method appealing to manufacturers from a variety of industries.
"Produce Ultra-fine Specific Particles"
Cryogenic grinders provide finer ground particles than normal milling processes. Cryogenic grinders enhance the particle flow and dispersion potential of processed polymers and foodstuffs in liquid with particle sizes of 10 micrometers or lower.
"Allow Grinding of Sensitive Materials"
Some materials are sensitive to temperature and difficult to hone. Cooling using liquid nitrogen makes the procedure easier and increases grinding effectiveness.
"Increases Rate of Production and Preserve Product Quality"
Cryogenic grinders improve particle size while making them simpler to process, increasing output rate. This minimizes manufacturing times while enhancing particle yield to ensure high output. Moreover, the main benefit of using cryogenic grinders is that it shrinks the product to the desired measurements without damaging the quality. This has importance in a variety of industries, particularly food items. The technique prevents heat loss throughout, maintaining the required standard.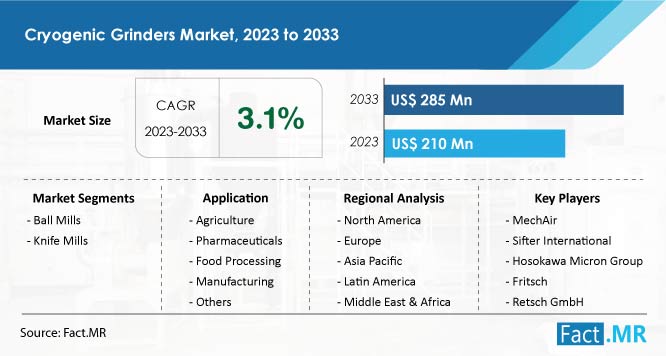 Country-wise Insights
Why is Use of Cryogenic Grinders Increasing in the United States?
"Growing Use of Cryogenic Grinders in Pharmaceutical Industry"
North America is considerably contributing to the worldwide market. The United States is seeing growing use of cryogenic grinders in the pharmaceutical industry.
According to the Biopharmaceutical Classification System (BCS), pharmaceutically essential particles are classified into four categories based on their water solubility and oral permeability.
Active pharmaceutical ingredients (APIs) belonging to the last group are likely to demonstrate limited bioavailability due to low solubility and permeability and are still the most challenging compounds for the modern pharmaceutical business. Particle size reduction is one of the most promising approaches to addressing the problem of low breakdown rates of poorly water-soluble medicines.
According to a study, micronization often improves drug-dissolving characteristics by increasing the surface area of micro or nano-substances. As a result, the usage of cryogenic grinders in the pharmaceutical industry is rapidly growing.
How is India Contributing to Asia Pacific Market Growth?
"High Demand for Cryogenic Grinding Machines in India's Food Processing Industry"
India is renowned as the "Spice Kingdom". In general, an Indian meal would be incomplete without the tangy and delightful flavor of spices, and various spices are used to cook a range of different cuisines to create a variety of diverse tastes. Indian spices are well-known around the world for their medicinal and gastronomic properties.
India is the world's largest spice producer, accounting for 44% of global output and 36% of global spice commerce.
India produces around 75 of the 109 spices recognized by ISO from its various agro-climatic areas.
Several spices, such as cinnamon, pepper, cumin, cloves, cardamom, and other food products, are best used in powder form in the food industry and for further processing. High temperatures occur by the grinding energy imparted during comminution operations such as cutting, striking, and grating, based on the strength, hardness, and flexibility of the spices and foodstuffs, resulting in the sticking of delicate and greasy substances. As a consequence, flavors and aromas can be lost.
Cryogenic grinders gently grind the items while retaining a greater portion of the essential oils. As a result, throughout the process, product quality is maintained. Hence, the demand for cryogenic grinders in the food processing industry in India is increasing.
Which Industries are Supporting the Demand Growth of Cryogenic Grinders in Germany?
"Booming Automotive and Recycling industries Augmenting Demand for Cryogenic Grinders"
The automotive and recycling industries are rapidly growing in Germany. Cryogenic grinding plays an important role in the recycling process. Cryogenic feed attachments are effective at crushing and reusing recyclable items such as glass, bottles, leather, tires, and plastics.
Cryogenic grinders are also finding significant usage in the automotive industry. Cryogenics applies to all engine parts, namely rings, pistons, connecting rods, push rods, valves, crank and camshaft, block, etc. Cryogenics increases the molecular density of treated materials and improves the distribution of energy through the object. Even parts like drums, brake rotors, and brake pads can benefit from cryogenic treatment
More Insights, Lesser Cost (-50% off)
Insights on import/export production,
pricing analysis, and more – Only @ Fact.MR
Category-wise Insights
Why are Cryogenic Grinders Becoming More Common in the Food Processing Industry?
"Soaring Demand for High Quality Food Products"
Improving shelf life, preserving food by fast freezing, and grinding food are all important aspects of the food processing industry. Cryogenics has shown to be an effective tool in the food business, allowing for low-temperature applications. Since the second part of the twentieth century, many researchers have been working on the cryogenic freezing of food products for improved quality, extended shelf life, and high throughput manufacturing capacity.
While discussing the application of cryogenics in the food sector, many researchers presented technological and control system ways to distribute LN2 for the economic feasibility of the procedures. According to these researchers, foods frozen under cryogenic temperatures rapidly freeze the cellular starch as opposed to slow freezing, resulting in higher product quality.
Competitive Landscape
Key players in the cryogenic grinders market are actively pursuing inorganic marketing tactics such as partnerships, investments, acquisitions and new developments to grow and consolidate their global presence.
Hosokawa micron powder systems have developed and deployed a new technology for minimizing the size of heat-sensitive polymeric materials. The system includes cutting-edge milling and classification equipment and controls that enable the grinding and classification of an extensive variety of materials in both fine and coarse applications. The system can be utilized with an attrition-type mill or a counter-rotating pin mill based on the final particle size needs and are operable in cryogenic or ambient settings.
An integrated air classification system will enhance material capacity, effectiveness, and cut point for finer applications where mechanical screening is impractical. This new system will provide customers with a multi-functional processing center that is highly adaptable to a wide range of materials and applications. The new technique will enable fine grind and categorizing of polymer materials for applications such as medical device production, 3D printing, and many of the tailored resins that are now widely used in the industry for niche purposes.
Know thy Competitors
Competitive landscape highlights only certain players
Complete list available upon request
Key Segments of Cryogenic Grinders Industry Research
By Type :

By Application :

Agriculture
Pharmaceuticals
Food Processing
Manufacturing
Others

By Region :

North America
Latin America
Europe
Asia Pacific & China
Middle East & Africa
- FAQs -
The global cryogenic grinders market is worth US$ 1.5 billion in 2023.
The market for cryogenic grinders is expected to hit US$ 4 billion by 2033.
Worldwide demand for cryogenic grinders is estimated to surge at a CAGR of 10.3% from 2023 to 2033.
MechAir, Hosokawa Micron Group, ATS Scientific, Fritsch, Retsch GmbH, Sifter International, Thomas Scientific, Union Process, HORIBA Scientific, and SPEX SamplePrep are key cryogenic grinder manufacturing companies.