Culinary Essence Market
Culinary Essence Market Analysis By Flavour (Fruits & Nuts, Herbs & Spices, Alcoholic), By Application (Bakery Products, Confectionery, Sweets, Jams & Jellies, Syrups, Desserts, Meat & Fish), & By Region - Global Market Insights 2023 to 2033
Analysis of Culinary Essence Market Covering 30+ Countries Including Analysis of US, Canada, UK, Germany, France, Nordics, GCC countries, Japan, Korea and many more
Culinary Essence Market Outlook (2023 to 2033)
As per a new report by Fact.MR, a market research and competitive intelligence provider, the global culinary essence market stands at a valuation of US$ 938.77 million in 2023 and is projected to reach US$ 1.36 billion by 2033. Worldwide demand for culinary essences is predicted to increase at a CAGR of 3.8% during the forecast period (2023 to 2033).
Culinary essence refers to concentrated flavorings used in baking and cooking to enhance the taste and aroma of various dishes. These essences are highly potent and are typically derived from natural sources, such as fruits, vegetables, herbs, spices, citrus, or other food ingredients. They are available in liquid and powdered forms and are often used sparingly due to their strong flavor profiles. They are used to add specific flavors to dishes when the natural ingredient may be unavailable, expensive, or impractical to use in large quantities.
Culinary essences offer convenience to cooks and bakers. They provide a readily available and easily measurable source of flavor, eliminating the need to source and process large quantities of fresh ingredients. For example, using a few drops of vanilla extract instead of scraping vanilla beans can save time and effort in the kitchen.
Fact.MR says that global demand for culinary essence is being driven by its ability to enhance flavor, provide convenience, ensure consistency, and offer a variety of options to suit different culinary needs and preferences. Some of the types of food essences are fruit & nut, herb & spice, and alcohol.
Worldwide demand for fruit & nut flavor essences is estimated to increase at a CAGR of 4.1% from 2023 to 2033.
Fruit and nut flavor essences provide an authentic and concentrated taste of specific fruits and nuts. This is especially important when fresh fruits or nuts are not readily available or when their natural flavors are not strong enough.
Depending on the flavor, fruit and nut essences can be used in a wide range of culinary applications. These types of food essences are widely utilized in baking, confectionery, desserts, and beverages, as well as even savory dishes. This versatility allows chefs, bakers, and food manufacturers to incorporate these flavors into various recipes. Fruit and nut flavor essences provide a solution for the limited availability of certain fruits and nuts during specific seasons. By incorporating these essences, the desired taste can be enjoyed year-round, irrespective of the seasonal availability of fruits and nuts.
Fruit and nut flavor essences are often more cost-effective than using fresh fruits or nuts in large quantities. Fresh fruits and nuts can be expensive, especially if they are out of season or require extensive processing. Flavor essences provide a cost-effective alternative without compromising on taste.
Report Attributes
Details

Culinary Essence Market Size (2023E)

US$ 938.77 Million

Forecasted Market Value (2033F)

US$ 1.36 Billion

Global Market Growth Rate (2023 to 2033)

3.8% CAGR

United States Market Value (2033F)

US$ 249.45 Million

United Kingdom Market Value (2033F)

US$ 55.88 Million

Germany Market Value (2033F)

US$ 182.65 Million

China Market Growth Rate (2023 to 2033)

4.8% CAGR

Japan Market Growth Rate (2023 to 2033)

4% CAGR

Key Companies Profiled

Foster Clark Products Ltd.
Dutch Heritage Gardens
Peddler's Son
Gogia Chemical Industries Pvt. Ltd
S-world Flavours & Fragrances
Nielsen-Massey Vanillas, Inc.
Lochhead Manufacturing Company
Don't Need a Global Report?
save 40%! on Country & Region specific reports
What are the Market Trends Boosting the Revenue of Culinary Essence Producers?
"Growing Demand for Authentic & Natural Flavor Extracts"
Consumers are increasingly seeking natural and authentic flavors in their food and beverages. They are becoming more conscious about the ingredients used in their food and are inclined towards products made with natural flavor extracts. Culinary essences derived from natural sources, such as herbs, spices, fruits, and nuts, are in high demand. This market trend is boosting product demand as manufacturers are focusing on developing natural and clean-label flavor solutions to meet consumer preferences.
"Significant Growth of Foodservice Industry Worldwide"
The foodservice industry, including restaurants, cafes, hotels, and catering services, is experiencing significant growth worldwide. With the increasing number of food outlets and dining options, there is a higher demand for culinary essences to enhance the taste and presentation of dishes. Culinary essences are used by chefs and food professionals to add depth and complexity to their culinary creations. As the foodservice industry expands, demand for culinary essences is expected to increase steadily during the forecast period.
"Manufacturers' Focus on Technological Advancements for Enhancing Quality & Taste of Extracts"
Technological advancements are significantly improving flavor extraction processes, allowing for the production of high-quality culinary essences. Advanced extraction techniques, such as cold pressing, steam distillation, and supercritical fluid extraction, help retain the natural flavors and aromas of the ingredients. These techniques enable food essence manufacturers to create concentrated and authentic flavor extracts, thereby meeting consumer demands for natural and true-to-source flavors. Technological advancements in flavor extraction are positively influencing market growth.
What are the Hindrances Affecting the Sales Growth of Culinary Essences?
"Volatility in Raw Material Prices and Availability Impacting Production Costs, Pricing Consistency, and Profitability"
Culinary essence production heavily relies on the availability and cost of raw materials used for flavor extraction. Fluctuations in the prices of herbs, spices, fruits, and other natural ingredients can directly impact the production costs of culinary essences. Factors such as weather conditions, crop failures, and supply chain disruptions can lead to volatility in raw material prices. These fluctuations pose challenges for manufacturers in maintaining consistent pricing and profitability, which can hinder sales growth.
"Stringent Regulatory Frameworks Governing Product Approvals"
The food industry is subject to rigorous regulations and standards imposed by regulatory authorities across different regions. These regulations aim to ensure food safety, quality, and labeling accuracy.
Compliance with these standards can be complex and time-consuming for manufacturers of culinary essences. The approval process for new ingredients and flavor extracts can be lengthy and costly. Strict regulatory frameworks can act as barriers to new product offerings.
"Wide Availability of Lower-cost Artificial Food Essence Alternatives"
While there is a growing demand for natural and authentic flavors, the majority of consumers are unaware of culinary essences and their benefits. Some consumers may perceive these flavoring agents as artificial or chemically processed, leading to hesitancy in their adoption.
Synthetic flavoring essences, such as synthetic additives and flavor enhancers, affect the sales of culinary essence products. These artificial alternatives often come at a lower cost and offer consistent flavor profiles.
While there is a growing preference for natural flavors, artificial flavors still have a significant market share, especially in the processed food industry. Thus, wide availability of alternatives is predicted to hamper the demand for culinary essence products.
More Insights, Lesser Cost (-50% off)
Insights on import/export production,
pricing analysis, and more – Only @ Fact.MR
Is the Culinary Essence Market a Lucrative Space for New Companies?
"Increased Consciousness about Food Ingredients Prompting New Producers to Focus on High-Quality Culinary Essences"
Rising consumer demand for natural and authentic flavors in the food and beverages industry creates substantial growth prospects for newcomers in the culinary essence market. Furthermore, the increasing consumer awareness of food ingredients presents an opportunity for newcomers to provide premium culinary essences sourced from natural ingredients.
New entrants can leverage innovation to develop unique flavor profiles and cater to niche markets. By offering specialized culinary essences targeting specific cuisines, dietary preferences, or consumer segments, newcomers can differentiate themselves and carve out a market niche.
While there is still some consumer awareness gap regarding culinary essences, the overall awareness of the benefits of natural flavors is on the rise. By educating consumers through celebrity endorsements or advertisements about the benefits and versatility of culinary essences, newcomers can contribute to the expansion of the market and build a loyal consumer base.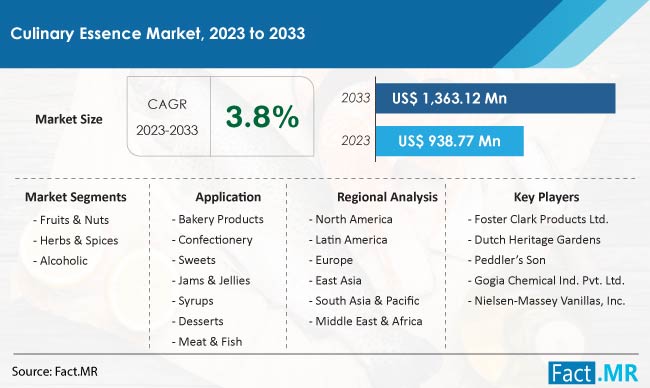 Country-wise Analysis
Why is the Consumption of Culinary Essence Products Increasing in the United States?
"Rising Demand for Natural & Artisanal Flavors and Extensive Culinary Essence Use in Foodservice Facilities"
Demand for culinary essences in the United States is estimated to increase at a CAGR of 3.6% from 2023 to 2033.
In the United States, there is a growing preference for natural and artisanal flavors in food and beverages. Consumers are seeking culinary essences derived from high-quality, natural ingredients. Artisanal and small-scale producers are gaining popularity as they offer unique flavor profiles and emphasize transparency in sourcing and production methods.
The foodservice industry plays a significant role in driving the growth of the culinary essence market in the United States. Restaurants, cafes, and catering services are increasingly incorporating culinary essences into their menus to enhance flavors and create memorable dining experiences. The growing foodservice sector in the United States is leading to increased demand for culinary essences, both in commercial kitchens and among home cooks looking to replicate restaurant-quality flavors.
Will the United Kingdom Be a Profitable Market for Culinary Essence Suppliers?
"Growing Emphasis on Clean-label Products and Rising Influence of Celebrity Chefs Promoting Use of Natural Flavor Extracts"
The United Kingdom market is forecasted to progress at a CAGR of 3.8% during the forecast period.
Consumers in the United Kingdom are increasingly seeking culinary essences that align with their preferences for clean-label products and sustainable sourcing. There is a rising demand for natural flavor extracts made from ethically sourced ingredients. Manufacturers are responding by developing clean-label solutions and adopting sustainable practices to meet consumer expectations.
The United Kingdom has a vibrant culinary scene, and the influence of celebrity chefs and popular cooking shows is boosting culinary essence sales. Consumers are inspired by these chefs and their innovative flavor combinations, leading to a growing interest in using culinary essences to recreate restaurant-style dishes at home.
What is the Current Trend in Culinary Essence in Japan?
"Emphasis on Meticulous Presentation and Artistic Appeal in Japanese Cuisine"
Sales of culinary essences in Japan are projected to reach US$ 84.51 million by 2033-end.
Japan has a rich culinary heritage, and there is a strong emphasis on preserving traditional flavors and culinary techniques. The culinary essence market in Japan reflects this by offering a wide range of traditional Japanese flavor extracts, such as soy sauce, miso, matcha, and dashi. These traditional flavors are widely used in both traditional and modern Japanese cuisine.
Japanese cuisine is known for its meticulous presentation and attention to detail. Culinary essences are used not only for flavor enhancement but also for enhancing the visual appeal of dishes. The Japanese market offers a range of culinary essences designed specifically for artistic presentation, including edible flower extracts, vibrant fruit flavors, and aromatic herb extracts.
Know thy Competitors
Competitive landscape highlights only certain players
Complete list available upon request
Category-wise Analysis
Why are Food Colors & Essences Widely Used in Bakery Products?
"Cost-Efficiency and Flavor Enhancement Benefits of Culinary Essences Driving Their Extensive Adoption in Preparation of Bakery Products"
According to Fact.MR analysis, the use of culinary essences in bakery products is forecasted to expand at a CAGR of 4% during the next 10 years.
Culinary essences are used in bakery products to enhance and intensify flavors. They provide concentrated and authentic taste profiles, allowing bakers to create products with distinct and appealing flavors. Whether it is a classic vanilla essence for cakes or almond essence for cookies, culinary essences play a crucial role in elevating the taste experience of bakery items.
Culinary essences are often more cost-effective compared to using natural ingredients in their raw form. They provide concentrated flavors, allowing bakers to achieve the desired taste in smaller quantities. This cost-efficiency makes culinary essences a preferred choice for commercial bakeries producing large quantities of baked goods.
Bakery products often need to have a longer shelf life to meet consumer demands and ensure product freshness. Culinary essences can contribute to extending product shelf life by adding flavors that can mask any potential off-flavors that may develop over time. This helps maintain the taste, quality, and appeal of bakery products for an extended period.
Competitive Landscape
Key suppliers of food essence products are focusing on continuous product innovation and are expanding their culinary essence portfolios. They are investing in research and development initiatives to introduce new flavors, unique blends, and specialized formulations that cater to changing consumer preferences.
By offering a wide range of culinary essences, they aim to capture a larger market share and cater to diverse customer needs. Effective marketing and branding is also playing a crucial role in attracting a larger consumer base.
In 2021, Givaudan introduced a brand-new line of all-natural food essence flavors under the name Tastepoint by Givaudan. These food essence flavors are intended to improve both the nutritional value and taste of plant-based protein products.
Key Segments of Culinary Essence Industry Research
By Flavor :

Fruits & Nuts

Strawberry
Pineapple
Vanilla
Orange
Rose
Almond
Others

Herbs & Spices

Saffron
Cinnamon
Clove
Others

Alcoholic

By Application :

Bakery Products
Confectionery
Sweets
Jams & Jellies
Syrups
Desserts
Meat & Fish

By Region :

North America
Latin America
Europe
East Asia
South Asia & Oceania
MEA
- FAQs -
The global culinary essence market is valued at US$ 938.77 million in 2023.
Sales of culinary essences are projected to reach US$ 1.36 billion by 2033.
Worldwide demand for culinary essence products is foreseen to rise at a CAGR of 3.8% from 2023 to 2033.
Sales of culinary essences in Germany are set to increase at a CAGR of 4.4% through 2033.
Leading culinary essence manufacturers are Foster Clark Products, Dutch Heritage Gardens, and Peddler's Son.