Dicalcium Phosphate Market
Dicalcium Phosphate Market Analysis by Production Method (Phosphoric Acid, Hydrochloric Acid), By End Use (Food & Beverages, Animal Feed, Pharmaceuticals, Agriculture, Others), By Region – Global Market Insights 2023 to 2033
Analysis of Dicalcium Phosphate Market Covering 30+ Countries Including Analysis of US, Canada, UK, Germany, France, Nordics, GCC countries, Japan, Korea and many more
Dicalcium Phosphate Market Outlook (2023 to 2033)
The global dicalcium phosphate market is valued at US$ 950 million in 2023 and is forecasted to reach US$ 1.2 billion by the end of 2033, expanding at a CAGR of 2.1% over the next ten years.
Calcium and phosphorus are combined to form dicalcium phosphate. Dicalcium phosphate is a chemical molecule having the formula CaHPO4. It is sometimes referred to as dibasic calcium phosphate and DCP. It is a synthetic salt that offers dietary phosphorus as a benefit. The nutritional value of DCP is increased in feed by the presence of up to 85% of the phosphorus that is accessible via dicalcium phosphate dehydrate (DCPD) in an unable-to-dissolve combination with tri-calcium phosphate.
During the projected period, the market is anticipated to be driven by increased dietary product consumption, rising health-related awareness, and a growing population. The rapid development of the dairy and food industries, an increase in meat consumption in emerging countries, and the use of dicalcium phosphate as a food additive are all expected to increase the demand for dicalcium phosphate over the forecast period.
During the forecast period, rising demand for dicalcium phosphate (feed grade) from developing regions such as Asia Pacific and the Middle East & Africa is anticipated to positively affect market growth. Rising demand for animal protein in these countries as a result of altering lifestyles has increased the meat output, which, in turn, encourages feed producers to create a feed that is more nutritious and efficient.
The PhosAgro Group of Companies, a leading manufacturer of integrated phosphate-based fertilizers, declared a partnership with the European Sustainable Phosphorus Platform in October 2019.
Report Attributes

Details

Market Size in 2022

US$ 927 Million

Estimated Market Value (2023)

US$ 950 Million

Forecasted Market Value (2033)

US$ 1.2 Billion

Global Market Growth Rate (2023 to 2033)

2.1% CAGR

Asia Pacific Market Growth Rate (2023 to 2033)

3.5% CAGR

Key Companies Profiled

Yara International ASA
OCP Group
Wengfu Group
Phosphea
EuroChem Group AG
Rubexo
Mitushi Biopharma
NG Phosphates
Pioneer Jellice
Bamni Proteins
Don't Need a Global Report?
save 40%! on Country & Region specific reports
Which Aspects are Fuelling Dicalcium Phosphate Market Growth?
"Properties, Production, and Versatile Applications of Dicalcium Phosphate in Food and Agriculture"
Dicalcium phosphate has the chemical formula CaHPO4 and is a white, odorless powder. It is also known as dibasic calcium phosphate or calcium mono-hydrogen phosphate. It is one of the sources of mineral phosphorus that is typically used in the natural eating regimen. It usually results from an antacid reacting to superphosphate. Superphosphate and the restricting specialist are combined, and as a result, dicalcium phosphate is produced.
Dicalcium phosphate is frequently used in desserts, flour, and other baked goods as an emulsifier, raising agent, and stabilizer. Additionally, it serves as a supplement in bread rolls, frozen yogurt, milk products, and beverages. It is widely used in many different applications, including manure, animal feed, medications, cosmetics, food, and beverages.
"Growing Concerns About Calcium and Phosphate Deficiencies and Various End-Use Applications"
Dicalcium phosphate is used as a dietary supplement in the pharmaceutical industry. End-user demand for these bio-chemicals from a variety of sources that include them is being driven by growing concerns about disorders such as osteoporosis and others that are brought on by a lack of calcium and phosphate in living creatures. The market is anticipated to show significant expansion due to its rising use in numerous applications, including food, beverages, animal feed, fertilizers, and others.
Dicalcium phosphate is found in a variety of foods, drinks, and dietary supplements. This material can be used in place of titanium dioxide since it performs the dual function of a substance that bleaches and is a source of temperature-triggered acidity, which helps to leaven. It is used in triturations, vitamin premixes, and energy beverages.
For example,
In December 2021, Apollo Health Venture, a significant producer of dicalcium phosphate, declared the opening of its venture to create a statistics portfolio of biotechnology and health tech aimed at increasing human health span.
How are New Dicalcium Phosphate Manufacturers Challenging Established Firms?
"Recent Developments by Start-ups Highlighting Commitment to Innovation"
Phosphea is a French start-up that produces a range of phosphates, including dicalcium phosphate, for animal nutrition and fertilizers. The company uses innovative processes and technologies to produce high-quality products.
In 2021, Phosphea announced the launch of its new product, TruphosTM, which is a range of monocalcium phosphate products that offer high phosphorus bioavailability and improved animal performance.
NutriQuest is a U.S.-based start-up that specializes in animal nutrition. The company produces a range of feed additives, including dicalcium phosphate, to improve the health and productivity of livestock. In 2021, NutriQuest announced the launch of its new product, PrequelTM, which is a feed additive that promotes gut health and immunity in poultry and swine.
More Insights, Lesser Cost (-50% off)
Insights on import/export production,
pricing analysis, and more – Only @ Fact.MR
What is Mainly Restraining Dicalcium Phosphate Market Expansion?
"Use of Phytase as Substitute and Impact of High Cost of Raw Materials"
Increasing costs of raw materials and a lack of phosphate supplies and non-renewable resources are limiting the market.
In contrast to the 223 million tons of mining output produced worldwide in 2020, the United States Geological Survey (USGS) anticipated that there would be 71 billion tons of economically retrieved phosphate rock reserves in the world in 2021. 260 years would pass before the reserves ran out, assuming no expansion.
Rising demand for alternatives is being driven by the high cost of phosphates, which is constraining the supply of dicalcium phosphate. For instance, phosphate salts are very expensive and phytase, which is less expensive, can be used as a way to reduce the overall cost of the feed.
The use of phytase in feed has many advantages and fulfills various functions of feed phosphate such as enhancing stomach-related cycles, promoting bone health, highlighting weight gain, and dividing inedible phytic corrosive, thereby supporting the introduction of consumable phosphorous, calcium, and other supplements that support growth. Additionally, phytase promotes higher feed intake when compared to feed phosphates, which improves development and leads to superior performance.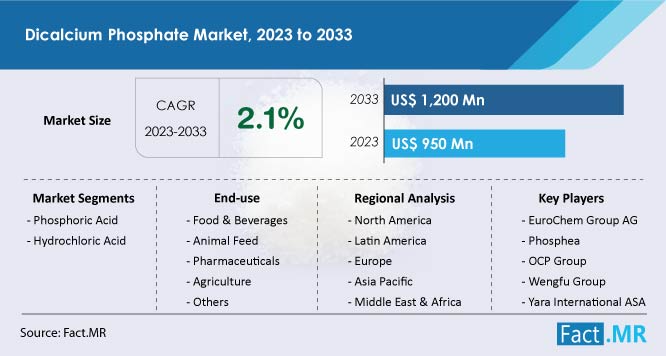 Country-wise Insights
What is Stimulating Demand for Dicalcium Phosphate in China and India?
"Rising Demand for Animal Protein, Natural Feed Additives, and Fertilizers"
Asia Pacific is expected to maintain its position as the market's leading region over the forecast period. Some of the driving factors for the dicalcium phosphate market in India include the growing demand for animal protein, increasing awareness about animal nutrition, and the rising trend of natural and organic feed additives.
Asia Pacific accounts for 55% of the market share in 2023. The two major markets for dicalcium phosphate in the region are China and India. Additionally, government initiatives and support towards the development of the agricultural sector in the country are also driving the growth in the feed phosphate market. The use of dicalcium phosphate as a fertilizer in the agricultural sector is also contributing to market growth in India.
As more farmers and pet owners understand the value of supplying calcium-based feed phosphates that contain essential nutrients such as vitamins and minerals, the market is expanding. The market is also expanding as a result of several benefits provided, including improved bone and tissue development, higher metabolism, and high livestock productivity.
Rising demand for premium meat products has led to an even greater rise in the need for dicalcium phosphates. For animals to produce high-quality meat products, proper nutrition is crucial, which is expected to increase the need for feed phosphates. Beyond gastronomic tastes, the production of high-quality commodities is strongly dependent on animal growth in the dairy and animal-derived natural fiber industries. Dicalcium phosphates thus play a crucial part in this process.
To encourage private investors and MSMEs to invest in the dairy, meat processing, and animal feed industries, In June 2020, a scheme was launched by the Indian government worth Rs 15,000 crore investment in infrastructure along with interest subsidy. This initiative resulted in the creation of 3.5 million jobs. A Cabinet meeting was also called by Prime Minister Narendra Modi to approve the Animal Husbandry Infrastructure Development Fund (AHIDF).
How is the Dicalcium Phosphate Market Faring in the United States?
"Growing Health Awareness and Rising Demand for Pharmaceuticals"
Throughout the forecast period, North America is anticipated to have a sizable market share. The market is expected to be driven by a rising population, rising dietary product demand, and growing health-related awareness. The dicalcium phosphate market in the United States is also benefiting from technological advancements in the production process, which have led to higher quality and more efficient production of dicalcium phosphate.
Demand for dicalcium phosphate is anticipated to be driven by an increase in its use for the production of pharmaceuticals and other healthcare items throughout the forecast period. Dicalcium phosphate is also used as a dietary supplement in the pharmaceutical industry. The rising demand for pharmaceuticals in the United States is driving the growth of the target market.
The country's annual livestock output has increased, which has raised the demand for compound feed. The livestock business has grown quickly, which has led to a consistent import of feed phosphates. The rising use of compound feed and numerous product improvements by industry participants are anticipated to drive the market.
Know thy Competitors
Competitive landscape highlights only certain players
Complete list available upon request
Category-wise Insights
What is the Role of Phosphoric Acid in the Production of Dicalcium Phosphate?
"Significance of Phosphoric Acid's Quality and Purity in Dicalcium Phosphate Production"
Growth is anticipated in the phosphoric acid segment as goods produced by this process are of high purity and need little capital input, which is expected to show an increase in dicalcium phosphate over the forecast period.
Phosphoric acid is a key raw material used in the production of dicalcium phosphate. It is typically obtained from phosphate rock, which is mined and processed to create phosphoric acid. The phosphoric acid then reacts with calcium carbonate or calcium hydroxide to produce dicalcium phosphate.
The quality and purity of the phosphoric acid used in the production process can have a significant impact on the properties and performance of the final product. Manufacturers of dicalcium phosphate may choose to use different grades of phosphoric acid based on their specific production requirements and the desired end-use applications.
Which Property of Dicalcium Phosphate Has Significance in the Agriculture Sector?
"Slow-release Property of Dicalcium Phosphate-based Fertilizers"
During the forecast period, the fertilizers segment is anticipated to grow quickly. The demand for dicalcium phosphate is anticipated to increase throughout the forecast period due to the growing need for dicalcium phosphate-based fertilizers and ongoing developments in the agriculture sector. Owing to its high calcium and phosphate percentage, dicalcium phosphate is primarily employed as a supplement.
One of the main advantages of dicalcium phosphate fertilizer is its slow-release property. This means that it can release phosphorus slowly over a longer period, ensuring that the plants have a steady supply of nutrients. This is in contrast to other fertilizers that release their nutrients all at once.
Overall, dicalcium phosphate fertilizer is an effective and sustainable way to enhance plant growth and productivity in agriculture. Its slow-release properties, neutral pH, and ease of handling make it a popular choice among farmers and gardeners.
Competitive Landscape
For the purpose of maintaining their hold on a sizable market share and expanding their presence regionally, businesses have been engaging in mergers and partnerships. Over the next few years, increasing investments from public and private entities are expected to guarantee the expansion of the market. To stay well-informed of shifting consumer demands over the coming years, feed phosphate producers are looking for significant product developments in the dicalcium phosphate market.
In April 2020, Nutrien stated that it has signed a legally binding deal to acquire all of the Tec Agro Group's shares to expand its platform in the Brazilian agricultural sector.
The acquisition by Yara International ASA and Nel to manufacture carbon-free hydrogen for the production of fertilizers was finalized in August 2019.
Key Segments of Dicalcium Phosphate Industry Research
By Production Method :

Phosphoric Acid
Hydrochloric Acid

By End Use :

Food & Beverages
Animal Feed
Pharmaceuticals
Agriculture
Others

By Region :

North America
Latin America
Europe
Asia Pacific
Middle East & Africa
- FAQs -
The global dicalcium phosphate market is valued at US$ 950 million in 2023.
Asia Pacific accounts for 55% share of the global market in 2023.
Worldwide demand for dicalcium phosphate is set to increase at a CAGR of 2.1% from 2023 to 2033.
Global sales of dicalcium phosphate are forecasted to reach US$ 1.2 billion by 2033.