Dry Powder Flavors Market
Dry Powder Flavors Market Analysis by Type (Organic, Synthetic), By Application (Beverages, Processed Foods, Dairy & Frozen Foods, Bakery & Confectionery), By Flavor (Vanilla, Strawberry, Blueberry, Peach), By Distribution Channel (B2B, B2C), & By Region – Global Market Insights 2023 to 2033
Analysis of Dry Powder Flavors Market Covering 30+ Countries Including Analysis of US, Canada, UK, Germany, France, Nordics, GCC countries, Japan, Korea and many more
Dry Powder Flavors Market Outlook (2023 to 2033)
The global dry powder flavors market reached a size of US$ 18.11 billion in 2022, according to the latest market study by Fact.MR. Over the projection period (2023 to 2033), worldwide dry powder flavor sales are predicted to rise steadily at a CAGR of 3.5% and reach US$ 26.44 billion by 2033.
Dry powder flavor refers to a powdered form of flavoring used in various food and beverage applications. It is a concentrated form of flavor that has been dehydrated to remove moisture. Dry flavor powders are typically derived from natural or artificial sources and are used to enhance the taste and aroma of different food and beverage products.
They offer several advantages over liquid or fresh flavorings. They have a longer shelf life and are less prone to degradation and spoilage. They are also easier to handle, transport, and store due to their dry and lightweight nature. Dry flavor powders provide a more concentrated flavor profile, allowing manufacturers to use smaller quantities to achieve the desired taste.
These powders can be customized to meet specific flavor requirements and can be easily incorporated into various food and beverage formulations. They are widely used in applications such as bakery products, confectionery, dairy products, beverages, snacks, seasonings, and more.
Dry powder flavors can be made from a variety of sources, including dried fruit extracts, vegetables, herbs, spices, and artificial flavor compounds. They are produced through processes such as spray drying, freeze drying, or other dehydration methods, which remove the water content while retaining the flavor compounds.
In October 2022, Nexira introduced a product called Mother Nature's POW(D)ER, which showcases a selection of 30 naturally sourced sensory ingredients in a well-thought-out assortment. Nexira plans to offer POW(D)ER from Mother Nature, an innovative brand that provides conveniently produced chemicals with natural enhancements. Its plant-based powders are derived from a variety of sources including fruits, flowers, leaves, seeds, and roots.
Report Attributes
Details

Dry Powder Flavors Market Size (2022)

US$ 18.11 Billion

Estimated Market Value (2023)

US$ 18.74 Billion

Forecasted Market Value (2033)

US$ 26.44 Billion

Global Market Growth Rate (2023 to 2033)

3.5% CAGR

United Kingdom Market Value (2033)

US$ 2.32 Billion

United Kingdom Market Growth Rate (2023 to 2033)

6% CAGR

China Market Value (2033)

US$ 5.94 Billion

China Market Growth Rate (2023 to 2033)

5.7% CAGR

Key Companies Profiled

ADM
Asian Flavors & Fragrances
Corbion
Custom Flavors
Firmenich SA
Givaudan
MANE SA
Kerry Group
Flavorchem
Gold Coast Ingredients, Inc.
What are the Factors Leading to Consistent Increase in Demand for Dry Powder Flavors?
"Extensive Utilization of Dry Powder Flavors in F&B Industry Due to Their Extended Shelf Life"
Fruit flavor powders are versatile ingredients that can be used to enhance the flavor, aroma, and color of a wide range of meals and beverages. As a result, they are often employed in a wide range of food and beverage applications, including bread, confectionery, dairy products, snacks, and nutritional supplements.
Fruit powders have an extended lifespan, unlike fresh fruits. This is especially helpful for the food and beverages industry since it allows companies to add fruit flavors to their products without having to worry about seasonal accessibility, short shelf life, and potential rotting. Fruit powders also enable the development of one-of-a-kind flavors and exotic fruit characteristics, which increases consumer appeal and competition in the market.
"Growing Demand for Organic & All-Natural Ingredients Driven by Rising Concerns about Food Quality"
More consumers are expressing concerns regarding the quality of their food choices. Their focus has shifted towards product labels and the ingredients utilized in processed foods. The growing demand for 100% natural ingredients is compelling manufacturers to provide substances with clean-label declarations. Organic foods are gaining significant popularity due to their purported health advantages.
Organic products contain ingredients sourced from organically certified farms that adhere to stringent production practices. Organic products are free of pesticides, artificial fertilizers, and genetically modified organisms (GMOs), making them more appealing to affluent consumers willing to pay a premium for them. The growing popularity of organic and all-natural products creates prospects for profitable expansion for powdered tastes.
As a result, manufacturers are producing products with organic, non-GMO (genetically modified organisms), and 100% natural claims to meet shifting consumer demands.
For example, Diana Food, a Symrise subsidiary, launched organic cultured celery powder in the United States in April 2021. The product can be used as a strong flavoring agent in soups, ready meals, sauces, spreads, dressings, meat products, and beverages.
Don't Need a Global Report?
save 40%! on Country & Region specific reports
What are the Primary Obstacles Encountered by Manufacturers of Dry Powder Flavors?
"Increased Susceptibility of Dry Powder Flavors to Degradation Due to Moisture or Heat Exposure"
While dry powder flavors generally have a longer shelf life compared to liquid flavors, they are still susceptible to degradation over time. Exposure to moisture, heat, or improper storage conditions can affect the flavor quality and stability, limiting their shelf life.
Some dry powder flavors may experience flavor loss or degradation during the manufacturing or processing stages. High-temperature processes, such as baking or frying, can cause flavor volatilization or chemical reactions that alter the flavor profile.
The dry powder flavors market is highly competitive, with several players offering a wide range of flavor options. This intense competition can lead to price pressures and lower profit margins for manufacturers.
"Regulatory Constraints, Flavor Consistency Challenges, and Allergen Concerns"
Use of certain ingredients in dry powder flavors may be subject to regulatory restrictions or require compliance with specific labeling and safety standards. This can add complexity and compliance costs for manufacturers.
Maintaining consistent flavor profiles across batches can be a challenge in the production of dry powder flavors. Variations in raw materials, processing conditions, or formulation can lead to inconsistencies in the final product, affecting customer satisfaction.
Dry powder flavors may contain allergenic ingredients or be processed in facilities that also handle allergens. Manufacturers need to address allergen labeling and ensure proper segregation to prevent cross-contamination.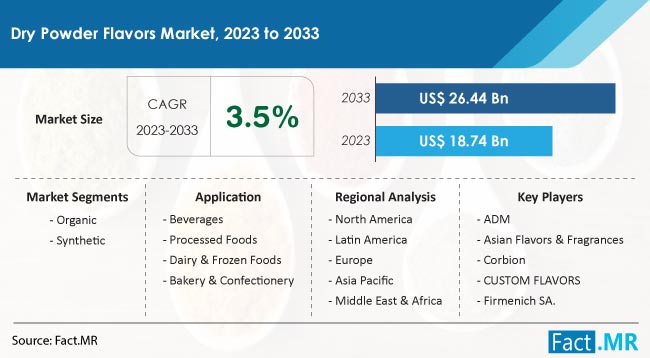 Country-wise Insights
Why are Sales of Dry Powder Flavors So High in Germany?
"Rising Demand for Nutritional and Functional Meals"
The market in Germany is forecasted to expand at a steady CAGR of 6.1% and reach US$ 3.14 billion by the end of 2033.
Rising demand for nutritional and functional meals, particularly bakery items, as well as growing consumer health concerns, are major drivers for market growth in Germany. The food processing ingredients sector is concerned about environmental sustainability. This suggests that most businesses have a built-in sustainability plan that ensures continuity throughout the whole supply chain, from cultivation to food processing.
Retailers, for example, are progressively requesting ingredient manufacturers to demonstrate their dedication to sustainability or ensure appropriate labeling practices. Germany is a suitable geographical location for fruit ingredient makers since it is centrally placed in Europe, has well-developed transportation systems, and is well-positioned for food processors to export fruit powders to other European countries.
Why are Dry Powder Flavor Sales Expected to Increase Substantially in the United States?
"High Demand for Dry Powder Flavors Due to Ease of Storage & Transport and Consumers' Growing Preference for Organic Ingredients"
The market in the United States is forecasted to expand at a moderate CAGR of 5.8% and reach US$ 7.45 billion by the end of 2033.
The dry powder flavors market in the United States is a significant segment within the broader food and beverages industry. Demand for flavored drinks in the United States is driven by various factors, including consumers' preference for convenience and the diverse range of food and beverage products available in the market.
The food and beverages industry in the United States is characterized by a wide range of products catering to diverse consumer tastes. The expansion of this industry is fueling the demand for dry powder flavors as manufacturers seek to enhance the taste and appeal of their offerings.
Dry powder flavors provide convenience to consumers and manufacturers alike. They are easy to store, transport, and use, making them popular in various applications such as baking, beverages, snacks, and seasoning mixes.
The market is known for its flavor innovation and the introduction of unique and exotic tastes. Dry powder flavors enable manufacturers to experiment with different flavor profiles, customize products, and cater to evolving consumer preferences.
Consumers are increasingly seeking flavors derived from natural sources and are concerned about the use of artificial additives. This trend has driven the development of natural and organic substances in the United States.
More Insights, Lesser Cost (-50% off)
Insights on import/export production,
pricing analysis, and more – Only @ Fact.MR
Category-wise Insights
Why Do Organic Dry Powder Flavors Account for Higher Sales?
"Rising Consumer Preference for Clean and Natural Food Products"
Sales of organic dry powder flavors are forecasted to rise at a CAGR of 4.2% from 2023 to 2033.
Organic dry powder flavors refer to powdered flavorings derived from organic sources, following organic farming and processing practices. These flavors are made from organic ingredients that are grown without the use of synthetic pesticides, herbicides, or GMOs. Organic certification ensures that the ingredients and manufacturing processes comply with strict organic standards set by regulatory bodies.
These powder flavors are made from organic ingredients, which are grown using sustainable agricultural practices that prioritize soil health, biodiversity, and environmental stewardship.
Organic farming prohibits the use of synthetic pesticides, herbicides, and fertilizers, ensuring that the flavor ingredients are free from chemical residues. This makes organic dry powder flavors a preferred choice for consumers seeking clean and natural products. The flavors are derived from non-GMO sources, assuring consumers concerned about genetically modified organisms in their food and beverages.
How are Dry Powder Flavors Being Utilized in the Processed Food Industry?
"Widespread Utilization of Dry Powder Flavors in Seasonings & Spice Blends for Soups, Sauces, and Gravies for Taste Enhancement"
Utilization of dry powder flavors in processed food is forecasted to increase at a CAGR of 4.9% over the projected period.
Dry powder flavors play a significant role in the processed food industry, as they provide convenience, versatility, and enhanced taste to a wide range of products. Tomato powder flavors are extensively used in the production of snack foods such as chips, popcorn, pretzels, and extruded snacks. They add flavor and aroma to these products, enticing consumers with various taste profiles such as cheese, barbecue, sour cream, onion, and more.
Key components in seasonings and spice blends are used to enhance the taste of processed foods. They are incorporated into flavored seasoning powders for meat, poultry, fish, and vegetables, providing distinctive flavors and enhancing overall palatability.
They are used in the formulation of instant soups, sauces, and gravies. They contribute to the overall taste profile of these products, providing savory, tangy, or creamy flavors that can be easily reconstituted when mixed with water or other liquids.
Competitive Landscape
The competitive landscape of the dry powder flavors market is diverse and highly competitive, with several key players operating globally. These companies compete based on factors such as product innovation, flavor variety, quality, pricing, customer service, and distribution networks.
The dry powder flavors market faces competition from other types of flavorings, such as liquid flavors and natural flavors powder. The ability to provide unique and innovative flavor profiles, meet regulatory requirements, and provide cost-effective solutions are key factors that determine competitiveness in the market.
Kanegrade released Pomegranate Powder in January 2022, which is a pink/yellow powder with a fruity flavor and scent made by low-temperature spray-drying. It is a fine powdered free-flowing substance with hygroscopic properties.
Know thy Competitors
Competitive landscape highlights only certain players
Complete list available upon request
Key Segments of Dry Powder Flavors Industry Research
By Type :

By Application :

Beverages
Processed Foods
Dairy & Frozen Foods
Bakery & Confectionery

By Flavor :

Vanilla
Strawberry
Blueberry
Peach

By Distribution Channel :

By Region :

North America
Latin America
Europe
Asia Pacific
Middle East & Africa
- FAQs -
The global dry powder flavors market is valued at US$ 18.74 billion in 2023.
From 2023 to 2033, worldwide sales of dry powder flavors are predicted to increase at a CAGR of 3.5%.
By 2033, sales of dry powder flavors are forecasted to reach US$ 26.44 billion.
The market in China is forecasted to expand at a CAGR of 5.7% through 2033.
Demand for dry powder flavors in India is predicted to reach a market value of US$ 2.43 billion by 2033.