Cocoa powder is a mixture that remains after cocoa butter is extracted from cacao beans. Cocoa powder is one of the key ingredients in chocolate, chocolate confections and syrup. Increasing preference for better flavor, color and texture is also driving demand for cocoa powder as a coloring agent. Cocoa powder is also rich in flavonoids and several minerals. New process of manufacturing cocoa powder is being adopted on a large scale as the amount of flavonoids depends on the processing. Also, cocoa powder products may contains cadmium which is a toxic heavy metal, hence, European Union is planning to impose limit for cadmium in cocoa powder of 0.6 µg per gram of cocoa powder. Meanwhile, the government in the U.S. has not set any limit on cadmium in food products, however, State of California has introduced maximum allowable daily level. Research also suggests that cocoa containing highest flavanol content contribute to skin, cognitive, and cardiovascular health. As per the latest report compiled by Fact.MR, the global market for cocoa powder is likely to witness a CAGR of nearly 2.2% in terms of volume till 2026. The market is projected to surpass 1,315 '000 tonnes by the end of 2026.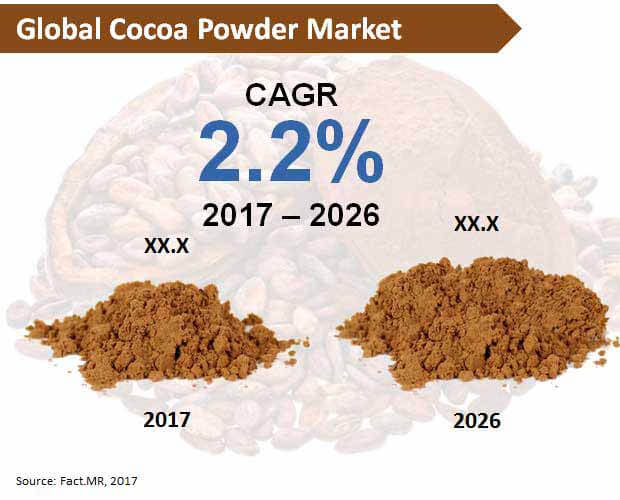 Market Taxonomy
| Product Type | End Use Industry | Cocoa Variety | Distribution Channel |
| --- | --- | --- | --- |
| Black Cocoa | Chocolate & Confectionery | Forastero | Modern Trade |
| Double-Dutch Cocoa Blend | Beverages | Criollo | Speciality Stores |
| Triple Cocoa Blend | Bakery | Trinitario | Convenience Stores |
| Bensdorp Dutch-Process Cocoa | Functional Food | Other Cocoa Varieties | Traditional Grocery Stores |
| Cocoa Rouge | Cosmetics | | Online store |
| Natural Cocoa | Pharmaceuticals | | Other Distribution Channels |
Double-Dutch Cocoa Segment Accounts for 26% Volume Share
The report offers detailed analysis and insights on the basis of product type. The key segments covered on the basis of product type include black cocoa, Double-Dutch Cocoa blend, triple cocoa blend, Bensdorp Dutch-Process Cocoa, Cocoa Rouge, and Natural Cocoa. Among these, Double-Dutch cocoa powder segment currently accounts for nearly 26% volume share of the market. This segment is likely to expand at a CAGR of 3% in terms of volume through 2026, and reach nearly 367 '000 tonnes.
Demand for Cocoa Powder Significant in Beverage Industry
On the basis of end-use industry, the key segments include chocolate & confectionary, beverages, bakery, functional food, cosmetics, and pharmaceuticals. Among these, beverages segment accounts for nearly 17.3% volume share of the market, and is likely to grow at a CAGR of 1.2% in terms of volume during the assessment period. The demand for cocoa powder from the beverages sector is likely to remain steady during the assessment period.
Speciality Stores Account for 22% Volume Share
The distribution channel segmentation analysis includes modern trade, speciality stores, convenience stores, traditional grocery stores, online stores, and other distribution channels. Sales through distribution channel remain significant, and this segment currently accounts for 22% volume share of the market.
Competition Tracking
The report also profiles companies that are expected to remain active in the expansion of global cocoa powder market through 2026, which include Hershey's, Ghirardelli, Nestle, Mars, Inc., Cocoa Processing Company, Olam International, Cargill, Inc., Barry Callebaut, Swiss Chalet Fine Foods, Touton, and Dutch Cocoa.
Note: The insights mentioned here are of the respective analysts, and do not reflect the position of Fact.MR
Increasing production of chocolate confections and syrup is expected to derive demand for cocoa powder globally. As consumption of cocoa powder benefits the cardiovascular health of the consumers, which is expected to rev up sales of cocoa powder significantly. This report, published by Fact.MR, provides in-depth analysis of the global cocoa powder market for the forecast period 2017-2026, and offers key insights about future market direction.
Scope
The scope of Fact.MR's report is to analyze the global cocoa powder market for the forecast period 2017-2026 and provide readers an unbiased and accurate analysis. Cocoa powder manufacturers, stakeholders, and suppliers in the global food & beverage sector can benefit from the analysis offered in this report. This report offers a comprehensive analysis, which can be of interest to leading trade magazines and journals pertaining to cocoa powder.
Summary
The report commences with a brief information of the global cocoa powder market. This executive summary sets the tone for the rest of the report, providing users the scope of the report. The executive summary includes important facts and statistics on the global cocoa powder market.
Overview
This section offers an overview of the global cocoa powder market. This comprises an introduction to the market, along with a standard definition of the product – cocoa powder. In this section, market value and year-over-year growth is offered to the readers. Year-over-year growth provides readers with a broader view of growth patterns over the forecast period.
The report's succeeding section focuses on drivers, restraints and key trends from macroeconomic, demand, and supply perspectives. Impact analysis of weighted average model-based growth drivers is contained in the report for better provision of decision-making insights to clients.
In order to offer readers with up-to-date information about the latest advancements in the global cocoa powder market, the report provides updates about market opportunities, which can benefit leading manufacturers of cocoa powder. With continuous evolution of the food & beverage sector, keeping a record of latest developments and trends is fundamental for cocoa powder manufacturers to formulate key business strategies. Detailed insights about raw material sourcing, supply chain, pricing analysis, list of distributors, and cost structure are provided in this section.
Considering the wide scope of the global cocoa powder market and to offer in-depth insights, Fact.MR's report provides segment-wise analysis and forecast. The cocoa powder market has been categorized on the basis of product type, sales channel, raw material, and region. This segmentation analysis is comprehensive, coupled with a detailed country-wise forecast provided on all parameters.
The report's last section comprises of the global cocoa powder market competitive landscape, to provide readers with the dashboard view of company analysis and market players. This competitive intelligence is based on the providers' categories across value chain, and their presence in the global cocoa powder market.
Research Methodology
Fact.MR is committed to offer unbiased and independent market research solutions to its clients. Each market report of Fact.MR is compiled after months of exhaustive research. We bank on a mix of tried-and-tested and innovative research methodologies to offer the most comprehensive and accurate information. Our main sources of research include,
Primary research
Secondary research
Trade research
Focused interviews
Social media analysis
Fact.MR offers custom research services that help clients to get specific research solutions
We are committed towards customer satisfaction and quality service.
---
Our Clients

Cocoa Powder Market Forecast, Trend Analysis & Competition Tracking - Global Market insights 2017 to 2026