Dry onion is made by exposing onion to the heat at a very low level and all the moisture is removed to make it dry. The process of drying onion helps to preserve it for a long time. Dry onion is being used in a number of processed food products and non-processed food products like sauces, soups, salads, gravies, meats, seafood, etc. Although dry onions are slightly less pungent as compared to the fresh onion, they still add a great zing to many foods.
Along with enhancing the flavor, dry onions also provide various health benefits such as they are rich in potassium, magnesium, and calcium. Moreover, dry onion is also low in calories, fat, and sodium. Hence the majority of the people are shifting towards using dry onion as an essential ingredient in their cooking. Global food processing industries are also increasingly using adding dry onions in various foods. As fresh onions are seasonal in some of the countries, dry onion is proving to be an economical and effective technique to use onions even in off-seasons. Researchers are also focusing on finding various new methods to dry onions while maintaining its quality and taste.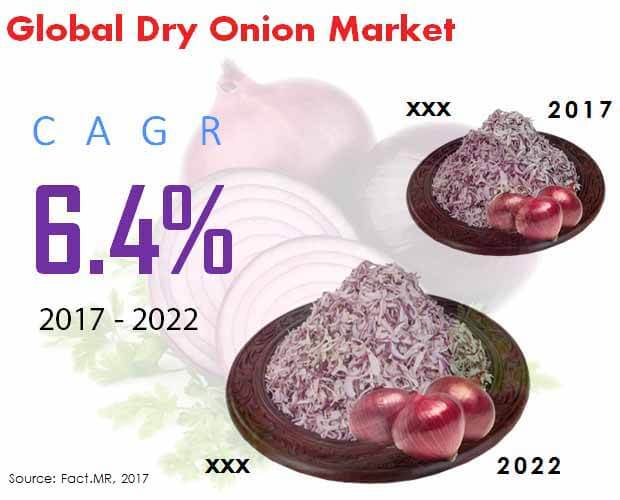 According to the latest report by Fact.MR, the global dry onion market is likely to experience strong growth. The market is projected to reach US$ 4,117.3 million revenue by 2022 end. Drying onions can help to preserve onions for a long time, hence the demand for dry onions in form of powder, flakes, and granules is increasing. Consumers are also using dry onions in place of fresh onions as they are easy to use and also offers health benefits.
Market Taxonomy
| | | |
| --- | --- | --- |
| Form | Drying Process | Application Type |
| Flakes | Air Drying | Culinary |
| Powder | Freeze Drying | Soups |
| Granules | Vacuum Drying | Sauces |
| Minced | Other Drying Processes | Salad Dressings |
| Other Forms | | Snacks & Convenience Food |
| | | Bakery Products |
| | | Fast Food Restaurant Chains |
| | | Meat & Poultry Products |
| | | Other Applications |
(Additional information, including cross-sectional data and country-wise analysis & forecast is available in the report)
Dry Onion in Form of Flakes to Gain Maximum Revenue Share
Flakes as one of the forms of dry onion is likely to experience strong growth. Accounting for nearly half of the share in terms of revenue by 2017 end, flakes are projected to bring in nearly US$ 2,000 million revenue. Although, powder form is also anticipated to experience impressive growth during 2017-2022.
Air Drying to Emerge as the Highly Preferred Drying Process
Among all the other processes used to produce dry onion, air drying process is likely to be the most preferred process. Air drying process is projected to account for more than two-fifth of the revenue share on global revenue by 2017 end. Meanwhile, freeze drying process is also likely to experience steady growth in the next five years.
Culinary to Witness Strong Growth in the Global Dry Onion Market
Dry onion is likely to witness the largest application in culinary. Witnessing a healthy growth, culinary is projected to reach close to US$ 1,000 million revenue towards 2022 end.
Competition Tracking
The report also profiles companies that are expected to remain active in the expansion of global dry onion market through 2022, which include Kings Dehydrated Foods Pvt. Ltd, Murtuza Foods Pvt. Ltd, Vibrant Dehydro Foods Pvt. Ltd, Cascade Specialties Inc., Shreeji Dehydrate, Vibrant Dehydro Foods Pvt. Ltd, Foodchem International Corporation, Pardes Dehydration, and Daksh Foods.
Note: The insights mentioned here are of the respective analysts, and do not reflect the position of Fact.M
Exposed to the low heat until all the moisture is removed, dried onion can be preserved for a long time. Increasing number of manufacturers are using dry onions to produce onion powder to be used as an ingredient in various foods including salads, soups, etc. dry onions also offers various nutrients and are very low in fat, sodium and calories, hence dry onion is becoming a common ingredient used at restaurants as well as households. Hence, manufacturers are also producing various products made using dry onions. This report, published by Fact.MR, provides in-depth analysis of the global dry onion market for the forecast period 2017-2022, and offers key insights about future market direction.
Scope
The scope of Fact.MR's report is to analyze the global dry onion market for the forecast period 2017-2022 and provide readers an unbiased and accurate analysis. Dry onion manufacturers, stakeholders, and suppliers in the global food & beverage sector can benefit from the analysis offered in this report. This report offers a comprehensive analysis, which can be of interest to leading trade magazines and journals pertaining to dry onion.
Summary
The report commences with a brief information of the global dry onion market. This executive summary sets the tone for the rest of the report, providing users the scope of the report. The executive summary includes important facts and statistics on the global dry onion market.
Overview
The next section offers an overview of the global dry onion market. This comprises an introduction to the market, along with a standard definition of the product – dry onion. In this section, market value and year-over-year growth is offered to the readers. Year-over-year growth provides readers with a broader view of growth patterns over the forecast period.
The report's succeeding section focuses on drivers, restraints and key trends from macroeconomic, demand, and supply perspectives. Impact analysis of weighted average model-based growth drivers is contained in the report for better provision of decision-making insights to clients.
In order to offer readers with up-to-date information about the latest advancements in the global dry onion market, the report provides updates about market opportunities, which can benefit leading manufacturers of dry onion. With continuous evolution of the food & beverage sector, keeping a record of latest developments and trends is fundamental for dry onion manufacturers to formulate key business strategies. Detailed insights about raw material sourcing, supply chain, pricing analysis, list of distributors, and cost structure are provided in this section.
Considering the broad scope of the global dry onion market, the report by Fact.MR provides in-depth and segment-wise analysis. The global market for dry onion is segmented into form, drying process, application type, and region. This segmentation also offers detailed country-wise forecast on all the major parameters of the market.
The report's last section comprises of the global dry onion market competitive landscape, to provide readers with the dashboard view of company analysis and market players. This competitive intelligence is based on the providers' categories across value chain, and their presence in the global dry onion market.
Research Methodology
Fact.MR is committed to offer unbiased and independent market research solutions to its clients. Each market report of Fact.MR is compiled after months of exhaustive research. We bank on a mix of tried-and-tested and innovative research methodologies to offer the most comprehensive and accurate information. Our main sources of research include,
Primary research
Secondary research
Trade research
Focused interviews
Social media analysis
Fact.MR offers custom research services that help clients to get specific research solutions
We are committed towards customer satisfaction and quality service.
---
Our Clients

Dry Onion Market Forecast, Trend Analysis & Competition Tracking – Global Market insights 2017 to 2022