E-scooter Sharing Market
Electric Scooter Sharing Market Analysis by Product Type (Free-floating, Station-bound), by Distribution Channel (Online, Offline) and Region - Global Forecast 2022 to 2032
Analysis of E-scooter Sharing market covering 30 + countries including analysis of US, Canada, UK, Germany, France, Nordics, GCC countries, Japan, Korea and many more
E-scooter Sharing Market Outlook (2022-2032)
The E-scooter sharing market is projected to grow steadily at a 19% value CAGR, during the forecast period 2022-2032. Earlier in 2021, this market was projected to have a global market valuation worth US$ 930 Mn and is expected to reach a sum of US$ 6302.2 Mn by 2032.
Growing popularity and growing demand for shared micro mobility can be attributed largely to the growth of the market. A number of other factors associated with the electric scooter (e-scooter) sharing system, which are expected to contribute to the market's growth. These include convenience, greater flexibility, favorable cost structure, and user-friendly features.
An e-scooter sharing program provides easy-to-use mobility for last-mile trips. Ride-hailing has helped pave the way for shared e-scooters by increasing the popularity of shared mobility. Since electric scooters are smaller, they require less space for parking.
Therefore, both governments and e-scooter sharing service providers are encouraging daily commuters to use these services as an economical, convenient, and easier way to get around. The majority of providers offer dockless, floating e-scooters that do not need to be picked up and returned to specific locations.
The free-floating E-scooter sharing segment held the largest market share based on product type and is projected to grow the most during the forecast period. This segment accounted for 95.5% of the global market share in 2021.
The free-floating scooters eliminate the need to pick-up and drop them to their hubs and can be hired from any place as per the requirement of the user. This flexible character of these scooters enhances its demand and thus takes over a prominent revenue share in the global electric scooter sharing market.
Report Attributes
Details

Global Growth Rate (2022-2032)

19% CAGR

Estimated market value in 2021

US$ 930 Mn

Projected market value in 2022

US$ 1106.7 Mn

Projected market value by 2032

US$ 6302.2 Mn

Market share of the free-floating segment in 2021

95.5%

Projected CAGR of the offline segment during 2022-2032

12.6%

Key E-scooter sharing Providers

Neutron Holdings, Inc.;
Cityscoot;
Cooltra Motosharing, S.L.U;
Bird Global Inc.;
Vogo Automotive Pvt. Ltd.;
GoTo Global Mobility Ltd.;
Lyft Inc.;
VOI Technology
This market is expected to gain a global market valuation of US$ 1106.7 Mn by the end of 2022. Despite the enormous growth in the market, there are several factors hindering this growth as well. The issue of riding on footpaths, not wearing helmets, accidents, pedestrian safety, as well as multiple deaths caused municipalities and cities to impose restrictions and guidelines.
This was done so as to provide a service to residents and ensure their safety. The key players in the market are required to take immediate steps to resolve these issues to flourish well in this market.
Know thy Competitors
Competitive landscape highlights only certain players
Complete list available upon request
2017-2021 Demand Analysis of E-scooter sharing Industry vs. Future Outlook 2022-2032
According to Fact.MR- a market research and competitive intelligence provider- the E-scooter sharing industry growth was estimated at a CAGR of 17.3% from 2017 to 2021. This market was mostly dependent on the traditional sharing programs, that is, station-bound sharing programs. But the key players in this market soon introduced the free-floating programs which offered flexibility to book their vehicles from their preferred location.
E-scooter sharing programs have gained massive prominence in the last few years globally. In 2019, there were approximately 66,000 shared e-scooters available globally. E-scooter sharing, which is currently available in 88 cities across 21 countries, is slowly becoming a global trend.
Although Europe dominates the global market, India, within the APAC region, is experiencing a massive, unprecedented push. India currently has 15,000-20,000 e-scooters, accounting for up to 30% of the global fleet.
During the forecast period, the free-floating segment is expected to soar high for the easy battery swapping technology and flexibility of picking and dropping the scooters to the charging stations. With the increasing traffic congestion and the need for clean vehicles on the road, the global E-scooter sharing market is forecast to expand at a pace of 1.09x times.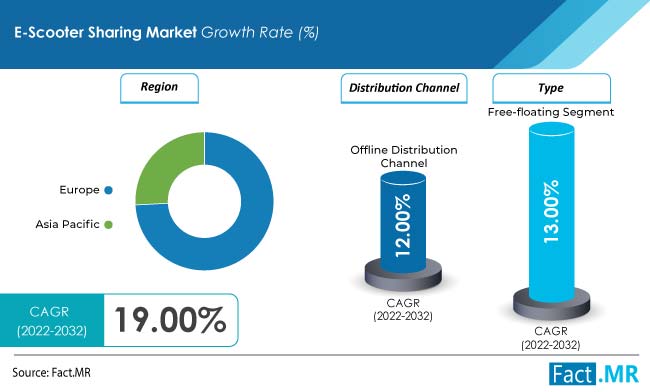 Prominent Growth Drivers Influencing E-scooter sharing Industry
Increased traffic congestion to promote the growth of this market
One of the main factors driving the growth of the electric scooter sharing market is the increase in traffic congestion in urban areas. A rising population in major cities has created a significant amount of traffic congestion, especially during peak hours, as a result of daily commuters. In an effort to reduce the problem, countries are exploring new options. Across the globe, this is a major factor driving the E-scooter sharing industry.
Daily travelers are encouraged to use scooter sharing services by governments and scooter sharing providers. People are becoming more conscious of the green movement, which is driving them to use electric vehicles for travel.
Due to scooters' compact size and low space requirements on the road and in parking lots, they reduce traffic congestion. At the same time, these vehicles are not contributing to carbon emissions and thus making the environment cleaner.
Increasing technological advancement to augment the market growth
Electric scooter technological improvements are another major driver of this market. The key players are working on improving their products to make them more effective and functional. This type of micro mobility offering is in high demand, and custom-designed vehicles are required to meet that demand.
In reality, shared scooters are ridden more frequently, can handle more varied road surfaces, and can withstand more varied weather conditions than privately owned scooters. Bird Zero, a new kind of vehicle meant for the company's E-scooter sharing scheme, was launched in Europe with more battery life, better lighting, increased durability, and more advanced GPS technology.
This was the first in a series of comprehensive vehicle evolutions aimed at improving safety, sustainability, and longevity — and it worked.
Thus, as technology improves, more users will get drawn to the products. During the forecast period, key players will be focusing on incorporating advanced technology such as AI and IoT into these products to make them more appealing to users.
More Insights, Lesser Cost (-50% off)
Insights on import/export production,
pricing analysis, and more – Only @ Fact.MR
What could Possibly Hinder the Deployment of E-scooter Sharing?
Strict regulations and higher licensing fees is going to restrict the market's growth
The growth of the market is expected to be restrained by several counterfactors. Particularly complex rules and regulations limit the market's growth. This includes the changing requirements for driver's licenses and helmets.
A lack of dedicated driving lanes for shared e-scooters is also discouraging commuters from using shared transportation. Due to higher upfront licensing fees per scooter and a reduction in the maximum fleet size allowed per operator, e-scooter sharing operators in many US cities have stopped expanding and begun scaling down their fleet size.
At the same time, Lime, the global market leader in e-scooter sharing, has reduced its US presence from 90 cities in December 2019 to 54 cities in March 2020 in just three months.
Market participants, on the other hand, are facing difficulties in maintaining profitability, owing to the lower durability and thus shorter lifespan of shared e-scooters. With all of these issues, the market will face serious threats during the forecast period.
Country-wise Analysis
What is the outlook of the European E-scooter sharing market?
Key players operating in this region will drive this market
A revenue share of about 66% was accounted for by Europe in 2021. Due to the prominence of key market players and high levels of consumer awareness regarding e-scooter sharing services, the regional market has a high revenue share.
The E-scooter sharing trend shifted from the United States to Europe in the second half of 2019. In 2021, e-scooter sharing services were available in 112 cities compared to 32 in 2020. The European market has taken up the dominant position at the global level, but it has yet to become stable. Spain, Paris, and Berlin occupy the top 3 places in Europe in terms of the size and utilization of their E-scooter sharing fleets as of March 2021.
With more than 54 locations throughout Europe, Tier offers the widest coverage in this region. In the period from December 2019 to March 2020, 16 additional cities were added to Tier's list of operating centers. During the same period, Lime shut down its operations in 21 European cities and now operates in 35 European cities.
The majority of electric scooters owned by e-scooter sharing companies are located in European cities, such as Berlin, Germany; Paris, France; and Madrid, Spain. The number of electric scooter riders in these cities is also very high in these cities which is positively affecting the demand of E-scooter sharing. Several European governments are investing heavily in e-scooter sharing services at the same time.
How is the growth of E-scooter sharing emerging in the APAC region?
Increased popularity of scooter sharing service in the APAC region to boost the market
The Asia Pacific region is expected to grow at a CAGR of 23% from 2022 to 2032. Growth in the regional market is attributed to changing commuter behavior, an increase in internet penetration, and growing awareness about e-scooter sharing services, along with the entry of key market players and the emergence of local market players.
The electric two-wheeler market in this region is expected to dominate the automotive market in the future. By virtue of micro mobility, urban environments have undergone significant changes. China has set an example for the development of the E-scooter sharing market with 60 companies putting approximately 17 million scooters on the streets of the country. Ofo was the first company to develop dockless electric bike sharing in China.
In March 2021, another company, Lime, announced a plan to double the number of electric bikes and scooters in the APAC region. The $50 million investment in hardware upgrades and the expansion of the fleet will be financed by the profitable first quarter results the company received in 2020.
The governments of Asia Pacific are also increasingly investing in the development of e-scooter sharing services. To support and promote green transport, a sharing program for e-scooters was launched in Taipei, Taiwan, in May 2021. Considering all of these positively progressing factors, the APAC E-scooter market is likely to gain high demand during the forecast period.
What will be the outlook of the European market during the forecast period?
European regulations to boost the market growth in future
Numerous European agencies regulate E-scooter sharing on a global scale. Medical devices in Europe are regulated by Regulation (EU) 2017/745, which specifies how they should be used. One of the key factors affecting industry growth in the region will be the restructuring of European regulations for devices of this type. Several technological innovations have taken place within the healthcare industry regarding the production of advanced plastics.
Several major companies, such as Evonik Industries AG, Solvay S.A., and Röchling SE & Co. KG is located in Europe. One of the major strategies used by the key players in the European market to achieve growth in the market is via new product development. To develop advanced products, key market players also invest heavily in R&D, thus accelerating the growth of the E-scooter sharing market in this region.
Country-wise Forecast CAGRs/ Market share for the E-scooter sharing market
| Region | Market Share/CAGR |
| --- | --- |
| Market share of the European market in 2021 | 66% |
| Expected CAGR of the APAC market during 2022-2023 | 23% |
Category-wise Insights
Which Product Type is Forecast to gain the Maximum Market Share?
The Free-floating segment is likely gain the maximum share due to its flexibility
Free-floating segments accounted for the largest share of revenues in 2021, around 95.5%. This was driven by most providers offering dockless, free-floating sharing services for e-scooters.
This sharing method eliminates the need for riders to pick up and return e-scooters at specific locations. As an alternative, riders can park their electric scooters on the sidewalk or in designated parking spaces. Increased mobility and accessibility for users results in a lower churn rate, which increases usage and revenue for the company. A free-floating model enables vehicles to be moved to and placed at key locations easily when and where users need them.
In addition, swappable batteries make recharging less dependent on the location of the vehicle. Users can save a lot of time and manpower by swapping them instead of collecting vehicles to be charged. For daily commuters in the most congested areas of metro cities, dockless, free-floating e-scooter sharing systems are extremely convenient.
All of these points contribute to a superior user experience, which is ultimately what keeps users returning. This is expected to accelerate sales of this segment in the global market during the forecast period.
By Distribution Channel, which Category is likely to benefit the most?
The offline segment is forecast to grow in the future
As of 2021, the offline segment represented a revenue share of around 4.5%. Offline riders can book an e-scooter sharing ride directly at a station or by calling the local provider. As a result, users have the opportunity to wait less, which is an added benefit. Over the forecast period, the offline segment is forecast to grow at a CAGR of 12%.
There were 7,469 docking stations in the U.S. operated by 69 E-scooter sharing systems open to the general public, as of August 2021. With such a large number of stations all around the country, the offline segment attained huge popularity. The demand for E-scooter sharing facilities in the region was accelerated by this.
As the share of micro-mobility grows, including sharing e-scooters, as well as the strong preference for traditional, offline channels, particularly among the elderly, these factors are expected to play a vital role in driving the segment's growth.
Don't Need a Global Report?
save 40%! on Country & Region specific reports
Competitive Landscape
The global electric scooter sharing market share is highly consolidated, dominated by a few major market players who account for most of the market share. Leading market players are pursuing geographic expansion to capture untapped markets. Market share is also being augmented by mergers and acquisitions among key players.
Bengaluru-based start-up Bounce has announced plans to launch its first electric scooter on 5 November 2021. Bounce is best known for its scooter rental service, but plans to expand into manufacturing this month. Rather than purchasing batteries as part of the scooter, Bounce will provide customers with the option of renting them. As a result, the scooters will be less expensive, while a recurring subscription fee will be added.
In October 2021, Neuron Mobility of Singapore went into a partnership with Lime in order to offer e-scooters and e-bikes in Christchurch, New Zealand.
To improve the user experience, Lime introduced three new features in April 2021; free 10-minute reservations, customizable display themes, and vehicle recommendations. Additionally, the company has developed app clips that allow users to ride without having to download the official application.
In May 2020, Lime acquired the bike and scooter sharing business, Jump that belongs to Uber .
Key Segments Covered in the E-scooter sharing market Report
E-scooter sharing by type :

Free-floating E-scooter sharing
Station bound E-scooter sharing

E-scooter sharing by distribution channel :

Online E-scooter sharing
Offline E-scooter sharing

E-scooter sharing by Region :

North American
Europe
Asia Pacific
Middle East & Africa
Central and South America
- FAQs -
From 2017-2021, the E-scooter sharing market grew at a CAGR of 17.5%.
The global E-scooter sharing market is expected to grow with a 19% CAGR and is projected to gain a market size of US$ 6302.2 Mn by 2032.
In 2021, the free-floating segment dominated the global market with 95.5% market share.
The offline distribution segment is expected to grow with a robust CAGR of 12.5% during the forecast period.
The European E-scooter sharing market held a 66% global market share in 2021.
The APAC region is expected to grow with a 23% CAGR during the forecast period.