Engineered Wood Market
Engineered Wood Market Analysis By Type (Plywood, Glulam, Oriented Strand Boards, Laminated Veneer Lumber, I-beams, Cross-laminated Timber), By Application (Furniture, Construction, Packaging, Flooring), By End User (Residential, Commercial, Industrial) & By Region - Global Market Insights 2023 to 2033
Analysis of Engineered Wood Market Covering 30+ Countries Including Analysis of US, Canada, UK, Germany, France, Nordics, GCC countries, Japan, Korea and many more
Engineered Wood Market Outlook (2023 to 2033)
As per Fact.MR, expanding at a CAGR of 9.5%, the global engineered wood market is expected to increase from a value of US$ 24.86 billion in 2023 to US$ 61.61 billion by 2033-end.
Engineered wood, also known as composite wood or man-made wood, refers to a type of wood product that is manufactured by binding or laminating various layers of wood or wood fibers together using adhesives and heat. This process creates a more stable and durable material than traditional solid wood.
The main advantage of engineered wood is that it reduces the drawbacks associated with natural solid wood such as warping, splitting, and shrinking, which can occur due to changes in temperature and humidity. By combining different layers and orientations of wood, the engineered wood gains enhanced structural properties and is less prone to these issues.
Engineered wood is widely used in construction, home & office furniture making, flooring, and other applications where the benefits of its enhanced strength, dimensional stability, and cost-effectiveness are appreciated. It is a sustainable choice, as it often utilizes wood residues and by-products, reducing the demand for solid timber from old-grown forests. Plywood, glulam, oriented strand boards, laminated veneer lumber, I-beams, and cross-laminated timber are some of the types of engineered woods.
Worldwide demand for glulam-engineered wood products is forecasted to increase at a CAGR of 10.5% from 2023 to 2033.
Strength and Structural Performance: Glued laminated timber (Glulam) is known for its exceptional strength and structural performance. It can carry heavy loads to longer distances than traditional solid wood beams. This makes it a popular choice for construction projects that require robust and reliable structural components.
Design Flexibility: Glulam offers architects and designers greater flexibility in terms of shapes and sizes compared to conventional lumber. It can be manufactured in curved or arched shapes, allowing for unique and aesthetically appealing designs in various architectural applications.
Sustainability: Glulam is considered a sustainable building material because it is made from renewable timber resources. The rising environmental concerns are boosting the demand for eco-friendly and carbon-neutral construction materials such as glulam.
Aesthetic Appeal: Glulam's attractive appearance, with visible laminations and wood grain, adds a natural and warm touch to modern architectural designs. It is popular in both commercial and residential projects seeking to incorporate a contemporary yet natural aesthetic.
Construction Efficiency: Glulam is prefabricated off-site, allowing for faster and more efficient construction processes. This makes it appealing for projects with tight timelines or where minimizing on-site labor is desired.
Report Attributes
Details

Engineered Wood Market Size (2023E)

US$ 24.86 Billion

Forecasted Market Value (2033F)

US$ 61.61 Billion

Global Market Growth Rate (2023 to 2033)

9.5% CAGR

Canada Market Growth Rate (2023 to 2033)

7.5% CAGR

Germany Market Growth Rate (2023 to 2033)

7% CAGR

Japan Market Growth Rate (2023 to 2033)

5.5% CAGR

China Market Growth Rate (2023 to 2033)

14.5% CAGR

Key Companies Profiled

Weyerhaeuser Company
Boise Cascade
Roseburg Forest Products
Louisiana-Pacific Corporation.
A&M Flooring
ALAMCO Wood Products, LLC
D.R. Johnson Wood Innovations
Eagle Plywood Specialties
FraserWood Industries Ltd.
Georgia-Pacific Wood Products LLC
Hardel Mutual Plywood Corporation
Havwoods
Huber Engineered Woods LLC
Natron Wood Products
Nordic Homeworx LLC
Pacific Woodtech Corporation
Patrick Industries, Inc.
Plywood Co., Ltd
Scotch Plywood Company, Inc.
Sound Wood Products, Inc.
Don't Need a Global Report?
save 40%! on Country & Region specific reports
What is Fueling the Demand for Engineered Wood Products across the World?
"Engineered Wood Products Building Green Dreams and Maintaining Aesthetics & Sustainability Fusion"
Sustainability & Environmental Concerns: Growing environmental awareness and the need for sustainable building practices are driving the demand for engineered wood products. Engineered wood is often made from fast-growing and renewable wood sources, reducing the dependency on traditional slow-growing hardwoods and preserving old-grown forests. As consumers and industries are prioritizing environmentally friendly materials, engineered wood is emerging as a favorable choice.
Advancements in Manufacturing Technology: Technological advancements in the production of engineered wood are improving the quality and consistency of these products. Modern manufacturing processes such as computer-controlled machinery and precision engineering are enabling the production of stronger and more durable engineered wood materials, expanding their use in various applications, including construction, furniture, and flooring.
Cost-effectiveness: Engineered wood products are often more cost-effective than solid wood alternatives. The manufacturing process allows for the efficient use of wood resources and engineered wood is less prone to defects, reducing waste and cost. Additionally, the dimensional stability of engineered wood reduces maintenance and replacement expenses over time.
Growing Construction Industry: The rapid growth in the construction industry, particularly in emerging economies, is fueling the demand for engineered wood products. The rapidly increasing urbanization is creating the need for affordable and reliable construction materials, and engineered wood offers an attractive solution due to its strength, versatility, and cost-effectiveness.
Design Flexibility & Aesthetics: Engineered wood provides architects and designers with greater design flexibility compared to solid wood. It can be manufactured in various shapes, sizes, and textures, enabling innovative and creative designs in construction and interior applications. The natural appearance and warm aesthetics are also contributing to its popularity.
Performance & Durability: Engineered wood products such as glulam and cross-laminated timber (CLT) offer superior strength, durability, and load-bearing capabilities compared to traditional solid wood. These properties make engineered wood a reliable choice for large-scale construction projects, including high-rise buildings, bridges, and stadiums.
Renovation & Remodeling Projects: Engineered wood's versatility and ease of installation are making them a popular choice for renovation and remodelling projects. As more homeowners and businesses are seeking to upgrade and retrofit existing structures, demand for engineered wood products is rising.
Overall, the combination of sustainability, technological advancements, cost-effectiveness, and increasing demand in various industries is driving the engineered wood market's growth.
What are the Challenges Encountered by Manufacturers of Engineered Wood?
"Engineered Wood's Battle with Moisture & Alternatives Such as Steel, Concrete, & Plastics"
Resistance to Change: Traditional construction practices and familiarity with solid wood have been deeply ingrained in some industries and regions. Resistance to adopting new materials and construction techniques can slow down the acceptance and adoption of engineered wood.
Standards & Regulations: As engineered wood products continue to gain traction, there may be a need for clear and consistent industry standards and regulations to ensure product quality and safety. Inconsistent or inadequate regulations are expected to create uncertainty among consumers, hampering sales of engineered wood products.
Moisture & Environmental Sensitivity: Although engineered wood is more stable than solid wood, it can still be sensitive to moisture and environmental conditions. Extreme humidity or exposure to water can lead to swelling or warping, which is expected to limit engineered wood products' adoption in certain applications.
Competition from Alternative Materials: Engineered wood faces competition from other building materials such as steel, concrete, and plastics. Each material has its advantages and drawbacks and depending on the specific project requirements and regional preferences, some alternatives are favoured over engineered wood.
Technical Limitations: Engineered wood products have certain technical limitations such as maximum load-bearing capacities and span lengths. In some large-scale construction projects, solid wood or alternative materials are preferred for specific structural requirements.
More Insights, Lesser Cost (-50% off)
Insights on import/export production,
pricing analysis, and more – Only @ Fact.MR
What are the Strategies Adopted by New Manufacturers of Engineered Wood?
"Sustainable Solutions & Quality Assurance-Engineered Wood's Voyage of Innovations and Affordability"
Sustainability & Eco-friendly Practices: Start-ups emphasize sustainability in both product development and manufacturing processes. Consumers and industries are increasingly prioritizing eco-friendly materials, so highlighting the environmental benefits of engineered wood products is anticipated to attract more customers and differentiate brands.
Product Innovation: Investments in research and development by start-ups help to develop innovative engineered wood products that address specific market needs and challenges. This includes developing new types of engineered wood with enhanced properties, improved moisture resistance, or novel applications in unique construction designs.
Customization & Design Flexibility: Newcomers are offering customizable engineered wood solutions to cater to different project requirements. Providing design flexibility and tailor-made products attracts customers who seek unique and bespoke solutions for their home decor or construction projects.
Strategic Partnerships: Collaborating with architects, builders, contractors, and distributors helps in expanding market reach and enhancing credibility. Forming strategic partnerships help newcomers gain access to established networks and customer bases.
Quality Assurance & Certifications: Start-ups are ensuring that engineered wood products meet industry standards and certifications for quality and safety. Independent certifications boost customer confidence and set products apart from competitors.
Pricing & Cost Competitiveness: While highlighting the long-term cost-effectiveness of engineered wood, newcomers are also ensuring that pricing is competitive within the market. They are pricing their products strategically to attract price-sensitive customers while maintaining profitability.
By combining these tactics, start-ups in the market are positioning themselves as innovative and reliable suppliers, attracting more customers, increasing revenue share, and ultimately earning more in the competitive landscape.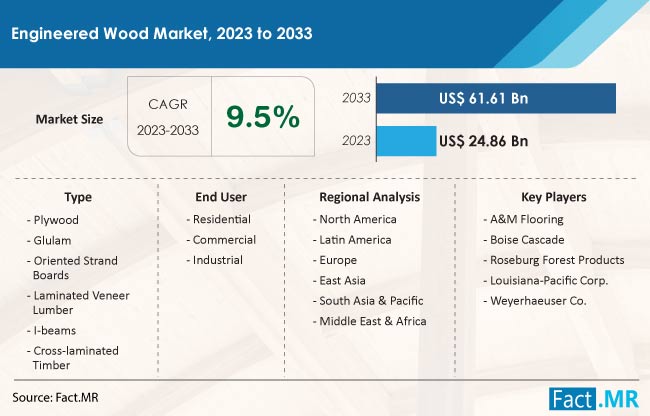 Country-wise Analysis
How is Demand for Engineered Wood Products Evolving in the United States?
"Engineered Wood's Superior Performance Meeting Eco-friendly Needs of United States Construction Sector"
Demand for engineered wood products in the United States is growing at a healthy pace. One of the main drivers is the increasing demand for sustainable and eco-friendly construction materials.
Engineered wood products such as plywood-oriented strand boards (OSB) and laminated veneer lumber (LVL) are gaining popularity in the United States as they offer superior structural performance while being made from renewable resources. The rising trend of green building practices is further boosting the adoption of engineered wood in the United States construction sector.
Which Aspect is Driving the Sales of Engineered Wood Products in Germany?
"Germany's Increasing Shift towards Lightweight & Strong Wood Structures"
Sales of engineered wood products in Germany are forecasted to rise at a CAGR of 7% over the next 10 years.
Germany is at the forefront of adopting sustainable building materials and engineered wood. Germany's strong manufacturing base and technological expertise are supporting the development of advanced engineered wood solutions. As a result, the market is witnessing a surge in the availability of high-quality, lightweight innovative engineered wood products, meeting the diverse demands of architects, contractors, and end users.
Why is Japan a Profitable Market for Engineered Wood Product Suppliers?
"Limited Availability of Natural Resources and High Demand for Durable Structures"
As per this industry analysis by Fact.MR, a market research and competitive intelligence provider, demand for engineered wood products in Japan is estimated to expand at 5.5% CAGR through 2033.
Japan has limited availability of natural timber resources, which is leading to a greater reliance on imported wood. Engineered wood products are emerging as a viable alternative to traditional timber due to their cost-effectiveness and consistent quality.
Post the Great East Japan Earthquake in 2011, there was a renewed focus on earthquake-resistant construction materials. Engineered wood, with its inherent strength and flexibility, has gained popularity as a seismic-resistant building material, especially in low to mid-rise structures.
The Japanese construction industry's growing interest in modern, sustainable building solutions is further propelling the demand for engineered wood products.
Know thy Competitors
Competitive landscape highlights only certain players
Complete list available upon request
Category-wise Analysis
Where are Engineered Wood Products Most Extensively Utilized?
"High Use of Strong & Budget-friendly Engineered Wood Products in Residential Sector"
Engineered wood is highly employed in residential structures for several compelling reasons. These products offer a range of advantages that make them an attractive choice for builders, homeowners, and developers. Engineered wood has wide applications in the residential sector such as in home furniture, flooring, roof, doors, and staircases.
Rapid urbanization across several regions of the world is also increasing the use of engineered wood. North America & Europe are known for wooden construction and lightweight engineered wood offering durability and cost-effectiveness, which is contributing to market growth.
Engineered wood products are manufactured using wood fibers, particles, or veneers bonded together, which allows for the efficient utilization of wood resources. Additionally, the production process minimizes waste, making engineered wood more affordable than some solid wood options.
Competitive Landscape
Key players in the engineered wood market are investing heavily in research and development activities to create innovative and advanced wood products. To leverage complementary strengths and resources, some key players are forming strategic partnerships and collaborations with other companies in the value chain. Regional expansion is also allowing them to diversify their customer base and reduce dependence on specific markets.
In December 2022, Boise Cascade acquired 45 acres in Walterboro, South Carolina, and a 34-acre land piece in Hondo, Texas, expanding its distribution facilities in two new local markets.
Key Segments of Engineered Wood Industry Research
By Type :

Plywood
Glulam
Oriented Strand Boards
Laminated Veneer Lumber
I-beams
Cross-laminated Timber

By Application :

Furniture
Construction
Packaging
Flooring

By End User :

Residential
Commercial
Industrial

By Region :

North America
Latin America
Europe
East Asia
South Asia & Oceania
MEA
- FAQs -
The global engineered wood market stands at US$ 24.86 billion in 2023.
The market for engineered wood is projected to reach US$ 61.61 billion by 2033.
Sales of engineered wood products are forecasted to increase at a CAGR of 9.5% from 2023 to 2033.
Demand for engineered wood products in Germany is foreseen to rise at a CAGR of 7% through 2033.
Weyerhaeuser Company, Boise Cascade, Roseburg Forest Products, and A&M Flooring are some of the leading companies in the market.