Fiberglass Pipes Market
Fiberglass Pipes Market Analysis By Type (Glass Fiber Reinforced Plastic (GRP) Pipes, Glass Reinforced Epoxy (GRE) Pipes), By Process (Centrifugal Casting, Filament Winding, Pultrusion), By End Use (Oil & Gas, Chemicals, Agriculture, Sewage) & By Region – Global Market Insights 2023 to 2033
Analysis of Fiberglass Pipes Market Covering 30+ Countries Including Analysis of US, Canada, UK, Germany, France, Nordics, GCC countries, Japan, Korea and many more
Fiberglass Pipes Market Outlook (2023 to 2033)
The global fiberglass pipes market size stands at a value of US$ 4.7 billion in 2023 and is projected to reach US$ 7.2 billion by 2033-end, expanding at a steady CAGR of 4.4% over the next ten years (2023 to 2033).
Fiberglass pipes are designed to offer superior durability, corrosion resistance, and versatility as compared to conventional pipes, making them a preferred choice across various industrial sectors. The fiberglass pipes market encompasses different end-user industries, such as oil & gas, chemicals, agriculture, water & wastewater, and others, where the unique properties of fiberglass pipes cater to specific needs and challenges of these sectors.
Key Benefits of Fiberglass Pipes
Fiberglass pipes are known for their great tensile strength and resilience, which enables them to tolerate high pressures and harsh environments without sacrificing structural integrity.
These pipes have great corrosion resistance, which makes them suitable for transporting corrosive fluids and substances.
Fiberglass pipes are chemically inert, which means that the substances they are transporting do not react with the pipes. They can handle a variety of fluids, including harsh chemicals, because of this property.
In contrast to conventional metal pipes, fiberglass pipes are lighter in weight despite their high strength, making them simpler to handle, transport, and install.
Fiberglass pipes have strong thermal insulating qualities, which can be helpful in applications requiring temperature control.
Fiberglass pipes are extensively utilized in irrigation, chemical, sewage, and water treatment and distribution applications. In addition, conveying high-corrosion materials, acids, and biological liquids is thought to be appropriate for fiberglass pipes. Due to their excellent strength-to-weight ratio, fiberglass pipes are currently widely used in the oil and gas, chemical, and agricultural industries.
Reinforced thermosetting resin pipes, often referred to as composite pipes, represent a specialized category of piping systems that combine the strengths of thermosetting resin matrices with various reinforcing materials. Glass-fiber-reinforced plastic (GRP) pipes, also known as fiberglass-reinforced plastic (FRP) pipes, are advanced composite piping systems that combine the strength of glass fibers with the versatility of plastic matrices.
Glass-reinforced epoxy (GRE) pipes are composite piping systems that amalgamate the durability of glass fibers with the exceptional chemical resistance and mechanical properties of epoxy resins.
A production facility for the fiberglass system was built by NOV in Dammam, Saudi Arabia, in November 2019. With 24,000 m2 of manufacturing space, this facility is the first in the country to manufacture downhole tubing and casing, spoolable and connected GRE pipe, and GRE high-pressure line pipe.
Report Attributes
Details
Fiberglass Pipes Market Size (2022)
US$ 4.5 Billion
Estimated Market Value (2023)
US$ 4.7 Billion
Forecasted Market Value (2033)
US$ 7.2 Billion
Global Market Growth Rate (2023 to 2033)
4.4% CAGR
China Market Growth Rate (2023 to 2033)
5.2% CAGR
Glass Reinforced Epoxy (GRE) Pipes Segment Growth Rate (2023 to 2033)
3.8% CAGR
United States Market Growth Rate (2023 to 2033)
4.5% CAGR
Oil & Gas Segment Growth Rate (2023 to 2033)
9.2% CAGR
Leading Regional Market
Asia Pacific
Key Companies Profiled

Fibrex Corporation
Amiblu Holding GmbH
Graphite India Limited
Future Pipe Industries
Chemical Process Piping Pvt. Ltd. (CPP)
Saudi Arabian AMIANTIT Company
National Oilwell Varco, Inc.
HOBAS International GmbH
PPG Fiberglass Industries
Don't Need a Global Report?
save 40%! on Country & Region specific reports
Why is the Use of Fiberglass Pipes Increasing Steadily across Industries?
"Superior Flow Properties and Exceptional Pressure Performance of Fiberglass Pipes"
Dual helical four-axis fiberglass pipes, have superior qualities and can be produced more quickly due to technological advances. As a result, the expansion of the fiberglass pipes market is driven by the advantages of fiberglass pipes over other materials as well as the ongoing development of production technologies.
Rapid expansion of the oil and gas sector is what essentially drives the global market. Due to their superior flow properties and exceptional performance under intense pressure and high-capacity loads, fiberglass pipes are widely used in the extraction, processing, refining, and distribution processes. Rising construction activities have driven the need for lightweight thermal insulation materials in commercial and residential complexes, contributing to a positive industry outlook.
"Integration of FRP with Fiberglass Tubes for Enhanced Corrosion Resistance"
Fiberglass-reinforced plastic (FRP) pipe is a term used to describe a particular kind of pipe that is made by adding glass fibers to a polymer matrix to reinforce it, creating a composite material with improved mechanical and chemical qualities.
With the strength of glass fibers combined with the corrosion resistance and adaptability of polymers, this cutting-edge pipe technology makes FRP pipes suited for a variety of industrial applications. Reinforced thermoplastic pipes (RTPs) represent a significant advancement in piping technology, combining the benefits of thermoplastic materials with strategically placed reinforcement layers.
As part of its growth strategy, Future Pipe Industries Group (FPIG) acquired 100% of Specialty Plastics, Inc., a manufacturer of fiberglass reinforced pipes, from ITT Exelis in November 2019.
A square FRP tube denotes a structural element crafted from FRP with a cross-section in a square shape. Like other FRP items, square fiberglass tubes blend glass fiber strength with polymer resin durability and adaptability, providing a light yet sturdy substance suitable for diverse uses.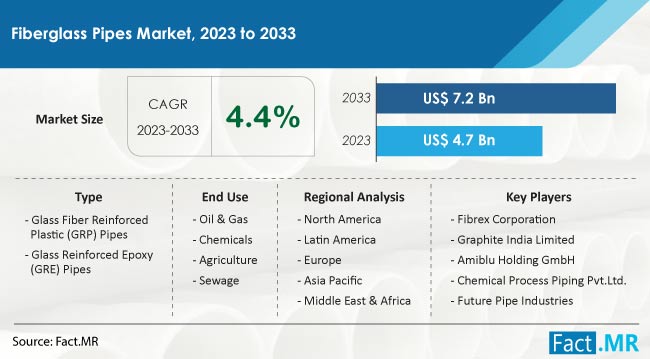 What are the Challenges Faced by Fiberglass Pipe Manufacturers?
"High Initial Cost and Limited Installation Expertise"
Initial Cost: Compared to conventional materials, fiberglass pipes may have greater upfront prices. Particularly in sectors or areas where cost concerns are crucial, this upfront cost has a significant impact on purchase decisions.
Limited Expertise in Installation: Installing fiberglass pipes calls for particular training and understanding. For the pipes to function at their best and last as long as possible, proper installation methods are necessary. Challenges can arise from a lack of properly trained installers or skilled specialists.
Material Compatibility: Fiberglass pipes provide excellent resistance to corrosive and chemical assaults. However, they are not always appropriate for transporting extreme or extremely reactive compounds. To avoid any unwanted reactions or breakdown of the composite material, it is crucial to ensure material compatibility.
Regulatory Compliance: Depending on the application and region, fiberglass pipes may need to adhere to specific regulations and standards. Ensuring compliance can involve additional testing, certification, and documentation, which may add to the complexity of the manufacturing process and increase costs.
More Insights, Lesser Cost (-50% off)
Insights on import/export production,
pricing analysis, and more – Only @ Fact.MR
Country-wise Insights
China and the United States occupy a dominant the global fiberglass pipes market share. In the evaluation by Fact.MR, these countries stand out and will generate lucrative opportunities for market participants.
| Market | CAGR (2023 to 2033) |
| --- | --- |
| China | 5.2% |
| The United States | 4.5% |
Why is Demand for Fiberglass Pipes Rising Substantially in China?
"Focus on Reducing Dependence on Coal and Increasing Natural Gas for Energy Generation"
Natural gas is increasingly being preferred over coal in developing countries like China where energy demand is expanding quickly. The cost of importing natural gas is significant, but compared to shipping it in massive LNG ships, pipeline transportation is seen as the most cost-effective choice. Huge sums of money must be invested in creating the necessary infrastructure to support this. These considerations are expected to cause demand for fiberglass pipes to grow as a viable substitute for traditional steel and concrete pipes.
China primarily imports oil and gas, while coal remains the dominant energy source in the country. Nevertheless, China is actively enacting strategies to elevate the proportion of natural gas and reduce coal's contribution to its overall energy composition. This shift is driven by the imperative of curbing air pollution and addressing environmental issues. Consequently, the demand for fiberglass pipes for facilitating energy transportation is predicted to experience growth within China over the forthcoming years.
China is a large producer of chemicals, making up a significant portion of the world's chemical output. According to the European Chemical Industry Council, the country makes up over 43% of all chemical sales worldwide in 2021. Many significant market players have set up chemical production facilities in China.
What Prospects Await Manufacturers of Fiberglass Pipes in the United States?
"Renewable Energy Adoption Necessitating Use of Corrosion-resistant Fiberglass Pipes"
The chemical industry demands pipes that can handle aggressive chemicals without corrosion. Fiberglass pipes' resistance to a wide range of chemicals makes them suitable for conveying various chemicals and acids.
The Water Resources Development Act of 2016 was sponsored by the United States Senate to fund investments in water infrastructure upgrades and to lower corrosion resistance problems with current installations. This offers plenty of chances for the manufacturers to furnish cities with pipes that are highly resistant to corrosion.
Stricter environmental regulations necessitate the use of materials that minimize the impact on the environment and public health. Fiberglass pipes, being corrosion-resistant and less likely to leach harmful substances, align well with these regulatory requirements.
The growing emphasis on renewable energy sources, such as wind and solar power, requires reliable and corrosion-resistant piping for various applications, including fluid transport and infrastructure for power generation.
Category-wise Insights
According to Fact.MR's evaluation, GRE pipes and the oil & gas sector are poised to provide favorable market opportunities over the coming years.
| Segment | CAGR (2023 to 2033) |
| --- | --- |
| Glass Reinforced Epoxy (GRE) Pipes | 3.8% |
| Pipes for Oil & Gas | 9.2% |
Why is There Extensive Use of Glass Reinforced Epoxy (GRE) Pipes?
"Dimensional Stability and Low Weight Make GRE Pipes Popular"
In contrast to traditional metallic and concrete pipes, GRE pipes offer a variety of benefits, including dimensional stability, lightweight, ease of installation, and corrosion resistance. Due to this, use of GRE pipes in the oil and gas, sewage, and chemicals industries is expanding. GRE pipes' main market is the water treatment industry.
Due to the expanding population and increasing need for freshwater, there has been a change in water treatment processes during the last few years. This shift in trend is the result of improvements in water treatment technology and rising global demand for potable water, particularly in developing countries. These elements affect how GRE pipes are used in the water treatment sector.
In applications requiring strong corrosion resistance and operating under intense pressure and heat conditions, such as industrial and offshore oil & gas applications, fiberglass pipes reinforced with epoxy resins are ideal. The International Marine Organization's (IMO) clearance for the use of these goods in marine applications requires level 3 fire endurance.
Why is the Oil & Gas Sector Using Fiberglass Pipes More Than Before?
"Corrosion Resistance of Fiberglass Pipes Facilitating Safe and Easy Chemical Transportation"
One of the primary reasons for the widespread adoption of fiberglass pipes in the oil and gas industry is their exceptional corrosion resistance. Corrosion can significantly impact traditional metallic pipes, leading to maintenance issues, leaks, and safety concerns. Fiberglass pipes are highly resistant to corrosion, making them ideal for transporting corrosive fluids and gases in harsh environments.
The oil and gas industry often involves extreme conditions, including high pressures and temperatures. Fiberglass pipes offer excellent mechanical strength, allowing them to withstand these demanding conditions without compromising structural integrity. Their durability translates to a longer service life and reduced need for frequent replacements.
Fiberglass pipes are lightweight compared to traditional metal pipes, making them easier to transport and install. This characteristic is particularly beneficial for remote locations or offshore installations where logistics can be challenging.
Know thy Competitors
Competitive landscape highlights only certain players
Complete list available upon request
Competitive Landscape
Companies are continuously focusing on innovation to develop advanced fiberglass pipes that cater to specific industry requirements. This involves enhancing corrosion resistance, improving mechanical properties, and expanding the range of sizes and configurations.
In February 2020, a grant agreement was established between JICA and the government of Vietnam to provide US$ 17.4 billion in support for the Trenchless Sewerage Pipe Rehabilitation Project in Ho Chi Minh City.
Key Segments of Fiberglass Pipes Industry Research
By Type :

Glass-Fiber-reinforced Plastic (GRP) Pipes
Glass-Reinforced Epoxy (GRE) Pipes

By Process :

Centrifugal Casting
Filament Winding
Pultrusion

By End Use :

Oil & Gas
Chemicals
Agriculture
Sewage

By Region :

North America
Latin America
Europe
Asia Pacific
Middle East & Africa
- FAQs -
The global fiberglass pipes market is valued at US$ 4.7 billion in 2023.
Worldwide sales of fiberglass pipes are set to increase at a CAGR of 4.4% from 2023 to 2033.
Worldwide sales of fiberglass pipes are projected to reach US$ 7.2 billion by 2033.
Sales of glass-reinforced epoxy pipes are forecasted to increase at a CAGR of 3.8% from 2023 to 2033.
The market in China is set to expand at a CAGR of 5.2% through 2033.
Sales of fiberglass pipes in the U.S. are projected to rise at 4.5% CAGR through 2033.
Fibrex Corporation, Amiblu Holding GmbH, Future Pipe Industries, Chemical Process Piping Pvt. Ltd. (CPP), and Saudi Arabian AMIANTIT Company are leading market players.
Oil & gas, chemicals, agriculture, and sewage are key application areas of fiberglass pipes.