Finger Splint Market
Finger Splint Market Analysis by Type (Frog Finger Splints, Finger Extension Splints, Finger Cot Splints, Thumb Spica Splints), By Material (Aluminum, Neoprene, Plastic & Thermoplastic, Foam), By Price (Under US$ 10, US$ 10 to US$ 50, Above US$ 50), By Distribution Channel (Offline Sales (Medical Stores, Sports Stores, Hypermarkets), Online Sales (e-Commerce Websites, Company-owned Websites) & By Region – Global Market Insights 2023 to 2033
Analysis of Finger Splint Market Covering 30+ Countries Including Analysis of US, Canada, UK, Germany, France, Nordics, GCC countries, Japan, Korea and many more
Finger Splint Market Outlook (2023 to 2033)
The global finger splint market reached US$ 334.84 million in 2022, according to the latest market study by Fact.MR. Worldwide demand for finger splints rose at a CAGR of 6.6% from 2018 to 2022, and thus, the market is expected to reach US$ 355.94 million in 2023. From 2023 to 2033, sales of finger splints are predicted to increase at 6.3% CAGR and climb to a market size of US$ 655.70 million by 2033-end.
A finger splint is a medical device used to immobilize and support a finger or a specific joint of the finger. It is designed to provide stability, protect the injured or affected area, and promote proper healing. Finger splints are typically prescribed by healthcare professionals, such as doctors or orthopedic specialists, who assess the injury or condition and determine the appropriate type and duration of splinting required. It is important to follow the instructions provided by healthcare professionals and wear the splint as directed to ensure proper healing and recovery.
The finger splint market has grown steadily over the years due to several factors. These include the rising incidence of finger injuries, sports-related injuries, and occupational hazards. An aging population and an increase in chronic conditions such as arthritis also contribute to the demand for finger splints.
Factors such as technological advancements, product innovations, and increasing investments in research and development contribute to the growth of the market. A focus on improving patient comfort and mobility through lightweight and ergonomic designs further drives market expansion.
Report Attributes
Details

Finger Splint Market Size (2022)

US$ 334.84 Million

Estimated Market Value (2023)

US$ 355.94 Million

Forecasted Market Value (2033)

US$ 655.70 Million

Global Market Growth Rate (2023 to 2033)

6.3% CAGR

Germany Market Value (2033)

US$ 58.35 Million

Germany Market Growth Rate (2023 to 2033)

5.7% CAGR

Japan Market Value (2033)

US$ 39.99 Million

Japan Market Growth Rate (2023 to 2033)

5% CAGR

Key Companies Profiled

Zimmer Biomet
Corflex, Inc.
Alimed Inc.
DeRoyal Industries, Inc.
Orfit Industries NV
Ortholife Global
Silver Ring Splint
DJO Global, Inc.
Tynor Orthotics Private Limited
Don't Need a Global Report?
save 40%! on Country & Region specific reports
What are the Main Factors Fueling the Demand for Finger Splints?
"Increasing Prevalence of Accident-related Injuries"
The main drivers of market expansion are an increase in personal disposable income and a rising prevalence of accidents and adventure-related injuries. Other indirect market growth determinants include the expansion of the healthcare and medical device industries, particularly in developing countries, the rise in youth participation in sports, the number of surgeries performed, and an increase in research and development activities.
Long-term market growth prospects are expected to be generated by an expanding elderly population, rising globalization, and increasing preference for new and cutting-edge medical products. Increased focus on product innovation focus, an increase in orthopedic surgeries and treatments, particularly in developing economies, and rising personal disposable income are contributing to market growth.
"Rising Awareness of Benefits of Finger Splints and Their Easy Availability"
Advancements in materials, design, and manufacturing techniques have led to the development of more effective and comfortable finger splints. Improved splinting solutions, such as lightweight materials, adjustable designs, and ergonomic features, enhance patient comfort and compliance, driving market growth.
Increasing awareness about the benefits of finger splints among healthcare professionals, patients, and caregivers contributes to market growth. Ease of access to finger splints through healthcare providers, hospitals, clinics, and online retail platforms has improved, making these devices more readily available to consumers.
What are the Hindrances to the Growth of the Global Market?
"Lack of Patient Compliance and High Cost of Advanced Finger Splints"
Finger splints need to be worn consistently and for the recommended duration to ensure proper healing and recovery. Some patients may find finger splints uncomfortable or restrictive, leading to reduced compliance. This lack of patient compliance can impact the effectiveness of treatment and limit market growth.
The cost of finger splints can be a restraint for certain individuals, especially in regions with limited healthcare coverage or high out-of-pocket expenses. High prices of advanced or customized finger splints may pose challenges to affordability, potentially limiting the market growth.
"Stringent Regulations and Complex Reimbursement Policies and Customization Limitations"
Stringent regulatory requirements and complex reimbursement policies are expected to limit the adoption of finger splints and pose challenges for manufacturers and healthcare providers in the finger splint market.
Finger splints may not always provide an optimal fit for every individual due to variations in finger size, shape, and specific injury requirements. Limited customization options or challenges in achieving a proper fit may hinder market growth.
More Insights, Lesser Cost (-50% off)
Insights on import/export production,
pricing analysis, and more – Only @ Fact.MR
How are 3D-printed Finger Splints Contributing to Market Growth?
"Increasing Adoption of 3D-printed Finger Splints Due to Precise Patient-specific Customization"
3D-printed finger splints are orthopedic devices that are produced using additive manufacturing techniques. These splints are designed and manufactured using 3D printing technology, which allows for precise customization and the production of complex geometries.
The process of 3D printing involves creating a digital model of the finger splint and then layer-by-layer fabrication using a 3D printer. This technology enables the production of finger splints with patient-specific measurements and design features.
Stratasys, a leading 3D printing company, has been actively involved in advancing 3D printing applications in the medical field. It has developed materials specifically designed for medical and orthopedic applications. While the company has not focused on 3D-printed finger splints, its innovations in materials and technology can contribute to advancements in the field.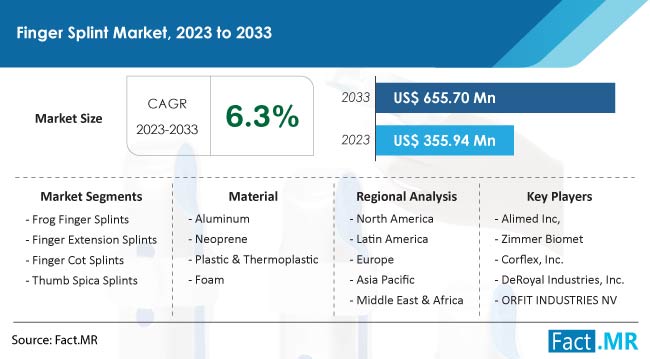 Country-wise Insights
What Makes the United States a Lucrative Market for Finger Splint Manufacturers?
"High Incidence of Finger Injuries from Increased Sports Participation"
The United States market is anticipated to expand at a steady CAGR of 5.7% and reach US$ 172.45 million by the end of 2033.
The market has been exhibiting steady growth due to various factors, including the increasing incidence of finger injuries, sports-related activities, and the rising aging population. The vast population of the United States participates in various endeavors, including sports, recreational hobbies, and physically demanding occupations. Engaging in such activities increases the likelihood of finger injuries, thereby creating a need for finger splints to provide support and assist in the recovery journey.
The aging population in the United States has been growing, leading to a rise in age-related conditions such as arthritis. Finger splints are commonly used in the management of arthritis and other degenerative conditions affecting the finger joints, providing support, pain relief, and improved function.
The United States Food and Drug Administration (FDA) oversees the approval and marketing of medical devices, including finger splints. Compliance with FDA regulations is essential for manufacturers and distributors to ensure the safety and effectiveness of finger splints in the United States market.
What is the Demand Outlook for Finger Splints in India?
"Easy Access to Orthopedic Treatments and Medical Devices"
The market in India is anticipated to expand at a CAGR of 6.7% and amount to US$ 53.76 million by the end of 2033.
India has a huge population engaged in a variety of activities, including sports, recreational pursuits, and occupations that involve manual labor. These activities contribute to a higher risk of finger injuries, boosting demand for finger splints to support and aid in the healing process. Finger injuries such as sprains, fractures, and dislocations are common in sports and occupational settings, leading to the need for finger splints as part of the treatment and rehabilitation process.
The healthcare infrastructure in India has been developing and expanding, which contributes to the growth of the finger splint market. The presence of hospitals, clinics, orthopedic centers, and rehabilitation facilities allows for easy access to healthcare services and medical devices such as finger splints. The growing awareness and availability of orthopedic treatments further support the demand for finger splints in India.
Regulatory aspects are also important considerations in the Indian market. The Central Drugs Standard Control Organisation (CDSCO) and the Medical Devices Rules regulate the approval, manufacturing, and marketing of medical devices, including finger splints. Compliance with these regulations is crucial for manufacturers and distributors to ensure the safety and effectiveness of finger splints in the Indian market.
Know thy Competitors
Competitive landscape highlights only certain players
Complete list available upon request
Category-wise Insights
Why Do Thumb Spica Splints Occupy a Major Share of the Market?
"High Demand for Thumb Spica Splints Due to Their Effectiveness in Immobilizing the Thumb and Wrist"
Demand for thumb spica splints is anticipated to increase at a CAGR of 6.2% over the projected period.
Thumb spica splints are orthopedic devices designed to provide support and immobilization to the thumb and wrist. These splints are specifically designed to stabilize the thumb joint and restrict movement to promote healing and prevent further injury.
The main purpose of a thumb spica splint is to restrict movement in the thumb and wrist joint, providing support, reducing pain, and promoting healing. The immobilization helps to protect the injured structures, reduce inflammation, and prevent further damage. It also allows for proper alignment and stability during the healing process.
Thumb spica splints are available in various sizes and designs to accommodate different thumb and wrist anatomies. They are usually prescribed by healthcare professionals and should be worn as directed to ensure optimal healing and recovery.
It is important to consult with a healthcare provider for proper diagnosis, treatment, and guidance on the use of thumb spica splints, as individual circumstances may vary.
Which Material is Widely Used in the Production of Finger Splints?
"Widespread Adoption of Aluminum Finger Splints Due to Their Lightweight Construction and Adjustable Nature for Personalized Support"
Aluminum finger splints are orthopedic devices specifically designed to provide support and stabilization to injured or fractured fingers. These splints are made from lightweight, malleable aluminum material, which allows for customization and easy adjustment to fit the individual's finger.
The main purpose of an aluminum finger splint is to immobilize and protect the injured finger, particularly in cases of fractures, sprains, dislocations, or ligament injuries. The splint helps to maintain the alignment of the bones and structures within the finger, reducing pain, swelling, and the risk of further injury.
The lightweight and malleable nature of aluminum splints allows healthcare professionals or individuals to shape and contour the splint to fit the specific anatomy and curvature of the finger. This customization ensures a snug and secure fit, enhancing comfort and effectiveness during the healing process.
It is important to note that aluminum finger splints are typically recommended and applied by healthcare professionals trained in orthopedic care. They should be used under proper guidance and supervision to ensure correct application and adherence to recommended treatment protocols.
Competitive Landscape
The competitive landscape of the finger splint market is influenced by several factors, including the presence of key players, product innovation, distribution networks, pricing strategies, and customer relationships. The market features a mix of established companies, niche players, and emerging startups.
Product innovation plays a significant role in the competitive landscape of the market. Companies strive to develop advanced splint designs that offer better comfort, ease of use, and improved patient outcomes with ergonomic designs, adjustable features, and enhanced breathability.
In January 2022, Dassiet launched UCAST, a product line specifically designed for hospitals and healthcare facilities. UCAST aims to expedite and enhance fracture treatment while prioritizing the safety of both patients and nursing staff. Notably, UCAST splints are constructed using non-toxic and non-allergenic materials, eliminating the need for medical teams to wear protective gear during the casting process.
Promoteq and Dassiet worked together in October 2021 to make an emergency splint readily accessible to end users and professional clients worldwide.
Key Segments of Finger Splint Industry Research
By Type :

Frog Finger Splints
Finger Extension Splints
Finger Cot Splints
Thumb Spica Splints

By Material :

Aluminum
Neoprene
Plastic and Thermoplastic
Foam

By Price :

Under US$ 10
US$ 10 to US$ 50
Above US$ 50

By Distribution Channel :

Offline Sales

Medical Stores
Sports Stores
Hypermarkets

Online Sales

e-Commerce Websites
Company-owned Websites

By Region :

North America
Latin America
Europe
Asia Pacific
Middle East & Africa
- FAQs -
The global finger splint market is valued at US$ 355.94 million in 2023.
From 2023 to 2033, worldwide sales of finger splints are predicted to increase at a CAGR of 6.3%.
By 2033, the market for finger splints is forecasted to reach US$ 655.70 million.
The market in China is forecasted to expand at a CAGR of 6.4% through 2033.
Demand for finger splints in Japan is predicted to reach US$ 39.99 million by 2033.