Glass Fibre Reinforced Plastic Products Market
Glass Fibre Reinforced Plastic Products Market Analysis By Resin Type (Polyester, Vinyl Ester, Epoxy, Polyurethane, Thermoplastic), By End-use Industry (Wind Energy, Electrical & Electronics, Transportation, Pipes & Tanks, Construction & Infrastructure, Marine, Aerospace & Defense), By Manufacturing Process (Compression & Injection Molding Process, Layup, Filament Winding, Pultrusion, Resin Transfer Molding (RTM)), By Form (Rebar, Powder, Sheets, Panels, Rolls) & By Region - Global Market Insights 2023 to 2033
Analysis of Glass Fibre Reinforced Plastic Products Market Covering 30+ Countries Including Analysis of US, Canada, UK, Germany, France, Nordics, GCC countries, Japan, Korea and many more
Glass Fibre Reinforced Plastic Products Market Outlook (2023 to 2033)
The global glass fibre reinforced plastic (GFRP) products market has reached a valuation of US$ 18.54 billion in 2023 and is projected to climb to US$ 41.92 billion by 2033. According to a new report by Fact.MR, a market research and competitive intelligence provider, worldwide demand for glass fibre reinforced plastic products is forecasted to increase at a CAGR of 8.5% through 2033.
Glass fibre reinforced plastic (GFRP) products, also referred to as fibreglass products, are widely used in various industries due to their excellent mechanical properties, durability, and versatility. Glass fibre reinforced plastics are composed of silica-based raw materials, which consist of metal oxides and are formulated in various ways to provide significant benefits. The resin materials used in GFRP products include polyamide, polyester, vinyl ester, epoxy, polyurethane, and thermoplastic.
The automotive sector is showcasing significant demand for fibre reinforced polymer composites to produce lightweight vehicles, including cars, to save fuel as these composites provide strength while reducing the weight of materials.
Growing consumer preferences for renewable energy sources are fueling demand for fibreglass reinforced polymers.
The marine industry is adopting GFRP composites extensively due to their ability to maintain a pollution-free environment and withstand harsh sea conditions.
Advancements in moulding technologies and increasing piping activities are driving sales of molded fibre reinforced plastic composites.
Glass fibres are also employed in industrial floorings such as roofs and canopies, as well as in aircraft fan ducts and tanks where reinforcement is essential.
Glass fibre reinforced polyester resins are higher in demand compared to other GFRP products. Polyester resins are relatively affordable compared to other resin options such as epoxy or vinyl ester. This makes them a cost-effective choice for various applications, especially in industries where large-scale production is required.
Polyester resins offer good mechanical properties, including high tensile strength and impact resistance. These properties contribute to the overall strength and durability of GFRP products, making them suitable for applications that require structural integrity and performance.
Glass fibre reinforced polyester resins have a relatively fast curing time compared to other resin systems. This allows for faster production cycles and increases manufacturing efficiency, reducing overall production time and costs. Due to these advantages, polyester resins are widely used in the production of GFRP products across various industries, including construction, automotive, aerospace, marine, and consumer goods.
Report Attributes
Details

Glass Fibre Reinforced Plastic Products Market Size (2023E)

US$ 18.54 Billion

Forecasted Market Value (2033F)

US$ 41.92 Billion

Global Market Growth Rate (2023 to 2033)

8.5% CAGR

Leading Regional Market

North America

Emerging Regional Market

Asia Pacific

Key Companies Profiled

Johns Manville
BGF Industries
Asahi Glass Company Limited
Advanced Glassfiber Yarns LLC
Chomarat Group
Jushi Group Co. Ltd
Taishan Fibreglass Inc
Owens Corning, PPG Industries Inc
Binani 3B-The Fibreglass Company
Saertex Group
Chongqing Polycomp International Corp
Saint-Gobain Vetrotex
Nitto Boseki Co. Ltd
Nippon Sheet Glass Co. Ltd
Don't Need a Global Report?
save 40%! on Country & Region specific reports
Why are Glass Fibre Reinforced Plastic Products Gaining Traction?
"Lightweight, Strong, Durable, & Fire Resistance-GFRP's Versatility in Building Tomorrow's Innovations"
GFRP products offer numerous advantages over traditional materials such as steel, aluminium, and wood. Aramid fibre reinforced polymers and basalt fibre reinforced polymers are some of the types of fibre reinforced polymers.
Here are some key features and applications of glass fibre reinforced plastic products :
Strength and Durability: Glass fibres provide exceptional strength and stiffness to the composite, making GFRP products highly durable. They can withstand high loads, impacts, and harsh environmental conditions without compromising their structural integrity.
Lightweight: GFRP products are significantly lighter than materials such as steel, making them easier to handle, transport, and install. This characteristic is particularly advantageous in applications where weight reduction is essential such as aerospace, automotive, and marine industries.
Corrosion Resistance: One of the major advantages of GFRP products is their excellent corrosion resistance. Unlike metals, fibreglass does not rust or degrade when exposed to moisture, chemicals, or UV radiation. This property makes GFRP ideal for applications in corrosive environments such as chemical processing plants, wastewater treatment facilities, and offshore structures.
Design Flexibility: GFRP products can be moulded into various shapes and sizes, allowing for intricate designs and customization. They can be manufactured with different surface finishes, colours, and textures, providing aesthetic appeal along with functionality. This versatility makes GFRP products suitable for architectural cladding, decorative elements, and consumer goods.
Thermal and Electrical Insulation: GFRP exhibits excellent thermal and electrical insulation properties. It has low thermal conductivity, making it suitable for applications that require insulation against heat or cold such as insulation panels, refrigeration units, and HVAC (heating, ventilation, and air conditioning) ducts. Additionally, GFRP is a non-conductive material, making it useful for electrical enclosures, cable trays, and other electrical applications.
Fire Resistance: Depending on the resin matrix used, GFRP products can possess good fire resistance properties. Special flame-retardant resins can be employed to enhance the fire performance of GFRP, making it suitable for applications that require compliance with fire safety regulations such as transportation, construction, and electrical industries.
In conclusion, glass fibre reinforced plastic (GFRP) products offer a compelling combination of strength, durability, lightweight, and corrosion resistance. With their design, flexibility, and wide range of applications, GFRP products continue to play a vital role in numerous industries such as automotive, marine, aerospace, and construction, contributing to technological advancements and the creation of innovative and sustainable solutions.
"Crafting a Strong Foundation: GFRP's Rising Use in Construction Sector"
Short Term (2023 to 2026): Demand for carbon fibre plastic products is expected to experience high growth during this period due to the increasing demand for high-quality materials in the construction sector, swift urbanization, and rapid infrastructural developments.
"Weaving a Stronger Future-Long Fibre Reinforced Plastic's Journey to Superiority"
Medium Term (2027 to 2030): Sales of long fibre reinforced plastics products are expected to expand as there is a growing demand for materials that offer flexibility, superior quality, and support renewable energy initiatives. These factors are anticipated to drive the adoption of GFRP composites across various industries.
"Shaping Sustainable Solutions: GFRP's Enduring Growth in Age of Innovation"
Long Term (2031 to 2033): Opportunities in the glass fibre reinforced plastic products market are further expanding in the long term. This growth is driven by rising respective governments' initiatives to promote sustainable materials, ongoing innovations in the GFRP field, and the increasing adoption of advanced molding technologies. These factors are expected to contribute to the continuous growth of the fibre reinforced plastic products market and create new avenues for the application of GFRP composites during the mentioned period.
Which Aspects are Limiting Widespread Adoption of Glass Fibre Reinforced Plastic Products?
"Price Sensitivity and GFRP Recycling & Environmental Challenges"
High Initial Investment: The production and manufacturing processes involved in GFRP products often require substantial upfront investments. This can be a deterrent for small and medium-sized enterprises (SMEs) or businesses with limited capital, hindering market growth.
Price Sensitivity: In certain applications and industries, price sensitivity can be a limiting factor for the widespread adoption of GFRP products. While GFRP offers long-term cost savings due to its durability and reduced maintenance needs, the higher upfront costs compared to traditional materials can be a barrier for some customers.
Recycling and Environmental Concerns: While GFRP products offer several environmental benefits such as corrosion resistance and longer lifespan, the recycling of GFRP materials can still present challenges. Developing effective recycling methods and promoting sustainable practices within the industry can help address these concerns and drive sales growth.
Competition from Alternative Materials: GFRP products face competition from alternative materials such as carbon fibre composites, natural fibre reinforced plastics, and advanced metals. These materials offer specific advantages in certain applications or industries, posing a challenge to suppliers of glass fibre reinforced plastic products.
More Insights, Lesser Cost (-50% off)
Insights on import/export production,
pricing analysis, and more – Only @ Fact.MR
Why are Start-ups Investing in Glass Fibre Reinforced Plastic Product Manufacturing?
"Innovations, Collaborations, & Unearthing Untapped Niches - 3 Pillars for Success"
Newcomers entering the glass fibre reinforced plastic products industry can follow certain aspects to increase their earning potential. These factors include:
Market Research and Targeted Niche: Conducting thorough market research to identify untapped niches and specific customer needs can give new entrants a competitive advantage. By targeting specific industries or applications such as construction & marine that have a high demand for GFRP products, newcomers can establish themselves as specialized providers in those areas.
Product Differentiations and Innovations: Developing unique product offerings or introducing innovative features can help new manufacturers stand out from established competitors. This can be achieved by focusing on specialized formulations, improved manufacturing processes, or integrating additional functionalities into the GFRP products.
Partnerships and Collaborations: Forming strategic partnerships or collaborations with other industry players such as raw material suppliers or manufacturers can help newcomers to access resources, expertise, and distribution networks. These partnerships are expected to contribute to high visibility, market reach, and business growth.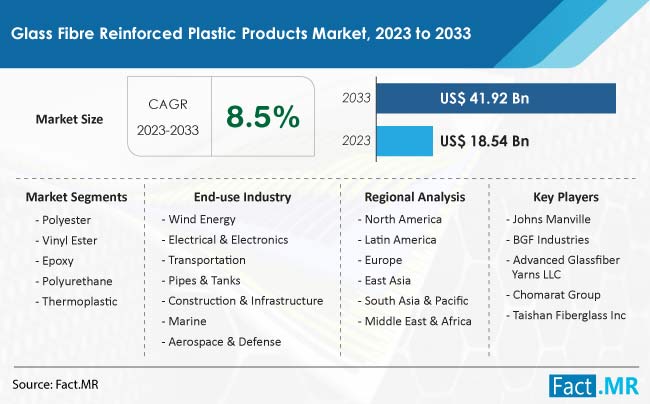 Country-wise Analysis
What is Stimulating the Demand Growth for GFRP Products in the United States?
"Rapid Innovations in Aerospace Manufacturing"
The United States market for GFRP products is experiencing significant growth. The country's robust infrastructure development, increasing demand from the automotive and aerospace sectors, and growing emphasis on renewable energy are driving sales of GFRP products.
The government's focus on infrastructural development and renovation projects is significantly boosting the demand for GFRP products. GFRP products application in bridges, highways, and buildings are also witnessing noticeable growth.
To enhance fuel efficiency and reduce vehicle weight, aerospace manufacturing facilities are showing a high interest in GFRP products. Wind turbine blades made of GFRP offer high strength and durability, and with the growing focus on clean energy, the demand for GFRP products in the United States renewable energy sector is experiencing significant growth.
Why are Manufacturers of Glass Fibre Reinforced Plastic Products Attracted to Germany?
"Germany's Engineering Excellence: GFRP Triumphs in Advanced Automotive & Infrastructure Parts Manufacturing"
Germany, known for its advanced engineering and manufacturing capabilities, has a mature and thriving GFRP products market. The country's expertise in the automotive, construction, and industrial sectors is boosting the demand for GFRP products.
The country's automotive sector's focus on lightweight vehicles to improve fuel efficiency has led to the adoption of GFRP components such as body panels and structural parts by leading automobile manufacturers.
The construction industry in Germany is embracing GFRP products for applications such as roofing, cladding, and reinforcement of concrete structures. Glass reinforced plastic claddings' excellent corrosion resistance, durability, and design flexibility is driving its demand in the construction sector in Germany.
Why is Japan Considered an Emerging Market for GFRP Products?
"Growing Use of GFRP Products in Transportation & Electronics Manufacturing Facilities"
Japan's transportation sector, including automotive, rail, and marine industries, widely utilizes GFRP products. The lightweight nature of GFRP materials facilitates fuel efficiency, contributing to their increased demand in the transportation sector. Additionally, the country's focus on infrastructural development projects is creating potential opportunities for GFRP product suppliers.
The electronics and electrical sector in Japan is witnessing significant adoption of GFRP products due to their insulation properties, fire resistance, and electromagnetic shielding. Glass fibre reinforced plastics are used in applications such as printed circuit boards, electrical enclosures, and consumer electronic components.
Know thy Competitors
Competitive landscape highlights only certain players
Complete list available upon request
Category-wise Analysis
Why Does the Construction Sector Widely Use Glass Fibre Reinforced Plastic Products?
"Lightweight, Corrosion Resistance, and High Performance Make GFRP Ideal Material in Construction Industry"
GFRP offers an exceptional strength-to-weight ratio, making it a preferred choice for construction applications. It provides high structural integrity, allowing for the construction of lightweight yet robust structures that can withstand heavy loads and adverse environmental conditions.
Glass fibre reinforced plastic is highly resistant to corrosion, unlike traditional materials such as steel or wood. This property makes it ideal for applications in environments with high moisture, chemicals, or exposure to harsh weather conditions. GFRP components do not rust, rot, or degrade, resulting in longer service life and reduced maintenance costs.
GFRP can be molded into various shapes and sizes such as glass fibre reinforced plastic sheets, offering designers and architects greater flexibility in creating innovative and aesthetically pleasing structures. Its versatility enables the construction of complex architectural designs, unique facades, and customized building elements.
Competitive Landscape
Key market players are focusing on continuous product innovations and developments to offer advanced GFRP solutions that meet the evolving needs of end-use industries. They are investing in research and development initiatives to enhance the performance, durability, and aesthetics of GFRP products. New product launches, collaborations, and partnerships are expected to attract more customers and gain a competitive edge.
Toray Industries, Inc. made a groundbreaking announcement in February 2023 with the introduction of an innovative high-speed thermal welding technology specifically designed for carbon fibre reinforced plastics (CFRPs). This cutting-edge technology brings forth a range of benefits, including substantial weight savings and the ability to achieve a high rate of production for CFRP airframes.
Key Segments GFRP Products Industry Research
By Resin Type :

Polyester
Vinyl Ester
Epoxy
Polyurethane
Thermoplastic

By End-use Industry :

Wind Energy
Electrical & Electronics
Transportation
Pipes & Tanks
Construction & Infrastructure
Marine
Aerospace & Defense

By Manufacturing Process :

Compression & Injection Molding Process
Layup
Filament Winding
Pultrusion
Resin Transfer Molding (RTM)

By Form :

Rebar
Powder
Sheets
Panels
Rolls

By Region :

North America
Latin America
Europe
East Asia
South Asia & Oceania
MEA
- FAQs -
The global glass fibre reinforced plastic products market stands at US$ 18.54 billion in 2023.
The market for glass fibre reinforced plastic products is projected to reach US$ 41.92 billion by 2033.
Demand for GFRP products is forecasted to increase at a CAGR of 8.5% from 2023 to 2033.
Durability & strong performance qualities driving high demand for GFRP products in the construction sector.
Johns Manville, BGF Industries, Advanced Glassfiber Yarns LLC, and Chomarat Group are leading suppliers of GFRP products.